CORPS OF CADETS
Advisors Take Mentoring to New Heights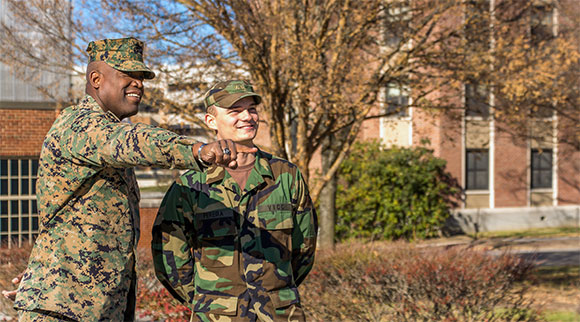 Cadet Ray Pereira and Master Gunnery Sgt. Lance Jones, the Second Battalion's senior enlisted advisor, share a strong bond.
The Virginia Tech Corps of Cadets has the mission of preparing young men and women of strong character to become leaders in the military and in public and private sectors.
As the corps has continued to grow—it now numbers more than 1,000 cadets for the third consecutive year—the corps' leadership saw that more staff members were needed to effectively mentor and develop these future leaders. As a result, in summer 2013, the corps hired three senior enlisted advisors, one for each battalion.
By far, enlisted members make up the vast majority of those in the U.S. military, serving as the backbone of the force, and they will look to our graduates as their leaders. Having corps staff who have served and risen through the enlisted ranks to teach and guide cadets has greatly improved cadet experiences and the leadership development program at Tech. For example, Lt. Col. Charles Payne, Third Battalion deputy commandant, is now aided by Sgt. Maj. David Combs, the battalion's senior enlisted advisor.
Cadet Lt. Col. Tyler Dick has noticed the impact. "Sgt. Maj. Combs has provided the noncommissioned officer perspective of leadership from an extensive and diverse military career. His guidance has led to significant changes in our daily operations, training, and professional development in just over a year," Dick said.
Even those cadets looking to serve outside of the military are being influenced by the new advisors. Command Sgt. Maj. Daniel Willey, First Battalion's senior enlisted advisor, shares a unique perspective on career development with cadets. "After serving over 30 years in the Army, I also went through the job search process less than two years ago," Willey said. "I can relate to what the members of the Citizen-Leader Track have to do as they get close to graduation and seek employment."
Cadet Ray Pereira said that his senior enlisted advisor in Second Battalion, Master Gunnery Sgt. Lance Jones, has had a profound impact. "When I was a cadet first sergeant, Master Gunnery Sgt. Jones … taught us how to have the moral courage to hold our people, including friends, to standards. He instilled a level of pride and confidence in each of us that was tempered by a sense of humility," Pereira said. "Master Gunnery Sgt. Jones has been an integral part of my development as a leader, and I will not forget the lessons that he has taught me."
Willey relishes his role as an advisor. "I truly believe that leaders are not born, they are built. Starting with quality stock is important, but the fundamental truth is that building leaders of character is an art that requires passion—a passion that is driven by caring for those who will stand their watch for the next 30 years. There is no doubt that the world is now, and will be for the foreseeable future, in a state of persistent conflict. Serving the needs of the United States in both industry as well as our military will require leaders of character. Helping to shape the next generation of leaders is an honor."
Maj. Carrie Cox is the executive officer for the Corps of Cadets.