LETTERS TO THE EDITOR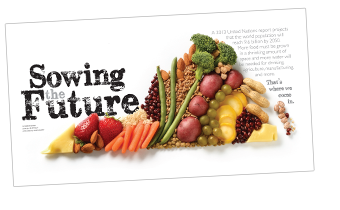 Food, water, and population growth
Developing new technologies and methodologies to help feed a growing human population is a noble and worthwhile cause. However, as any biologist, including this one, will tell you, providing a seemingly endless supply of food only serves to increase any species' population, perpetuating a spiraling problem.
The largest part of the solution should be to slow down and reduce the world population. The Earth's ecological carrying capacity has been exceeded. It's time for us to recognize that a finite planet cannot support, feed, and provide clean water for an infinite number of people.
Smaller families (two or fewer children), having children later in life, and education all play major roles in achieving this ecological balance. It should be a personal, conscious choice, not one forced upon us by governments or other entities.
Not yet, anyway.
Do we truly need two, three, or four billion more people?
Craig and Mary Strautin (communication '78)
Morrisville, North Carolina
---
First touchdown in Lane Stadium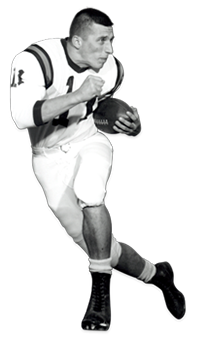 [In a fall edition letter to the editor], Bill Bodie '58 indicates having a "distinct" memory of Virginia Tech's first varsity touchdown in Lane Stadium. Based on numerous records of the game and personal experiences, we beg to differ. (He might be confusing the '65 game with the '78 William & Mary game in which Tech's Ron Zollicoffer made a game-winning reception at the goal line with no time left.)
As Virginia Tech players in that W&M game in 1965, we were down 7-0 in the fourth quarter when Tech kicked a field goal of 34 yards with 4:31 remaining. Our onside kick was recovered by W&M, but our defense forced them to punt. Tech then had the ball on the 20-yard line with 2:33 left, trailing 3-7. In an eight-play drive lasting 1:56, Tech scored the winning touchdown with quarterback Bobby Owens (pictured) running into the end zone on a 13-yard option sweep. Instead of the robbery Bodie remembered, Virginia Tech showed what 110 percent for four quarters could do.
The first Lane Stadium teammates in 1965: Mike Saunders (civil engineering '67, M.S. '69), Atlanta; Ken Barefoot (health and physical education '68), Virginia Beach, Virginia; Bill Edwards (civil engineering '67, M.S. '68), Atlanta; Gene Fisher (civil engineering '69), Winchester, Virginia; Jim Richards (civil engineering '69, M.S. sanitary engineering '73), Virginia Beach, Virginia; and Tom Stafford (business administration '68), Christiansburg, Virginia; in remembrance of our late teammate, Bobby Owens (civil engineering '66).
---
East Carolina fans greeted warmly
I wanted to let you know how much my husband, friends, and I enjoyed our trip to Virginia Tech [in September]. Tech fans greeted us with a warm welcome and handshake prior to the game and even sincere congratulations after the game. Folks were very cordial and respectful, even though we were "the enemy," and we appreciate that. Wally Nelson and his large tailgate crew absorbed us into their party and even played "Purple Haze" and "Purple Rain" for us. We don't get that everywhere we go, that's for sure!
I've been to ECU football games at various venues in 11 states, and I have never been treated better by the opposing team's fans than I have in Blacksburg. In fact, my husband and I have been to Blacksburg before and experienced the congeniality of your fans, so I know this is not an anomaly. You people at Virginia Tech do it right and set the standard for how it should be done on every campus on every game day!
Donna Raynor
Ayden, North Carolina
---
Economic engagement
I want to compliment Dr. Sands on his very insightful and encouraging message, "Unleashing the Innovation Ecosystem," in the recent Virginia Tech Magazine. Having recently retired from the General Electric Co.'s major appliance division, I appreciate very much his views about engaging in commercialization and entrepreneurship at the university level. Dr. Sands' vision for Virginia Tech's role in promoting sound cooperation between academia and industry is very exciting, and I applaud this approach as he leads our university.
John Nininger (electrical engineering '63)
Louisville, Kentucky
---
Orange ink
There is probably some valuable information in the recent magazine from Tech, but the poor, weak orange-on-white and white-on-orange print makes it very hard to read. Try plain old black and white. Many of us old-timers have weakening eyes and need all the help we can get.
Ralph Griffith (business administration '56) West Chester, Ohio
I, like most Americans who suffer from macular degeneration and similar eye diseases, have trouble reading Virginia Tech Magazine. I cannot read the orange print, so some of the content is lost and makes for difficult reading. Is it possible for your team to use a dark maroon color or other color scheme in your captions and content in future publications?
Mark Tokay (marketing management '84) Swannanoa, North Carolina
Editor's note: Thank you for sharing your concerns. We're working on a solution for the spring edition.
---
Corrections from the fall edition
A Class Notes entry misstated Wolfgang F. Preiser's (M.Arch. '69) role with "Enhancing Building Performance"; he was co-editor.
A Book Notes entry on Jim Mize's (forestry '75, M.S. agricultural economics '77) book on fishing humor, "A Creek Trickles Through It," misspelled his last name.
In the story on the Duck Pond, the reference to the book "Remarkable Trees of Virginia" should have included Professor Emeritus Jeff Kirwan's contributions as one of the authors.
The Garnes-Waddle wedding photo on page 56 should have been credited to Laura's Focus Photography.