PHILANTHROPY
Accounting for Future Hokies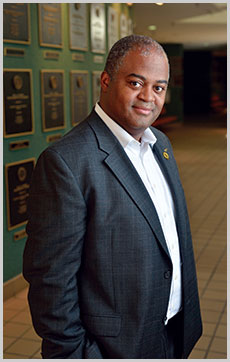 Kenneth E. Cooke started giving back to Virginia Tech even before it was his alma mater. In 1992, months before earning his bachelor's degree in accounting, he donated several thousand dollars.
"I didn't have a lot of money, but I made [giving] a priority," said the native of Richmond, Virginia, who now lives in Manhattan in New York City and is a vice president at Goldman Sachs. "A university provides you a foundation and learning. If you graduate, there's no way you didn't have a great experience, and so you have to make the path a little easier for those who come after you."
While that mindset inspired Cooke to donate regularly for more than 20 years, it also led him to support the university in numerous other ways, including serving on the advisory board of the Pamplin College of Business' Department of Accounting and Information Systems. In January and October of 2014, he returned to campus to speak at Pamplin events. And he was a driving force in Goldman Sachs' hosting the annual Hokies on Wall Street event in April 2014. Cooke also gives back to his profession by chairing the board of the National Association of Black Accountants (NABA).
"The chance to be a mentor and help develop a sense of community in the professional world is fantastic," he said.
During his student years at Virginia Tech, Cooke said he found a strong sense of community, which was fostered in part by Barbara Pendergrass, whom he considered a mentor. She was an assistant to the vice president for student affairs while Cooke was enrolled, but she later served as dean of students for many years.
"To my mother's horror, I had a scholarship offer at U.Va. and still came to Tech, which gave me no money, but I loved the people and the campus," Cooke said.
After his mother let him chose the school he thought best fit him, Cooke did follow her urging to study accounting because it was a field with strong hiring demand. After earning his degree, Cooke, who is a certified public accountant, worked for Coopers & Lybrand, Philip Morris USA, General Electric, and Genworth Financial before joining Goldman Sachs, where he oversees financial and regulatory reporting related to derivatives.
"It's really interesting," Cooke said. "In today's environment, with regulatory reform around derivatives, there are always new issues and opportunities to develop both your career and the skills that you have."
Through his involvement in NABA and when speaking with Virginia Tech students, Cooke regularly touts the opportunities available in his field. Giving to support programs in the Department of Accounting and Information Systems that prepare students to take advantage of those opportunities is something Cooke also does regularly.
"I think there's an obligation for people to give back," he said.
Albert Raboteau is the director of development communications.
---
A Good Harvest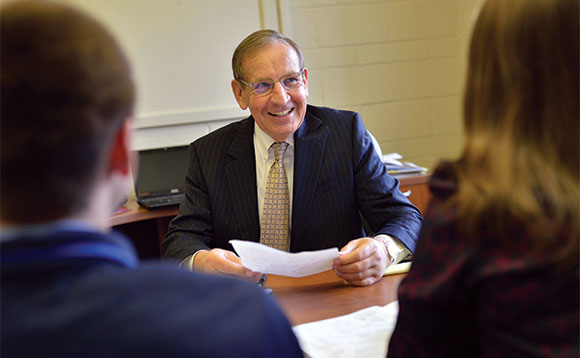 Richard Crowder's work in agriculture may have begun with driving mules on a small tobacco farm in Virginia's Mecklenburg County, but it's taken him all over the world in his role as a driving force opening up global trade opportunities.
As an undersecretary with the U.S. Department of Agriculture from 1989 to 1992, Crowder managed the Food, Agriculture, Conservation, and Trade Act of 1990, commonly known as the "Farm Bill," and was the nation's agriculture negotiator for the Uruguay Round of multilateral trade talks that led to the creation of the World Trade Organization. He headed two missions for President George H.W. Bush to the former Soviet Union to address food needs and policies.
He later served as the nation's chief agricultural negotiator for the Office of the U.S. Trade Representative within the Executive Office of the White House—a post with ambassador's rank. After leaving that position, he served as a special advisor to the trade representative's office before joining the faculty at his alma mater in 2008.
"At this stage of my life, I'm doing what I can to give back to help Virginia Tech, particularly the students," said Crowder (agricultural and applied economics '60, M.S. '62), who also earned a Ph.D. from Oklahoma State University.
In 2013, Crowder was appointed the C.G. Thornhill Professor for Agricultural Trade, a position endowed the previous year by C. Gordon Thornhill Jr. (animal science '75). Crowder said having a named professorship is a powerful endorsement that helps his efforts on collaborative projects. Along with teaching, Crowder works on multiple initiatives to promote Virginia agriculture.
The commonwealth saw record levels of exports in 2012 ($2.61 billion) and 2013 ($2.85 billion). The 2014 figures are expected to be announced in March 2015, at the Governor's Conference on Agricultural Trade. That annual event began after Crowder reached out to Virginia's agriculture community to initiate a conference focused on agricultural trade and policy.
"One of the good things about the conference is it brings together Virginia Tech, the Virginia Farm Bureau, Virginia Department of Agriculture and Forestry, and Virginia Port Authority," Crowder said. "You have four key organizations that are linked to the success of agriculture, and those four organizations are working well and collaboratively with each other to promote the interests of Virginia's agricultural and forestry industries."
In addition to his notable accomplishments in the educational and government fields, Crowder has a distinguished history in industry, having held senior executive positions with Wilson & Co., Pillsbury, Armour Swift-Eckrich, DEKALB Genetics, and the American Seed Trade Association.
"He's held a broad range of positions and, at every step of the way, his actions and his work have been important for U.S. agriculture," said Bob Stallman, president of the American Farm Bureau Federation, which in 2013 presented Crowder with its highest honor, the Distinguished Service Award.
Albert Raboteau is the director of development communications.