SHORT
Why I 'relay'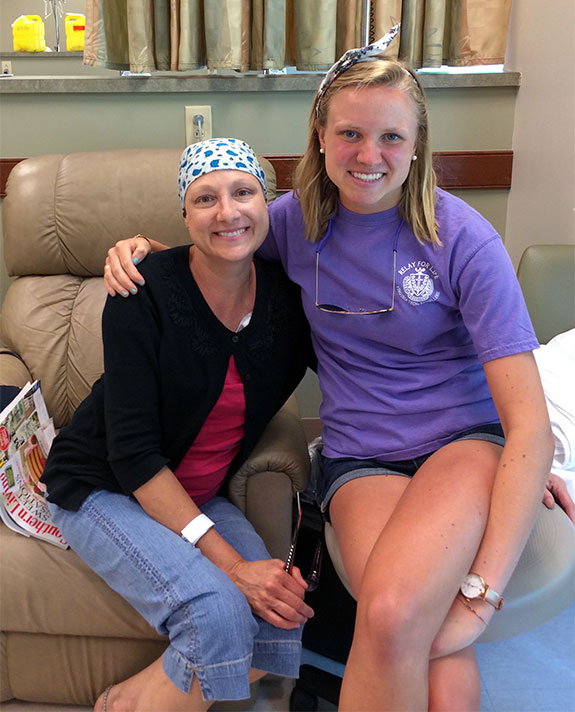 Ashley Graham with her mother, Kim Graham, of Yorktown, Virginia. Photo courtesy of Ashley Graham.
Although I "relay" for many reasons, my inspiration comes from the strongest woman I know: my mom.
My story goes back 10 years to a day in fifth grade that I will never forget. Little did my family and I know that day would lead to a journey full of multiple doctor visits and struggles, as well as triumphs, for the next decade.
My mom was first diagnosed with Stage 4 breast cancer. Because Stage 5 is the worst, the doctors did not see much hope, but my mom did not let that prognosis get her down.
Through countless rounds of chemotherapy and radiation, my mom lost her hair and more than 30 pounds, but she never lost her positive attitude, her faith, her belief in herself, and her determination to never give up.
My mom has fought cancer not only once, but multiple times. The woman who inspires me every day has overcome every battle that cancer has thrown her way.
My mom told me that the reason she has fought so hard is to be there for me. First was my fifth-grade graduation; and as the years passed, there she was: taking pictures on the night of senior prom, cheering me on at the finish line of my first marathon, and now, encouraging me as I approach graduation from college.
She has not wanted to miss one moment. And in just a few weeks, on May 15, when I, in my cap and gown, look up into the stands, nothing will mean more than seeing my mom's beaming smile in the crowd.
The experience with my mom, which changed so much in my life, has helped shape me into who I am today.
I am inspired to show others that you can overcome anything, despite what any doctor may say. My mom didn't take the easy way out. She fought. And because of her positive attitude, hope, and belief, I get to embrace her warm and loving personality today.
Every day, we are getting one step closer to finding a cure to cancer and, most importantly, giving loved ones the chance to be the smiling face in the crowd at those moments in life that make a world of a difference.
I "relay" for a cure. I "relay" so that future generations won't ever have to hear the word "cancer." I "relay" for my family, my friends, my sorority sisters, and my life, heart, and biggest inspiration: my mom.
Ashley Graham, of Yorktown, Virginia, a senior majoring in marketing management, serves on the executive committee for Virginia Tech Relay For Life.