STILL LIFE
Kicking back
Several months ago, we asked on the Virginia Tech Facebook page for you to tell us where on campus you preferred to spend a sunny afternoon. The response, overwhelmingly, was the Drillfield and the Duck Pond. So we visited those two spots in October.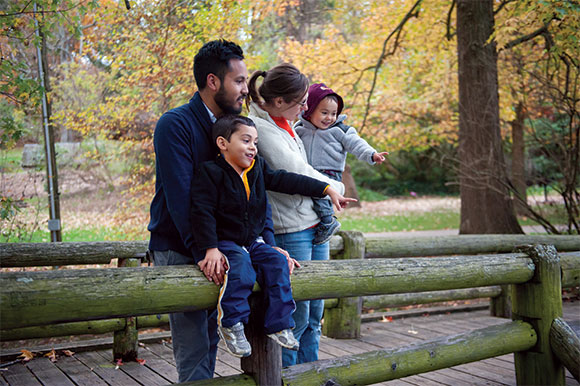 We come out here all the time when the weather is nice for lunch or a dinner picnic. The boys like to feed the ducks—[but] not the geese, because they are mean. … In the spring we actually saw the ducklings follow their mother around the pond, and the boys loved it. Ezra loves the fish, and Micah loves the ducks."
— Jessica Yalung '08 and her husband, Justin Yalung '05, with Ezra (left) and Micah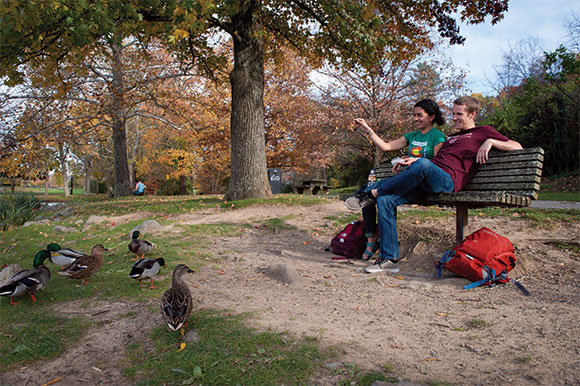 This is our first time this year coming to the Duck Pond because of the weather. Feeding the ducks is a lot of fun because they aren't picky eaters."
— Seniors Mahtaab Bagherzadeh and Ryan Schmitt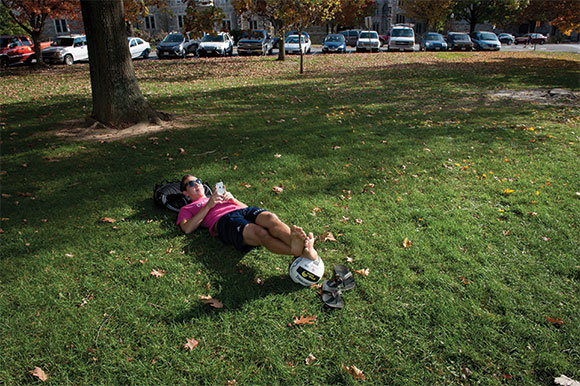 I don't actually come out to the Drillfield that much, but the weather was nice, and I'm waiting for practice to start. If I had a grass volleyball net, I would be out here more often. And the Drillfield needs to get Wi-Fi."
— Senior Trevor Kinaman, who plays on the men's club volleyball team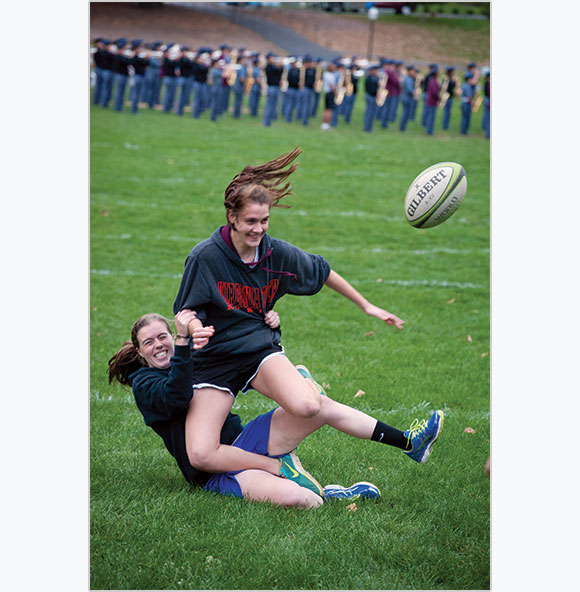 The Drillfield is a perfect spot to practice on Mondays because there is so much space, and it is also gives us publicity because people come up and ask us what we are doing. … There are 40 people on the roster, and we are currently undefeated."
— Ragan Walker, captain of the women's rugby team, looking on as (above) senior Dani Barlow tackles freshman Liz Doggett.
---
Kenedy McGrath is a communication major.