PROFESSOR PROFILE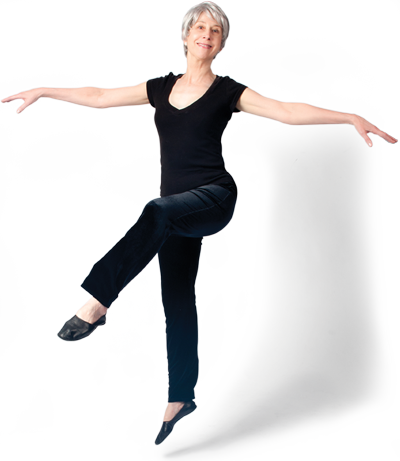 Billie Lepczyk
In Motion
Students emerged from the class chatting with new classmates as if they were lifelong friends—and it was only the first week of the semester. Energy emanated via bright eyes and heads held high, smiles and laughter, and a definite liveliness in students' strides. Billie Lepczyk's teaching skills were already at work.
"I love teaching, and, of course, I love dance," said Lepczyk, who, after 29 years at Virginia Tech, approaches each year as a new adventure for both her students and herself.
Lepczyk encourages students to explore movement in an individual and personal way. In her Creative Dance class, advanced-level dancers work side by side with novices in an immensely popular general education course. As Lepczyk tells it, "You don't need technique in this class; you need imagination and creative abilities." Students with dance backgrounds and those new to the activity intermingle and "soon learn how to think in terms of movement elements and experience, combining [elements and experience] into a finished product."
Lepczyk's initial assignment for students in the class serves as a terrific icebreaker for undergraduates coming from various majors with diverse backgrounds and a broad range of dance experience. In groups of five, students select magazine pictures of humans in various poses and then construct dance sequences with the images. This simple start creates a positive, creative, non-judgmental environment. Everyone gets to know one another by contributing to a team project. Together they figure out transitions from one position to another. Novices overcome that potentially awkward moment of executing their first steps, and experienced dancers come face-to-face with group problem-solving.
After learning how to map out floor plans and performing their first dance, students are asked to reflect on the creative process in a composition, enhancing the core course with an intensive writing component.
"Creative dance has value in education beyond an aesthetic experience and engaging the imagination and creative abilities," said Lepczyk. "Students learn teamwork and how to contribute and how to be a good citizen. They also become better listeners and appreciate diversity, all while gaining more self-confidence."
Lepczyk's initial lesson, carefully constructed following years of inquiry, has been implemented in courses across the country. She has designed 13 classes over her tenure, founded and advised both the Contemporary Dance Ensemble and the Dance Company of Virginia Tech, and clearly has a flair for teaching. In 2009, she was recognized as National Dance Educator of the Year by the National Dance Association (NDA).
Debra Knapp, who teaches at New Mexico State University, served on the selection committee for NDA. Lepczyk "is able to create an atmosphere where students can flourish," Knapp said. In reviewing videos of Lepczyk's teaching, Knapp said, "She wasn't teaching to students. She was sharing the teaching process with her students. And she was learning as she was teaching. I think that is the gift of being a teacher—you're teaching because you are a learner and you're a student."
Beyond the university, Lepczyk has been invited to state, national, and international conferences to give presentations and workshops on the creative dance curriculum. As a summer Fellow in the university's Center for Excellence in Undergraduate Education, Lepczyk produced an educational CD-ROM called "Creative Dance." Similarly, Lepczyk interweaves the latest technology in her courses, encouraging the use of video clips, iPods, and software programs to enhance the overall experience.
"Billie is recognized worldwide as an eminent dance educator and a pioneer in dance-style analysis," said Kerry Redican, professor of health sciences, a longtime colleague of Lepczyk's. "Her scholarship on dance style and movement analysis serves as required reading for dance majors at many institutions in the United States and throughout the world."
Indeed, Lepczyk serves on the board of trustees of an international organization that is guardian of Labanotation, a language of symbols used worldwide that preserves a dance's pure existence as a series of notated movements.
Back in the classroom, Lepczyk, who moves about with a grace that confirms an earlier career in professional performance, makes observations with respect and patience. Students are not only learning from a published scholar but also gleaning tips from a professor with a dance career that includes stage, television, and film appearances.
At the close of class, student conversations were upbeat. "I heard she was a great teacher," commented one. "I love the creative analysis and process," said another.
Lepczyk, clearly pleased, said, "It just keeps getting better and better. And after all these years, students still surprise me."
Jean Elliott is the communications manager in the College of Liberal Arts and Human Sciences.