CORPS OF CADETS
Cadet Kareim Oliphant, Leading to Serve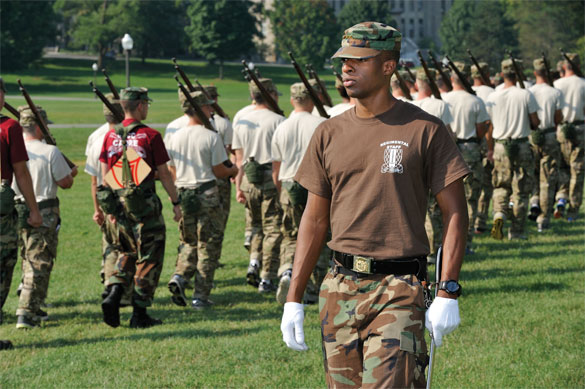 Cadet Kareim Oliphant, regimental commander. Photo by Jim Stroup.
Cadet Kareim Oliphant, a senior majoring in psychology in the College of Science, has big plans as the Virginia Tech Corps of Cadets regimental commander for the fall 2012 semester. "Not many college students get the opportunity to influence the direction of the professional development of 1,000 of their peers," Oliphant said. "I'm fortunate to have been granted this opportunity. I'm excited to see what challenges and memorable moments the experience will bring."
Oliphant is no stranger to serving. A vital member of the corps' Regimental Band, the Highty-Tighties, he led the Southern Colonels, the band's 18-piece jazz orchestra, last year. This group performs shows for both campus and community, including the first annual Jazz on the Upper Quad event last April. He also led physical-fitness training for more than 180 cadets in the Citizen-Leader Track program.
Oliphant, who transitioned in his junior year to the Citizen-Leader Track after two years of ROTC, decided to stay in the Corps of Cadets because of the value of the training and leadership experience. "After having invested two years, I started to realize all the benefits that I had reaped from my involvement in the corps," he said. "My leadership and time-management skills, physical fitness, academic achievement, and personal discipline had all improved dramatically. I was also able to apply things I had learned in the many leadership positions I've held in the corps to other areas of my life, and I was absolutely fascinated by it. I still am. I just knew I wouldn't have achieved all this as a regular student. I'm eager to see just how much more I can learn and grow."
Oliphant also shared his thoughts on leading the corps. "One of the great things about the Corps of Cadets is the fact that cadets are given the opportunity to develop and hone so many valuable leadership skills. I've personally been able to use these skills in the military environment of the corps and [in] other areas, such as my extracurriculars at school and volunteer work and internships outside of school. As regimental commander, I plan to expand and utilize this skill set in an effort to place an indelible mark on the corps and the Virginia Tech community at large. Ut Prosim."
Oliphant truly embraces all he's learned about serving others. He works as a hotline volunteer for the Raft Crisis Hotline, has volunteered with substance abuse counselors at a hospital, has interned with a substance abuse counseling service, and currently is a research assistant with an autism clinic. After graduation, Oliphant plans to pursue graduate studies in clinical social work, focusing on substance abuse rehabilitation, therapy, and family counseling. He is intent on a career in social work and counseling and eventually wants to earn his doctorate in clinical psychology.
But first, he has a regiment to lead and to serve.
Maj. Carrie Cox is the executive officer with the Corps of Cadets.