ALUMNI PROFILE
For Hokie Couple, Education and Art Merge In Yellowstone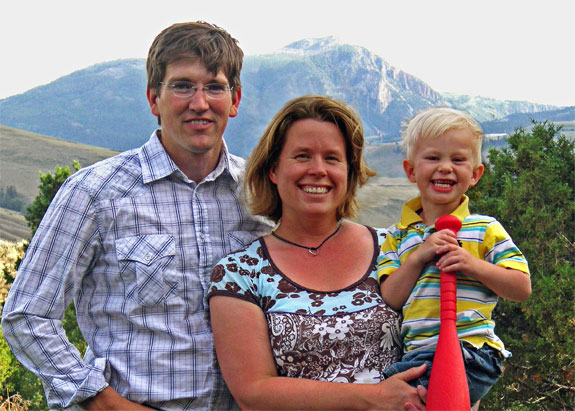 George Bumann '02, Jenny Golding '95, and their son, George. Photos courtesy of Jenny Golding and George Bumann.
The year 2012 marks the 140th anniversary of Yellowstone, the world's first expanse to be designated a national park. For two multitalented Virginia Tech alumni, however, the wild wonderland seemingly was created solely for them.
Wife and husband Jenny Golding (forestry and wildlife '95) and George Bumann (M.S. fisheries and wildlife '02) may be a long way geographically from where they grew up—Golding in Maryland and Bumann in central New York state just south of the Adirondacks—but their love of wildlife, learning, and teaching began early in their lives. That path led them not only to each other, but also to their current careers. He's a teacher, guide, and sculptor, opening the wonder of the 2.2 million-acre park to visitors. She is director of education for the Yellowstone Association, the nonprofit partner of the park that provides educational programs for visitors.
Golding and Bumann are hooked on the place, which is evident when they talk about their home in Gardiner, Mont., at the north end of the park, and their adventures. Their path to Yellowstone is a success story that started long ago.
"My grandfather started a cultural history museum on Oneida Lake (in New York), and I was there all the time," said Bumann. "As a 12-year-old kid, I started giving tours on everything from Paleo-Indian artifacts to the Civil War."
Bumann said that he's always been happy anywhere there is wilderness. His sculptor mother contributed art knowledge and know-how to his future career tool kit.
Golding's family lived a number of places when she was growing up, but she came to Virginia Tech from Maryland.
"I was always interested in the outdoors," she said. "I went camping with my parents as a kid." In high school, she participated in an Explorer Scout search-and-rescue post. At Virginia Tech, Golding headed the Outing Club and managed Venture Out, a university group that goes on excursions throughout Southwest Virginia.
Coyotes played a part in Bumann and Golding's first step toward Yellowstone. In 1997, Golding worked on a coyote research project in the park for Yellowstone Ecosystem Studies. In New York, Bumann was involved with a coyote research project that was connected to a possible reintroduction of wolves to the Adirondacks. A friend told him of a Virginia Tech project seeking a graduate student to investigate the predator aspect in a study on ruffed grouse, and Bumann soon filled the position.
Despite their similar academic pursuits at Virginia Tech, Golding and Bumann didn't meet until after she had returned to Blacksburg from her stints working in Yellowstone and hiking the Colorado Trail. A mutual friend Rachel Gray (forestry and wildlife '94, M.S. '01) introduced them at the old South Main Café, where they were out dancing to "some of that great, traditional old-time music," Bumann said.
Fast forward to the couple's 2001 honeymoon, when Golding and Bumann planned to ride bicycles 500 miles, camping and fly-fishing along the way. When illness intervened, they instead went to Yellowstone, where they'd already sent résumés and started meeting people.
One person they met was Jeff Brown, now the executive director of the Yellowstone Association and Golding's predecessor in the education director position. "They are both so charismatic and quite impressive in their backgrounds," Brown said. "The reason Jenny and George have made a success here is they love the place. Every weekend they're out hiking or rafting or doing something in the community."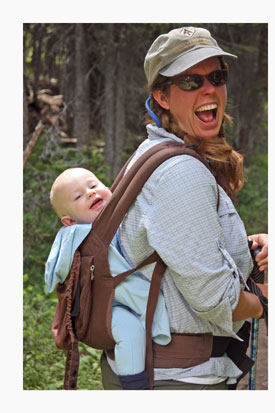 After the couple had sold everything in Blacksburg, packed the car, and moved to Yellowstone, their first jobs were seasonal. But Golding and Bumann soon found their niches and moved seamlessly into their careers and into the community. Golding, who used to moonlight as a songwriter, songstress, and guitarist, has organized an annual music festival in Gardiner. Bumann leads the annual butterfly count and is known by the locals as Mr. Butterfly, though he insists he isn't an expert.
Don't tell that to little George, Golding and Bumann's 2-1/2-year-old son, who often accompanies his father on wildlife expeditions, looking at butterflies or working on a sculpture out in the field. One day Golding and little George saw a butterfly. The toddler piped up and told Golding matter-of-factly, "Mom, that's a Silvery Blue."
Educating youngsters is part of Golding's work. Among her responsibilities is organizing the Yellowstone Association field school that hosts about 6,000 participants annually. "We're really refocusing our work on youth and the relevance of the park for the next century," she said.
Golding's enthusiasm is one of the traits that makes her an effective park educator. "Jenny walks into a room of visitors with a smile on her face and then follows that up with detailed knowledge of her field," said Brown. "It's just fun to interact with her. People have a good time, and she opens their minds."
Opening minds is also Bumann's aim. He recently taught a course, Sketching in Yellowtone, and leads educational park tours several times a year.
"Art is another way to teach," he said. For his work, Bumann makes the most of his surroundings by modeling his clay and wax sculptures out where the wild creatures are, a practice that makes his art come alive. His beautiful wildlife statues, cast in bronze, have earned placement in the permanent collections of the National Museum of Wildlife Art in Jackson Hole, Wyo., and the Charles M. Russell Museum in Great Falls, Mont.
The Jackson Hole museum is where Greg Fulton, managing partner for Astoria Fine Art gallery, first crossed paths with Bumann. Now home to 14 of Bumann's sculptures, the gallery works with many of the country's established artists, as well as emerging artists such as Bumann, Fulton said, adding that Bumann's work already is in high demand throughout the United States. Fulton speaks from experience, since he's a sculptor himself and grew up in Wyoming. "George's story to me is the perfect one for a wildlife artist; he immerses himself in the wildlife."
Bumann and Golding are so immersed in the Yellowstone ecology that they've become the park's ambassadors to Virginia Tech, introducing Hokies and friends of the university to the glories of the place. When Paul Winistorfer, dean of the College of Natural Resources and Environment, organized a college development tour to Yellowstone, Bumann spent two days giving a scientific tour of parts of the park. "You ask George anything about the flora and fauna, and he knows it; he brings science to life with his personal perspective and knowledge," Winistorfer said.
For Golding and Bumann, the most important aspect of their Yellowstone experience is living in a cozy home with little George and two black Labrador retrievers in the midst of one of the most awe-inspiring places on earth.
"Driving through the park, there's something amazing every day—a coyote with a squirrel, an osprey with a fish in its talons," said Golding.
Bumann seconded her thoughts. "I'm looking out the window at the view and, even though we own [the house], I keep thinking the landlords will kick us out when they realize how much fun we're having."
Susan A. Steeves is the media relations manager for University Relations.