ALUMNI SHORTS
Alumna honored as first inductee into Virginia Tech Equestrian Hall of Fame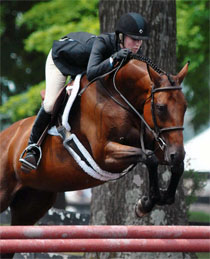 Jill Waligura-Diemar '97
Before she began her career in medical sales, Jill Waligura-Diemar (sociology '97) rode horses for the Virginia Tech equestrian team. On April 14, Diemar became the first inductee into the Virginia Tech Equestrian Hall of Fame for her national championship wins in 1996 and 1997.
For Diemar, riding has always been a huge part of her life. "I started riding when I was 7 years old, taking lessons from small barns [nearby]," Diemar said. "I was discovered by a judge at one of my horse shows. She asked me to ride for her, and that's really where I think my career started."
Diemar rode on the self-funded equestrian team, a combined effort with Radford University. She later became a key member of the first team funded by Virginia Tech in her junior and senior years. Jill's husband, Brian Diemar (communication '98), helped spur the idea for the hall of fame and to recognize his wife's role in building the team.
The honor was presented at the Emily Jane Hilscher Memorial Horse Show, while Diemar was touring the riding practice stadium. Open to the public, the horse show is a benefit held in honor of Hilscher, a victim of the April 16, 2007, tragedy.
For Diemar, it is an honor to be remembered and recognized for her accomplishments. "I had very mixed emotions," Diemar said. "I was so grateful but also felt humbled.
"There isn't a lot of recognition of the past teams in the riding [practice area], so it feels like I belong there again," Diemar said. "[The wins] were exciting at the time, but they happened, and they had passed. It was strange because I just feel like a normal person." At the same time, Diemar mused, "It feels like I left a mark."
Emily Goodrich, a sophomore English major, is an intern with Virginia Tech Magazine.
---
A beacon of hope for orphans in Rwanda

Dan Gladden '00 and April Riegler '00
In 2007, April Riegler (clothing and textiles '00) took a trip to Rwanda that changed her life. After meeting with children at the Robero Orphan Centre in Kigali, Riegler was inspired to create a program, Hope Shines, to provide those children with an education.
"I started the program in 2007 by fundraising and gathering volunteers," said Riegler. Among those volunteers was Dan Gladden (wood science and forest products '00), who runs the sports day camps every other year; Maxime Manzi, a freshman university studies major and a cadet; and a number of other Virginia Tech students who volunteer their time and skills for the nonprofit.
"I've kept a close relationship with my professors in clothing and textiles and work with [professors] to run a contest for design students to design the camp T-shirts," said Riegler. "I want to keep Tech involved; it is meaningful to have that community of Hokies."
Hope Shines began its program in Rwanda with a one-week day camp in 2008 and has expanded to include a second week of day camps and a new tutoring program.
"We focus on creative learning," Riegler said. "A lot of the education in Rwanda is 'repeat after me,' rote memorization. We try to get [children] to step out of that box."
The tutoring program focuses on what the children are currently struggling with in school. A teacher hired by Hope Shines works with a team of translators, most of whom are college students in the Generation Rwanda program, a scholarship program that provides full financial support for Rwandan students attending college. Riegler said Hope Shines is fortunate because the same group of teachers returns each year to build relationships with the kids and provide role models for them.
This year, the tutoring program expanded from four to six months. "Our goal is a year-long program, so we've been taking small steps in that direction," said Riegler. "We see it continuing to build. We never want to let the kids down and make them false promises. So, when we say we're going come back, we always do."
Emily Goodrich, a sophomore English major, is an intern with Virginia Tech Magazine.
---
Seeing no limits

William Catterson '95
After a stroke in 2004 caused him to lose his sight and change his professional goals, William Catterson (exercise physiology '95) found success in an unexpected career. Catterson had nearly finished his master's degree in electrical engineering when he suffered the massive stroke. "I couldn't tell when the lights were on or off. I was having trouble getting around. I had to feel my way around," he said. "It was a pretty terrifying experience."
Catterson completed a master's degree despite his visual impairment. He realized, however, that he could not pursue a career in electrical engineering and decided to teach instead. "I made money in college by tutoring in math and physics. I can still write on a white board, and even though I might not be able to see what I'm writing, whoever I'm talking to can still read it."
Crespi Carmelite High School, a private school in Los Angeles, hired Catterson as an advanced calculus teacher. "[My blindness] didn't seem to deter them very much, and I really give them credit for that. I could imagine they were nervous to let a blind guy start teaching, but they gave me a chance," he said.
Catterson, who walks one mile to school every day, said his students have responded positively to his impairment.
In addition to teaching, Catterson also has a passion for swimming. He started swimming at young age and looked to the sport as a form of rehabilitation after the stroke. "It's exercise I can still do without too much vision. I feel the lane next to me and I count my strokes to know when I'm at the end of the pool," he said.Catterson has competed in more than two dozen races with the help of a guide.
Despite his success in the classroom and the pool, Catterson said there are times that he misses the life he could have had. "I miss my vision a lot. There are a lot of things I can't see that I wish I could. I don't really know what my daughter looks like," he said. Although his life is sometimes difficult, Catterson said he ultimately has no regrets about his unexpected career change.
Jenn Bates, a junior communication major, is an intern with Virginia Tech Magazine.