Video by J. Scott Parker | Visual and Broadcast Communications
---
Throwing down
by Juliet Crichton
Virginia Tech junior Irena Sediva has one heck of an arm.
After spending her freshman year in training, the international studies major was eligible to throw the javelin for the Hokies—and throw she did.
In the first meet of her collegiate career, she set a school record.
In her second meet, she broke the Atlantic Coast Conference (ACC) record, which had stood for 17 years.
And at season's end, she was undefeated.
At the ACC championships in Tallahassee, Florida, Sediva's winning throw not only set Tech, conference, ACC championship meet, and facility records, but also ranks as the NCAA season's best and the 12th-best—among only nine athletes—in NCAA history.
Entering the NCAA track and field outdoor championships in Eugene, Oregon, as the top seed, Sediva saved her best for last. Her final throw surpassed her previous school and ACC record, and Sediva claimed Tech's 15th individual national championship, all in track and field. The third female among seven Hokies to win a national title, she was later named the 2015 ACC Women's Field Performer of the Year.
In mid-July, Sediva finished third at the World University Games in Gwangiu, South Korea, throwing a personal best.
And her next target? The 2016 Summer Olympics in Rio de Janeiro.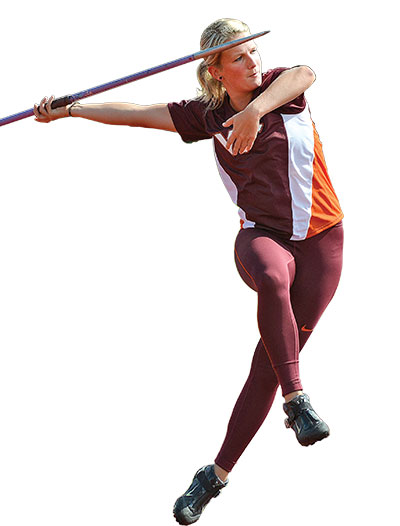 Going the distance
NCAA
196'-6" (59.89 meters) • World University Games, July 12 Gwangiu, South Korea
192'-9" (58.76 meters) • NCAA Championship, June 10-13, Eugene, Oregon
185'-8" (56.59 meters) • NCAA East Regional, May 28-30, Jacksonville, Florida
192'-5" (58.66 meters) • ACC Championship, May 14-16, Tallahassee, Florida
190'-4" (58.02 meters) • Florida Relays, April 2-4, Gainesville, Florida
188'-2" (57.35 meters) • Texas Relays, March 27-28, Austin, Texas
International
183'-9" (56.01 meters) • Prague, June 3, 2014
184'-2" (56.13 meters) • Castellón, Spain, March 16, 2013
188'-4" (57.41 meters) • Ostrava, Czech Republic, May 25, 2012
184'-1" (56.38 meters) • Prague, June 13, 2011
166'-9" (50.82 meters) • Celje, Slovenia, Sept. 11, 2010
149'-8" (45.62 meters) • Bressanone, Italy, July 10, 2009
158'-1" (48.17 meters) • Nitra, Slovakia, June 13, 2009
Statistics provided by the International Association of Athletics Federations and the Virginia Tech Department of Athletics.