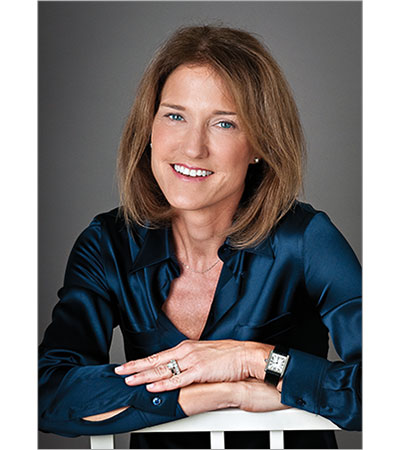 Bridget Ryan Berman '82; photo by Kathryn Juang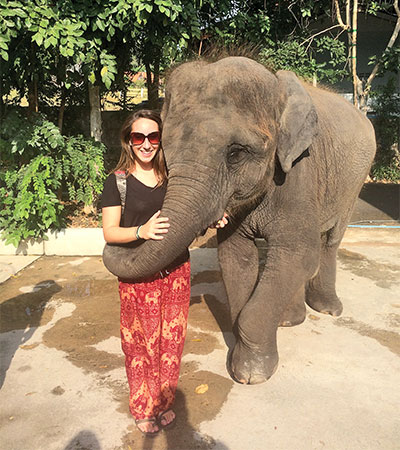 Charlotte Oddi '14; photo by Anne Gaslin
From launching a nonprofit to treat clubfoot in developing countries to supporting scholarships that allowed Charlotte Oddi '14 to study overseas, Bridget Ryan Berman '82 is committed to helping young people.
---
Inspired abroad
by Annie McCallum
When Bridget Ryan Berman's son was born with bilateral clubfoot, in some ways she felt vulnerable.
"I didn't know what to do," she said of Reese, now a healthy 15-year-old. "I didn't know what [the impairment] meant in terms of his life."
Ryan Berman (general business '82) and her husband, Roger, quickly found themselves learning about the relatively common congenital birth defect, which affects one of every 750 children born.
Once they had settled on a method of care for Reese and knew he would be fine, the couple asked themselves how they could help other children. According to the Global Clubfoot Initiative, 80 percent of children born each year with clubfoot live in low- and middle-income countries with limited access to treatment. As a result, more than a million children live untreated and unable to walk properly, making clubfoot the leading cause of physical disability in the world.
"We felt it was just really important to help as many children as we could," Ryan Berman said.
In 2006, the Bermans created the nonprofit "miraclefeet," which generates awareness about the birth defect that causes one or both feet to turn inward. The nonprofit works with local partners in developing countries to treat clubfoot.
Ryan Berman, the CEO of Victoria's Secret Direct, has given her time and lent her business acumen to the nonprofit, which recently expanded to a 13th country and has treated more than 10,000 children. At the same time, she has also been a force within the Virginia Tech community, generously supporting her alma mater.
"I have passion around opportunities where there's been personal effect on my life," Ryan Berman said of her involvement and philanthropy. "Virginia Tech clearly was that for me. It's living the core values of what I believe Virginia Tech is, and I felt the same way about miraclefeet."
Ryan Berman is a long-standing member of the Pamplin College of Business Advisory Council, where she is the current chair of the committee to establish Pamplin's Recent Alumni Board. She has also been on the Virginia Tech Foundation Board of Directors, and has spoken at Pamplin's commencement and in Pamplin's Executive Speaker Series. A generous donor, she has been recognized in the Ut Prosim Society, has donated to the Richard E. Sorensen Dean's Chair Endowment, and has established a scholarship—named for her mother, Elaine Caravati Ryan—that benefits students in Pamplin.
Charlotte Oddi (marketing management '14) said the scholarship helped her realize her ambition and changed her perspective forever. The scholarship, which assisted with her tuition, helped free up funds for Oddi to study abroad, which she desperately wanted to do. "I am convinced that had I not received the scholarship ... I would have never been able to go. I am eternally grateful to Mrs. Berman," she said.
Overseas, Oddi immersed herself in new cultures and communities. She returned home inspired and was determined to continue her travels, which now include 13 months spent in Thailand teaching English. "Through these experiences I have become more adaptable, more independent, more open-minded, more understanding, more comfortable with the unknown, and better at problem-solving. I've experienced working among people with different beliefs, languages, cultures, and ways of doing things."
International impact
Through her philanthropy, Ryan Berman has helped not only Hokies like Oddi, but children and their families all over the world through miraclefeet. "These children are very likely to have terrible, terrible lives," said miraclefeet Executive Director Chesca Colloredo-Mansfeld. "For a relatively easy and inexpensive intervention, you can put that child's life back onto a normal trajectory."
To treat clubfoot, the nonprofit uses the Ponseti Method, entailing a series of plaster casts worn for four to six weeks. The treatment costs approximately $250 per child.
Without treatment, children face stigma and discrimination because families are ashamed of the defect; and because walking is so difficult, children may be unable to access education and healthcare, Colloredo-Mansfeld said. And children with clubfoot are subject to higher risk of neglect, poverty, and physical and sexual abuse. "It's hard to prevent poverty, and it's hard to prevent suffering in the world. But these children's disability can be easily fixed," she said.
It's a mission that Ryan Berman has been actively involved in since miraclefeet began in 2006. Colloredo-Mansfeld said the Bermans, both of whom sit on the group's board of directors, are highly engaged, often providing expertise and visiting clinics.
"They feel very strong connections to parents of the kids," Colloredo-Mansfeld said. "They tell families about their experiences and show them photos of Reese."
"This is a way to truly change a child's life," Ryan Berman said.
Whether ensuring critical care to children with clubfoot or providing opportunities for Pamplin students to excel, Ryan Berman's personal philanthropy is changing lives.
Annie McCallum is the Web editor for University Development.