Video by Jarrad Henderson | Visual and Broadcast Communications
Magic spells and the Coptic alphabet. Mythology and child-illustrated "crankies." Bluegrass and cello.
Alumna Chloé Benner's interests are far-flung.
A classically trained cellist who also plays the mountain dulcimer, the obscure seven-stringed viola da gamba (viola of the legs), and the folk harp, Benner, having easily adapted to traditional Appalachian music, is a mainstay player at the Friday night jam sessions in Floyd, Virginia.
Benner, who graduated in May with a degree in classical studies, links ancient worlds, teaching, and the arts. She's a fan of musical ballads because of their storytelling capacity—not unlike myths.
In fact, Benner traced one of her favorite ballads, "King Orpheo" (based on the myth of Orpheus), back to a 14th-century manuscript. As a student, she scoured Coptic texts on invisibility spells, charms, and enchantments as a way to understand the daily lives of ancient peoples. In the Department of Foreign Languages and Literatures, she explored manuscripts from the first century through late antiquity.
As an undergraduate, Benner launched an after-school program at Gilbert Linkous Elementary School in Blacksburg that combined Latin, her minor, with mythology and art. As students learned about the 12 labors of Hercules, they illustrated the stories on a long roll of paper, called a "crankie."
"I love working with kids, and classics help them to understand the foundation of our culture," Benner said. "Studying myths and Latin fosters interest and understanding, as well as introspection and depth, as children empathize with a people who are no longer here. It helps them become rooted in something beyond self."
This fall, Benner entered Hollins University's master's program in teaching.
Learn more about Benner in a Virginia Tech homepage Spotlight on Achievement →
---
Drones transport medications during research flights
Video by J. Scott Parker | Visual and Broadcast Communications
Led by Virginia Tech, the Mid-Atlantic Aviation Partnership oversaw the July 17 research flights of unmanned aircraft systems, or drones, to deliver medical supplies to a health clinic in Wise, Virginia—the first Federal Aviation Administration-approved drone delivery on U.S. soil.
Researchers were evaluating the aircraft for the delivery of pharmaceuticals and other medical supplies in rural areas, where transportation challenges often disrupt health care. Virginia Gov. Terry McAuliffe, Virginia Tech President Timothy D. Sands, local officials, and health care providers were on hand to observe the testing.
---
Marching Virginians move into a new home
Video by J. Scott Parker | Visual and Broadcast Communications
Over the past 41 years, Virginia Tech's highly acclaimed marching band has performed for hundreds of nationally televised football games and in parades across the U.S. When the Marching Virginians—330 members strong—returned to campus this fall, they finally had a place to call home.
The Marching Virginians Center, located on Southgate Drive within sight of Lane Stadium, features a 7,000-square-foot pavilion, restrooms, ample storage space for instruments, and a full-size synthetic turf field with lights and public address systems.
For years, the locations for practice sessions and instrument storage have been spread out and ever-changing. "The band has lived a nomadic life," said Dave McKee, the band's director for 30 years and senior instructor in the School of Performing Arts.
"This entering rookie class will have something that no other Marching Virginian has had before: four seasons of the collegiate marching band experience with a centralized athletic band headquarters," said Evan Fitts, a junior political science major who plays the clarinet and serves as the band's public relations officer. "Because of the Marching Virginians Center, the MVs now have a building to call our own. At last, there is a home for the Spirit," Fitts said, referencing the band's other moniker, "The Spirit of Tech."
More than 280 people contributed to the effort to build the facility, including Michael Sciarrino (accounting, finance '84, M.Acct. '86), a former tuba player with the band and a driving force in the effort to have the building named for McKee and James Sochinski, the band's former director and current arranger, after their retirements from the university.
---
Moment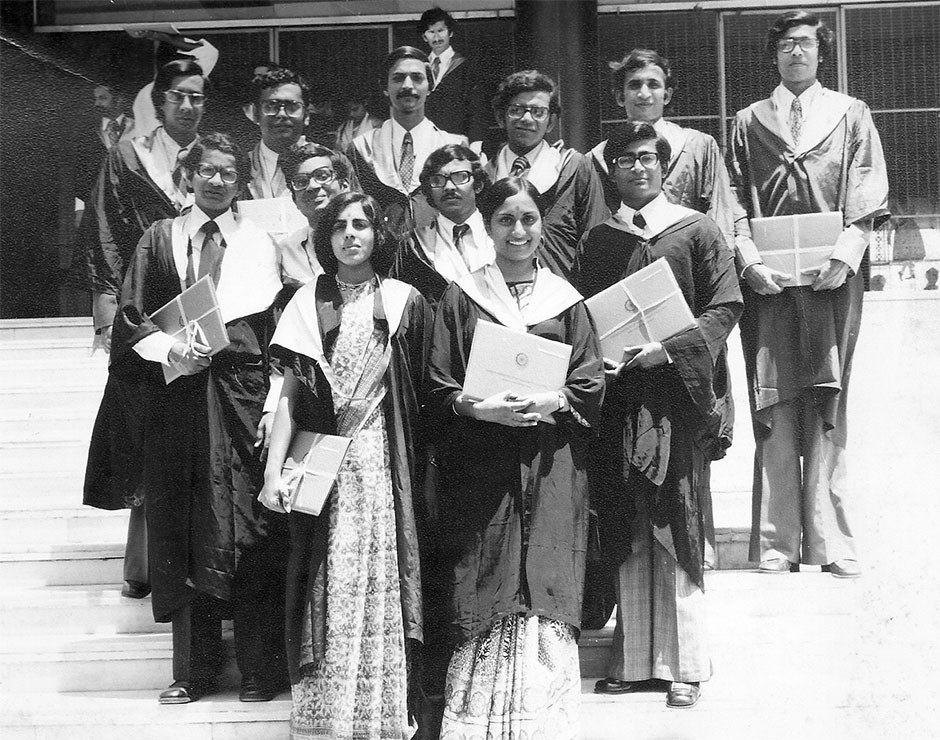 Raman Kumar (back row, fourth from left) and some of his friends in the 1977 graduating class of the Indian Institute of Management Calcutta, India, where he received an M.B.A. before earning a doctorate at the University of Pittsburgh.
Those who can, teach
Only those who've never quarterbacked a classroom would consider teaching to be a walkover. To the good fortune of generations of learners, some folks simply have the touch.
Among the gifted is 2015 William E. Wine Award winner Raman Kumar, the R.V. and A.F. Oliver Professor of Investment Management in Virginia Tech's Pamplin College of Business. According to Kumar, who teaches courses in investments, derivative securities, and international finance, he chanced upon his calling while studying with hall mates in the M.B.A. program at the Indian Institute of Management Calcutta in India.
Kumar's skill at explaining finance and accounting concepts was so apparent that the group's study sessions evolved into what the students called "crash courses," during which Kumar would present a review of the material before each exam. After six terms, not only had Kumar started to enjoy the crash courses, the group had grown well beyond a half-dozen or so hall mates.
"Years after joining Virginia Tech," Kumar said, "I heard someone say, 'You don't really understand the material until you've taught it.' Looking back, I realized that presenting the review in the crash courses had elevated my understanding of the material."
In Kumar's office on campus, one shelf of a wall-length bookcase is lined with plaques etched with "M.B.A. Outstanding Faculty Award," whose recipient is chosen each year by students. During the past decade alone, Kumar has been recognized five times.
"My first year teaching in the M.B.A. program at Virginia Tech, the students selected me as their outstanding teacher. ... In some ways, these awards are closer to my heart. It's students awarding them—no faculty members, no committees."
---
Natural resources and conservation program ranked No. 1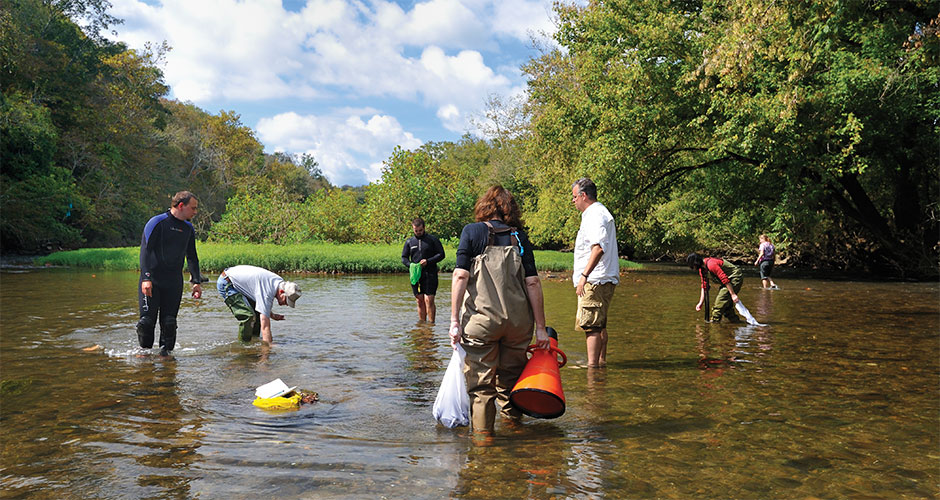 In a late-July assessment of data collected by College Factual, USA Today College ranked Virginia Tech's natural resources and conservation program as the nation's best.
Media organizations traditionally have not ranked natural resources programs because most rankings focus on disciplines and curricula that enroll larger numbers of students. While many U.S. colleges offer environmental science and natural resources course work, only 46 institutions offer a comprehensive slate.
"We are proud of our efforts that contributed to this ranking," said College of Natural Resources and Environment Dean Paul Winistorfer, under whose leadership the college has emphasized the science of sustainability. "We constantly position ourselves to make a difference in the world. This ranking is continuing confirmation of the quality and impact of our program."
Tech's program, Winistorfer said, is "at the nexus of climate, energy, air, and water issues that impact production of food and material needs for human society. We teach and research how to lower the human carbon footprint by producing, utilizing, and conserving renewable resources while sustaining our planet. Healthy ecosystems produce healthy economies."
Especially innovative is the college's new bachelor of science degree—called "water: resources, policy, and management"—that cuts across four other Virginia Tech colleges and 13 departments. Addressing complex interdisciplinary issues, the degree provides students with a background not only in water science, but also in law, economics, management, and the social sciences.
USA Today noted that Tech's College of Natural Resources and Environment "houses multiple departments that expose students to specializations in fish and wildlife conservation, forest resources and environmental conservation, sustainable biomaterials, and geography. Due to its exceptional education, affordable price, and high earnings boost, a degree from Virginia Tech is a great choice for any student interested in this field."
Rounding out the top five are programs at the University of Florida, Oregon State University, the University of New Hampshire, and the University of Wisconsin-Madison.
---
Virginia Tech Magazine App for iOS and Android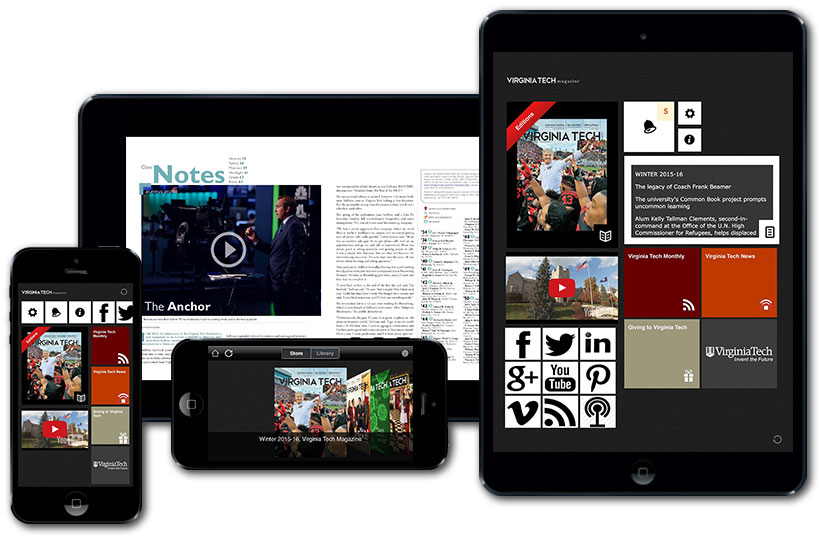 Around the Drillfield
---