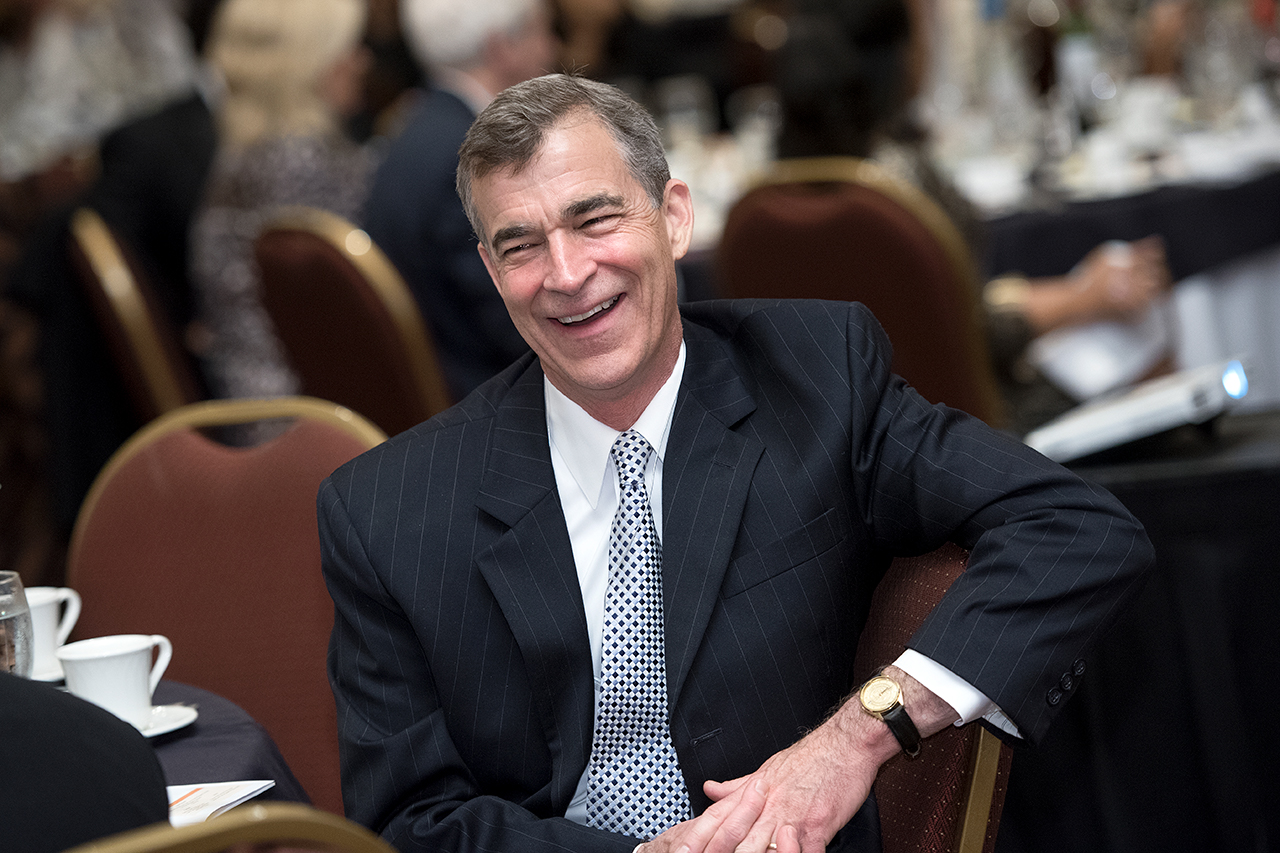 Charlie Phlegar '78, '87
After an eventful first year at the helm of Virginia Tech's Advancement Division, Charlie Phlegar '78, '87 was pleased to see the university break a record for annual fundraising.
Rather than putting his feet up on vacation, he took his family on an eight-day, seven-night paddling trip in the Grand Canyon.
"It was probably the most intense experience of our lives," said Phlegar. "No cell reception, no bathrooms, and a harsh climate. It required a lot of teamwork."
Phlegar, who has run, cycled, or exercised five days per week for nearly 40 years, is no fan of sitting still. It's a professional philosophy as well as a personal one, and it shapes his fast-moving approach with the university's advancement team, which comprises Alumni Relations, University Development, and University Relations.
Among others, new initiatives during Phlegar's first year have included relaunching the 1872 Society to recognize current-use donors, investing in the young alumni programs, and opening a studio so that faculty experts can give better interviews to national media. Priorities for the future include increasing awareness of Virginia Tech beyond its home state, topping fiscal year 2016's fundraising total of $100.42 million, engaging young alumni to a greater degree, and encouraging more alumni to give back to the university.
Virginia Tech must dare to be bold and innovative."
"Surveys indicate we Hokies have great affinity for Virginia Tech," Phlegar said, "but there's no way to hide the truth that we lag well behind our peers in the percentage of alumni who actually donate.
"Hokies are naturally generous, but we must do more to educate them about the importance of philanthropy to our success," Phlegar said. "We're committed to at least doubling our alumni giving percentage to reach 22 percent by the time we celebrate Virginia Tech's 150th anniversary in 2022. Anyone can give back, and it always makes an impact. It's not just a matter of how much they give, but that they give what they can, when they can, and in the way that fulfills them."
As the son of a university administrator, Phlegar grew up in Blacksburg. His father, Archie '52, '74, '78, is one of nine Hokies in Phlegar's family, as is his wife, Karen '88.
Phlegar worked at Tech early in his career — first in the athletic department, later for the Alumni Association — before taking posts of increasing responsibility at East Carolina University, the University of South Carolina, The Johns Hopkins Institutions, and Cornell University, where he was vice president for alumni affairs and development. Phlegar admitted that his strong connection to Tech helped Virginia Tech President Tim Sands recruit him from Cornell, but he was quick to add that it wasn't fond memories alone that attracted him. Sands' vision for growth and change was inspiring, he said.
"Virginia Tech is a fantastic institution, and it has an ability to be better in all areas," Phlegar said. "Tim Sands has a vision of what higher education needs to be and our role in it. I believe to my core we are doing things that are very significant in higher education, but they cannot be done without the Advancement Division. We have to share our story more broadly. We have to engage our alumni and friends. And we have to provide the financial support it will take for Tech to achieve its major strategic objectives."
Phlegar said that today's competitive environment won't reward universities for being risk-averse. Rather, "Virginia Tech must dare to be bold and innovative," Phlegar said. "With President Sands' leadership, we will meet the challenge of our Beyond Boundaries envisioning project. We will evolve as an institution, in order to advance excellence and expand access to the Virginia Tech experience."
With those ambitions in mind and with such a deep love for Virginia Tech, Charlie Phlegar is unlikely to slow down anytime soon.
Albert Raboteau is the director of advancement communications.