Tackling nature's
most wicked problems
Photo by Jim Stroup
by Mason Adams
Virginia Tech's new Global Systems Science Destination Area grows from roots that extend back to the university's founding as a land-grant college, to branches that include the globe's most urgent and complicated challenges.
One of five new Destination Areas — sites of interdisciplinary collaboration where experts are positioned to address the full complexities of pressing problems worldwide — Global Systems Science targets the interface between society and the environment.
"The heart of the Global Systems Science Destination Area is the intimate and complex relationship that we have with the environment," said William Hopkins, director of the Global Change Center at Virginia Tech and professor in the Department of Fish and Wildlife Conservation. "For example, as the need to provide food, energy, and water to a growing human population continues to escalate, how do we prevent, halt, or reverse undesirable side effects like pollution and climate change?"
Global Systems Science targets what are known as "wicked problems," challenges considered difficult, if not impossible, to solve because of their complexity, size, economic effects, or continuously changing nature.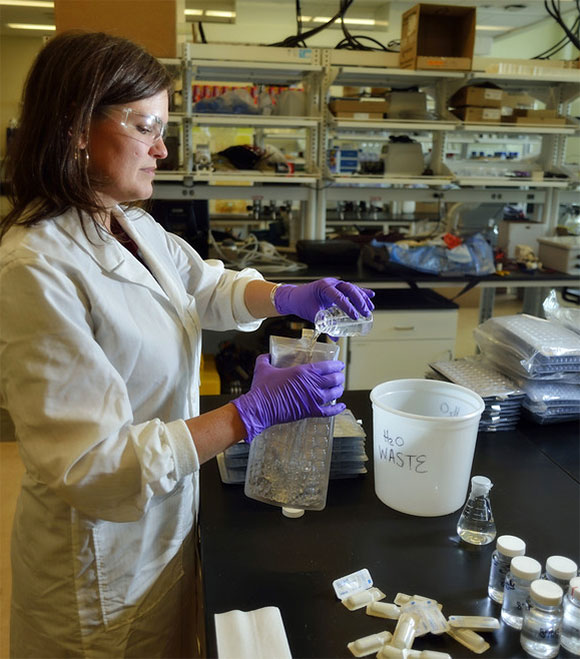 "They cannot be solved with our traditional research and training models," Hopkins said. "They require new science and technologies, advanced computational methods, and highly transdisciplinary approaches, to include an integrated combination of collaborating scientists, engineers, and social scientists, as well as diverse non-academic stakeholders."
Fortunately, the same complexity that makes wicked problems so tough to tackle plays to Virginia Tech's strengths. Students, faculty, and staff from a variety of backgrounds and academic pursuits collaborate daily to tackle challenges in the spirit of Virginia Tech's land-grant mission and its motto of Ut Prosim (That I May Serve).
Take, for instance, the groundbreaking work by the Flint Water Study research team led by Marc Edwards, the Charles Lunsford Professor of Civil and Environmental Engineering, which exposed a public health crisis in the industrial Michigan city.
From the forest to the faucet, securing clean water is crucial to the future of the global population, and Virginia Tech is poised to play a key role in that endeavor.
"The demand and need for water are definitely expanding rapidly, but it's a finite resource," said Stephen Schoenholtz (pictured above), director of the Virginia Water Resources Research Center and professor in the Department of Forest Resources and Environmental Conservation. "Fresh water is essential in every person's life every day. It's essential for energy and food, and there are no replacements. It's a major issue that affects everything."
Amy Pruden, the Thomas Rice Professor of Civil and Environmental Engineering and a member of the Flint Water Study team, has conducted important water-related research into the growing problem of antibiotic resistance. Pathogenic bacteria have evolved so that traditional antibiotics no longer control them. One study found that, by 2050, infections resistant to drugs — infections that now kill about 700,000 people a year — will grow to kill 10 million people annually, more than the current number killed by cancer.
"Antibiotic resistance is a major public health threat," Pruden said. "It's become apparent that we need an interdisciplinary approach to understand this growing resistance and to develop strategies to stop it. It's such an urgent problem; we need our antibiotics to keep working. When you have an urgent, interdisciplinary problem, you need people of different backgrounds to come together and work to find solutions."
Global Systems Science, along with the four other Destination Areas — Adaptive Brain and Behavior, Intelligent Infrastructure for Human-centered Communities, Data Analytics and Decision Sciences, and Integrated Security — aim to bring Hokies together in interdisciplinary collaborations to tackle these and other broad, societal-scale problems facing the world.
Virginia Water Resources Research Center, 2013
Features

Fall 2016
Tackling Nature's Problems