Video by J. Scott Parker

Photos by Logan Wallace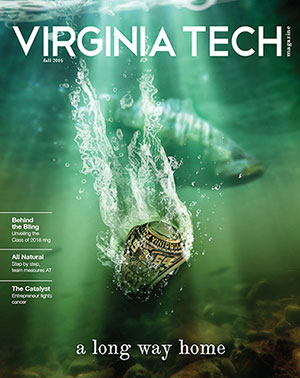 Fall 2016
On the cover: If a lost class ring has a mind to find its way home, even the New River — and its fish — won't stand in the way. Photo by Jim Stroup.
Editor's page
Eighteen years in the making, an outrageous idea by Speedway Motorsports Inc. owner and CEO Bruton Smith roared to life on Sept. 10 at Bristol Motor Speedway in Bristol, Tennessee: a football game in the middle of the track. Despite the Hokies' 45-24 loss to the University of Tennessee, the Battle at Bristol was one for the ages. A record-breaking crowd of 156,990 packed the historic speedway, surpassing the 115,109 in attendance at a 2013 game between the University of Michigan and Notre Dame in Michigan Stadium. The Corps of Cadets' cannon, Skipper, made its first out-of-state trip, firing each time the Hokies scored. Photos by Jim Stroup; videos by HokieVision.
Retro
by Kim Bassler '12, University Libraries communications coordinator. Images courtesy of libraries' Special Collections; more can be found at imagebase.lib.vt.edu.
23

years ago,
23

years ago,
23

years ago,
agriculture and forestry students challenged each other to a log-cutting contest.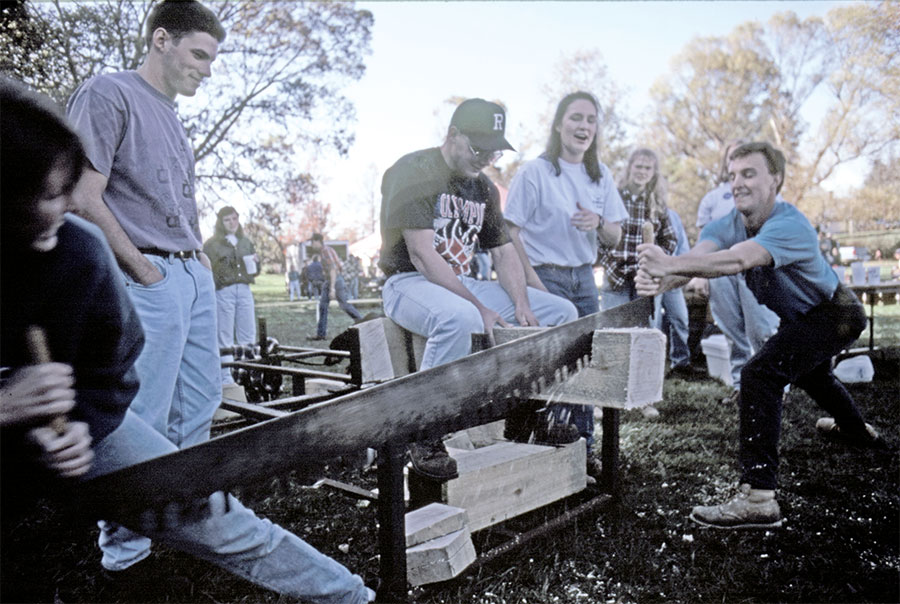 33

years ago,
33

years ago,
33

years ago,
members of the Class of 1933 reunited at a homecoming football game.
80

years ago,
80

years ago,
80

years ago,
2,115 students were enrolled at Virginia Tech. This fall, Virginia Tech welcomed more than 31,000 new and returning students.
120

years ago,
120

years ago,
120

years ago,
the Virginia Agricultural and Mechanical College and Polytechnic Institute needed new school colors. A committee selected Chicago maroon and burnt orange after discovering that no other college used this combination of colors.