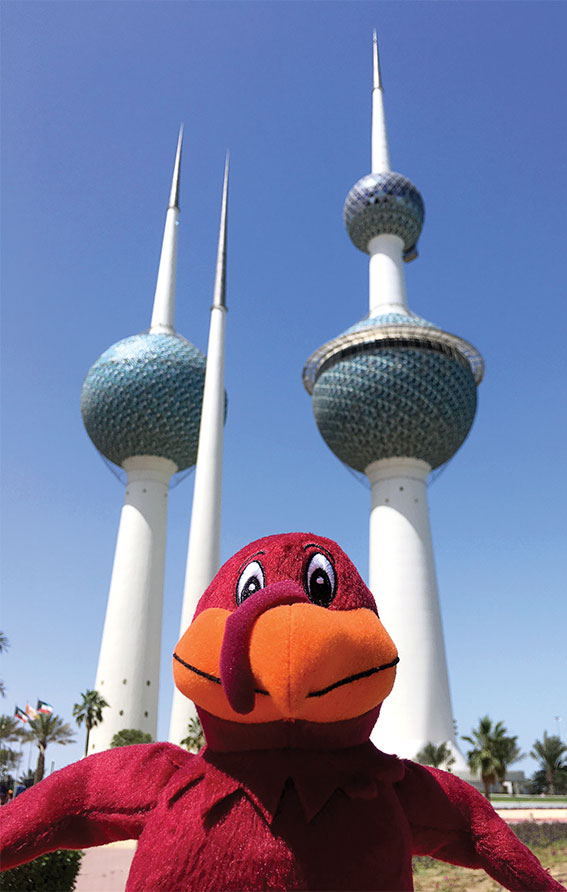 Kuwaiti Towers
Alumna travels the world for Virginia Tech
by Jacqueline L. Nottingham '88
Traveling around the world to recruit prospective students and connect with fellow alumni might sound like a dream come true. And for me, it is.
As assistant director for admissions and recruitment at Virginia Tech's Language and Culture Institute, I roam the globe to attract the best and brightest international students, scholars, and professionals to the university.
Working in conjunction with Undergraduate Admissions and the Graduate School, I extol the benefits not only of the Language and Culture Institute, but also of the broader university. Plus, I've got my trusty companion, HokieBird, with me.
Bird in hand, I get to see places most people only read or hear about. On Instagram, Twitter, and Facebook, the HokieBird can be seen at the pyramids of Egypt, the Kuwait Towers, high schools in China, and near the Red Sea.
While searching for new students and visiting countries near and far, I also email alumni and tell them I'd like to say hello. Almost immediately, I get a response: "Yes! Please, let's meet!"
In Saudi Arabia, I met up with Emet LaBoone (Ph.D. curriculum and instruction '06), who is now a senior learning and development specialist at the Islamic Development Bank. Before heading to Kuwait, I sent out a generic email to alumni living in the country. Within 24 hours, I'd heard back from Ahmed Alkandari (industrial systems engineering '01). While he couldn't meet with me, he gave me three other contacts. From there, I was able to schedule a meeting with alumni faculty members at Kuwait University's College of Engineering and Petroleum and to have dinner with brothers Mijbel (computer engineering '04) and Bader Al Qattan (business information technology '05) and their cousin, Hamad Alsane (accounting and information systems '07).
What starts out as a meeting of strangers winds up being a homecoming of sorts. They treat me as a cherished friend. It's humbling. These members of our family value their memories of Blacksburg. With fondness and nostalgia, they reminisce about their favorite advisor, restaurant, apartment, friendships, and experiences.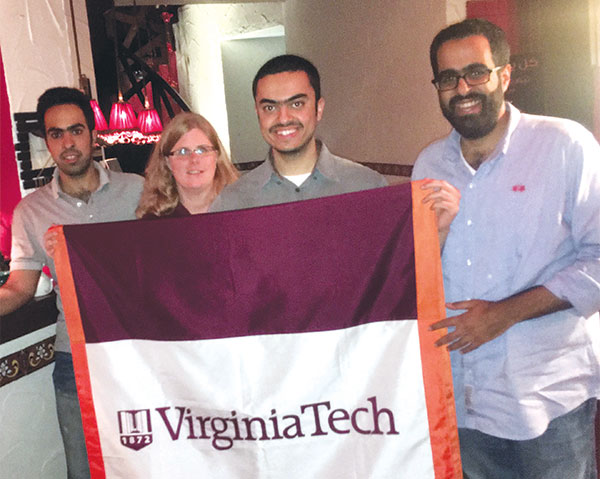 Hokie-wide
Kuwait
Jacqueline L. Nottingham '88 with (from left) Bader Al Qattan '05, Hamad Alsane '07, and Mijbel Al Qattan '04.
They are proud alumni and a vital part of our community. And they want to assist and remain involved in any way they can. They help to identify alumni they know and spread the word to others about updating their records through the Alumni Association. In turn, we can call on them to speak with prospective students at fairs and high schools. They can engage with current students and provide guidance and support where needed. Meeting Hokie alumni can also go a long way to reassure families about the strength of our programs and the potential for student success.
As my journey continues, I will meet more members of my extended family and utilize their generosity to further build pathways to and from Virginia Tech. Meeting families, future students, and devoted alumni throughout the world is exciting, exotic, and exhausting. The HokieBird and I wouldn't have it any other way.
Jacqueline L. Nottingham (family and child development '88) is the assistant director for admissions and recruitment at the Language and Culture Institute. She can be reached at a ntnghm@vt.edu.