Ringing true
by Tim Sands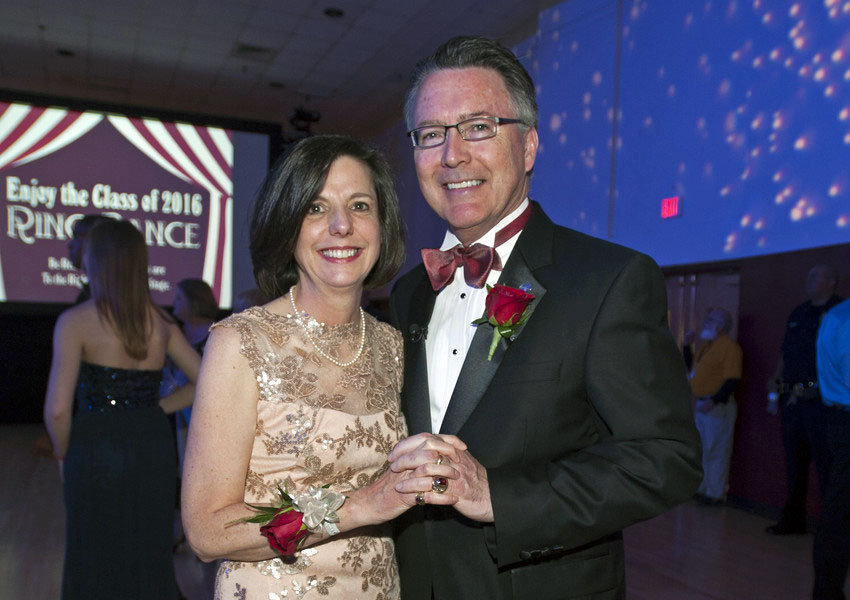 During last year's Ring Dance, Laura and I were honored to each receive a Virginia Tech class ring, a gift from the Class of 2016. Class rings are special because they represent the history and traditions of our university. They are also a tangible reminder of the knowledge, skills, and experiences we carry with us into the future. Apparently, Hokie rings sometimes take surprising journeys and turn up in unexpected places. Perhaps those treks have something to do with the adventurous spirit of our alumni.
In keeping with that spirit, we have an opportunity to break new ground in higher education. Last year, we embarked on an ambitious project, "Envisioning Virginia Tech–Beyond Boundaries." Thousands of faculty, students, staff, alumni, and partners participated in shaping a vision for Virginia Tech a generation into the future.
We began with our strengths and sought opportunities to build our national global leadership profile. These strengths have led us to form "Destination Areas," which are intended to be destinations that attract talent, partnerships, investment, and future-focused innovation. Our first five Destination Areas are Intelligent Infrastructure for Human-Centered Communities; Global Systems Science; Adaptive Brain and Behavior; Integrated Security; and Data Analytics and Decision Sciences. These destination areas do not replace our traditional fields of study; they are instead intended to connect our students and faculty with rapidly emerging issues and opportunities. Consider the swift development of drone technology. Earlier this year, the Virginia Tech Mid-Atlantic Aviation Partnership partnered with Google and Chipotle to test a drone delivery system, an important step toward making automatic drone deliveries a convenient and safe part of the intelligent infrastructure of our daily lives.
All these new programs have extensive experiential components. They prepare students with both depth of discipline and breadth across multiple subject areas. In addition, learning and experience occur in the context of our motto, Ut Prosim (That I May Serve). Everything we know about the direction of our global economy tells us that our undergraduates must be able to reinvent themselves professionally more than a dozen times over the course of their careers. We need to start thinking about the college experience differently. How can we become more valuable to our graduates and do more good for society?
We have an opportunity to become leaders in higher education and define the future of a 21st-century university education. Provost Thanassis Rikakis and I are confident that we will attract the world's best faculty talent from across the globe to drive this transformation, and we will admit the best students from the state, the country, and around the globe. Our graduates will have the entrepreneurial skills to be resilient as the world around them changes. They will be at the forefront of research and discovery. We will create an intellectual environment that will open up the "Blue Oceans" to our explorers.
We envision a campus where faculty and students come together from many disciplines to work as a diverse team to address the complex issues of tomorrow — a dynamic organization that offers a vibrant living-learning environment and a collaborative experience that transcends the traditional college structure.
We will not leave our history and tradition behind. On the contrary, we will carry them forward with us. It is our heritage to be trailblazers and innovators. We're embarking on an adventurous new journey, Hokies; hold on to your rings!
Tim Sands is Virginia Tech's 16th president.