Virginia Tech's oldest alumnus: Ralph Phinney '16
by Su Clauson-Wicker
At 102, Ralph Phinney (electrical engineering '16) is Virginia Tech's oldest living alumnus. In 1913, he traveled from Richmond by train to attend an institution few of us would recognize.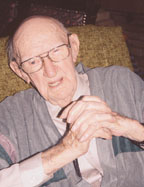 In those days, all 527 students lived in barracks without running water, marched to meals and classes in formation, and turned in at 10 each night when the power plant shut off the electricity. His father mailed a monthly check of $13.25 to the treasurer for board and laundry; tuition was free to Virginia students.
"Social life was a no-no," Phinney says, "except for an occasional date with a faculty member's daughter. Fun? It wasn't any fun. We had reveille at 6:30 a.m., formation at 7. We had classes all day and drilled in afternoons."
Still, he admits, the military life agreed with him.
The school was known as Virginia Polytechnic Institute. Nobody called anybody a Hokie, Phinney says; they were the "gobblers."
"Our mascot was a turkey. We had a little wagon with two turkeys pulling it that we would take to the football games," he says.
Many of the students in 1913 came from small country schools and majored in agriculture. Phinney's Richmond education was so advanced that he was admitted to college with his freshman year completed.
Spectator athletics was Phinney's main extracurricular interest, as it is today, and he traveled with the teams as the sports editor of the campus magazine. His other activity, a secret fraternity called Delta Sigma Sigma, existed in violation of campus military regulations and caused Phinney to be demoted to "senior private" his last year.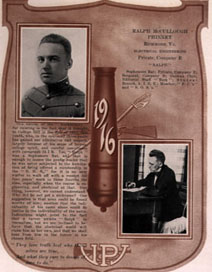 "We really didn't do much," Finney says, "but there was a certain honor in being asked to join. I guess I was a little daring in that I defied orders to join."
When Phinney graduated, he and fellow electrical engineers interviewed with some of the same companies that recruit Tech students today -- GE, Westinghouse, and AT and T.
"I started with American Telephone and Telegraph in the traffic department on July 1, 1916," he says. "In those days, Ma Bell (AT and T) was the whole ball of wax. We didn't have any competition."
Nine months later, World War I was declared, and Phinney entered the service in Bell's signal corps as a lieutenant. He spent more than a year training the student engineering corps at Texas A and M and helped to organize demobilization at the war's end before returning to AT and T at its Savannah facility.
On the way to Georgia, Phinney visited an aunt in Greeneville, Tenn., his home away from home, and became interested in the rural electrification program starting there. Within a year, he left AT and T to start his own business supplying electricity and energy to farms, businesses, towns, and other consumers in upper eastern Tennessee.
"It wasn't rich territory, but I thought I could make some real money in business rather than staying on a salary at AT and T," he said. "We did a satisfactory business until about 1930. Then the Tennessee Valley Authority tore our little house to pieces; my generators became obsolete."
Phinney's business problems were compounded by the stock market crash in 1929. Even when he switched to electrical appliances, service, and supplies, he lost business staying open. "Sometimes I wouldn't get a call all day. Business didn't really come back until World War II," Phinney says.
Phinney's Greeneville Electric Co. installed electrical systems in several new industries and grew to become the leading electrical contractor-dealer in the county.
Phinney, a bachelor, lived at Greeneville's Brumley Hotel until 1973. For about a decade, until their deaths, his parents occupied a nearby suite.
At almost 103, Phinney has a sharp mind and an amazing memory, although he has a hearing problem and difficulty eating because of an accident he suffered six years ago. A heart attack in 1992 has not stopped him either. Phinney still occasionally can be seen driving his car around Greeneville, and he was the featured speaker at the Rotary Club shortly after his 102nd birthday.
Phinney's chief activity since he retired in 1981 is, in his own words, "executing the Andrew Johnson legacy through the estate of my cousin, Margaret Johnson Patterson, great-granddaughter of the 17th U.S. President."
A statue of Johnson stands in downtown Greeneville, and now in the Tennessee Capitol, thanks to the gracious, but tenacious efforts of Phinney over the past five years. Phinney also supervised the donation of family land to extend the Andrew Johnson Memorial in Greeneville, as well as overseeing the cataloguing of Johnson's artifacts and political papers. A large portion of this collection, worth about $500,000, was donated to nearby Tusculum College.
Andrew Johnson came to Greeneville from North Carolina when he was 18 and opened a tailor shop. He began his political career there and eventually served as Abraham Lincoln's vice president.
"Andrew Johnson succeeded the president when Lincoln was shot. He became a man without a country," Phinney says. "He tried to implement Lincoln's policies and to restore the southern states. The North opposed his policies as too lenient, and the South resented him because Lincoln had appointed him military governor of Tennessee in the Civil War."
Phinney remembers going to the White House with his Patterson relatives shortly after his graduation from Tech in 1916 to lobby for the establishment of an Andrew Johnson historic park in Greeneville. In 1942, the National Park Service established the park, which includes Johnson's tailor shop, his early home, his last home, his burial site, and an Andrew Johnson museum.
Phinney stays interested in Virginia Tech, but has not visited campus since he drove himself to an Old Guard reunion (for alumni who graduated more than 50 years ago) in his early 90s. "I felt like the poor boy at the picnic," he says. "There was nobody to talk to about my days on campus. The next oldest man was from the Class of '22."
His correspondence is still typed on his Remington manual typewriter, and he answers the phone without the assistance of a hearing aid. Not long ago, he stood up to give an extemporary speech after receiving an award from the Greeneville Rotary Club, of which he is a charter member.
Editor John Jones Jr. of the Greeneville Sun overheard one Rotarian comment, "If I could do it like Ralph Phinney has, I might not mind living to 100 myself."
Home | News | Features | Research | Philanthropy | President's Message | Athletics | Alumni | Classnotes | Editor's Page