Remembering legends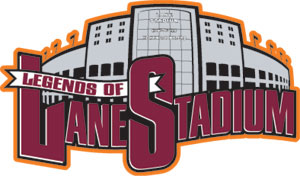 In regard to the "Legends of Lane" ad on the back cover of the Fall 2005 issue of Virginia Tech Magazine: how soon we forget. In my book, the first Legend of Lane Stadium is Bob Schweickert. How could he have been omitted from the stellar group of football players who shone in Lane? He was the first legend to play there, by golly. He gave the kinds of performances that lit the spark under the football program at VPI/Virginia Tech. In fact, the excitement and enthusiasm for our football program evoked by Bob and his teammates are what made Lane Stadium possible!
As I recall, in 1960-62 (or thereabouts), Bob Schweickert was the catalyst that made the concept of Lane a reality because of the enthusiastic fan base that developed while he was playing. No telling how long the construction of Lane Stadium would have been delayed had Bob Schweickert not chosen Tech after leaving Midlothian High School, where he had also excelled at quarterback. He created the beginning of today's tremendous enthusiasm for Virginia Tech football. He was the first quarterback and true star to play in Lane Stadium. And he was a triple threat, no less! He passed, ran like a gazelle, and punted for a 40+ yard average. He became an All-American while competing against a guy named Joe Namath and lesser-known John Huarte of Notre Dame. Incidentally, Mr. Lane thought enough of Bob to hire him to work at the Lane Company in Alta Vista after he had graduated.
I am sure those who were closer to the scene in pre-Lane days could give a more complete and convincing report than this one, but I, for one, am convinced that Bob Schweickert is the one person, other than Mr. Lane, who turned the dream of Lane Stadium into reality by creating tremendous (at the time) excitement and enthusiasm for the program and a healthy demand for tickets.
Paul Bates '44, '47
Midlothian, Va.
I like the idea of the "Legends of Lane." I think the powers-that-be would be remiss in not including Carroll Dale among the legends. Carroll (Class of 1960) was VPI's first collegiate football All-American. He went on to have a stellar career in the NFL with the Green Bay Packers and the Los Angeles Rams. He was a class act and very unpretentious.
Bill Lauer '60
Knoxville, Tenn.
---
History not set in stone?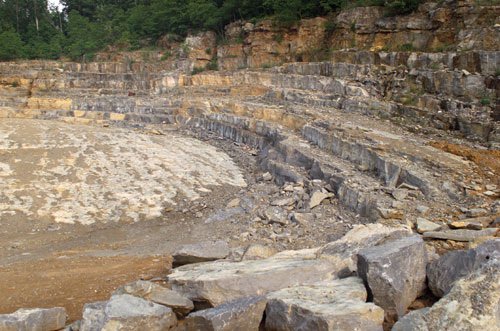 Virginia Tech's quarry in Blacksburg
I'm writing in regard to the question about Hokie Stone in the Virginia Tech Magazine [Fall 2005]. The answer states that "Virginia Tech may be the only university in the nation to operate its own federally certified stone quarries...." That may be true, but I don't think so.
I'm proud to say that I'm an alumna of both Virginia Tech (M.S. '76) and Duke University (B.A. '73). When the main West Campus of Duke was built in the 1920s in neo-Gothic style, stone was brought in for James Buchanan Duke and others to choose which quarry would supply the stone for the buildings. When the stone they liked best turned out to be from a quarry in nearby Hillsborough, N.C., "Buck" Duke bought the quarry for the university. Whether it was ever "federally certified," I've never heard. Stone from this quarry was recently used on new dormitory buildings and an addition to the Divinity School, among others. Unfortunately, the dorms are mostly brick because of the high cost of fitting stone these days.
Because the stone used for the buildings at Duke is cut to different proportions than the stone at Virginia Tech, the buildings have a different look, but both styles are beautiful. Perhaps the larger blocks on Tech's Hokie Stone buildings make fitting the stone a little less expensive than Duke's style.
Gael Chaney '76
Martinsville, Va.
---
The New Virginians
Recently, we brought my son to campus for a tour because he is considering Virginia Tech as one of his college choices. I was very dismayed to hear that the New Virginians no longer existed and that no one seemed to even have heard of them! What happened to them? They were an important part of my four years at Tech. I was hoping they'd be there if and when my son goes there.
Kimberly (Vineyard) Sparks '78
Stafford, Va.
Editor's note: John Husser, head of the Department of Music, responded:
The New Virginians underwent a drastic change in the early '90s as a result of budget cuts. They morphed into the Jazz Choir and had a very successful 10 years, winning the Downbeat Award two years in a row for the most outstanding jazz choir in the nation. Then, during the budget cuts of the early 2000s, we lost both our vocal and our instrumental jazz professors. Not a decision of the department, just the circumstances of resignations at a bad time. We are beginning to rebuild now and have hired an instrumental jazz professor, but I'm not sure when we might get back in the business of vocal jazz or popular music. Sorry to be the bearer of bad news.
---
WHAT DO YOU KNOW?
Do you have a question about Virginia Tech? Simply write to Virginia Tech Magazine, 105 Media Building, Blacksburg, VA 24061, or send an e-mail to vtmag@vt.edu.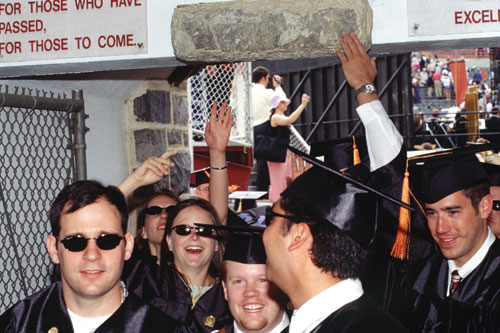 Question: What are the words painted around the "good luck" Hokie Stone in Lane Stadium?
Answer: Before each home football game, Virginia Tech's players and coaching staff enter Lane Stadium through a tunnel. On the stadium-side entrance to Worsham Field, they pass beneath a Hokie Stone, which they touch for good luck, that is flanked by these words: "For those who have passed. For those to come ... Reach for Excellence."