Charitable gifts made to Virginia Tech come in all shapes and sizes, from new laboratory equipment to multimillion-dollar buildings. Over the years, the university, which is truly blessed with the support of many dedicated donors, has been transformed by the power of philanthropy. This power, however, is not limited to million-dollar donations--smaller gifts, too, can bring significant benefits to students.
"The university has numerous projects and needs. Some are not as highly visible as creating a chair or professorship or naming a building but are, nonetheless, important to the life of the Virginia Tech community," says Elizabeth Flanagan, vice president for development and university relations. "It is important that our alumni, parents, and friends know that every gift counts, and that we, as an institution, also create an awareness of the many giving opportunities at lower levels. In fact, smaller gifts have a tremendous effect on students and the campus."
An annual gift of $20,000, for example, will quickly grow to $100,000 over a five-year pledge period and can be used to create an endowment in perpetuity for ongoing support of targeted university programs. Initially, an endowment at that level will generate approximately $5,000, and that payout will increase over the years as the principal grows. Such support is especially important for humanities and liberal arts programs with limited access to federal research dollars and corporate funding sources.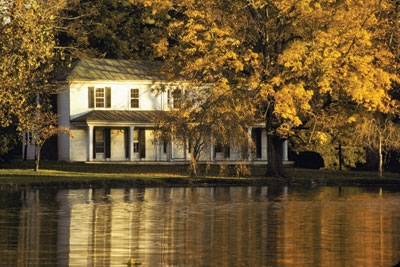 Reopening an historic landmark
Private support will be crucial to the restoration of Solitude, one of Virginia Tech's oldest structures. This historic house was home to two 19th-century Virginia governors and was owned by Robert Preston, a trustee of the Olin and Preston Institute, which became the nucleus of Virginia Agricultural and Mechanical College (VAMC). When VAMC purchased Solitude from Preston in 1872, the house became the college's second building. Since then, Solitude has served many purposes, including use as a student infirmary in the late 1800s. Today, after standing for more than 200 years, the building needs repair and restoration.
Gifts of all sizes will speed the restoration of Solitude, which will house the new Appalachian Center, a site for public lectures, museum exhibits, performances, and other activities that celebrate the region's rich heritage.
"It is incredibly important to be able to touch the past," says Elizabeth Fine, chair of the Department of Interdisciplinary Studies. "As an institution, we have a need to be grounded in the region and to know where we came from. Solitude provides a real sense of place and time for the entire university community."
Introducing Arabic
Today's students will live and work all over the world, and "intercultural competence" is now part of the basic set of skills needed for a complete and meaningful education. Foreign languages, including Mandarin Chinese, Korean, and Arabic, are increasingly important and relevant in today's international marketplace.
"I get an average of 20 to 30 calls per year about whether we offer Arabic, but we don't have the money to do it," says Andrew Becker, chair of the Department of Foreign Languages and Literatures. "My assumption is that these calls represent only a few of those who would want to take the course."
These requests come from students who have a personal interest in Arabic or who see an introduction to the language as being important to their future professions. David Meehan, a student in crop and soil environmental science, believes having Arabic language skills would give him a competitive edge when competing for jobs. "It's something I think will open a lot of opportunities," he says.
Supporters of the university can help students like Meehan by making a small gift to the university. An annual endowment income of $5,000 would enable the Department of Foreign Languages and Literatures to add a full first-year sequence of Arabic language to its course offerings.
Support a success story
The Department of Philosophy is a vibrant program with a national reputation for excellence in teaching and research. For the past six years, the department has been ranked second among its 78 peer programs across the country. Yet despite its success, the department has found that funding relatively small needs, such as sending graduate students to professional conferences, can sometimes be a challenge.
Charitable giving, even in modest amounts, would help students attend conferences where they can present their research to peers and professionals in the field. Participating in such events helps graduate students build confidence and leadership skills and can be valuable for networking. New funding would also help graduate students in the department to continue hosting their own annual conference in Blacksburg. Only in its second year, this student-directed event has attracted the attention of talented philosophy scholars from around the country.
"One of the goals for the conference is to give students a taste of higher-level work--the sort of work that will be expected of them as they continue on into Ph.D. programs or into the work world," explains Lucas Covey, a philosophy graduate student and organizer of this year's conference.
At Virginia Tech, the variety of charitable giving opportunities is endless, including campus beautification projects, faculty training initiatives, and special housing for the Honors Program--just to name a few. Donors looking for an academic department, research project, or other university program that matches their personal interests can contact the Office of University Development for assistance by calling 800/533-1144. Truly, every gift does count, and the average person can make a difference in the quality of life and learning at Virginia Tech.
Steve Grieco is a writer for University Development.
Make a wish by Judith Davis
Have you ever wished for a million dollars? For a way to make dreams come true? Chances are, you already have your wish list: things you would enjoy today, long-term security for yourself and loved ones, and--high on most lists--the ability to help others.
Sound like wishful thinking? It doesn't have to be. A deferred gift plan, tailored to individual circumstances, can help reach those goals.
Take Mike and Sarah.* They're young Virginia Tech alums with good jobs, an active toddler, and a home of their own. Their earnings are increasing, as is their debt. This couple supports Virginia Tech with annual gifts, and they'd like to do more--someday. They've discussed creating a scholarship to help others the way their own scholarships helped them. But right now they want to keep their options open and hang on to their assets.
Mike and Sarah chose a deferred gift--one that designates future support for the university. It will accomplish their charitable goals without changing their cash flow. So, when they had their attorney draft will documents to protect their daughter, they included a percentage bequest that will one day provide scholarship support.
Chad* is a single grad with his first full-time job. He grew up in a family tradition that values a lifelong relationship with the university and with fellow alumni. So Chad plans to stay connected to his alma mater. As his entry-level salary grows, he will increase his yearly gifts to Virginia Tech. For now, Chad makes a sizeable gift commitment when he fills out new-employee benefit forms: he names the Virginia Tech Foundation as beneficiary of his company life insurance policy and retirement plan.
Sam* is nearing retirement. His current income is comfortable and he's put money into his retirement plan. He's enjoyed seeing his past contributions to Virginia Tech make a difference. Now in his 60s, he wonders if he'll ever be financially capable of the gift he really wants to make: a professorship to honor his father. Sam will need a dependable income when he retires, he wants to be prepared for possible health-care needs, and he wants to protect his wife in the event of his death.
Sam meets his goals with a life income gift that will pay an income to him and his surviving spouse during their lifetimes, after which the remainder will endow his professorship. He can also use his will or trust to establish a contingent bequest that first provides lifetime support for his wife and then funds his professorship.
The names in these illustrations are fictitious but the power of deferred giving is real. For those who don't consider themselves able to support Virginia Tech as generously as they wish, deferred giving provides exciting options. For those who make substantial gifts to the university, year after year, deferred giving offers a way to establish a legacy that crowns a lifetime of philanthropy.
It's more than wishful thinking. A deferred gift can meet both personal and charitable goals. It is possible to make dreams come true.
For more information about these and other deferred gifts, contact the Office of Gift Planning at 800/533-1144 or 540/231-2813 or by e-mail at giftplanning@vt.edu.
Judith Davis is a writer for the Office of Gift Planning.
*Representative alumni created for this article.