Virginia Tech Magazine's online feature, "On the Web," gives Web-savvy readers more news and stories about some of the exciting things happening at the university today. "On the Web" will be updated with Web-only content on a quarterly basis.
---
RESEARCHERS DEVELOPING TECHNOLOGY TO PROTECT CHILDREN'S ONLINE PRIVACY
by Sookhan Ho
Parents concerned about safeguarding their children's online privacy can look forward to better and more user-friendly technology for doing this. Technology is being developed by a team of Virginia Tech business and engineering researchers who recently won a $450,000 award for their work from the National Science Foundation's Cyber Trust program.
Millions of children use the Internet every day, said Janine Hiller, professor of business law in the Pamplin College of Business and spokesperson for the research team, which includes Michael Hsiao, associate professor of electrical and computer engineering in the College of Engineering who serves as the project's principal investigator; France Belanger, associate professor of accounting and information systems; and Jung-Min Park, assistant professor of electrical and computer engineering.
Children use the Internet for casual web surfing, Hiller said, as well as for games, interactive learning, and other applications that often ask them to submit personal information about themselves. "While kids today are adept at using computer technology, most are still very naïve about privacy protection. The promise of a small prize can easily convince them to share personal information."

Because children aren't sophisticated enough to protect themselves, she said, the key to protecting their privacy lies in parental consent to solicitation of information from a child. The Children's Online Privacy Protection Act prohibits web sites from collecting, using, or disclosing information from children under 13 without first obtaining "verifiable parental consent."
Though the law has been in effect since 2000, and though many different privacy-enhancing technologies have been developed, a widely acceptable technical solution to the problem of obtaining and ensuring parental consent has yet to emerge, she said. "How do we know that parents have really given their consent?"
The team, Hiller said, has developed a concept for technology to obtain verifiable parental consent that is reliable, easy to use, and cost effective and would serve the needs of children, parents, and website operators. The concept is called POCKET--Parental Online Consent for Kids' Electronic Transactions. POCKET is designed to enable the parent to protect the child's personal information during an online transaction without the parent's direct supervision. In addition to the parent and the web operator or merchant, POCKET uses the services of a trusted third party server.
The concept offers three major advantages over current technologies. For starters, a parent can establish a customized, "fine-grained" disclosure policy to protect the child's information--"flexibility that exceeds what is currently available in other technologies," Hiller said. The system also enforces the accountability of the merchant in handling the child's information through the contract and log files that are generated during the transaction. "While the law requiring parental consent applies whether or not there is a contract," she said, "a contract is an additional reassurance." Lastly, the system is user friendly, which enhances its potential for wide adoption. "After the parent has created the privacy preferences, only minimal participation from him or her is required, while no involvement of the child is needed." The NSF grant, Hiller said, will enable the researchers to build a prototype and test and verify its effectiveness. The team's work will include an investigation of adoption barriers to privacy enhancing technologies and a further study of what parents know and how they feel about online information sharing by children. In addition to parents, the researchers will seek input from website owners through surveys and focus groups.
The Virginia Tech team's multidisciplinary expertise in computer engineering, law, and information systems, she added, underscores the multifaceted nature of the challenge of protecting children's online privacy. "For a solution to be truly successful, all its elements--including social, legal, and technological--must be addressed."
---
CLIFF AND ROCKY MAY NOT HAVE WON THE GRAND CHALLENGE, BUT THEY OUT-PERFORMED PEER COMPETITORS
by Liz Crumbley

The official results of the DARPA Grand Challenge autonomous vehicle race through the Mojave Desert are in and, although the two Virginia Tech vehicles did not win the $2 million prize or even complete the 132-mile course, they out-performed all other vehicles developed by purely academic teams.
Virginia Tech's "Cliff" completed 42 miles of the rugged course, placing eighth, and "Rocky" persevered for 39 miles, placing ninth, reported Charles Reinholtz, Alumni Distinguished Professor of mechanical engineering in the College of Engineering and co-adviser of the team.
The Grand Challenge race, sponsored by DARPA (Defense Advanced Research Projects Agency, the Pentagon's research arm), began near Primm, Nev., just after dawn on Oct. 8. The 23 vehicles that qualified for the race had to navigate and maneuver the Mojave Desert course--consisting of lakebeds, desert roads, tight turns, tunnels, gateways, and treacherous mountain passes--with no human intervention allowed past the starting line.

"Both of our rugged little Pioneer vehicles ran for more than four hours on Saturday morning," Reinholtz said. Cliff and Rocky traveled farther than the entries from the California Institute of Technology, Cornell University, Ohio State University, Princeton University, and the University of California-Los Angeles.

The vehicle representing Stanford University won the $2 million first-place prize, completing the course in just under seven hours. The two vehicles representing Carnegie Mellon University came in second and third, crossing the finish line a few minutes apart in just over seven hours.
Both the Stanford and Carnegie Mellon teams included several members who are full-time engineers at sponsoring companies. The Stanford team's Volkswagen Touareg was modified for the Grand Challenge by faculty, students, and a large number of engineers from the Volkswagen of America Electronics Research Laboratory, Intel, and other companies. The Carnegie Mellon team was comprised of faculty, students, and professionals from corporate sponsors that included Caterpillar, Intel, and SAIC.
The Stanford and Carnegie Mellon teams and vehicles were "superb," Reinholtz said, "but our vehicles were developed by a small group of exceptionally dedicated graduate students working with about 40 undergraduate students enrolled for senior design or independent study credit."
"We have good reason to be proud of our students and our program," Reinholtz said. "We gave our best at every turn and the value of the experience and the historical significance of the event will not be lost on our young team."
Virginia Tech mechanical engineering professor Alfred Wicks and graduate student Brett Leedy worked with Reinholtz and the team as co-advisers.
Cliff and Rocky, donated by Club Car, were equipped by the team with on-board computers that communicate with advanced sensing technology, including Global Positioning Systems (GPS), Geographical Information System data, radar, laser rangefinders, and thermal imaging cameras. The team programmed the vehicles to interpret terrain and make all decisions about navigation, route planning, and obstacle avoidance.
DARPA's goal in sponsoring the Grand Challenge was to encourage university and industry engineering teams to help develop unmanned vehicles that the military can deploy in dangerous situations. The competing teams received no financial support from DARPA.
For more information about the Virginia Tech team and vehicles, visit their website at www.me.vt.edu/grandchallenge.
---
ICTAS POISED TO RESPOND TO NATION'S GREATEST CHALLENGES
by Karen Gilbert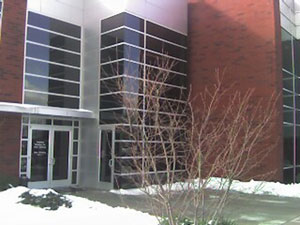 Natural disasters, such as Hurricane Katrina, can dramatically alter the course of scientific research conducted in the United States. Being able to respond quickly to these new research questions is the purpose of interdisciplinary research centers, such as the Institute for Critical Technology and Applied Science (ICTAS) at Virginia Tech. Affiliate centers in which ICTAS has made investments were awarded nearly $14 million of competitive funding last year in response to current scientific issues.
"Katrina has given us a new area in which we will focus, not only because of what seems to be a more frequent occurrence of Category 4 and above hurricanes, but also because of the government's response to this disaster," said Roderick Hall, term director for ICTAS and assistant vice president for research at Virginia Tech. "We are already talking with faculty members about how their expertise might help improve that responsiveness."
"The most frequent question I hear asked about ICTAS is simply 'what is it?' ICTAS is whatever you need it to be to do big science," Hall said. ICTAS can be best described as a nimble organization, prepared to foster interactions with various disciplines as needed for current research. It is purposely a "loosely coupled" organization that does not fit into a neat box. ICTAS can quickly respond to a research need because the institute can pull together the interdisciplinary resources needed without the limitations imposed on traditional college and departmental units within a university. ICTAS can also take flexible monies and apply them immediately toward real-time problems.
Communication problems are just one aspect of the Hurricane Katrina response effort that begs further research. Jeff Reed, deputy director of the Mobile and Portable Radio Research Group (MPRG) at Virginia Tech, is an example of a researcher with the potential to benefit significantly from working with ICTAS. His research group is developing the basic communication technologies that will help solve the problem of communication incompatibility that has hampered disasters, such as Hurricane Katrina, as well as homeland defense by making programmable radios that are flexible enough to be compatible with any existing communication infrastructure.
"The most successful researchers are the ones who don't think about boundaries," said Hall. "We are prepared to assist researchers who are ready to take a big step up by joining forces with faculty members from other disciplines to make a greater impact on society."
The Center for Innovation in Construction Safety and Health at Virginia Tech, led by Brian Kleiner, is an example of an ICTAS interdisciplinary success story. The center began in 2004 to help reduce the number and severity of construction incidents in the United States though applied research and outreach. The areas of research involved so far include industrial and systems engineering, civil and environmental engineering, mining and minerals engineering, mechanical engineering, engineering science and mechanics, and building construction. With the help of ICTAS, the center received $3.4 million in funding from the National Institute for Occupational Safety and Health (NIOSH). The center anticipates being involved in new research related to construction problems associated with Hurricane Katrina.
Four new staff members, jointly funded by ICTAS and the Office of the Vice President for Research, are now available to help with proposal development and submissions, which otherwise takes away from valuable research time. An additional function of ICTAS is to assist researchers with ongoing support after an award is received by helping them with their project deliverables. "We want to make sure people are not only successful winning research awards but also in producing meaningful results," said Hall.
A change in strategy for ICTAS, since its inception several years ago, is to make investments in proposal-specific activities instead of providing general funding for research thrusts. ICTAS now funds work leading up to the submission of research proposals, such as buying out faculty time or supporting graduate student research--all in an effort to improve the chance for success of proposals submitted by the university. This approach will also make it easier to measure which types of research areas are the best investment for the institute.
The university's goal is for ICTAS to achieve a return on investment (ROI) of 5:1 over a five-year time horizon. (ROI in this context is measured as the total research awards received by ICTAS affiliates divided by the investment made by the university.) With the $14 million of awards received in fiscal year 2005, the ROI on the institute's first investments is already approaching 4:1 with three years remaining in the five-year project horizons. Currently, the annual budget for ICTAS is approximately $3 million and this figure is slated to rise to over $9 million over the next five years.
Economic development benefits are part of the appeal of a major research institute such as ICTAS. As targeted areas of expertise are developed, it is anticipated this will attract clusters of technology-orientated companies to the area. Even with improved communications technology, companies still prefer to locate directly next to a university that has additional assets to offer, such as talented graduate students with fresh ideas. "We want companies to locate here in Blacksburg--where the action is--by creating the kinds of science and engineering activities that lead to companies coalescing around a thriving university," said Hall.
All of this new research activity needs a home, so plans are underway for ICTAS Building A, which will house an amazing array of state-of-the-art research equipment. The equipment already purchased with the help of institute funds includes a Transmission Electron Microscope (TEM) and a Secondary Ion Mass Spectrometer (SIMS). The TEM arrived on campus last week and will temporarily be housed in Derring Hall, while the SIMS is slated for arrival in 2006.
Building A will be located in Virginia Tech's Corporate Research Center and will be funded by the university's non-general funds. The Virginia Tech Foundation will build the facility and Virginia Tech will then lease it from the Foundation. The Advanced Materials Characterization Facility will be housed on the first floor of the facility. Science changes so fast that planners do not want to predetermine all occupants for the facility until the building is closer to completion in order to be the most responsive to current research needs.
ICTAS Building I will be started on campus in early 2006 and completed in 2007, with portions of its funding under final review. Funding for ICTAS Building II is currently under consideration by the state legislature. When all three buildings are constructed, ICTAS will have 207,000 square feet of collaborative research facilities available.
A search for a long-term director of the institute has commenced with a planned starting date in the spring of 2006. For more information about ICTAS, go to www.eng.vt.edu/ictas/.
---
CRANWELL INTERNATIONAL CENTER, HUMAN DEVELOPMENT CITED AS EXEMPLARY DEPARTMENTS
by Mark Owczarski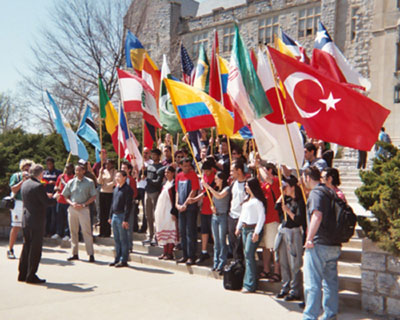 Cranwell International Center and the Department of Human Development in the College of Liberal Arts and Human Sciences received Virginia Tech's 2005 University Exemplary Department Awards at ceremonies held Dec. 7 at The Inn at Virginia Tech.
"The University Exemplary Awards Program recognizes the work of departments or programs that maintain a first-class teaching and learning environment for students and faculty," said Ron Daniel, associate provost for undergraduate education, who oversees the awards program. "Through this award, Virginia Tech publicly honors the collaborative efforts and successes of a group of dedicated colleagues who perform work that is essential for sustaining a truly excellent academic environment."
In 2005, the award program focused on the theme of enhancing global diversity by effectively increasing the numbers of culturally different faculty, staff, and students, and/or promoting and supporting international and multicultural perspectives to support the missions of the university.
President Charles W. Steger and Provost Mark McNamee will present plaques and $10,000 awards to Kim Beisecker, director of the Cranwell International Center, and to Fred Piercy, professor and head of the Department of Human Development, on behalf of their respective programs.
Cranwell International Center
Established in 1986 with a gift from the William Cranwell family in Blacksburg, Va., the Cranwell International Center serves approximately 2,300 international undergraduate and graduate students, faculty, and scholars (along with their families) from more than 110 different nations. As the focal point for Virginia Tech's international community, the center provides a wide range of educational, social, and cultural programs.
In addition to responding to the needs of the international community, the Cranwell Center also encourages exchanges between international students and scholars and their U.S. counterparts, including residents of Blacksburg and the New River Valley. The center plays an active roll in organizing two of Virginia Tech's most popular campus events: the Dance of Nations, held each fall, and the International Street Fair, held in the spring. Both events are a showcase for cultures from across the world and allow thousands of people to enjoy the foods, dances, and customs of these diverse cultures.
The center plays a critical role in attracting international students to Virginia Tech for undergraduate and graduate study and providing immigration assistance to students and their dependents. In the years following the terrorist attacks of September 11, 2001, Virginia Tech has maintained a steady number of international students, while many universities have experienced a decline.
The Cranwell Center also provides a variety of essential pre-arrival services to students--chief among them is the often difficult and challenging task of obtaining a visa and arriving in the United States. The personal care accorded each student by the center, such as the simple gesture of arranging for transportation from the Roanoke Airport to the Blacksburg campus, goes far in helping internationals feel welcome in a new country. The center maintains a 24-hour-a-day, seven-days-a-week hotline to help students who may be in crisis or simply have a question.
The center often helps departments or individuals who are recruiting or hosting visitors from other countries. In addition, the center conducts a variety of training sessions that promote and foster international and multicultural perspectives on campus. The International Friendship Program matches international students with local residents for a friendship exchange during the student's stay at Virginia Tech.
Earlier this year, following the devastating tsunami in Southern Asia, the Cranwell Center played a central role in the revival of Hokies United, a student-led volunteer effort that responds to local, national, and international tragedies that may impact the Virginia Tech community.
Department of Human Development
The Department of Human Development in the College of Liberal Arts and Human Sciences has been recognized as an Exemplary Department for enhancing global diversity and promoting international and multicultural perspectives. It provides an environment where women, international students, and ethnic minorities feel comfortable working, living, and studying.
The department itself is intentionally culturally rich (17 percent of its faculty are African American, 11 percent are Asian, and 78 percent are female), for it has created and administered a wide range of faculty retention/diversity programs over the past three years. Among the various initiatives secured with $160,000 in funding, the department has developed a university-wide diversity research mini-grant program; organized the Mid-Atlantic Conference on the Scholarship of Diversity; hosted a college-wide diversity summit; and held monthly mentoring meetings for new faculty in the College of Liberal Arts and Human Sciences.
Faculty initiatives are diverse in themselves. For example, Human Development is home to the Lugano-Reggio Research Collaborative, a group that is shaping early childhood education around the world, and that will be hosting its third international conference this spring. In the wake of last year's tsunami in southern Asia, two faculty members co-led a workshop in Indonesia for mental health workers caring for survivors. Another member of the faculty organized an international conference in Oxford focused on female career decision-making. Closer to home, another faculty member refined the human sexuality course so that it is now an Area 7 (international) core course.
Department faculty have garnered significant awards. Vickie Fu received this year's university Alumni Award for Excellence in International Education. Peggy Meszaros recently received the Phi Beta Delta International Faculty Service Award. Marcie Boucouvalas received the International Hall of Fame Award in Adult Education, served as the U.S. delegate to the world assemblies of Adult Education in Thailand, Cairo, and Jamaica, and was selected as the U.S. delegate to the UNESCO Assembly in Sofia, Bulgaria.
The department has provided study abroad opportunities in Sweden, India, Switzerland, the United Kingdom, Australia, and Italy. It has also developed relationships with international institutions, including Madras University, India; Zayed University, Dubai; Atma Jaya University and University of Indonesia, Jakarta, Indonesia; Korean Youth Development Institute, Seoul; Curtin University of Technology, Perth, Australia; Miriam College, Quezon City, the Philippines; and University of Alberta, Canada.
---
ENGINEERS DESIGN COMPOSITE BRACING SYSTEM FOR INJURED HOKIE RUNNING BACK CEDRIC HUMES
by Lynn Nystrom
Three weeks after Virginia Tech's starting running back Cedric Humes fractured his ulna, a bone in his arm, he was able to play against Boston College--thanks, in part, to a prototype composite brace designed for him by Virginia Tech engineers.

Brian Love, a professor of materials science and engineering in the College of Engineering, and his biomaterials class met with Mike Goforth, Virginia Tech's director of athletic training shortly after Humes' accident. The engineering class offered to work on an alternate bracing system that they thought could provide a much stiffer support than the currently available polypropylene molded structure.

Among the suggestions considered by the engineers was a uniaxial polypropylene/carbon fiber composite sheeting made by the Fillauer Company of Chattanooga, Tenn. Since it was made from the same matrix as previously used bracing materials in medicine, the biomedical community was already familiar with the composite's characteristics.

The company sent sample materials to Love, and the class was able to mold prototypes in their engineering laboratories. Then, the University hired a professional orthotist who completed one of the prototypes, and is working on the second. One consists of a bi-directional laminate and the second is composed of a uniaxial laminated composite.

The students reported their findings to the Athletic Department just two days before the Virginia Tech vs. Boston College game.

An added advantage to getting the design completed so quickly is that the biomaterials class is linked to the campus of the Wake Forest University School of Medicine. Virginia Tech spearheaded a partnership with this medical school in 2001, and formed the School of Biomedical Engineering and Science.

Love said, "The resulting stiffness and strength of the laminated structures has not been fully evaluated, but qualitative testing has shown that these structures are demonstrably stiffer than the current commercial devices already available."

Love added that the new bracing system will be shared with the trainers at Wake Forest. Further bracing enhancements may evolve from the efforts of the students who may have developed even higher performing designs for the longer term than the commercial "off the shelf" solution.