---
---
Alumni build future with School of Construction

More than 30 years ago, A. Ross Myers (civil engineering '72) and John R. Lawson II (geophysics '75) met as members of the Sigma Phi Epsilon fraternity. Today, they are sharing equally in a $10 million pledge to start the proposed Myers-Lawson School of Construction, which is expected to enhance Virginia Tech's position of national leadership in construction education and research. The Vecellio Construction Engineering and Management Program in the Via Department of Civil and Environmental Engineering and the Department of Building Construction in the College of Architecture and Urban Studies, the primary beneficiaries of the $10 million gift, already work together closely. In addition to the gift, the university and the affiliated colleges will collaborate to develop additional support for the school.
Myers, CEO of American Infrastructure, headquartered in Worcester, Pa., says, "My investment in Virginia Tech's Myers-Lawson School of Construction will provide the industry, including companies like mine, with much-needed, well-prepared, high-content human capital. Beyond that, I believe the school will elevate the learning process to produce leaders prepared to elevate an industry."
Lawson, who is president and CEO of W.M. Jordan Co., with offices in Newport News, Va., and in Richmond, Va., agrees with the new school's goals. "Virginia Tech has always had good building construction and civil engineering programs, but we have a chance to be the best. There are never enough graduating seniors to fulfill the industry's demand. We have a chance to double the output while adding many additional programs and features, possibly including some that are unique to construction. I have personally benefited from my school and my industry. I have an obligation to give back."
The new school will be housed in a new facility, Bishop/Favrao Hall. This facility will open in fall of 2007 and is largely the result of fundraising efforts by the Department of Building Construction and its advisory board. The facility is named for Richard Bishop, who made the $1 million lead gift for the facility, and William Favrao, the head of the Department of Building Construction from its inception in 1947 until his death in 1977.
---
Architecture and urban studies dean to step down

Paul L. Knox, dean of the College of Architecture and Urban Studies at Virginia Tech, has announced his plan to step down from his current position effective July 1, 2006. After leading the college through eight innovative years of growth and building on the quality of two schools and three programs within the college, Knox has elected to return his professional focus to teaching and research. In spite of budgetary restrictions during the past several years, the College of Architecture and Urban Studies has realized major financial accomplishments under Knox, including an increase in sponsored research funding from $2.1 million in 1997 to more than $9.3 million in 2004-05. The college is now one of top five colleges of its kind in the nation in terms of research funding. A search for Knox's replacement will begin after the first of the year.


Smoot honored by national association

The Association of University Research Parks (AURP) recently honored University Treasurer and Chief Operating Officer Raymond D. Smoot with the "Community Leadership" award. AURP, which represents leaders of more than 130 of the nation's university-affiliated research facilities, annually presents the award to a business, university, or government leader who has made an outstanding contribution to the success and total community impact of a university research and technology park. Smoot has taken an active role in the Virginia Tech/Blacksburg community for more than 30 years. He has led the development and operation of the Virginia Tech Corporate Research Center (CRC) since its inception in the mid-'80s and has served as chair of the board of directors since 1993. His many professional accomplishments include serving as a founding member, director, and officer of the Blacksburg Partnership, a non-profit public/private economic development organization.

TOP

---


Restructuring update
In November, the Virginia Tech Board of Visitors took action on one of the final steps in the process of higher education restructuring by approving the "management agreement" between Virginia Tech and the Commonwealth of Virginia. The agreement details the new authorities the university will have as a "covered institution" under the restructuring act passed by the 2005 Virginia General Assembly. The management agreement addresses the university's ability to manage itself, performance measures, delegations of authority, and policies covering capital projects, financial operations and management, human resources, information technology, and procurement. The agreement was reviewed by Gov. Mark Warner and submitted to the General Assembly. If approved, Virginia Tech will begin operations as a covered institution July 1, 2006.
TOP

Veterinary medicine teacher earns national award
Scott Pleasant, extension equine veterinarian and associate professor in the Virginia-Maryland Regional College of Veterinary Medicine's (VMRCVM) Department of Large Animal Clinical Sciences, was awarded the 2005 Student American Veterinary Medical Association Teaching Excellence Award--Clinical Sciences during the annual meeting of the American Veterinary Medical Association (AVMA) in Minneapolis. Pleasant was recognized "for his excellence, innovation, and enthusiasm" in the field of clinical veterinary science and education, according to the AVMA. The award recognizes the dedication of professors who not only educate but inspire their students. Pleasant is a member of VMRCVM's charter class of 1984 and is a Diplomate in the American College of Veterinary Surgeons.
TOP



---
There's no place like a Hokie Home

Who says you can't take Tech with you when you leave Blacksburg? The university has partnered with Balzer and Associates, Inc., an architectural and engineering firm based in Roanoke, Va., to develop the first-ever line of collegiate licensed home plans. The plans, referred to collectively as "Bringing the Hokie Home," will consist of a wide range of options, from individual rooms, patios, and outdoor gazebos to small- and large-scale homes that incorporate the characteristic Collegiate Gothic architectural elements found on most Virginia Tech buildings. In addition to several existing plans, Balzer and Associates will also develop custom plans that also reflect the experiences and needs of individual customers. All blueprints sold or developed will have the Virginia Tech shield logo and will be a registered "Hokie Home."


---
On Sept. 17--exactly 50 years from the day Newman Library opened its doors in 1955--University Libraries began a year-long birthday celebration in honor of the first building on Tech's campus to be designed specifically for housing books and manuscripts. The celebration's inaugural event was a tailgate on the library's front terrace, where some 800 people enjoyed free barbecue and drinks, a display of classic cars, and live '50s music, including an Elvis impersonator. Planned for the spring, a rededication ceremony will pay tribute to the structure's original dedication on May 11, 1956. For more information on Newman Library's birthday celebration, its history, and its ongoing renovations or to share your memories of the library in an online guestbook, visit www.lib.vt.edu/50th/.

TOP



Civil War Weekend moves to The Inn at Virginia Tech

Since 1991, the Virginia Tech Alumni Association and the university's Division of Continuing Education have collaborated with James "Bud" Robertson Jr., the university's nationally renowned Civil War historian, to present a weekend of activities geared to Civil War enthusiasts. For the first time, this year's event, scheduled for March 10-12, 2006, will be held at The Inn at Virginia Tech and Skelton Conference Center on the Virginia Tech campus. Registration will be accepted on a first-come, first-served basis. For more information or to register online, visit www.vatechalumni.com/cww/ or contact the conference registrar at 540/231-5182.

TOP



Virginia Tech Magazine wins award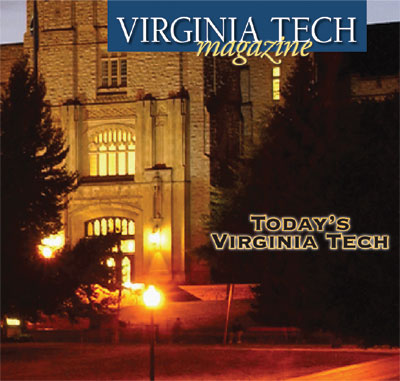 Virginia Tech Magazine has won another award. The Blue Ridge Chapter of the Public Relations Society of America (PRSA) recently presented the 2005 Summit Award for the interactive/ audio-visual category to the Winter 2005 Virginia Tech Magazine Special DVD Issue. According to PRSA, the award "recognizes outstanding work in public relations and highlights the creative and effective ways in which communications impacts our lives."

TOP

The 11th annual Hokie Harvest Sale, held Oct. 28, was a win-win for the College of Agriculture and Life Sciences. Not only did the sale gross more than $163,900, which will be reinvested in the beef cattle and equine science programs, it provided students with a hands-on opportunity to learn about livestock and horse merchandizing and marketing.
"The Hokie Harvest Sale has developed a significant reputation over the past 10 years for selling high-quality Virginia Tech horses and beef cattle and has provided an authentic classroom experience in livestock merchandising for our undergraduate students," says Dan Eversole, associate professor of animal and poultry sciences. "Students have played an integral part in the success of this sale."
Since its inception, the annual sale has generated nearly $1.1 million. This year, 39 beef cattle were sold for a record $79,425 and 23 horses earned $84,485, the second-highest grossing sale since 1995.
In addition to the proceeds, 72 students profited from the event by gaining experience in working with animals, planning large events, and executing a sale. Beforehand, in their Livestock Merchandising course, the students heard from guest lecturers who work in the industry, learned marketing techniques, and attended other livestock sales. Students in the Equine Behavior and Training course learned basic safety procedures, equine behavior, and handling techniques and philosophies. These students also were responsible for training and preparing the horses that were in the auction.
Casey Marsteller is a communications intern for the College of Agriculture and Life Sciences.
New agriculture degree to extend support
In spring 2006, the College of Agriculture and Life Sciences will offer a new undergraduate Agricultural Sciences degree program to prepare students for careers in agricultural and agricultural-related disciplines such as business, training, education, Extension, and international programs. The degree will help the college to continue to support the demand for fully qualified Extension agents and agricultural education teachers; there is currently a shortfall of such experts. Virginia Tech is the principal source of agents for Virginia Cooperative Extension and the primary source of teachers for the Virginia agricultural education program.
TOP
Tech institute supporting democracy education
In Amman, Jordan, eager third graders engage in a skit that illustrates social responsibility. In another class, high school students discuss public policy recommendations to benefit people with disabilities. Both groups of students are benefiting from programs designed and promoted by the U.S.-based nonprofit Center for Civic Education. The center supports Arab Civitas, an organization in Amman that is dedicated to promoting democracy education by providing resources, teacher training, and opportunities to showcase student projects. Virginia Tech's Institute for Governance and Accountabilities (IGA) in the School of Public and International Affairs is helping the Arab Civitas Board of Program Directors organize itself to more effectively support democracy education. Working with nongovernmental organizations (NGOs) in the Middle East provides Virginia Tech with the opportunity to conduct comparative research on governance structures among different Arab states and with US models, study a collaborative governance structure among multi-country representatives in a region known for problematic relationships, and learn how NGO-based programs can impact a culture.
TOP
---
This is the house that Tech built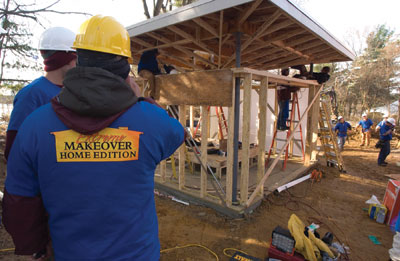 Who says all reality television is bad? Thanks to ABC's hit show "Extreme Makeover: Home Edition," Carol Crawford Smith, former coordinator for Virginia Tech's Black Cultural Center, received a new house--part of which was designed and built by members of the Tech community. The show's intent was to construct a fully handicapped-accessible house for Smith, a former world-class ballerina who suffers from multiple sclerosis. Working with a general contractor to design the house were many of the same architecture faculty members and students who created Virginia Tech's solar house, which took home the top prizes for architecture and livability in the U.S. Department of Energy 2005 Solar Decathlon. The Tech team also designed a meditation and reflection room [pictured above] based on the solar house. When it came down to the dirty work, scores of Virginia Tech faculty, staff, and students rolled up their sleeves and toiled alongside professionals and volunteers to build--from scratch--the new house in just one week. If that's not a display of Ut Prosim, we don't know what is.

The episode is scheduled to air on Sunday, February 12, at 8:00 p.m. on ABC.
TOP
---
Guinness attempt fails but fun prevails

Feathers were a-flyin' on Oct. 9 when Virginia Tech students attempted to set a new world record for the world's largest pillow fight. Although an estimated crowd of 1,500 students, faculty and staff members, and area residents turned out on the Drillfield for the event, Tech didn't break the current record, which was set on April 17 by 3,648 students at the State University of New York at Albany. Hokie-whomping aside, the event met its greater goal of raising funds for Red Cross hurricane relief by asking each participant for a minimum donation of $1 to take part in the fight. Hokies United, the student-run organization coordinating this and other fundraising efforts, had set a goal to raise a total of $250,000 for hurricane relief by December.
---
| | |
| --- | --- |
| In November 2004, Christmas- and Hokie–enthusiast Kevin Cuddihy (communication '95) made this gingerbread house for a Junior League fundraiser. To create his masterpiece, Cuddihy used two gingerbread kits, orange and maroon M&Ms, "and, yes," he says, "those are orange-and-maroon Gummi bears sitting on Kit Kat bleachers and watching other orange-and-maroon Gummi bears playing football." (For more on Cuddihy's enthusiasm for Christmas, read about his new book in Book Notes.) | |
---
State to make significant investment in academic research

Gov. Mark Warner has announced plans for state investment of up to $255 million in several university-based research initiatives. Including the required institutional matching funds, the program could boost overall research and development funding at Virginia colleges and universities by $554 million. Virginia Tech will receive, at minimum, $44.5 million in general fund appropriations.

"We are very pleased to see this commitment to research. The governor has stepped up to the plate realizing that it takes large investments to really make a difference," says Tech President Charles Steger. If approved by the General Assembly, this will be the largest single investment in academic research in state history. Some of the proposals were based on work of the Steering Committee on Research Capabilities and Centers of Excellence for the Governor's Higher Education Summit--chaired by Steger--in May 2003.

The investments of "one-time" monies will fund $67 million in faculty recruitment and startup costs, $68 million for new research facilities directed to specific schools, $27 million for equipment, $10 million for competitive research and commercialization grants, and a $50 million pool of funds for research facilities. Additionally, the governor proposes $34 million in ongoing support ($23 million after current biennium) for research and instructional programs and for graduate support.
TOP

New life sciences building to house 200 researchers

In less than two years, Virginia Tech will have a new life sciences research building. Construction began in September on the 72,000-square-foot building that will be located on Washington Street. When Tech's master plan envisioned the area along Duck Pond Road and Washington Street as a "life sciences precinct," the three-story building encompassing animal care facilities and life science laboratories was the first building the state approved in the precinct. Facilities for life sciences research were in the university's capital plan in the late 1990s but were stalled by the state budget crisis, said Associate Provost Dixon Hanna. However, after Virginians passed the general obligation bond, the project was back on track. The facility, which will provide space for more than 200 faculty, students, and staff, is scheduled for completion in the summer of 2007.
TOP

Engineer wants to personalize cancer treatment

Individual response to cancer treatment can vary considerably, even when compared to the responses of others with cancer of the same histological type. Yet Yue (Joseph) Wang, who currently leads a $5.5 million research effort to improve the outcome for breast cancer patients, dreams of a more personalized medicine in which doctors can determine how a patient's cancer will behave and then create a precise treatment plan. Wang, a member of the Bradley Department of Electrical and Computer Engineering in the College of Engineering, believes that researchers who are now studying disease at molecular levels need the analytical skills of engineers to aid in both discovery and understanding of biological systems. Wang and other engineers are working with physicians to analyze cancer data throughout the body and at the cellular, molecular, and genetic levels. "Not all molecules in the body are responsible for a disease; only a certain subset is," Wang explains. "If we can accurately identify the responsible molecules and determine appropriate biomarkers, we can develop rational treatments."
TOP

Researchers create nanoparticle as diagnostic, therapeutic agent

Researchers working with a man-made, metal-filled nanoparticle are developing the material for use as a diagnostic and therapeutic agent that may boost the sensitivity of MRI techniques and improve the diagnosis and treatment of brain tumors. Panos Fatouros, a professor in the Department of Radiology at Virginia Commonwealth University, has been awarded a five-year, $3.7 million grant from the National Institutes of Health's National Cancer Institute to lead a team of scientists from VCU and Virginia Tech. In a cooperative effort, they will work to further develop, produce, and test nanoparticles that can identify brain tumor cells and selectively target them for radiation therapy. Harry Dorn and Harry Gibson, chemistry professors in the College of Science, and other colleagues created a nanoparticle called a functional metallofullerene (fMF) that will serve as the basis for the proposed research.
TOP