It kicked off with little more than two self-described sports nuts who had an idea, $50,000 in good-faith cash, and a cooperative future hall-of-fame college football coach.
Fourteen years later, Virginia Tech research has revolutionized the sports helmet industry and is fostering safer athletic practice and coaching techniques to reduce head-related injuries, especially concussions.
Concussions and helmet safety weren't even on the research radar when Stefan Duma, the Harry C. Wyatt Professor of Engineering and founder of the Virginia Tech-Wake Forest Center for Injury Biomechanics (CIB), and Virginia Tech football team physician Gunnar Brolinson first hatched a plan to attach sensors to the heads of Virginia Tech football players to monitor the hits they took during practice and games.
Even as recently as the early 2000s, many considered concussion a "junk diagnosis," according to Brolinson, vice provost of research at the Edward Via College of Osteopathic Medicine (VCOM), who has a long research record in sports medicine. "Back then, quite frankly, nobody cared."
Today, however, multiple partners from Blacksburg to Roanoke and across the nation are focused on improving the diagnosis and treatment of concussions and mild traumatic brain injuries in youth and adults in sports ranging from football to men's and women's soccer. Continued Virginia Tech helmet testing is expected to result in the first-ever safety ratings for headgear in every helmeted sport around the globe.
And in the not-too-distant future, consumers may be able to walk into a store to find a sticker or hang tag identifying that a particular helmet meets Virginia Tech's top five-star standard.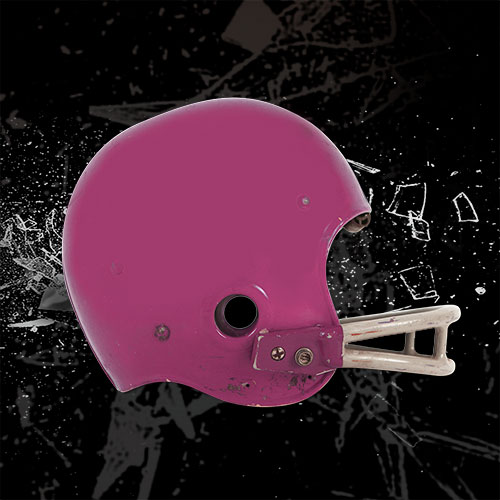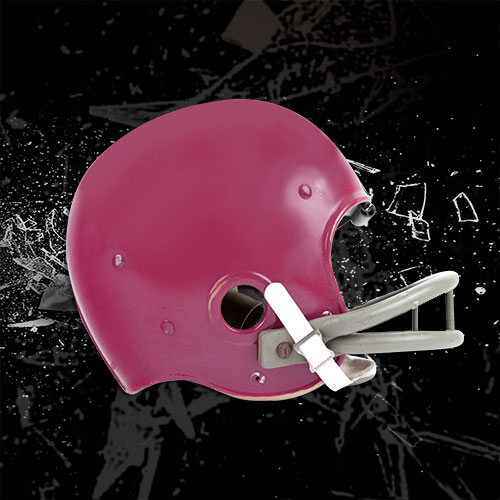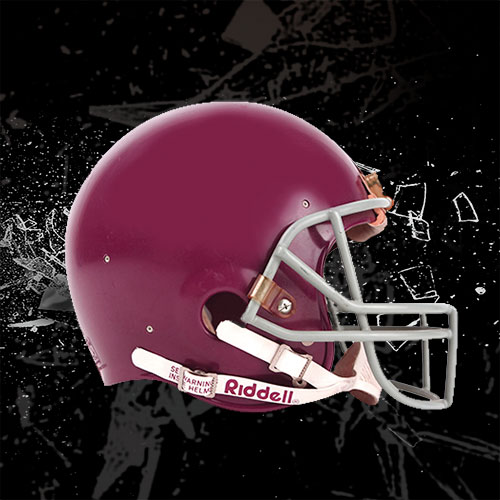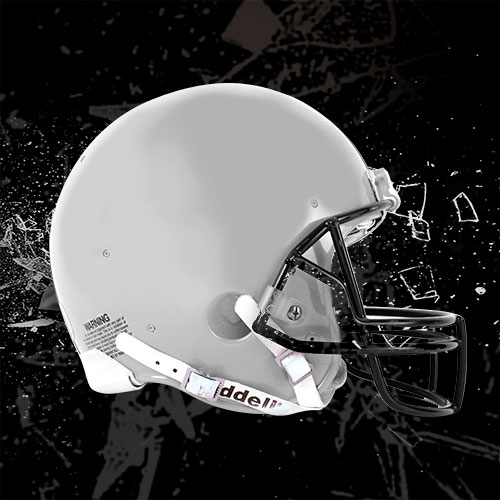 1990s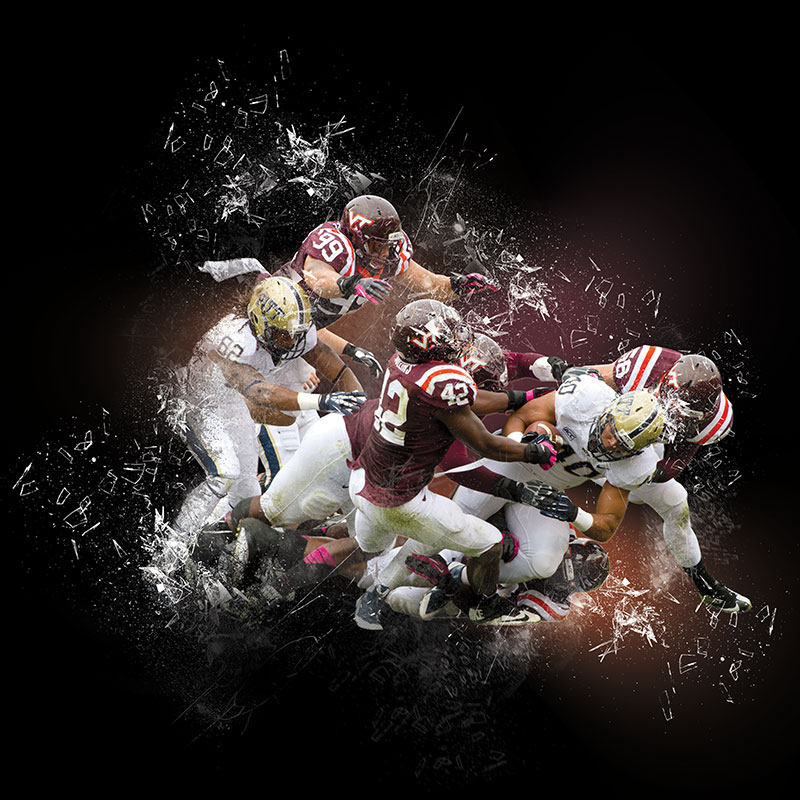 Head impacts
per season
College players – 1,000
High school – 500
Youth* – 300
* reduced to 150 in Pop Warner, which
changed practice rules
Photo illustration by Amanda Robinson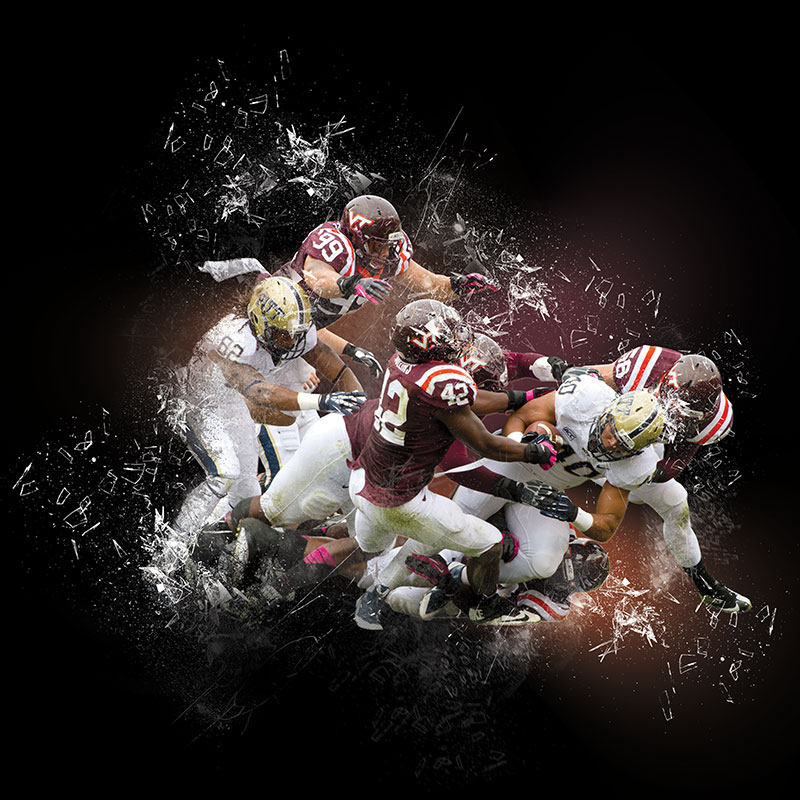 Head impacts
per season
College players – 1,000
High school – 500
Youth* – 300
* reduced to 150 in Pop Warner, which
changed practice rules
Head impacts per season
College players – 1,000
High school – 500
Youth* – 300
* reduced to 150 in Pop Warner, which changed practice rules
Photo illustration by Amanda Robinson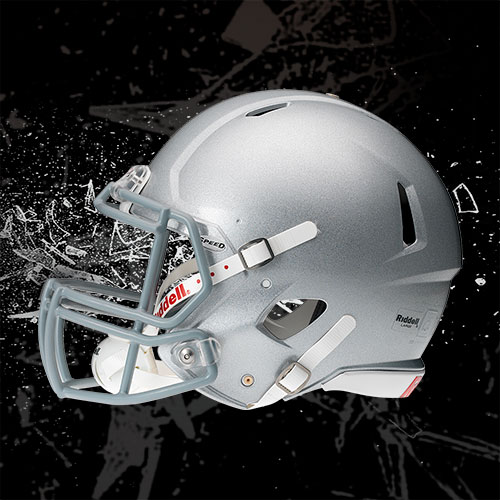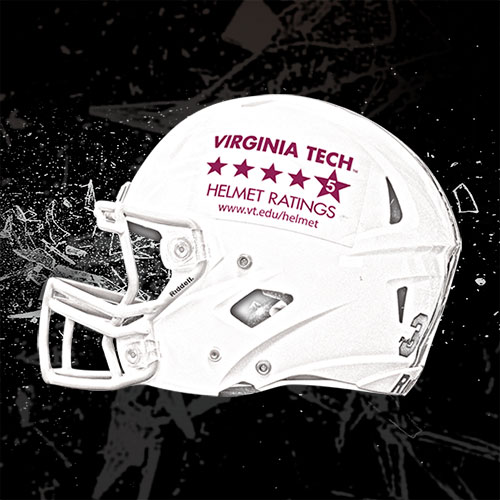 STAR ratings
Summation of Tests for the Analysis of Risk
The start of something big
Duma, who is also acting director of the Institute for Critical Technology and Applied Science, came to Blacksburg in 2000 to establish the university's injury biomechanics program in the Virginia Tech-Wake Forest University School of Biomedical Engineering and Sciences. The CIB developed national expertise in head trauma related to automobile accidents and the biomechanics of blast injuries suffered by the military. The center now boasts the largest university-based injury biomechanics research program in the world, and Duma's work has attracted some $45 million in research.
In 2002, Brolinson accepted a position with the newly established VCOM. With experience as the physician for the University of Toledo football team and a background in sports medicine, he was interested in continuing research "to improve safety and athletic performance," and he began to wonder how his expertise might intersect with the work at Virginia Tech.
Duma found the answer. "I was in Puerto Rico at a military conference … and I saw a presenter who has this really unique sensor," Duma said. "I immediately recognized this was a game-changer for how we studied head injury."
The idea? Put accelerometer sensors in helmets to measure acceleration of the brain during practice and games in order to build a database of head impacts that could be applied to head injury research.
According to Duma, the notion was "revolutionary" at the time — perhaps too revolutionary. Nobody was interested in investing the $50,000 needed for eight to 10 sensors and other necessary equipment. But when Brolinson approached Dixie Tooke-Rawlins, president of VCOM, she immediately agreed to write a check, Brolinson said.
The next hurdle? Buy-in from Virginia Tech athletics. "For Coach (Frank) Beamer, that was about a 15- to-20-minute conversation," said Brolinson. Both Brolinson and Duma also credit the late Jim Weaver, Tech's former athletic director; and Mike Goforth, associate athletics director for sports medicine, as well as Hokie athletes who have cooperated over the years.
"We were doing something that had never been done before on any scale," Brolinson said.
The research intensifies
The modern football helmet had been updated in the 1970s and 1980s in an attempt to prevent football's nastiest injuries — skull fractures, broken necks, and spine injuries, which killed 32 players in 1968 alone. Because of those mandated improvements, deaths plummeted; and during the 10-year span of 2005 through 2014, just 28 players died from injuries suffered on the football field, according to the Centers for Disease Control.
Stefan Duma, the Harry C. Wyatt Professor of Engineering and founder of the Virginia Tech-Wake Forest Center for Injury Biomechanics
Unfortunately, those helmets weren't designed to reduce concussion incidence or lower the gravitational forces (G-forces) generated by every hit.
A concussion is a traumatic brain injury resulting from a jolt that causes the head to move or stop so suddenly that brain tissue is twisted, stretched, and strained. In some cases, the brain collides with the inner surface of the skull. Symptoms vary and may not appear right away. Much remains a mystery.
"Concussions can be difficult to diagnose," Brolinson said. "There's no one thing that's a hallmark of a concussion. … We're dealing with the brain, which is the most complex organ in the body."
In 2007, as concern grew nationally about concussions, along with the cumulative effects of multiple lower-velocity hits — but long before the NFL acknowledged that up to one-third of its retirees were likely to develop concussion-related neurological problems — Lester Karlin, Virginia Tech's head equipment manager, contacted Duma for advice on the best helmets.
"I didn't know," Duma said.
G-forces generated by common activities
G-forces generated by common activities
G-forces
G-forces generated by common activities
Sneezing — 4 g
Sneezing — 4 g
Plopping down in a chair — 5 g
Plopping down in a chair — 5 g
Vigorous pillow fight — 20 g
Vigorous pillow fight — 20 g
Heading a soccer ball — 40 g
Heading a soccer ball — 40 g
Alert zone for possible concussive hit — 98 g
Alert zone for possible concussive hit — 98 g
The proliferation of sensors used in smartphones has helped accelerate the helmet research conducted by Virginia Tech, but their overuse has also caused problems. Accelerometers and gyroscopes that measure smartphones' orientation and location are also in the helmet array on a player's head or even inside a mouth guard. Because the cost of these sensors has plummeted, parents and coaches outfit players hoping to be alerted to damaging hits.

But, according to Stefan Duma, many sensors don't record anything useful, and even when they do, only trained personnel can diagnose a concussion — a clinical event that does not rely on a single metric such as head acceleration.

Over the years, researchers have discovered that any hit of 98 g or more is a potential red flag for concussion. When such hits occur during games, Virginia Tech team physician Gunnar Brolinson receives a pager alert in real time. More often than not, the player is fine.

Duma is particularly critical of sensors that blink red when the wearer is hit with a certain force. "What does that mean?" he asked. "It means these kids are running all over the field trying to hit you hard enough to make your light blink red."

Sometime this year, the Virginia Tech research team will release ratings for the 20 or so sensors on the market.
By that time, Duma had amassed a databank of hundreds of thousands of hits (the databank currently contains nearly 500,000 hits for the Tech team and about 3 million for all teams studied). And Steve Rowson, now an assistant professor in the CIB, had enrolled at Tech to earn a Ph.D. in biomechanics.
Rowson was charged with developing a methodology to test helmets by dropping them onto an anvil from different heights in a way that would simulate hits on the field. Significantly, much of the lab research over the ensuing years has been directed by graduate students, many of whom have won academic accolades for their work.
Using a mathematical model for concussion risk, the researchers created the STAR (Summation of Tests for the Analysis of Risk) system for grading helmets according to their ability to reduce brain acceleration during different types of hits.
In the first tests, only one helmet earned the top rating of five stars. Six years of data from eight different colleges, however, arrived at a definitive conclusion: The same hit that measured 150 g in a one-star helmet measured just 75 g in the five-star.
The results changed the industry. Now, every football helmet produced nationally earns five stars, and NFL locker room walls feature a helmet-ranking poster based on the science behind the STAR ranking system.
"Like it or not, Virginia Tech has become kind of like the J.D. Power for ranking helmets," said Chuck Huggins, CEO of helmet manufacturer Xenith, in a Bloomberg news story on concussions.
In 2015, adding tests for rotational acceleration to the ones already performed for linear, or straight-line, hits, the Virginia Tech helmet lab announced its first rankings for youth and adult hockey helmets. Helmets being used by more than 25 percent of pro and youth hockey players received zero stars, and none earned more than three. Since the rankings were released, however, hockey helmet manufacturers have been improving their models, said Rowson, who is now in charge of the lab's testing and research.
"Suddenly there was incentive to make better helmets. Nobody knew any better before," Rowson said.
Safety through better rules and coaching
Although the research has been crucial in in helping teams choose quality equipment to protect their players, helmets are actually the least important factor in reducing concussions and limiting the cumulative effect of non-concussive impacts.
Encouraging young engineers
The pushpins stuck in maps outside the Center for Injury Biomechanics' helmet lab are testament to how its research is spreading around the world. Just as importantly, they also highlight its education outreach to diverse pools of budding engineers.
One pin is lodged in the hometown of an eighth-grade girl who asked the lab to give advice on wrestling headgear she had designed. Others represent aspiring science fair contestants who have asked for help with football or cycling helmets. Some even drove their creations to Blacksburg for testing.
"I also get emails from California and all over. It's a great opportunity for them," said Abi Tyson, a research associate who is evaluating wearable head impact sensors, but also took over the lab's outreach initiatives after demand grew in the past couple of years.
In addition, the lab has taken a role in Center for the Enhancement of Engineering Diversity (CEED) summer programs designed to increase the diversity of students in the College of Engineering, as well as increase the awareness of engineering and other technical fields as a career for a diverse population.
"Experiences such as these are critical for both students and teachers," said Kim Lester, coordinator of pre-college programs for the College of Engineering. "Bringing them to the lab and having them work with graduate students allows them to picture themselves as college students. Many of the Imagination students come from Martinsville and inner-city Roanoke, where they may have had little exposure STEM careers."
"It's important to foster this kind of excitement and learning," said Tyson, who is working to expand the outreach to be more proactive. "It's been really fun."
Toy-safety research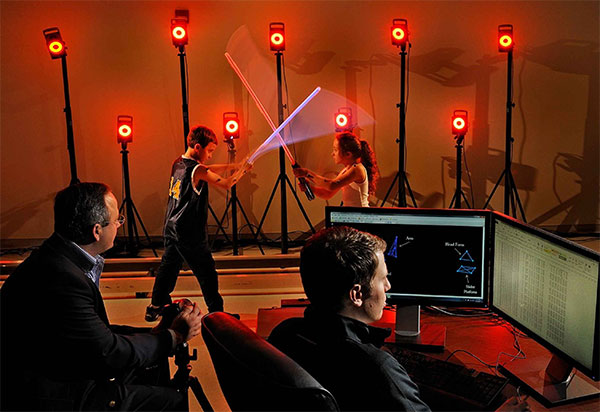 Professors Stefan Duma (left) and Steven Rowson study children swinging swords, research that helps toy manufacturers design products that are unlikely to cause injuries.
"There are three things that have to be done," Duma said. "The first and most important is league rules; the second is coaching technique; and the third layer is equipment."
In a small, groundbreaking study in 2012, the researchers monitored several players on the Auburn Eagles, a team of 7- and 8-year-olds in Montgomery County, Virginia. In a single season, Duma was surprised to record dozens of hits at more than 40 g and six impacts of more than 80 g (98 g is generally considered potential concussion level), the vast majority of them made during practice.
As a direct result of the study, the Pop Warner youth football league announced new rules banning full-speed, head-on tackling drills, as well as limiting contact during practice. Following the rule changes, head impacts in these young players dropped from an average of 300 to 150 annually, Duma said.
"If you know what scenarios carry the highest risk, you can start to design interventions based on that data," Rowson said. "The word is out that the one thing you can control is the practice structure. Our research has led to these kinds of changes."
The youth research has continued with a five-year, multi-university, $3.3 million National Institutes of Health-funded study that will follow young players in three states using improved head and mouthguard sensors.
"We're trying to understand how to make the game safe, but more broadly understand brain injury biomechanics in the youth population," Duma added.
VTCRI joins the team
In 2014, Duma and Rowson, with their biomechanics expertise, and Brolinson, with his clinical talents, joined with the neuroimaging wizardry of Assistant Professor Stephen LaConte at the Virginia Tech Carilion Research Institute (VTCRI). Together, the team earned one of four prized spots in the Advanced Research Core of a $30 million NCAA and Department of Defense (DoD) effort to combat concussions in athletes and active military personnel. "You really have to have all these components if you want to be in the top tier," Duma said.
LaConte had been working at Baylor Medical College of Medicine in Houston when he was intrigued by research possibilities in Roanoke. Some of his research sponsors, including the DoD, were concerned that he couldn't gather enough patients for his studies. The opposite has been true. "Actually, my recruitment numbers have improved," LaConte said. "Carilion has certainly been a very important piece for me."
LaConte is an innovator in using functional magnetic resonance imaging (fMRI), which can capture patterns of thought by measuring minute changes in blood flow in the brain.
"fMRI allows you to take a movie of the brain in action," LaConte said. "We're trying to track healing and restructuring over time, just like any other wound healing — like watching a bruise or a cut on your skin heal over time or repeating X-rays to track a broken bone."
If researchers working together can characterize what recovery looks like for individual brains, a process not possible today, that could be used to better determine when it's safe for an athlete to return to play or a serviceman or woman to his or her job, LaConte said.
"It's a multidisciplinary project," Brolinson said, "and that's how you solve a really big problem."
Helmets, more helmets … and drones
Recently, the research team has moved into the global market, developing tests to rate helmets for cycling, which is the leading cause of concussions worldwide, and soccer headgear. The team is also reviewing the value of the numerous sensors that have appeared on the market in recent years.
"Our research is moving into every helmeted sport worldwide — lacrosse, equestrian, baseball, soccer, field hockey," Duma said. "The things we did to make our cars safer, we're using to make our helmets safer. … We want to provide that basic education."
"I think we've really moved the needle on sports safety," said Brolinson. "This has been tremendously exciting and gratifying to be involved in."
That philosophy is also moving into the rapidly expanding field of small unmanned aircraft. Many promising applications for drones, like package delivery, would require the aircraft to fly over people, but such flights are currently prohibited for safety reasons. Collaborating with the Virginia Tech Mid-Atlantic Aviation Partnership, which runs the university's test site for unmanned aircraft systems, Duma and Rowson are developing experimental methods that can assess injury risk.
"We have a very unique and impressive team that starts with the cooperation and support of our coaches and athletes," said Duma. "It took 10 years of hard work to get here, and our partnership is paying off."
Videos by J. Scott Parker