Ruling the roost
Ruling the roost
by Madeline Yaskowski '19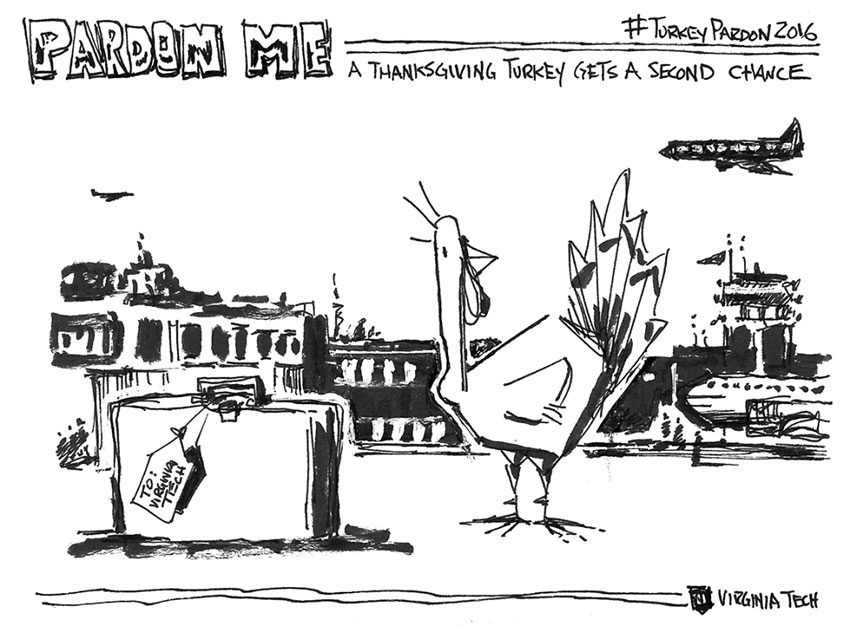 Each year around Thanksgiving, a few turkeys battle for the ultimate gift: being "pardoned" by the U.S. president. Although the HokieBird might be too widely loved to ever be served for dinner, he had some competition last year — Tater and Tot, who now reside at Virginia Tech in Gobblers Rest, located inside the Livestock Judging Pavilion on Plantation Road.
Tater and Tot were among nearly 80 randomly selected birds who from birth received special training in their quest for fame. They learned to sit still, stay calm, and adjust to a variety of noises. Following the intense training, the two best-behaved and most beautiful birds traveled to the White House.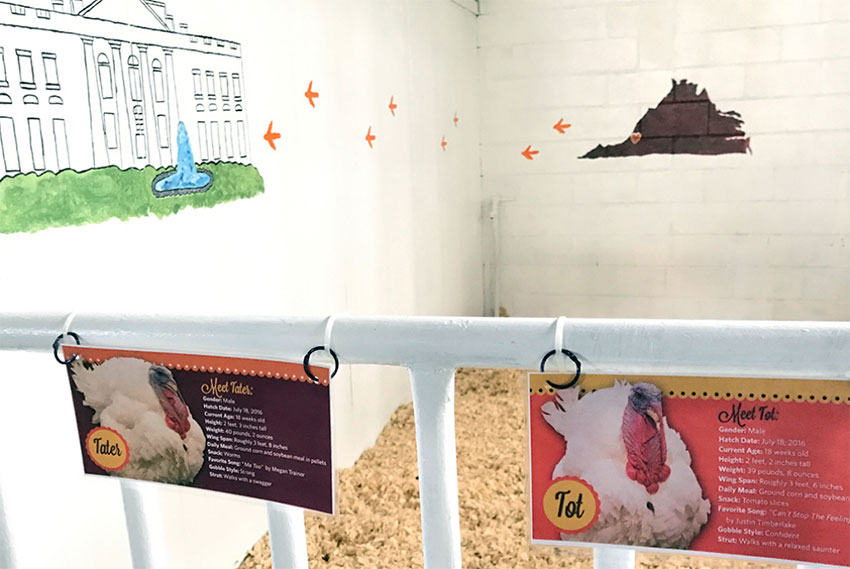 Pardoned turkeys thriving at Virginia Tech (WSET.com)
Though the origin of this tradition is disputed, one legend traces it to Abraham Lincoln, whose son, upon seeing a turkey brought in for Christmas dinner, begged that the bird be spared. While succeeding presidents had holiday turkeys of their own, the official pardoning tradition didn't begin until 1989, when George H.W. Bush saw animal rights activists picketing and declared, "Reprieve."
Following the 2016 pardon, Tech rolled out the red carpet for Tater and Tot, who were escorted to their new home by Rami Dalloul, a world-renowned poultry immunologist in the College of Agriculture and Life Sciences. The nationally publicized event offered a special opportunity to showcase Virginia Tech's longtime involvement in the turkey industry.
In 1922, A.L. Dean, then-head of Tech's Department of Poultry Science, received a letter from Charles Wampler, a Virginia Cooperative Extension agent interested in raising turkeys artificially. Dean shared his research and knowledge with Wampler, and the poultry industry was forever changed. Wampler is now regarded as the father of the modern turkey industry.
The legacy endures today: Tech's biochemistry department is researching the effects of protein levels on turkey development and maturation, while the Virginia-Maryland College of Veterinary Medicine conducts infection-control in the birds.
A sophomore double majoring in public relations and German with a minor in psychology, Madeline Yaskowski is an intern for Virginia Tech Magazine.
---
Moment
Native inspiration
Native inspiration
by Allysah Fox '17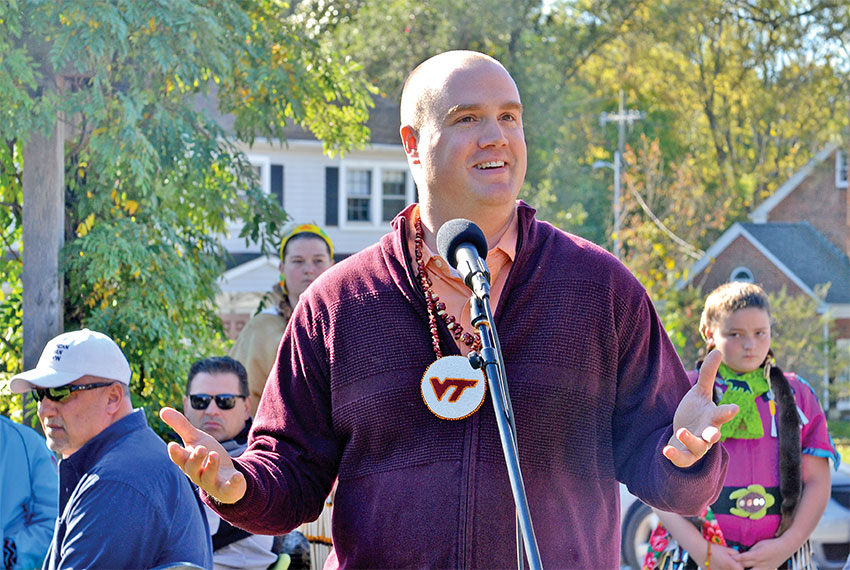 At Virginia Tech's American Indian and Indigenous Heritage Month event held in October 2016, Rufus Elliott '07 wore a "VT" necklace made by his mother; the "beads" are Indian corn.
Rufus Elliott (history '07), Virginia Tech's first Monacan alumnus, honored his life's heroes — his grandmother and his mother — during the university's annual celebration of American Indian and Indigenous Heritage Month in October 2016. He also credited Virginia Tech Professor of Sociology Sam Cook with inspiring his decision to enroll at the university.
In 2001 Cook, who directs the American Indian Studies program at Virginia Tech, piloted a program called the Virginia Indian Pre-College Initiative. Through the program, Native American students in grades eight to 12 were invited to visit campus along with their parents and tribal elders. According to Cook, the goal of the initiative was to encourage students to value education in whatever form it takes.
Elliott, who had known Cook for many years, was among the students who visited campus. Several years later, he enrolled at Virginia Tech, but the path to graduation presented some unexpected challenges. In fact, Elliott found himself on academic probation and dropped out for a semester.
Through this difficult period, Elliott said that he often looked at a picture that hung on a wall in his Blacksburg apartment. Depicting a two-room schoolhouse that Monacan children had attended until the late 1960s, the photograph served as a reminder of the rarity of education among his people — including his own family. Elliott's great-grandmother learned to read while working as a maid; his grandmother attended school only through the third grade.
Realizing the vast differences between his relatives' educational opportunities and his own, Elliott was inspired to return to the university, becoming the first Monacan not only to attend, but to graduate from Virginia Tech.
"Events like this are nice, and it may be me being honored today," said Elliott, "but I couldn't have graduated without my mother and grandmother, who went through a lot to get me to Virginia Tech. I'll get the attention today, but they are the ones to honor."
A senior studying multimedia journalism, Allysah Fox is an intern for Virginia Tech Magazine.
---
Healthy Hokies
Healthy Hokies
The rigors of college life can take their toll. To bounce back, Hokies have the Division of Student Affairs' Schiffert Health Center, a one-stop shop for health care services, medications, tests, and more.
The center is focused on keeping tens of thousands of students — all non-athletes — healthy and vibrant. Center staff members stress a holistic approach toward physical, emotional, spiritual, and financial health.
"My philosophy is that these kids are our kids," said Kanitta Charoensiri, a physician and the center's director. As she tells her staff, "Please treat [students] how you would want your kids to be treated if they needed health care."
To learn more about student health care services at Virginia Tech, visit healthcenter.vt.edu.
2015-16 statistics
2015-16 statistics