by Mason Adams
Whether attending as a cadet in the years following World War II, breaking barriers as one of the first African-American women to be enrolled, or using time on the university tennis team to build a career as a professional tennis umpire, alumni made memories on campus.
Collectively, these shared experiences tell the story of Virginia Tech, creating a history that spans generations. Now, a team of faculty, staff, and students are working together to collect these personal accounts and make them available for anyone with an interest in learning more about Hokie history as seen through the eyes of those who lived it.
The VT Stories website launched on Nov. 12, 2016, with nearly 20 stories from a variety of alumni. "VT Stories is a place where people can find out about the multitude of stories that make up the history of Virginia Tech," said Katrina Powell, who is the VT Stories coordinator, an English professor, and the director of the Center for Rhetoric in Society. "On one hand it's a great place to find out about great things going on at Virginia Tech and the really amazing things alumni do after leaving. It's also a place to understand some of the complicated and meaningful and not always happy moments that happen at the university as a place for lots of change."
David Cline, an oral historian and assistant professor in the Department of History in the College of Liberal Arts and Human Sciences, said that the VT Stories project is about using "the power of storytelling to really get at what it means to be a Hokie and for allowing our community to have a better sense of its own history."
VT Stories grew out of previous research Cline had conducted, first on African-American history in the New River Valley centered on the Christiansburg Institute, and then on regional experiences of those in Virginia Tech's lesbian, gay, bisexual, transgender, and queer/questioning (LGBTQ) community. Shelli Fowler, formerly a Virginia Tech associate professor of English and senior director for Networked Pedagogies and Professional Development in Technology-enhanced Learning and Online Strategies (TLOS), came away from the LGBTQ project enthusiastic about the potential of the oral history technique.
Fowler, now an associate professor at Virginia Commonwealth University, shared her thoughts with Professor Laura Sands. "After Tim was named president, we began hearing from Hokies around the world," said Laura Sands. "In addition to offering a warm welcome, they told us their stories: about being a first-generation student, making groundbreaking discoveries, facing hardship, and achieving success. I remember feeling an urgent need to record and preserve these moments."

excerpts
Women of 1970
Tech's Trailblazers
As part of the Virginia Tech class of 1970, (pictured in page header, left to right) Sue Ellen Kimmy, Nancy Hutchinson Webb, Noel Marts, Marilyn Vanhoozer, Donna Price, and Beverly Quinn were pioneers on a transforming campus. Prior to the acceptance of civilian women on Tech's campus, women, much like these six friends, attended the women's college at Radford.
As the country and the campus faced great changes in the 1960s, women joined the flock of students crossing the Drillfield on their way to class.
"I just felt like when I came to this University I was always a determined young lady, but when I got here I felt like the people I met, the women that came here were sort of, I want to say even trailblazers."
— Sue Ellen Kimmy
"I think part of the change wasn't just us being a large cohort of women coming to the University at one time, but also the timing when we were here. So it was from '66 to '70. It was Kent State, Vietnam, and there was just a lot going on in the world."
— Marilyn Vanhoozer
A bridge for alumni and students
A working group consisting of Sands and representatives from across campus formed around the idea. In the summer of 2015, the group launched a pilot project interviewing about 10 alumni, mostly members of the Corps of Cadets Old Guard.
Ren Harman (biological sciences '11, M.S. education '14 ) became the project manager in 2016. Quinn Warnick, senior director of academic innovation and user experience in TLOS, and Cline are co-principal investigators on the project. The Virginia Tech Alumni Association helps make the connections between alumni and the VT Stories team.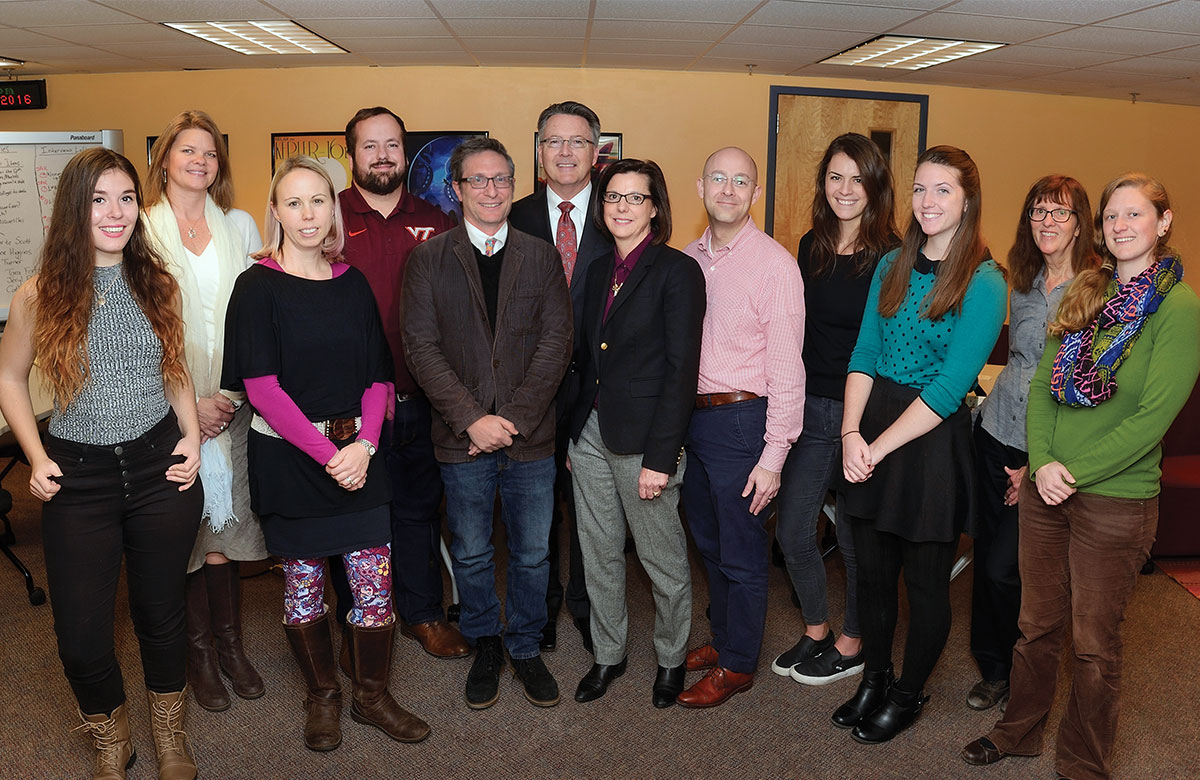 The VT Stories team includes (from left) Ashley Stant, Katrina Powell, Tarryn Abrahams, Ren Harman, David Cline, President Tim Sands, Dr. Laura Sands, Quinn Warnick, Shannon Larkin, Jessie Rogers, Tamara Kennelly, and Adrienne Serra.
The VT Stories team also includes graduate and undergraduate students in various roles. "VT Stories is about bringing people together through shared memories and experiences," said Ashley Stant, a senior professional and technical writing major from Hague, Virginia.
Some of the stories can be uncomfortable, especially those involving cadets who struggled in their first "rat" year or pioneers who broke racial and gender lines to attend Virginia Tech during tumultuous years of social change.
"Stories have power to amplify and confirm, but also to call into question our theories about history," said Warnick. "We're finding stories that may have been marginalized and ignored, and we're bringing those to the forefront. We want to include a range of stories and experiences, and we don't want to varnish them. Many of these stories have awkward and painful moments in them."
Stories told by the women of the class of 1970 and by African-American women who attended in the late '60s include reminders that the atmosphere on campus wasn't always as welcoming as it is today. At the same time, those same stories include humorous moments and a shared love of Virginia Tech that shines through even during challenging times.
As the project grows and more stories appear online, the team intends to expand its efforts. In doing so, they're sharing a Virginia Tech history that's told not from an institutional perspective, but by the students who represent Tech's footprint in the world.
To share your story, visit vtstories.org and click the "Share Your Story" tab in the upper right corner.