From Saving seals to talking TED
For Claire Simeone, it's all in a day's work
California sea lion exam (photo by Bill Hunnewell © The Marine Mammal Center)
Forging a path to a fulfilling career usually takes time, but occasionally, a childhood passion provides the inspiration. Claire Simeone was that kid. For as far back as she can remember, she was always taking care of the animals around her neighborhood.
Today her neighborhood happens to be the Pacific Ocean.
A 2011 graduate of the Virginia-Maryland College of Veterinary Medicine, Simeone is a conservation medicine veterinarian at The Marine Mammal Center, which is headquartered in Sausalito, California. Recently, she was named director of Ke Kai Ola, the center's Hawaiian monk seal hospital in Kailua Kona, Hawaii.
"I love that I get to be a part of the team at the forefront of helping marine mammals and saving species," said Simeone.
Last month, Simeone fulfilled another dream when she became the first veterinarian ever to be named a TED Fellow.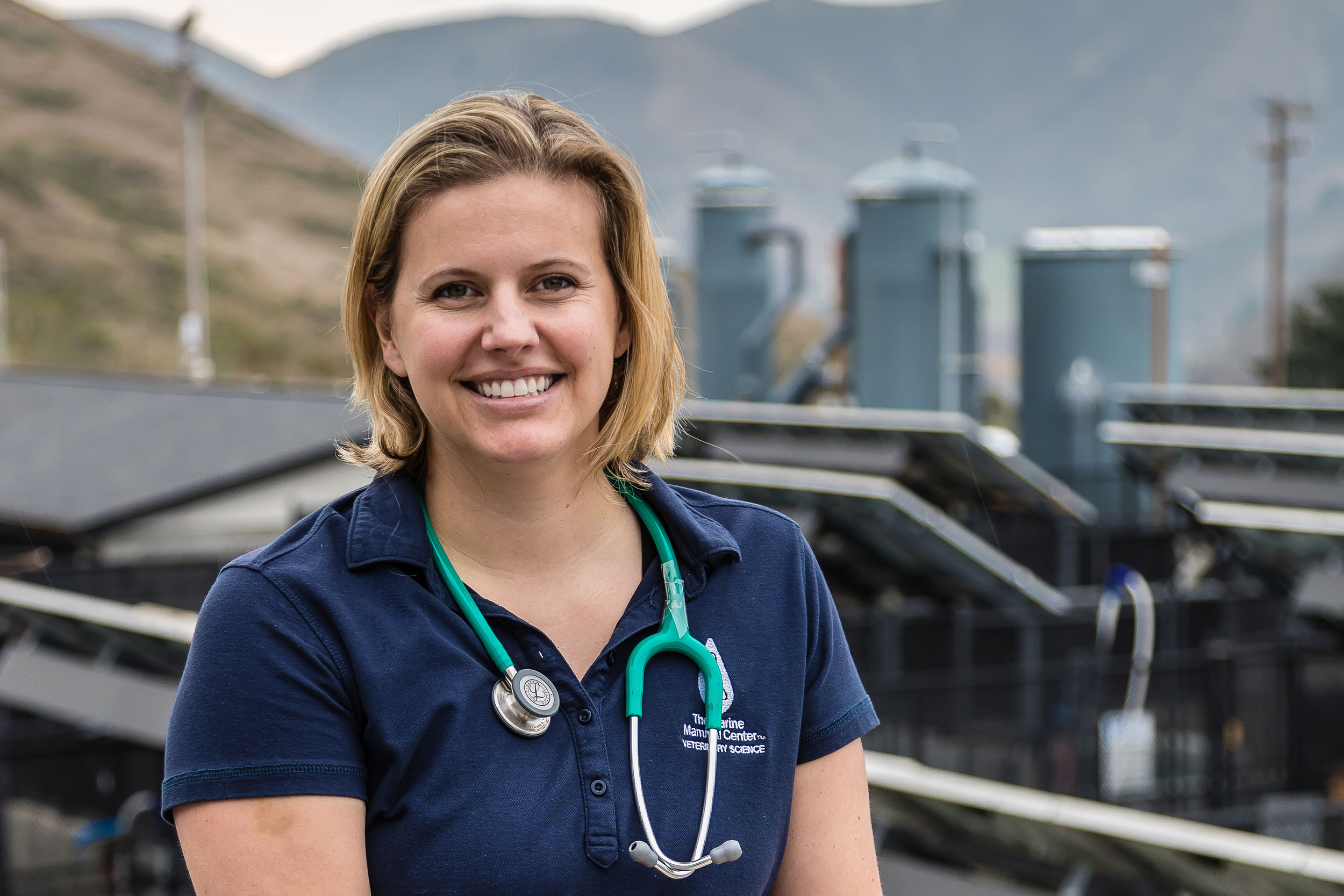 Claire Simeone (photo by Bill Hunnewell © The Marine Mammal Center)
"When I got it, it was, oh my gosh, a dream come true," Simeone said.
Since 2009, 20 new TED Fellows have been selected annually for a total of 453 fellows from 96 countries. The designees range from scientists and doctors to artists and activists.
Each fellow receives a year of mentorship and is required to present a four-minute talk at the annual conference. TED2018 is scheduled for April 10-14 in Vancouver, BC, Canada.
According to Simeone, achieving her dream of being a TED Fellow began with being a Hokie.
"Virginia Tech is basically where everything started," she said. "I'm so grateful for the education I received there and the training … It's such a versatile degree."
A native of Maryland, Simeone came to Virginia Tech after completing a bachelor's degree in physiology and neurobiology at the University of Maryland, which included coursework taken at the University of St. Andrews in Scotland.
"When I went down for my first visit, it just felt like home," Simeone said. "I love Blacksburg."
Simeone, who credits her early interest in animals to the influence of her father, enrolled in the public and corporate veterinary medicine track in Blacksburg. Students who pursue this track seek careers outside the traditional realm of private clinical practice. Students begin their focus on the track, one of five available through the college, during their second year of study.
"To the best of my knowledge, we're the only veterinary college in the United States that has full-time faculty overseeing a track devoted to students interested in this broad area of veterinary medicine," said Valerie Ragan, director of the college's Center for Public and Corporate Veterinary Medicine.
While pursuing her veterinary degree, Simeone spent summers involved with programs such as Envirovet Summer Institute and participating in externships at the San Diego Zoo and the marine research station in St. Barthelemy in the West Indies.
Simeone's willingness to go the extra mile for her studies was something Jacque Pelzer, director of admissions and student support, found noteworthy.
"From the get-go, she understood how difficult a path it was going to be to achieve her goal," Pelzer said. "Her dedication is what impressed me … She gave up a lot of her private life to achieve this dream."
Simeone eventually landed a one-year joint internship between SeaWorld San Diego and San Diego's National Marine Mammal Foundation. The job tasked her with extensive care of SeaWorld's avian and marine mammal populations, which included bottlenose dolphins and sea lions.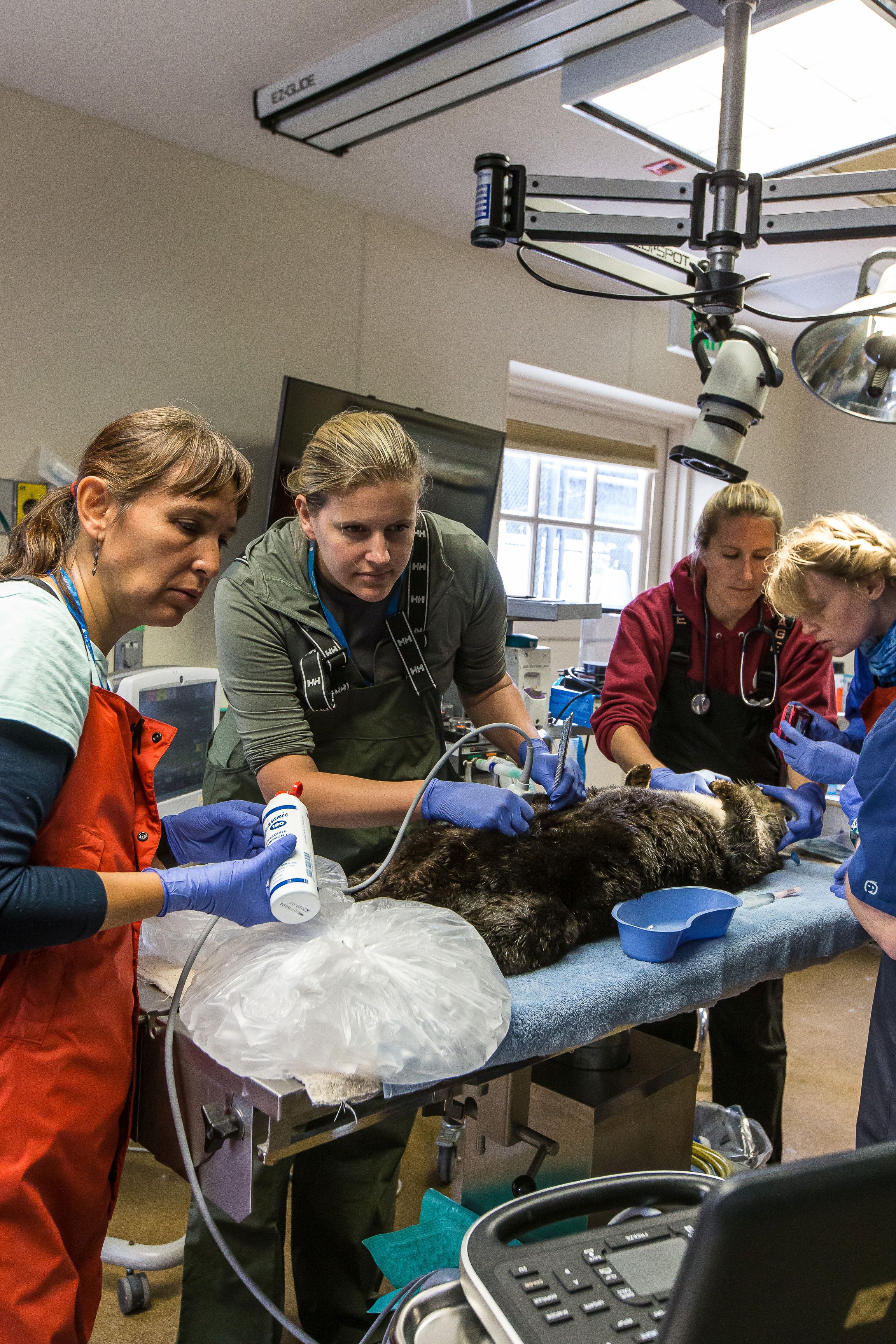 Southern sea otter ultrasound (photo by Bill Hunnewell © The Marine Mammal Center_USFWS permit MA101713-1)
According to Simeone, these experieinces cultivated her love for marine mammals and led her to work with The Marine Mammal Center. Her current role emphasizes rebuilding the the population of the endangered Hawaiian monk seal, which is currently hovering around 1,400.
In addition to practicing clinical medicine, much of Simeone's work involves examining deceased animals. "Why they died can help us better understand how to help the species," Simeone said. "It can help us identify what the data is that we can be collecting while they are alive. That's so key to making medicine better."
The animals' remains also provide information about the state of the ocean and offer insights regarding its impact on humans. According to Ragan, the process reflects the One Health approach emphasized at the veterinary college..
"It's a systems approach that takes into consideration the intersection between humans, animals, and the environment," Ragan said. "You're looking at the whole population and how a change in one sector may impact the others."
Last spring, the college partnered with the Edward Via College of Osteopathic Medicine (VCOM) to open the Center for One Health Research in Blacksburg. The facility on Prices Fork Road includes five multi-investigator lab spaces for cross-disciplinary collaboration.
Ragan said she believes Simeone's position as a TED Fellow provides an opportunity to demonstrate the value of bringing varying disciplines together under the One Health umbrella to solve complex problems.
Though her message is in the midst of being crafted, Simeone is confident it will resonate with the diverse audience in April.
"My work revolves around the message that marine mammals are sentinels of the ocean and there's so much they can tell us," Simone said. "… we really need to be listening to what they have to say."
Harbor seal exam (photo by Ingrid Overgard © The Marine Mammal Center)