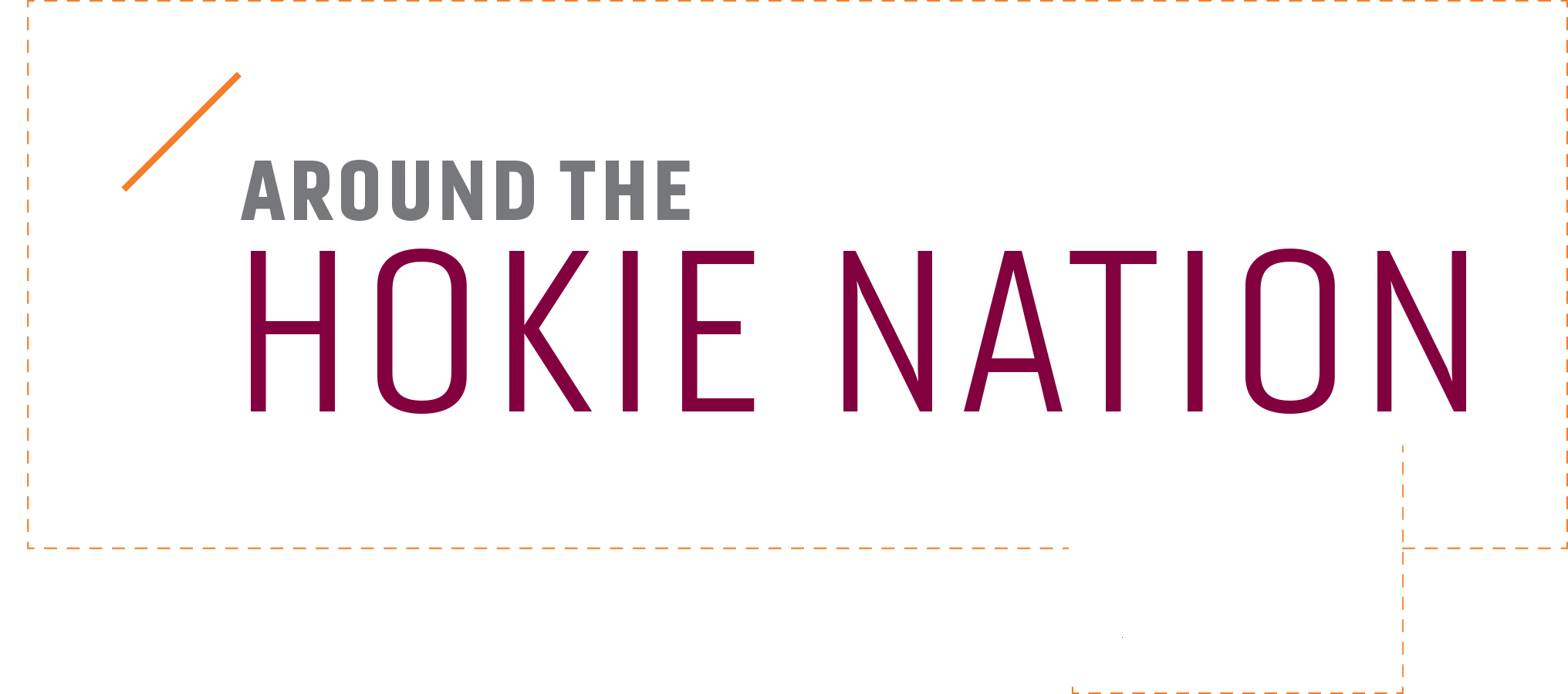 On Track: Kacey Huntington M.Arch. '10 skated with Baltimore's Charm City Roller Girls under the name I.M. Pain
At Virginia Tech, students learn that individuals can come together to form a whole that is stronger than its parts. Beyond the classroom, many Hokies put that knowledge to work in their professional lives and through participation in team sports that continue well past graduation.
Four Virginia Tech alumni have seen that team-oriented mindset play out at the highest levels of one of America's most hard-hitting amateur sports: roller derby.
Since roller derby arrived in western Virginia in 2007, Virginia Tech students and alumni have skated with the New River Valley (NRV) Rollergirls of Blacksburg; the Star City Roller Girls of Roanoke, Virginia; or more recently with the combined team known as the Valleys All-Stars.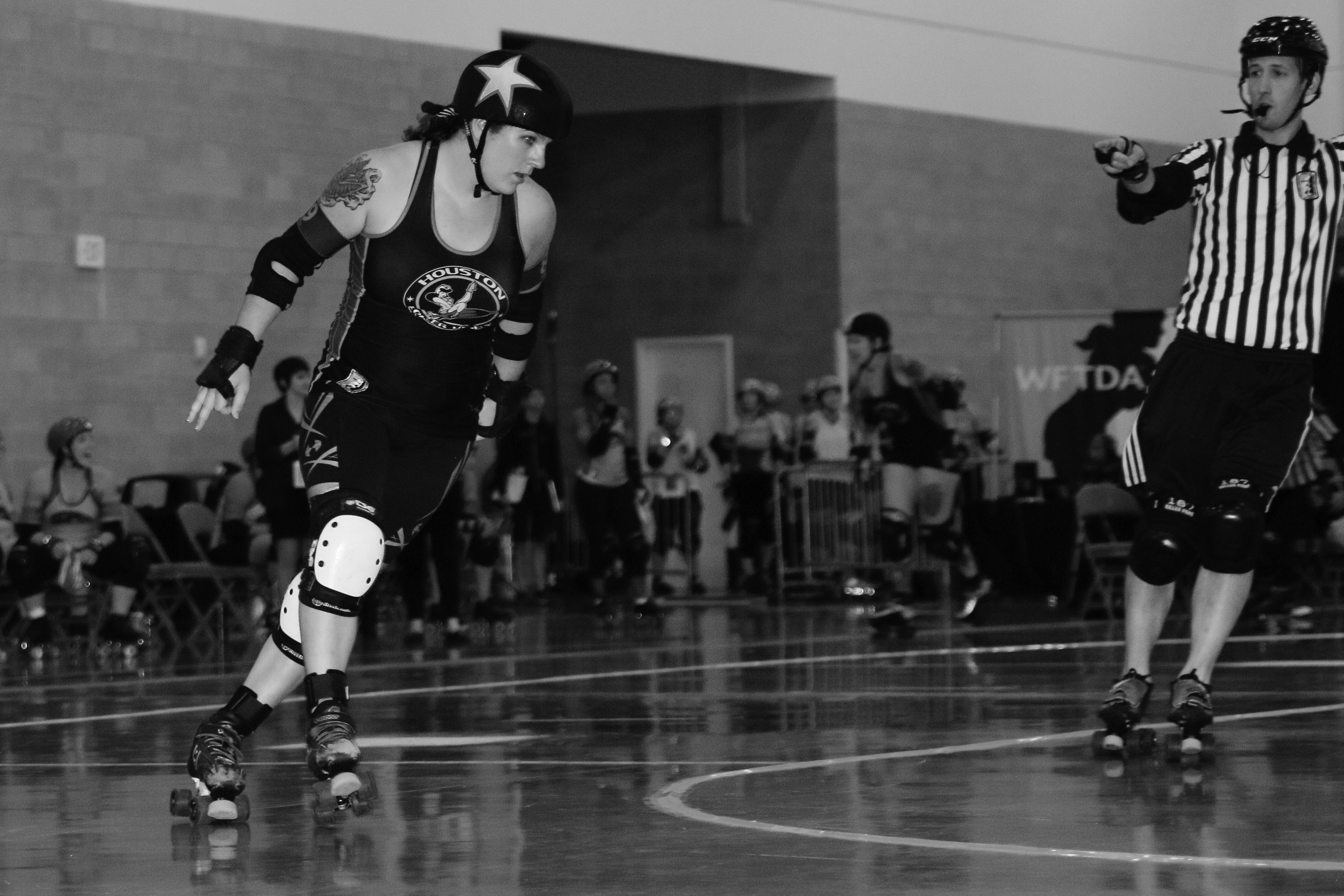 High Scorer: Tori Elmore '09 skates with Houston Roller Derby as Arrak-Kiss.
Some Tech alumni have gone on to compete in the Women's Flat Track Derby Association's (WFTDA) "Big Five" tournaments, which decide the association's champion each year. One has found her place among the pioneering women who now play men's derby. All have overcome obstacles and continuously adapt to a sport that is still evolving, while pursuing careers in fields that range from architecture, mechanical engineering and insurance, to auto manufacturing safety.
Stephanie Beeman M.S. '11, Ph.D. '15, who skates under the name Bettie Lockdown, joined the NRV Rollergirls in 2010, during her first year as a Virginia Tech graduate student.
"I showed up at practice and then got hooked," Beeman said. "Skating came somewhat naturally. I liked the team aspect, working with other people and having that network."
Roller derby functions as a do-it-yourself amateur sport, organized by skaters, for skaters. Beeman took an active role in the workings of the league. As she pursued her degrees, she also learned about how to run an organization and put on sporting events.
"That makes it very collaborative and fun."
Kacey Huntington M.Arch '10
In 2017, Beeman moved to Ann Arbor, Michigan, to become a regulatory engineer at the Hyundai Kia America Technical Center Inc., a job that entails overseeing company compliance with state and federal regulations. She also transferred to the Ann Arbor Derby Dimes, which was ranked No. 30 in the world.
"This team is a really good fit for me because they have this overall, team-first approach," Beeman said. "It's not about one person; it's about the collective. We all are able to provide feedback to what we want as a team, and then we can achieve those goals."
Tori Elmore '09, who skates as Arrak-Kiss—a reference to Frank Herbert's epic sci-fi series "Dune"—is another former member of the NRV Rollergirls who achieved new success with a transfer to a new league. Last year, she moved to Houston to work as a mechanical equipment reliability engineer for bio-pharmaceutical manufacturer Syngenta.
The first time Elmore attended a Houston Roller Derby practice, she was amazed by how much bigger it was than an NRV practice, both in terms of venue and the number of skaters. Leveling up forced her to reinvent her game. She studied footage on Youtube, analyzing how successful skaters used their bodies, including how they turned their shoulders and where they focused their vision.
Elmore tried out and quickly rose through the Houston team's ranks, competing last year in a Division 2 playoff tournament. This year she skated in a qualifying Division 1 tournament in Dallas. Elmore excelled, scoring an exceptional 22 points in one jam.
Derby has provided a supportive community for Elmore, who transitioned from male to female after first joining NRV in 2009.
"As I started learning more about myself and who I really am, it was definitely a community open to people making sweeping life changes and letting people explore themselves and not just stick to convention," Elmore said.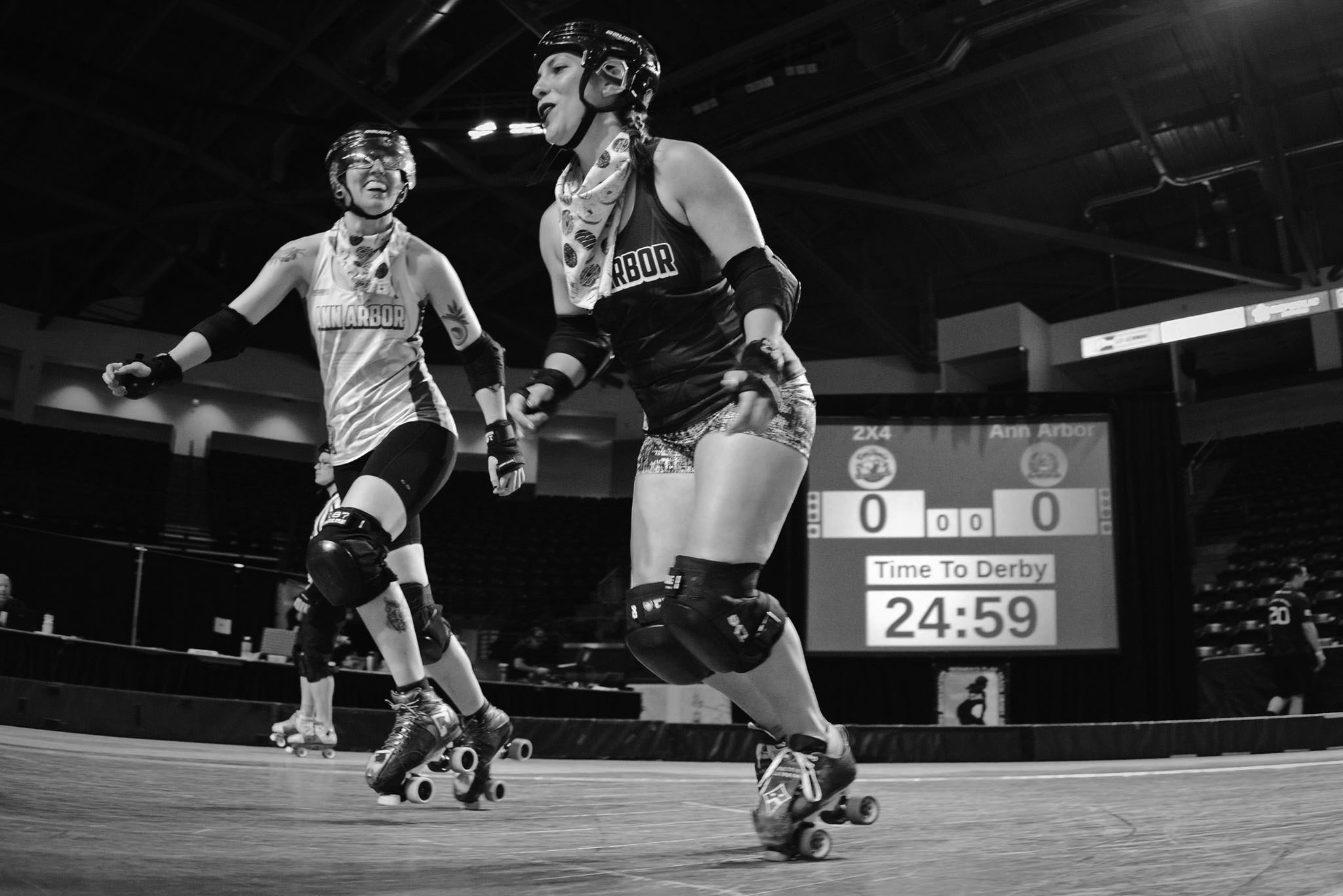 Stephanie Beeman M.S. '11, Ph.D. '15, right, skates with the Ann Arbor Derby Dimes under the name Bettie Lockdown.
Jen "Slingin' Gritz" Stern '97, center, began skating with the NRV Rollergirls in 2008 and now competes with Collision Men's Derby in North Carolina.
The Virginia Tech alumna who probably has skated in more WFTDA tournaments than any other is Kacey Huntington M.Arch. '10, who skates as I.M. Pain, a name that pays tribute to famed architect I.M. Pei. She applied to Virginia Tech as her "reach" school and was excited to get in. A competitive speed skater since age 5, both as an amateur and professional, she was recruited by the NRV Rollergirls in 2009.
When Huntington moved to Maryland in 2010 to pursue her professional goals—first with archtictural engineering firm Nika Architects and Engineers in Rockville, and later with architecture, landscape architecture, planning, and interior design firm Hord Coplan Macht in Baltimore, she tried out with the Charm City Roller Girls, a perennially competitive team. She quickly became a primary jammer. Since joining the team, Huntington has competed in six playoffs and three championship tournaments.
"Architecture is especially known for long hours in the studio and a lot of hard work, but it's really fun," Huntington said. "You're in it with other people in that same situation. You're working on individual projects, but everyone is so willing to help or work through a problem together. That makes it very collaborative and fun. And that also explains how it is with derby, too."
"I liked the team aspect, working with other people and having that network."
Stephanie Beeman M.S. '11, Ph.D. '15
With the exception of a February 2017 state team tournament, Huntington retired from competitive play after the 2016 season. She remains involved on Charm City committees.
Jen "Slingin' Gritz" Stern '97, meanwhile, is blazing a trail that's entirely hers.
For Stern, the decision to attend Virginia Tech was a simple one. Her grandfather, E. George Stern, pioneered wood sciences at the university during his four-decade tenure as a professor. In 1997, the Stern Fastener and Pallet Research Laboratory at the Thomas M. Brooks Forest Products Center on campus was named for him.
While at the university, Jen Stern was a member of the Marching Virginians. After graduating, she married and started a family. In 2008, she found the NRV Rollergirls.
"I wanted a fun way of exercising to keep off weight and have something for myself—maybe get a little aggression out," Stern said. "I showed up for practice and fell in love with it. It's real important for mothers in general, but especially for young mothers staying at home, to have something just for them that's not centered around being a mom, being a wife. Roller derby kept me sane during those years."
Stern found a supportive network within roller derby that extended well beyond western Virginia. "Over the years, I've met and become instant friends with people all over the world who play derby," she said. "This draws a connection with Hokies; there's a lot of networking and support within the Hokie community. I find that support within the derby community, too."
"... it was definitely a community open to people making sweeping life changes and letting people explore themselves ..."
Tori Elmore '09
From 2010 to 2015, she expanded on her identity as a skater, spending some weekends with independent wrestling alliances in Virginia and North Carolina. Stern wrestled as "Derby Girl Jennifer Blaze" to promote NRV Rollergirl events.
Stern moved to Clayton, North Carolina, near Raleigh, where she joined up with the Carolina Roller Girls. In August of 2015, she started playing with a men's league, Collision Men's Derby.
"I had joked about wanting to play with men," Stern said. "I did feel like my size and physical style of play were more fitting for the men's game."
The stylistic shift challenged her in a way that enthralled her and forced her to evolve her game.
"Men's derby tends to be faster and more physical," Stern said. "I enjoy I'm not the biggest person on the track. I had to change my style to being less the brute and more the brain. In men's derby,
I rely a lot more on my game knowledge, track awareness, and skating skill. I'm not going to muscle a lot of these guys."
Today, more women have joined men's leagues thanks to pioneers like Stern. Back in women's derby, Virginia Tech alumni continue to make a mark as well—competing at the highest levels in the world.
Jamming: Read more about how Hokies are changing the face of modern roller derby at vtmag.vt.edu.