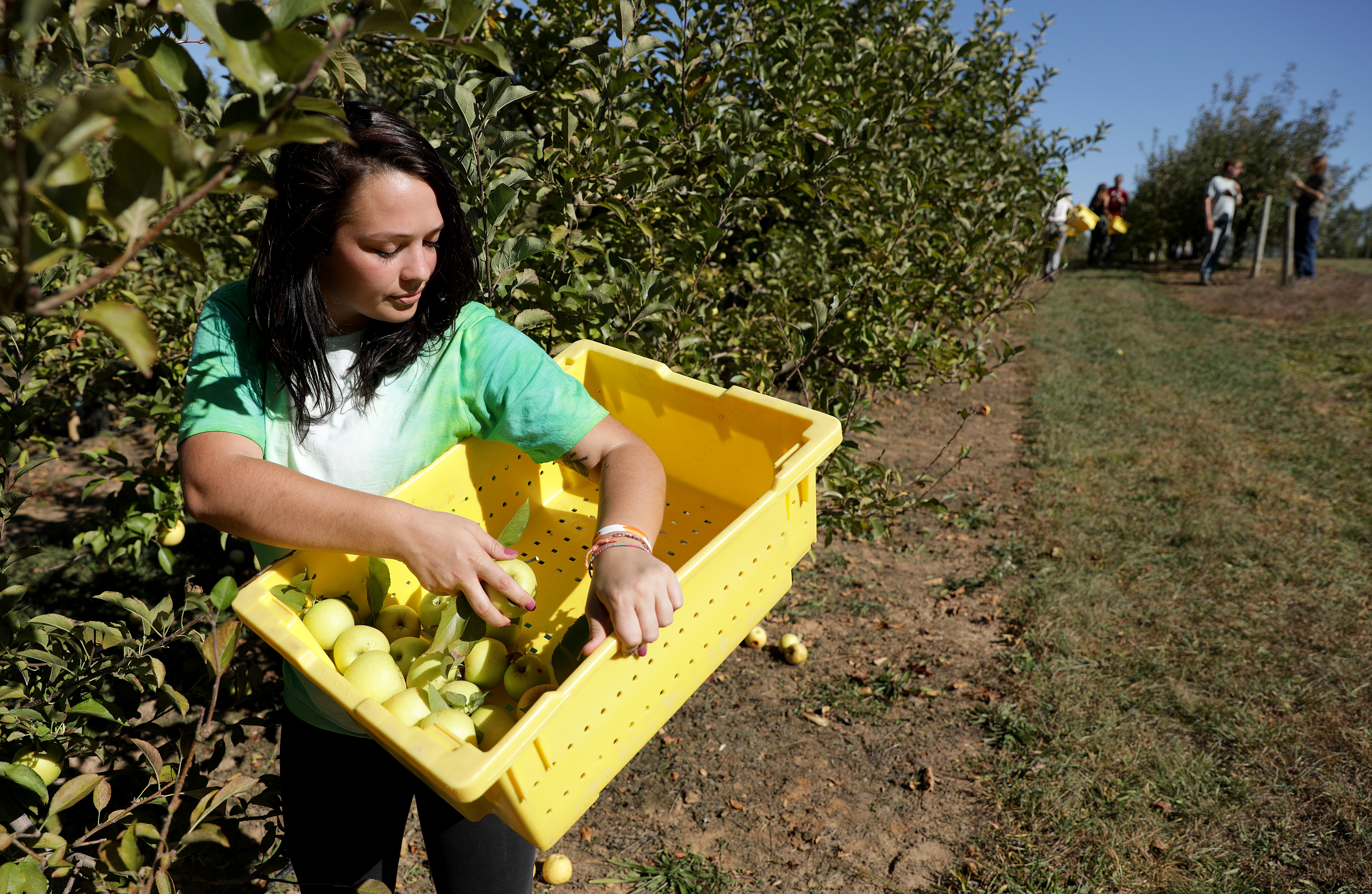 Virginia Tech Dining Services is no stranger to the spotlight. The tradition of the award-winning program grows each year as it routinely earns top-tier national rankings and honors for its food quality and service to the university community.
Less illuminated, but no less significant, is the department's commitment to serving the planet through sustainable practices that make a difference in the kitchen, at the table, and long after the meal has been consumed.
Home-grown help
Sustainability efforts at the university begin long before a stovetop is warmed. Currently, just over 13 percent of Dining Services' food is locally and sustainably sourced—grown or produced within 250 miles of Blacksburg, or having attributes such as fair trade or organic certification—with a portion being cultivated just a few miles from campus by Virginia Tech students.
Fifty-four types of crops, featuring multiple varieties of produce, are cultivated at the Dining Services Farm at Kentland Farms. This growing season, the farm produced about 37,000 pounds of food for Virginia Tech Dining Services and harvested around 1,000 pounds of high-value herbs, including 500 pounds of basil.
Better containers for a better Earth
Once its award-winning food is prepared, Dining Services focuses on a variety of waste minimization initiatives, including recycling and composting.
Since 2012, Dining Services has made strides to shrink its carbon footprint by shifting from plastic foam to-go products to those made of compostable or recyclable material. In 2013, this effort was bolstered with the introduction of the 9x9 Reusable To-Go containers (R2G), each of which is durable enough to be used more than 300 times.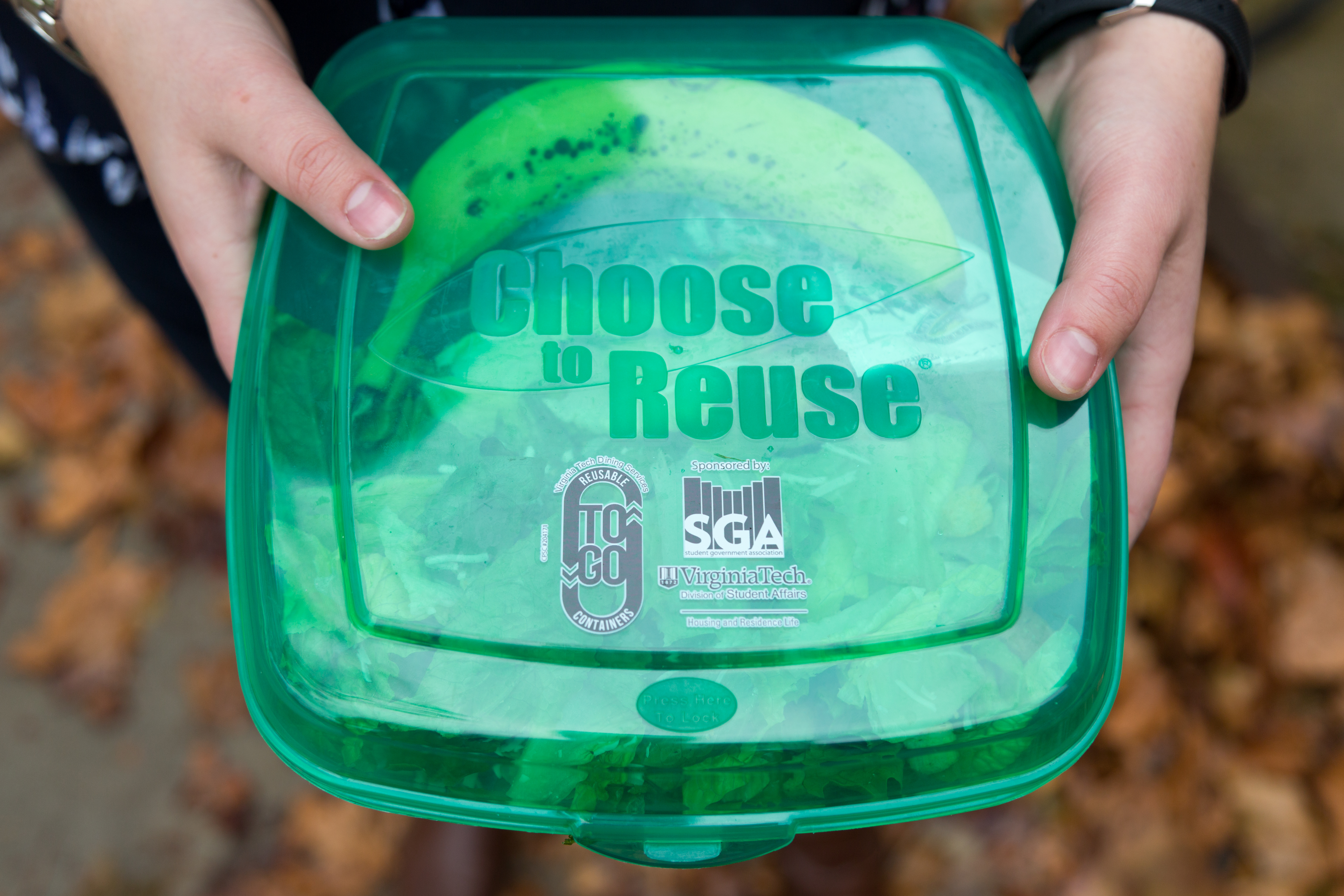 Originally, students had to have a special key tag to use the R2G boxes. That evolved to a special coin and eventually to a user interface that accepts Hokie Passports. Today, students can use their Hokie Passports like library cards to check out up to three containers at a time. They receive email notifications upon checking out containers, as well as returning them to one of the OZZI collection machines located at West End Market, Owens Food Court, or Turner Place.
The new system enables Dining Services to track usage. About 10,000 containers were checked out between late August and early October of 2017.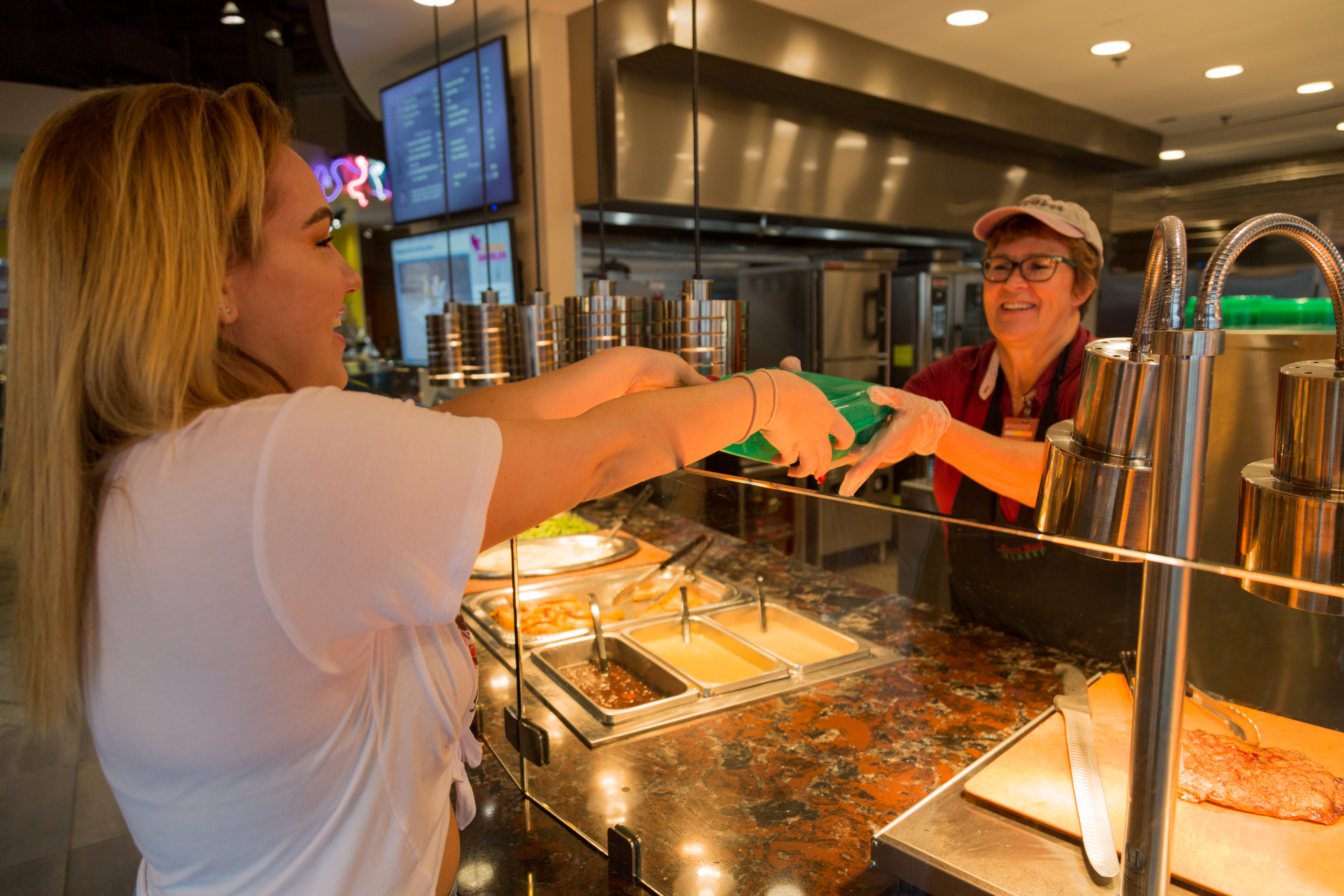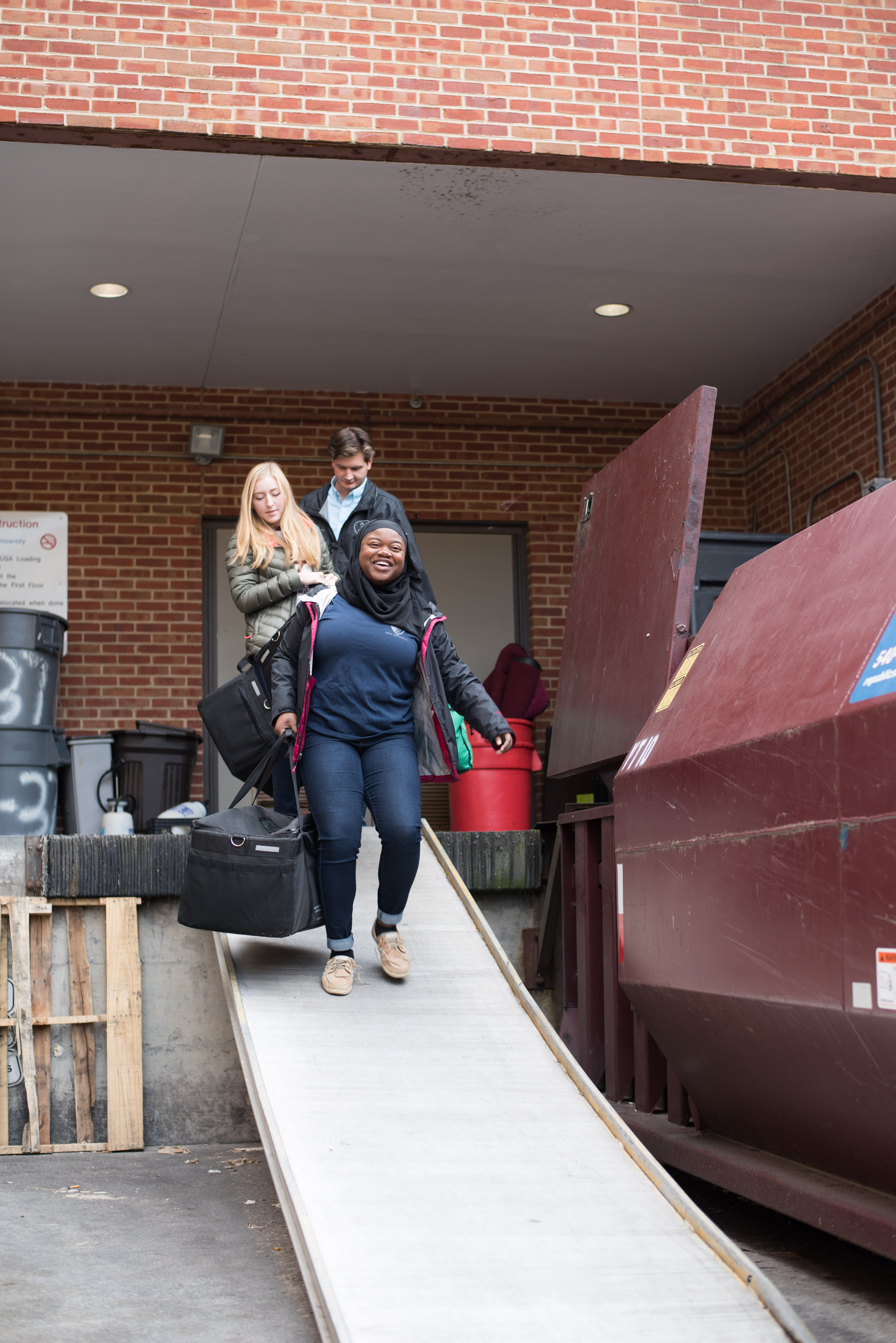 Photo by Cat Piper
Never waste an opportunity to serve
Since 2009, Dining Services has promoted composting waste, such as carrot tops, vegetable peels, or fruit scraps. The effort has diverted around 5 million pounds of food waste from landfills.
In 2015, a grant initiated a start-up chapter of the Campus Kitchens Project, a national organization that promotes students' efforts to combat food waste and fight hunger.
From its inception through mid-October 2017, the campus kitchen at Virginia Tech, a VT Engage program, diverted a total of 53,395 pounds of food to those in need. A total of 380 student, staff, and faculty volunteers committed more than 8,900 hours of service.
This year for the first time the group also teamed up with the New River Valley Glean Team, retrieving about 800 pounds of apples for those in need.
Statistically Speaking
2015-fall 2017
53,395 pounds of food
8,900 hours
380 volunteers
800 pounds of apples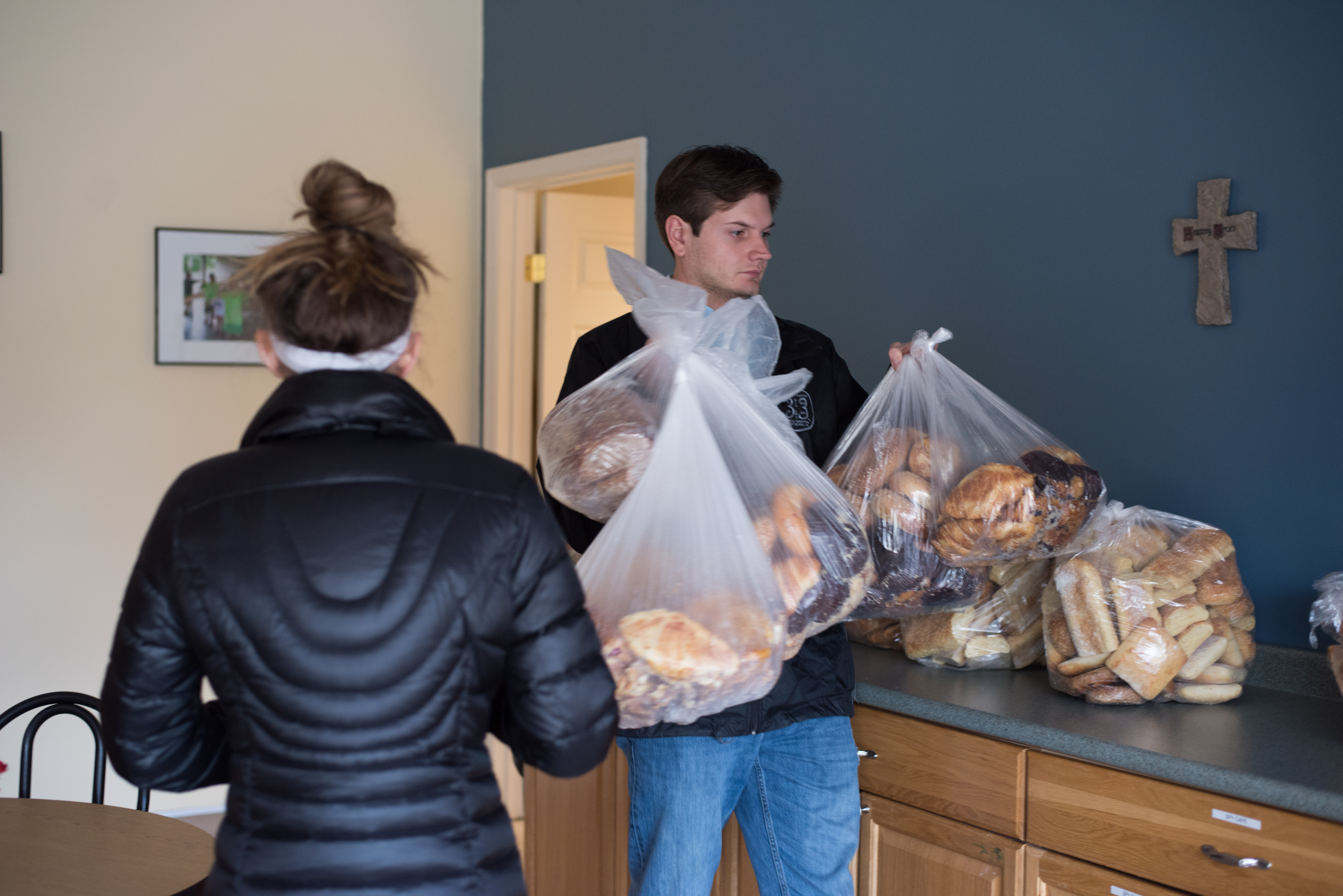 Photo by Cat Piper