HONOR, ETCHED IN STONE
Photos by Logan Wallace and Shay Barnhart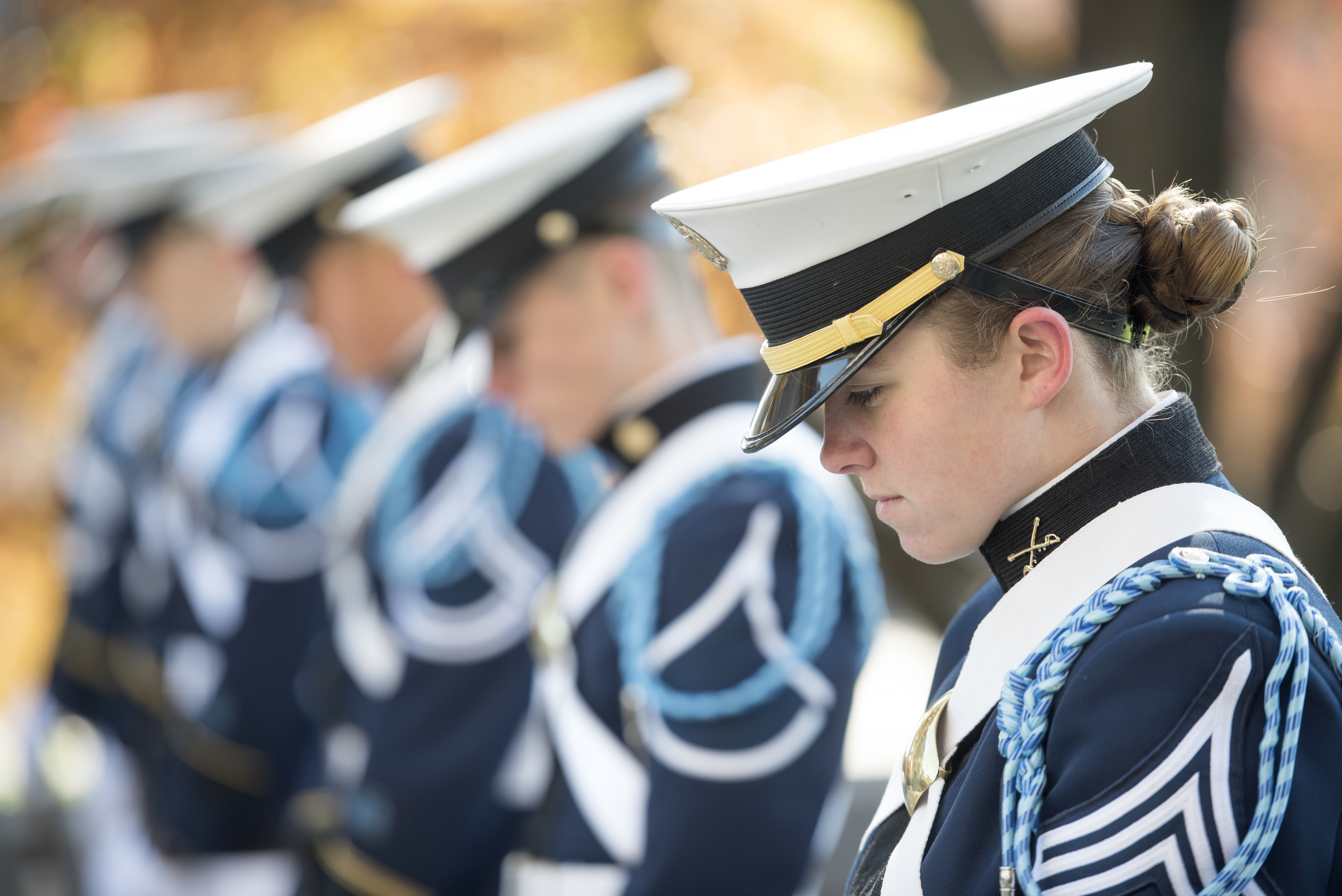 Honor: (The Virginia Tech Corps of Cadets honored veterans during two special ceremonies on Veterans Day.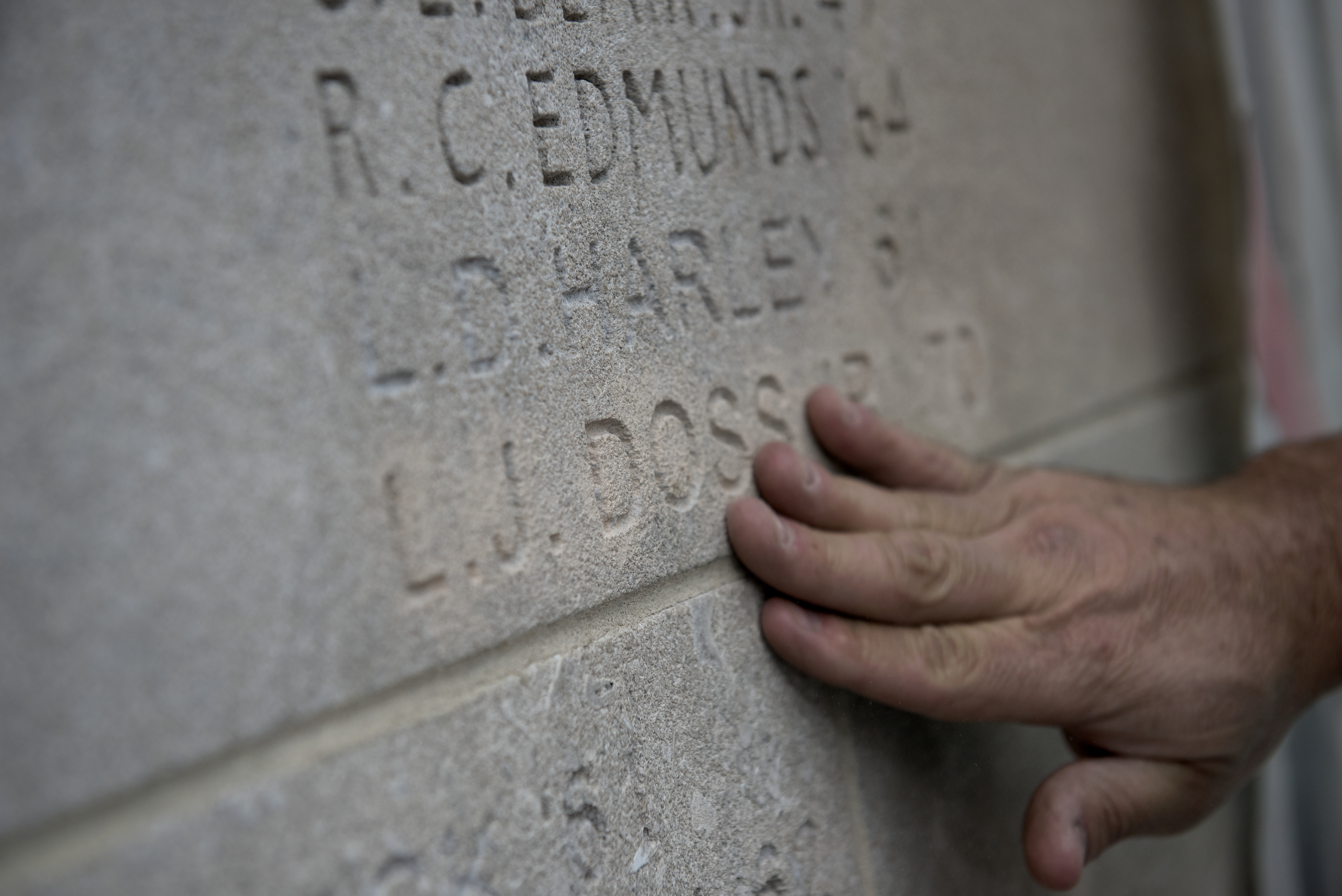 Service and Sacrifice: The name of Jim Doss was engraved on the Honor pylon.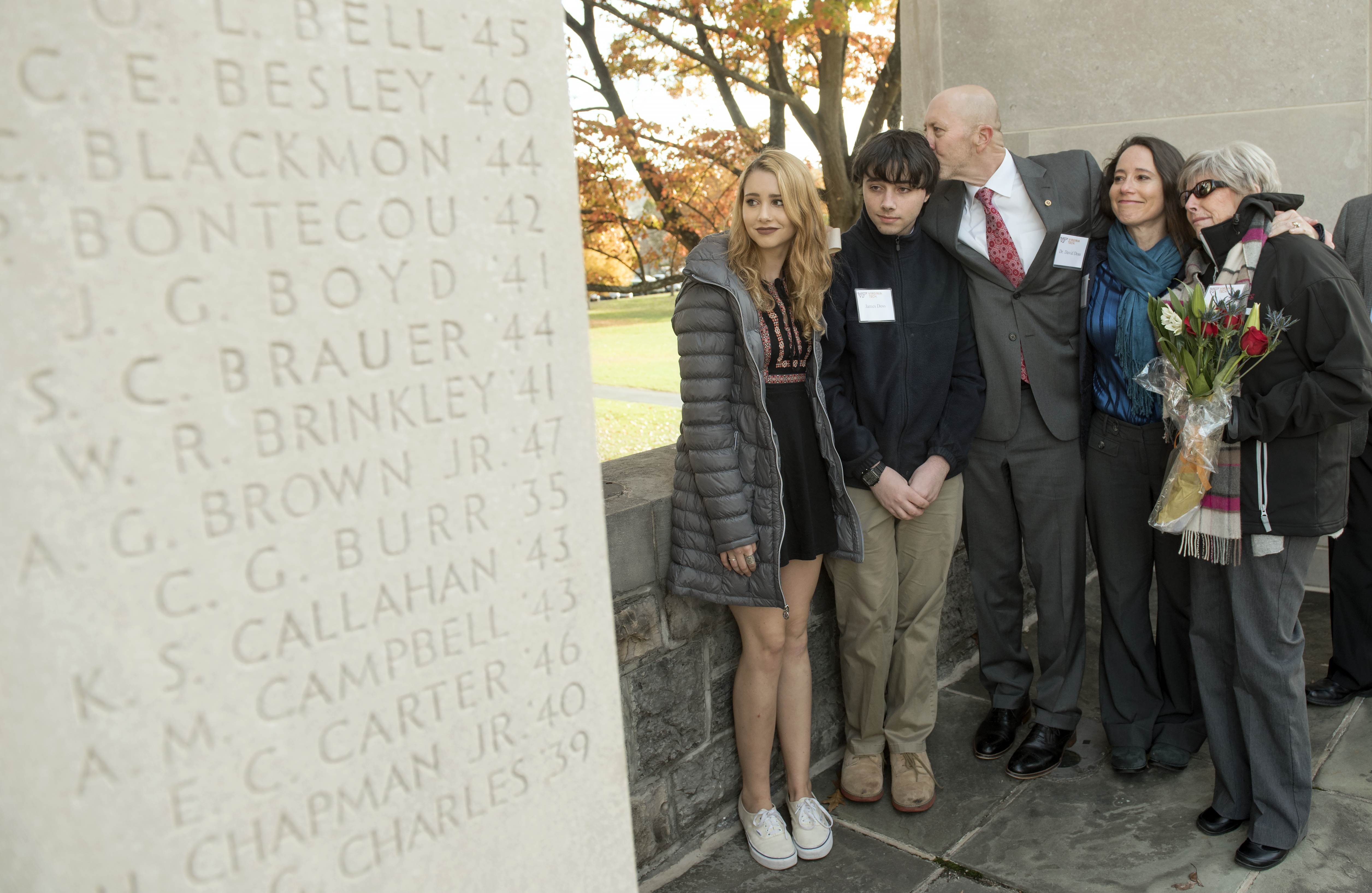 Family and friends: Doss's family members who attended the Pylon ceremony included widow Barbara Doss Rookstool, son David Doss and his wife April, and their children, Summer and James.
Tribute: The Virginia Tech community gathered at the War Memorial Pylons on Nov. 10 for Veterans Day.
The Virginia Tech community gathered at the Pylons on Nov. 10, 2017, for a series of events in recognition of Veterans Day. The day included a special ceremony organized by the Corps of Cadets in cooperation with the Alumni Association to add a name to the Honor pylon.
"It is at moments like these that we also take time to reflect on the origins and meanings of this university," said Maj. Gen. Randal D. Fullhart, commandant of the corps. "While we are a modern-day, world-class research institute, Virginia Tech is, at its heart, a land-grant university whose roots in the military tradition form the basis of its motto, Ut Prosim, (That I May Serve). Service is what we honor today."
Moments later, the name of the late Luther James "Jim" Doss Jr. of the Class of 1970 was unveiled on the Honor pylon.
Doss was killed in action on April 30, 1970, in the province of Binh Dinh, South Vietnam while trying to rescue eight soldiers who were surrounded by attacking forces. Last spring, the digitization of a fraternity scrapbook revealed that his name had never been added to the Pylons. His was the 431st name inscribed.
Prior to the unveiling, Doss' son, David Doss, spoke to the university community on behalf of his family. "You haven't only carved in these stones the name of my father," David Doss said, holding back tears, "but you've etched in our hearts gratitude that could not be described with words."
The Honor pylon is inscribed with the names of Virginia Tech students and graduates who have died defending the nation's freedoms since World War I. At the War Memorial's center, the cenotaph, an empty monument erected to honor a group of people whose remains are consecrated elsewhere, displays the names of Virginia Tech's seven Medal of Honor recipients.