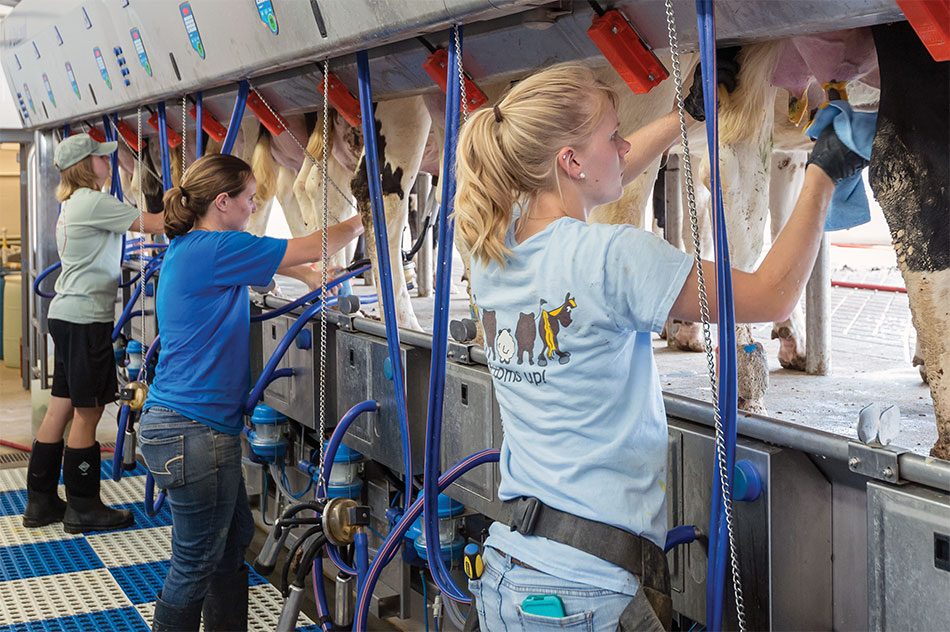 The new Dairy Science Complex – Kentland Farm provides great opportunities for students desiring a hands-on, experiential education.
---
Under the Milky Way
New dairy science complex opens
by Amy Loeffler
Photos by Tricia Lombardi
The typical Virginia Tech student doesn't see the earliest hours of the morning, when only pencil points of starlight disturb the inky darkness of a sky that has yet to awaken from slumber.
It's the time of day that dairy science doctoral student Adam Geiger enjoys most.
Geiger, who hails from Brillion, Wisconsin, revels in the calm of the dairy barn's milking parlor, where the rhythmic pulsing of the equipment breaks the morning silence.
Not everyone embraces the dawn with such relish, but dairy science students are a different breed.
In his research, Geiger focuses on how nutrition in the early stages of life can make cows healthier by feeding them not only more milk but also a more nutritious formula. "Healthier animals are more productive and efficient," he said.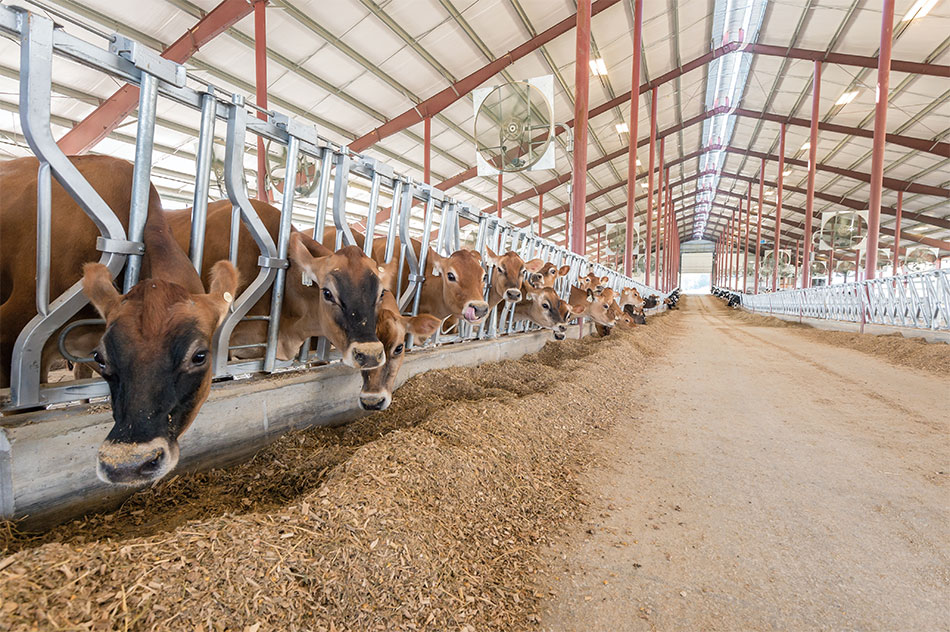 Photo gallery of the Dairy Science Complex's grand opening on July 17 →
The newly constructed, $14 million Dairy Science Complex – Kentland Farm will be an ideal location for studying newborn cows. One of the many technologies the dairy complex offers researchers is an automated calf feeder that tracks how much and how often a calf is eating—and even how fast a calf is suckling a bottle.
"For me, working at the new dairy building is very appealing. It's state-of-the-art and allows us to track our animals' health in a noninvasive way," Geiger said. "The cows work hard every day for us, so we work hard for them."
The facility will enhance the long-term success of Virginia Tech's award-winning dairy science program and contribute to the land-grant mission of the university. The second phase of construction will include an applied reproductive physiology facility adjacent to the Virginia-Maryland College of Veterinary Medicine, an intensive metabolism research facility at Kentland Farm, and a bovine, teaching, and research facility on Plantation Road.
The move from the former complex on Southgate Drive was prompted by the expansion of the Virginia Tech Montgomery Executive Airport and the Virginia Tech Corporate Research Center, as well as a new U.S. Route 460 interchange.
In the new complex, students are examining modern issues in dairy science alongside researchers who work on solving challenges and then sharing those solutions with Virginia Cooperative Extension.
"The new facilities provide great opportunities for students desiring a hands-on, experiential education, and they will also allow faculty to conduct innovative research that is important for the dairy industry," said Alan Grant, College of Agriculture and Life Sciences dean.
Joy Nystrom, a senior, from Culpeper, Virginia, was excited to track the progress of her research, including one project with Katharine Knowlton, the Colonel Horace E. Alphin Professor of Dairy Science, testing levels of antibiotic resistance in cows.
"I wake up early for cows because it's easy," said Nystrom, who finished an internship this summer for the Southeast Dairy Association in Atlanta. "You really get to connect with the cows in a way that you don't with other animals."
Amy Loeffler is the College of Agriculture and Life Sciences' science writer.