The Mother Teresa of Puerto Plata
by Sherrie Whaley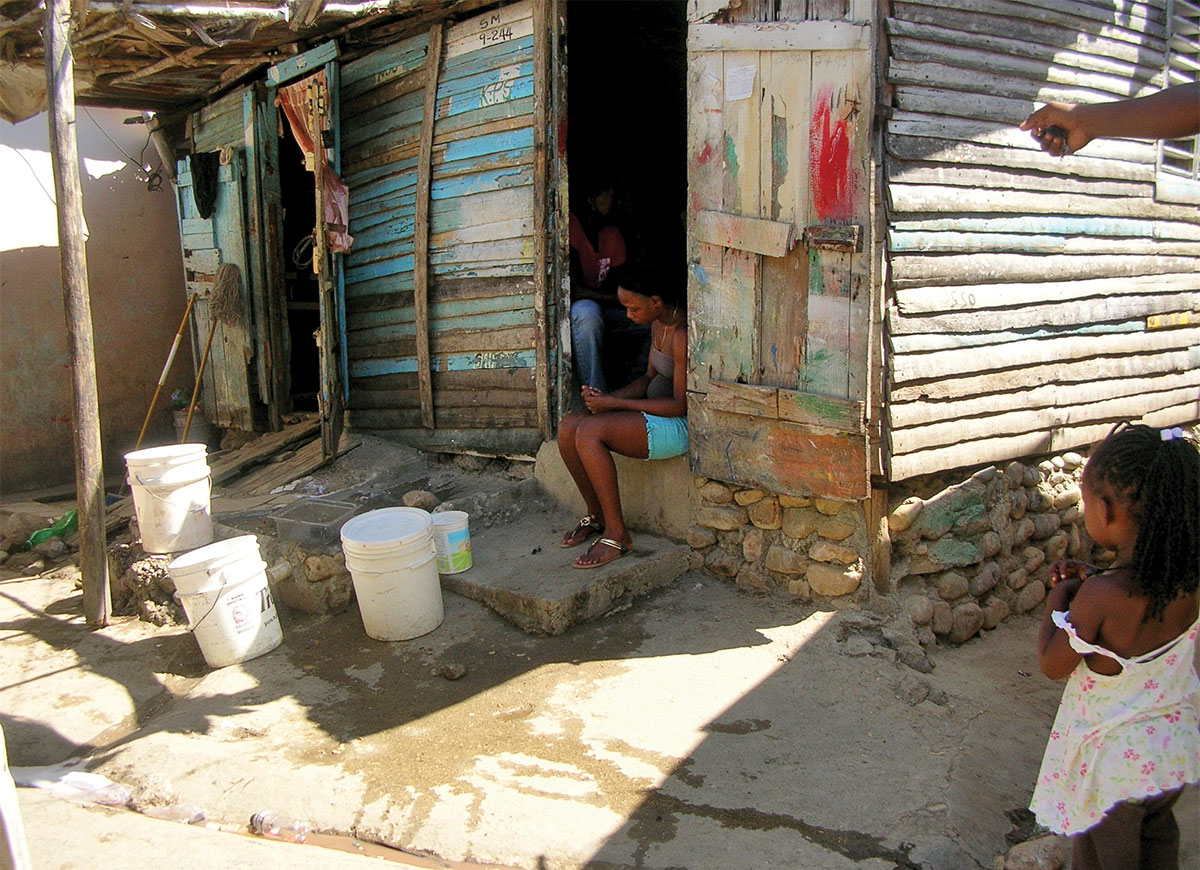 Caitlin McHale Floreal '06 directs Project Esperanza, helping Haitian immigrant youths in the Dominican Republic.
Caitlin McHale Floreal '06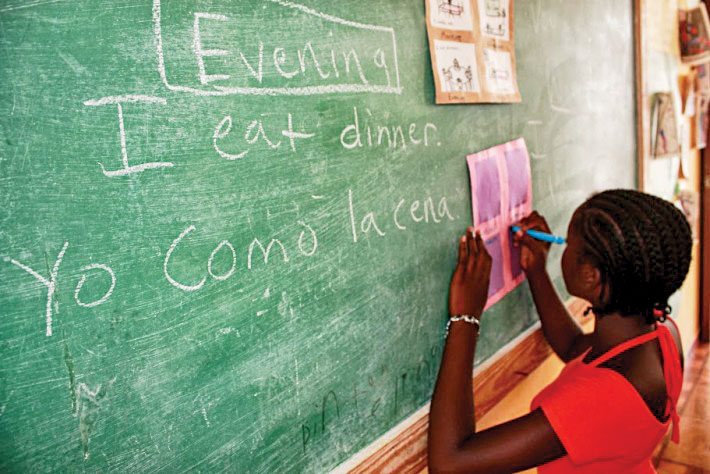 Project Esperanza's English camp
For one Virginia Tech alumna, a student organization she co-founded in 2006 has turned into her life's work and resulted in her being compared to Mother Teresa.
Caitlin McHale (interdisciplinary studies: leadership and social change '06), and sophomore Kristin Preve (English '07) established a student organization called Project Esperanza after a 2005 volunteer trip to the Dominican Republic.
While there, they visited an orphanage and nearby "bateys," areas where the poorest of the poor (primarily Haitians who came to the Dominican Republic to work on sugar cane plantations) lived under metal roofs, on dirt floors, and without regular access to electricity or water. After returning to Blacksburg, they set about raising awareness and funds for both.
After graduation, McHale left her comfortable hometown of Winchester, Virginia, to move outside Puerto Plata, Dominican Republic. She saw that Haitian immigrant youths were treated as second-class citizens, and many were living on the street, with no access to education.
Despite what seemed to be insurmountable odds, McHale was determined to provide the vulnerable Haitian children and youth with food, shelter, and an education.
Ten years later, Project Esperanza is a registered nonprofit organization that has helped Haitian youths find a better life in the Dominican Republic. Its two grassroots schools educate nearly 200 students annually (ages 5 to 18), some who have no family, some who live in the bateys, and others who live in a group home operated by Project Esperanza. Although education is its largest program, social aid and community development programs are also important areas for the organization.
McHale serves as director, and she and a board of directors lead the organization with additional support from faculty advisor Reed Kennedy from the Pamplin College of Business. Day-to-day programs and summer camps are carried out by approximately two dozen employees and a host of volunteers.
In 2016, Project Esperanza completed two crowdsourcing campaigns, revitalized its connections with the Virginia Tech community (including uniting with the student organization Hokies for Haiti), and secured a loan to purchase a 4,367-square-foot building for a permanent school. In addition, the education program is on track to become the first in the country to be accredited with a bilingual Haitian Creole-Spanish curriculum.
McHale (now Floreal) spends most of her time in the Dominican Republic, where she lives with her husband and two children. She returned to Blacksburg in 2012 to deliver a TEDx talk, in which she said, "It was a fearless love that led me to do this without looking back." She hopes more graduates will apply their world-class U.S. educations in places where people need it most.
"Caitlin just has a heart of gold. She works to provide housing and education for these children," said Kennedy, director of international programs in Pamplin. "She is the Mother Teresa of Puerto Plata."
Floreal has made a real difference in the lives of the poor and disadvantaged, helping them while living among them. Street census results show fewer children and adolescents are working on the street shining shoes or selling eggs than in 2006, and fewer of them are Haitian. The number of Haitian children enrolled in school rose from zero in 2006 to 42 percent in 2015.
The word "esperanza" means hope — and Project Esperanza has provided hope and more to the Haitian children and youth in the Dominican Republic.
Sherrie Whaley was a communications specialist with University Relations.
---
Staying power
by Katie Gehrt '97, '02
Maria De Los Angeles Adames Rivera's 15-year journey to earn a doctorate in environmental design and planning from the College of Architecture and Urban Studies took her from Santiago, Veraguas, Panama, to Michigan State University, to Blacksburg, and back again to Panama.
Hooded in May, Adames (above) regards the achievement with pride, and not just because of her determination and perseverance: Master's degrees are usually the highest degrees earned by those in developing countries.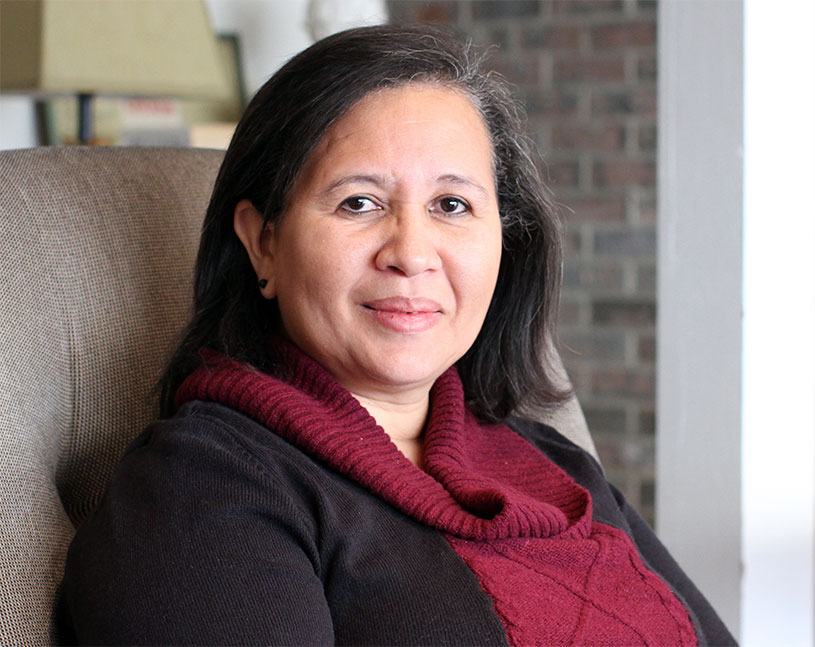 Maria De Los Angeles Adames Rivera '16
"There have been times I think I'm going to give up, because with the work and being a mother and a professional, trying to fit all of these things in hasn't been easy," said Adames, who teaches urban geography and economical geography at the University of Panama.
Adames earned bachelor's degrees in geography and history from the University of Panama and then received a Fulbright Scholarship to study at Michigan State University, where she earned a master's in geography with an emphasis in economic and urban geography. She then received a Fulbright-Laspau scholarship in 2001 to pursue her doctorate at Virginia Tech.
She studied in Blacksburg from 2001 to 2004 before returning to Panama, where she juggled doctoral work, personal responsibilities, teaching a full course load, organizing conferences, and assisting students from other universities conducting research in Panama.
Professor Emeritus of Geography Joseph Scarpaci was her original mentor in the early 2000s and continued to encourage her. "Her tenacity has paid off," Scarpaci said. "She has become one of the few Panamanian women with a doctoral degree in the field of planning, and is positioned to make significant contributions to rent-gap theory and the process of gentrification and revitalization in the global south."
As she continues teaching at the University of Panama and writing articles for magazines and journals, Adames is pleased to set an example for her children, her students, and others in Panama who may want to pursue higher education.
"Perseverance is very important. It's something I hope to transmit to other generations," Adames said. "Things get hard in life, and if you persevere, you can accomplish what you want. The support of my family and people who care about me has been very important in finishing my degree. It doesn't matter how old you are. I am 53 years old. I may be close to retiring soon, but I think it's important that when you start something you're able to finish it."
Katie Gehrt (psychology '97, art '02) was the College of Architecture and Urban Studies communications director.
---
Two alumni join Board of Visitors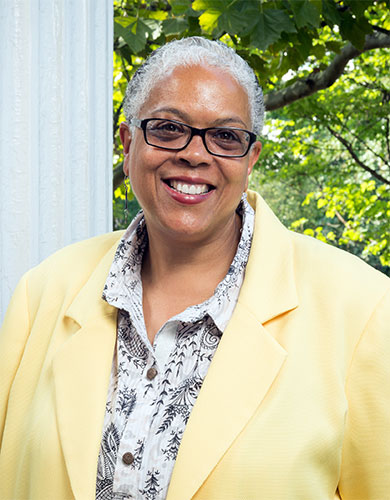 Greta Harris '83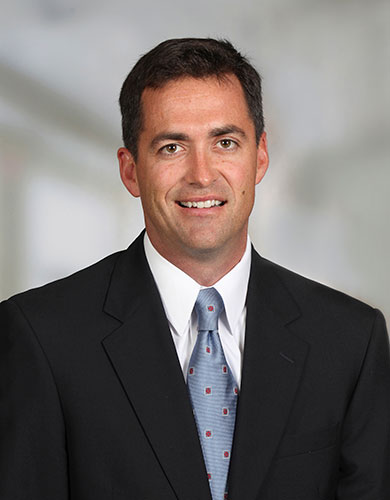 Jeff Veatch '93
Alumni Greta Harris (architecture '83) and Jeff Veatch (finance '93) joined Virginia Tech's Board of Visitors after being named to three-year terms by Gov. Terry McAuliffe this summer.
Harris, of Richmond, Virginia, is president and CEO of the Better Housing Coalition, the Richmond region's largest nonprofit community development corporation. Previously, she was vice president for Local Initiatives Support Corp., a national nonprofit community and economic development corporation. Before serving in that role, Harris was the organization's senior program director for Virginia. The Virginia unit supported local organizations in developing more than $250 million in real estate in central Virginia.
She was appointed to the Virginia Tech Foundation board in 2016. She also serves on the Virginia Housing Alliance board and has served on the boards of the City of Richmond's Economic Development Authority, the Federal Reserve Bank's Board of Governors' Consumer Advisory Council, the Virginia Housing Coalition, the Richmond Community Development Alliance, and Seven Hills School.
Harris is a member of Leadership Metro Richmond's Class of 1995. She was named the Virginia Tech Black Alumni Association's 2016 Philanthropist of the Year and was recognized as a 2014 Outstanding Virginian by Equality Virginia. In addition to her Virginia Tech degree, she has a master's in architecture and urban design from Columbia University.
Veatch, of Alexandria, is a successful entrepreneur, businessman, community leader, and philanthropist. He co-founded Apex Systems, which is now a billion-dollar business operating primarily in the field of information-technology staff augmentation.
Apex Systems has more than 1,200 full time employees, more than 60 offices, and employs close to 30,000 consultants a year. Apex Systems is now a division of the largest publicly traded information-technology staffing and services firm in America.
Over the course of his career, Veatch has been recognized as Entrepreneur of the Year by Ernst and Young and selected to the Philanthropic 50 by Washington Life magazine. He is a member of the board for On Assignment, has served as a founding member of an effort to bring the Olympics to the Washington, D.C., region, and holds board and leadership positions with Inova Health System and other organizations.
An active philanthropic investor, he formed the Veatch Charitable Fund, which focuses on education, health care, and the community. Veatch, along with other Apex Systems founders, named the Apex Systems Center for Innovation and Entrepreneurship based in Virginia Tech's Pamplin College of Business.
---
Rouse gives back to Friendship Village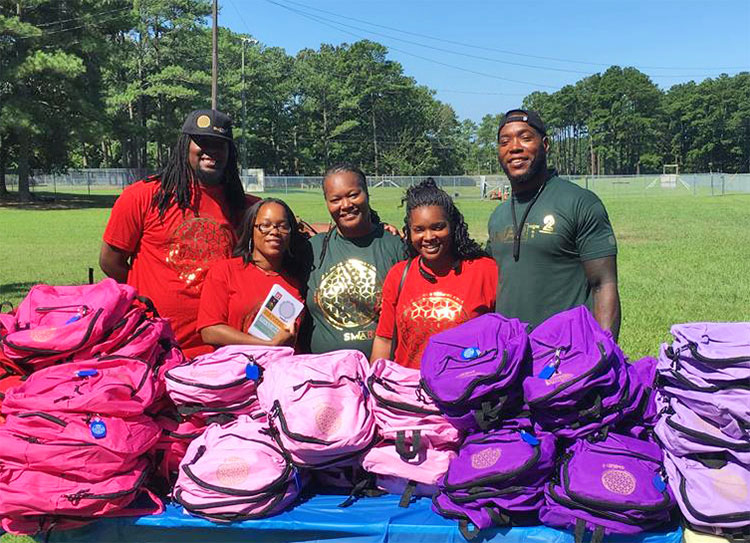 Aaron Rouse '07 (far right)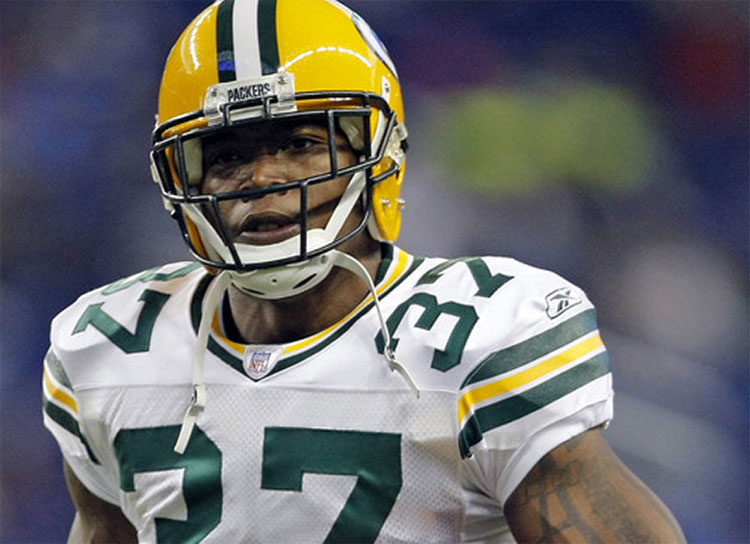 Rouse as a Packer
Former Green Bay Packer and New York Giant Aaron Rouse (sociology '07) is giving back to the community he grew up in. Raised in Virginia Beach's Friendship Village, Rouse just held his first annual Back-to-School Supply Giveaway for children in the low-income housing community.
Rouse also founded SMART2 (Smart Squared), an organization that promotes education and being the best you can be. He hopes that SMART2 is a constant, positive message to remind students and others to perceive, plan, pursue, and make progress toward their goals.
As a professional athlete, Rouse said he came across all walks of life. Those who were successful, he noted, had one thing in common — a strong foundation in education. "I wanted to have an organization that is built on education," he said. "SMART2 wants to be that constant reminder" of the importance of education.