We will never forget
We will never forget
by Tim Sands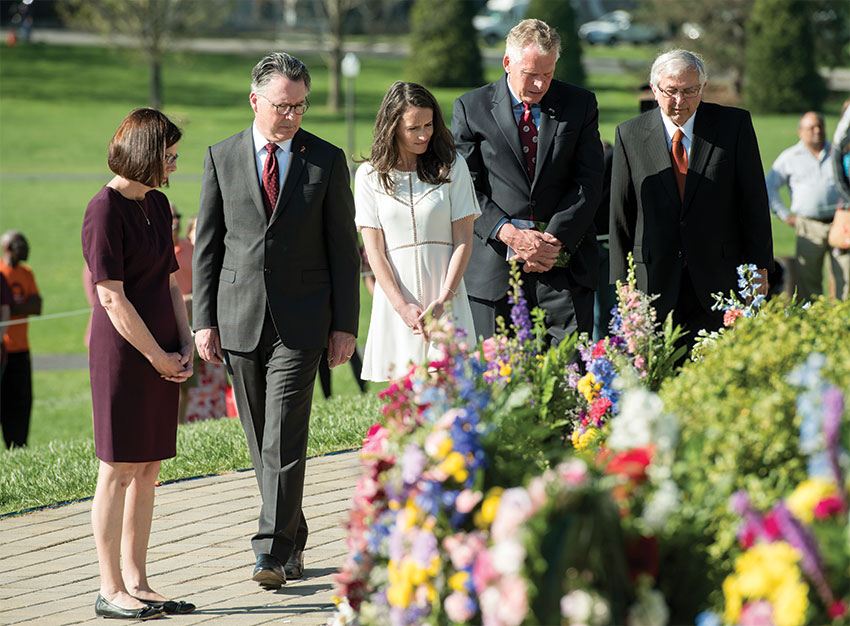 Following a special wreath-laying ceremony held during the 10-year commemoration weekend, (from left) Professor Laura Sands, Virginia Tech President Tim Sands, Dori McAuliffe, Virginia Gov. Terry McAuliffe, and university President Emeritus Charles W. Steger visit the April 16 Memorial. Photo by Logan Wallace. To see more from the commemoration, visit WeRemember.vt.edu.
This year we marked the 10-year anniversary of the tragic events of April 16, 2007. It was an important milestone commemorating the loss of 32 Virginia Tech faculty and students, and honoring the families who continue to feel their absence every day. I was proud of the way the Hokie Nation honored their memories at the events here on our campus and through commemorative activities in communities across the country. My heartfelt thanks goes out to the students, faculty, staff, alumni, and friends who planned and organized these memorial tributes.
I also appreciate the many expressions of support we received from individuals around the country, including a message to the Hokie Nation from President George W. Bush who said, "I pray that your suffering has begun to be replaced by hope and healing."
I remember, 10 years ago, watching events unfold from a distance. As a father, university professor, and administrator, the loss that these families and this community experienced was unimaginable to me. Since coming to Virginia Tech, I have been amazed and humbled by their strength and resilience, which continues to grow from year to year.
April 16 will always be a part of our identity, because we will always remember those precious individuals. But we have always been, and will always be, defined by the strength of our community and the core values on the Virginia Tech Pylons; Brotherhood, Honor, Leadership, Sacrifice, Service, Loyalty, Duty, and Ut Prosim.
Those we lost will forever be a part of our university's spirit, and we honor them with everything we do to make our campus, our communities, our country, and our world a better place.
Tim Sands is Virginia Tech's 16th president.