The value of an athletic scholarship
by Jimmy Robertson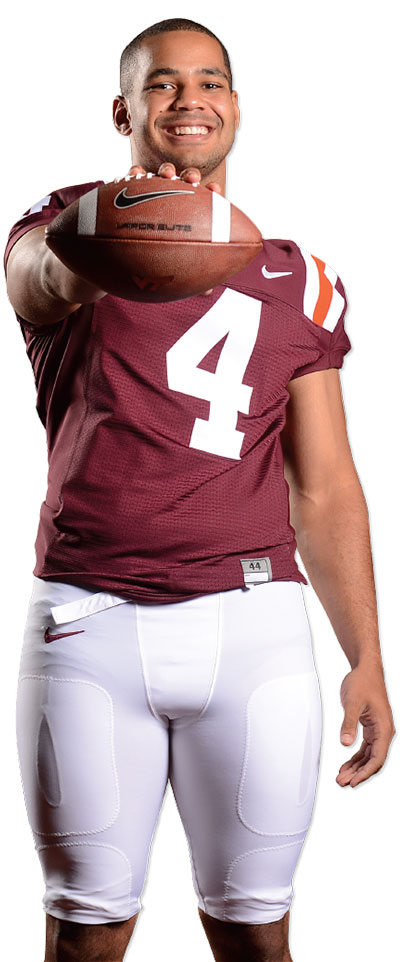 Ken Ekanem
Year \ Redshirt senior
Major \ Management
Hometown \ Centreville, Virginia
Tuition and fees \ $12,486
Room and board \ $8,290
Books \ $800
Cost-of-attendance gap \ $3,411
Total*
$24,987 (in-state)
(out-of-state equivalent: $41,985)
* Reflects projected 2016-17 scholarship costs and additional expenses
Ken Ekanem is set to start as a defensive end for the Virginia Tech football team this fall. In his previous two years, he has racked up nearly 100 career tackles — 24 for a loss — and 14 career sacks. He was named All-ACC once and earned his degree in management with a concentration in entrepreneurship, innovation, and technology management this past May.
The Hokie Nation helped him do all those things.
Donors to the Hokie Club's Annual Fund — the account that pays for tuition, fees, and room and board for the university's scholarship athletes (all 479 of them in the 2015-16 year) — provided for Ekanem's education.
"I'm very appreciative," he said. "I don't pay room and board. All of that is covered. It's a lot less stress on my family and me. I have all the tools I need to succeed in school and on the field."
Ekanem needed more than a scholarship to achieve his potential. The sports medicine and strength and conditioning staffs helped him overcome an injury he suffered as a high school senior, and the nutrition staff helped him lose the 15 pounds he gained during the recovery. And Student-Athlete Academic Support Services staff kept him on track academically.
"Tutoring was big for me," he admitted. "I got my schedule right and got my work ethic right. I was a decent student in high school, but you can't be a decent student and succeed at Tech. So they really helped me develop into a better student."
Yet the price of helping student-athletes realize their potential keeps rising. As a self-supporting auxiliary of the university, the athletics department receives no state funding, operating solely on donations and revenue from ticket sales and advertising apparel contracts. And in the past five years, the price tag for scholarships has increased by 62 percent. The athletics department spent approximately $14.4 million on scholarships for the 2015-16 academic year, while scholarship donations for the year came in at $9.8 million.
To address the shortfall, football and men's basketball season-ticket holders seated in designated "scholarship sections" in Lane Stadium and Cassell Coliseum will be asked, beginning in 2017, to contribute a minimum per-seat scholarship gift each year to secure a priority location. Both venues will then undergo a complete re-seating.
The Hokie Club also is introducing an easier-to-understand priority points program and an annual giving benefits chart that outlines benefits such as parking, exclusive event invitations, and the ability to purchase postseason tickets.
To be eligible for annual benefits, donors will be asked to give to the Hokie Scholarship Fund by March 31, 2017. To be eligible for benefits related only to men's basketball, donors will be asked to give by June 30, 2017.
Meanwhile, the Hokie Nation should never discount how much their donations mean to student-athletes. Just ask women's basketball player Taijah Campbell.
"I never imagined that someone like me, coming from where I came from, would be here on scholarship," Campbell said. "I get super emotional thinking of how grateful I am. That there are people who would do this for people who come from many different backgrounds is amazing."
Jimmy Robertson, the athletics department's director of content creation, is the editor of Inside Hokie Sports magazine.
---
Classroom performance

spring 2016

• The average team GPA was 3.14;
the average cumulative team GPA is 3.09

• 15 teams achieved a 3.0 GPA or better;
15 teams maintain a cumulative 3.0 or better

• 171 student-athletes made the Dean's List
(3.4 GPA or better)

• 21 student-athletes earned a 4.0,
and 4 of them maintain a cumulative 4.0

• 59 percent of student-athletes earned a 3.0 GPA or better;
53 percent maintain a cumulative 3.0 or better

Scholarships, by the numbers

• 479 scholarships provided

• 62% increase in scholarship costs over five years

• 2015 revenue from scholarship donations: $9.8 million

• 2015-16 scholarship costs for Tech athletics: $14.4 million
Classroom performance

spring 2016

• The average team GPA was 3.14; the average cumulative team GPA is 3.09

• 15 teams achieved a 3.0 GPA or better; 15 teams maintain a cumulative 3.0 or better

• 171 student-athletes made the Dean's List (3.4 GPA or better)

• 21 student-athletes earned a 4.0, and 4 of them maintain a cumulative 4.0

• 59 percent of student-athletes earned a 3.0 GPA or better; 53 percent maintain a cumulative 3.0 or better

Scholarships, by the numbers

• 479 scholarships provided

• 62% increase in scholarship costs over five years

• 2015 revenue from scholarship donations: $9.8 million

• 2015-16 scholarship costs for Tech athletics: $14.4 million
Classroom performance

spring 2016

• The average team GPA was 3.14;

the average cumulative team GPA is 3.09

• 15 teams achieved a 3.0 GPA or better;

15 teams maintain a cumulative 3.0 or better

• 171 student-athletes made the Dean's List

(3.4 GPA or better)

• 21 student-athletes earned a 4.0,

and 4 of them maintain a cumulative 4.0

• 59 percent of student-athletes earned a 3.0 GPA or better;
53 percent maintain a cumulative 3.0 or better

Scholarships,

by the numbers

• 479 scholarships provided

• 62% increase in scholarship costs over five years

• 2015 revenue from scholarship donations:

$9.8 million

• 2015-16 scholarship costs for Tech athletics:

$14.4 million
---