Right time, right place
by Mason Adams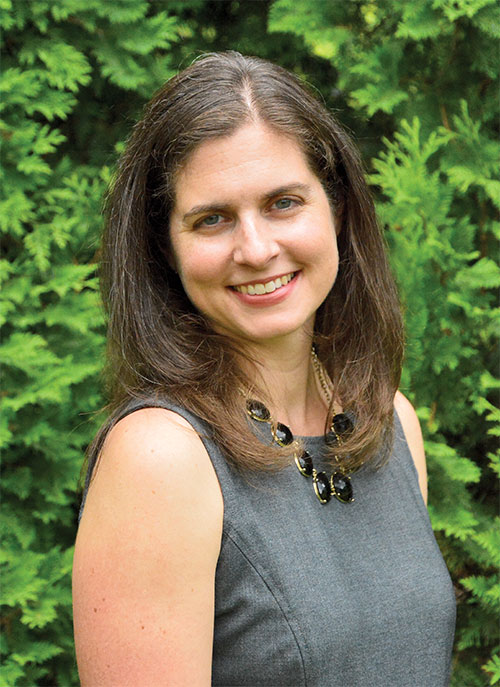 Water policy analyst Elin Betanzo '04. Photo by Sue O'Callaghan.
Fate sometimes places an individual in a moment perfectly suited to her experience and knowledge so that a single action can make a lasting impact.
Such was the case for Elin Betanzo (M.E.N.G. environmental engineering '04), unexpectedly invited to dinner by an old high-school friend one evening in August 2015. Betanzo—a water policy analyst at the Northeast-Midwest Institute, a nonprofit organization dedicated to economic vitality, environmental quality, and regional equity—had known Michigan pediatrician Mona Hanna-Attisha since attending high school together in Royal Oak, Michigan.
Over supper and a bottle of wine, Hanna-Attisha mentioned her hour-long commute to Flint, and something clicked for Betanzo.
For weeks, Betanzo had been following the news coming out of Flint, where a shift in drinking water sources had created an escalating series of health issues. Betanzo, who earned undergraduate degrees in environmental science and piano performance from Carnegie Mellon University, had seen a similar situation while working at the EPA's Office of Ground Water and Drinking Water and pursuing a degree in Virginia Tech's National Capital Region. She was at the EPA in 2004 when the Washington, D.C., lead crisis broke in the Washington Post; and although only a low-level staffer, she had helped investigate.
That year, Betanzo attended a number of multi-agency compliance workshops aimed at lowering lead levels. Through that work, she became aware of Marc Edwards, now the Charles P. Lunsford Professor of Civil and Environmental Engineering at Virginia Tech, who had sounded the warning in D.C. Severely damaging efforts to repair the harm, the Centers for Disease Control issued a report claiming no children were hurt by lead in the D.C. water.
Dining with Hanna-Attisha, Betanzo connected Flint and D.C. "I said, 'Wait, you're in Flint. You're head of pediatrics at a hospital there,'" Betanzo remembered. "She said, 'Yes, that's what I just said.' I said, 'You have access to all the health records there.' 'She said, 'Yes, why are you asking these questions?' I explained about the D.C. crisis and lead in the water in Flint. I told her the only thing that's going to stop it is if someone from the inside can do this study because Michigan was not releasing its numbers. She said, 'Give me all the information you have, and I'll do this.'"
Hanna-Attisha examined blood-lead levels in her patients, and her subsequent study and news release announcing that Flint's children did indeed have elevated levels of lead changed the political dynamic in Flint.
After months of denial by officials, Hanna-Attisha's exposure of the health issue forced local and state governments to acknowledge there was a problem and to shift the city's water source. In a short period, Edwards and his team of student researchers were embraced not just by residents, but also by the political establishment.
This summer, Betanzo returned to Virginia Tech with Hanna-Attisha to serve with Edwards as the keynote speakers at commencement. Betanzo stood on stage with the rest of the Flint Water Study team as they received a standing ovation from graduates and parents in Lane Stadium.
"Fighting for Flint" [Virginia Tech Magazine, spring 2016] →
---
Embodying servant leadership
by Sherrie Whaley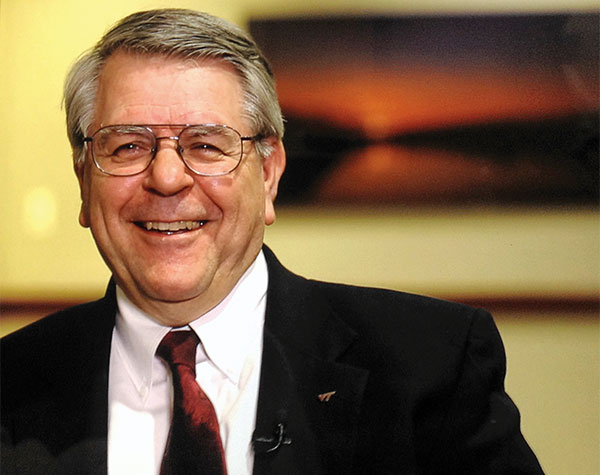 Charlie Wood '70
Charlie Wood (economics '70) is all about connections.
Since 2008, he has worked to connect Virginia Tech alumni to each other as president of the Alumni Association's Richmond chapter, one of Virginia's largest chapters. And through Career Prospectors, a nonprofit networking organization he cofounded in 2002, he is credited with connecting more than 2,000 professionals with jobs throughout the Richmond region.
For his efforts, Wood was named the 2016 Henrico Community Leader of the Year by ChamberRVA's Henrico Business Council. The award honors an unsung hero who has made a positive difference in the community and has demonstrated unwavering support, dedication, and enthusiasm for the betterment and growth of Henrico County.
"Losing a job is a real psychological blow to our identities, our self-confidence, and our self-worth," said Jeb Hockman, director of marketing and communications for the Virginia War Memorial Foundation, who has participated in Career Prospectors. "Charlie instinctively realized this and, with the help of others who believed in his vision, set about to create a self-support group for those who, as he says, are 'in transition.' It's sort of an [Alcoholics Anonymous group] for out-of-work job seekers."
For those in career transition, Wood offers these recommendations:
Network, network, network. Start with your family and friends and build from there. Ask people to share about problems facing their industry—but don't ask about a job. Nearly everyone is willing to share information, but they may not have a job that fits you and do not want to tell you no. Use social media, especially LinkedIn, to support your networking. Effective networking is about building relationships, and that is best done face-to-face. Do things to help others without an expectation of payback.
Focus on and be able to explain the job you want, not your history. If you're not certain what that is, get help to determine your best career path.
Develop a one-page self-marketing plan that explains your target career, potential employers, and connections.
Determine how you will be held accountable in your search. Join an accountability job group, or find a mentor or coach who will hold you accountable.
Be positive, and stay positive.
After a 32-year career with Southern States Cooperative, Wood took an early retirement. When he started looking for a new job, he discovered that his network was lacking—and thus was born Career Prospectors. Through weekly meetings and other gatherings, the organization provides skill development and confidence to the unemployed. Offerings include networking sessions and mock interviews, as well as guest speakers who address such topics as résumé writing, web-search skills, developing an elevator pitch, and dressing for success.
"Charlie's leadership has been a boon to Richmond-area job seekers. His advice on interviews, résumés, and networking is on target, encouraging, and empowering," said A.J. Hostetler, a Career Prospectors alum and director of communications for the Virginia Department of Aging and Rehabilitative Services. "I value his insights and am grateful that he volunteers time to assist those in employment transition."
Wood was quick to credit the organization's volunteers for their role. "It is all about the opportunities we give to others," he said. "I get a kick out of helping people. When they have a connection to find a job and they show how much that means to them, that's meaningful to me."
"Charlie Wood personifies the definition of servant leadership, and he practices this form of leadership in all phases of his life," said Greg Fansler, senior associate director and director of marketing for Virginia Tech's Alumni Association. "As president of the Richmond Alumni Chapter, he creates leadership opportunities so other volunteers can demonstrate their talents to the community. This is the essence of servant leadership—to carve out positions so individuals can succeed and make a contribution to the greater good."
Service is also the ultimate goal of Career Prospectors. "No one has ever been charged a penny for all [Wood] has done or been charged to take advantage of all that Career Prospectors has to offer," Hockman said at the awards ceremony. "True service is giving back to your fellow brothers and sisters without any expectation of getting anything back in return. This is the definition of Charlie Wood."
Sherrie Whaley is a communications specialist with University Relations.
---
Tech's first black student receives the university's ninth honorary degree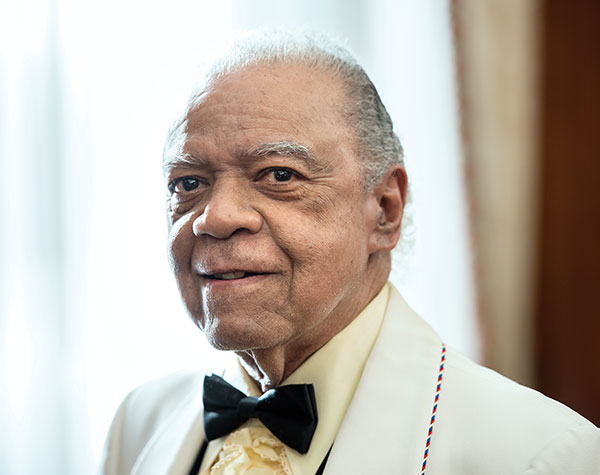 Irving Linwood Peddrew III
Irving Linwood Peddrew III, the first black student to attend Virginia Tech and the first to attend any historically all-white four-year public institution in the 11 former states of the Confederacy, received an honorary degree—a bachelor's degree in electrical engineering—at Virginia Tech commencement ceremonies on May 13.
President Tim Sands made the announcement during the university's Black Alumni Reunion in late April. "Hard work, character, and meaningful experience in the spirit of Ut Prosim (That I May Serve) is the essence of a Virginia Tech degree, and no one is more deserving than Irving Peddrew," Sands said. "He chose to come here knowing he would endure exclusion and hardship, hoping his experience would make a difference for others, and it certainly has."
An honor student at his all-black high school in Hampton, Virginia, Peddrew began his post-secondary education in 1953 as the only black student among Tech's 3,322 enrollees that year. He was required to participate in the Corps of Cadets, but was not allowed to live or eat on campus. Disillusioned with his treatment, Peddrew left at the end of his junior year and moved to California to join the workforce.
He worked several years in the aerospace and fruit industries, at Newport News Shipbuilding, and at Hampton University before retiring in 1994.
"Irving Peddrew displayed enormous courage as he navigated the many difficult obstacles he faced attending a historically all-white institution," said Matthew M. Winston Jr. (marketing management '90), senior associate vice president for alumni relations. "He became a catalyst and a pioneer for desegregation, laying the groundwork for the enrollment of generations of African-American students at Virginia Tech. He placed our university on a path to fulfill its true potential to become an inclusive institution for all."
Peddrew's degree is only the ninth honorary degree in the university's 145-year history. In 2003, Tech honored his legacy by naming Peddrew-Yates Residence Hall after him and the late Charlie Yates, the first black student to receive a degree from the university.
---
Reunion celebrates heritage
More than 400 alumni returned to campus for the 2016 Black Alumni Reunion, which celebrated several milestones, including the 25th anniversary of the Black Cultural Center, the 20th anniversary of the Enlightened Gospel Choir, and the anniversary of the matriculation of the first black women
"This year's reunion was an unparalleled success. The energy and engagement amongst the attendees were powerful and spoke volumes to the passion and support they hold for our beloved alma mater," Winston said. "Alumni volunteers, students, alumni staff, and the senior administration, from the president to the deans, all pitched in to make the endeavor a successful one. We hope to use this model to guide many constituency-based reunions in the future."
Tech's first black women students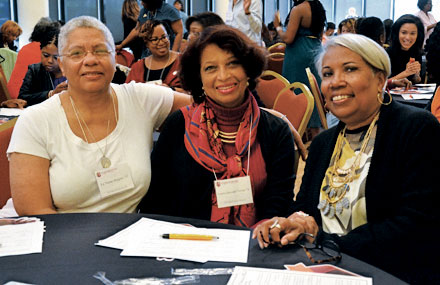 La Verne "Freddie" Hairston Higgins, Linda Edmonds Turner '70, '76, '79, and Marguerite "Chick" Harper Scott '70 (left to right) attended this year's reunion and were recognized at a dinner and presented with an Alumni Association Board of Directors resolution acknowledging their important role in opening doors for future generations and helping to diversify the campus.
In 1966, Virginia Tech's first black women students arrived on the Blacksburg campus: Linda Adams Hoyle (statistics '68), Jacquelyn Butler Blackwell (sociology '69), Linda Edmonds Turner (clothing, textiles, and related art '70, M.B.A '76, Ph.D. general business '79), La Verne "Freddie" Hairston Higgins, Marguerite "Chick" Harper Scott (history '70), and Chiquita Hudson.
Fifty years later, these trailblazers—and their legacy—was celebrated during the 2016 Black Alumni Reunion in April.
Video by Gabrielle Minnich |
University Relations
---
Alumna part of history-making solar flight
Paige Kassalen '15 (Jean Revillardy/Rezo)

Paige Kassalen '15 (Jean Revillardy/Rezo)

Paige Kassalen '15

Paige Kassalen '15
It didn't take long for Paige Kassalen (electrical engineering '15) to leave an imprint on Solar Impulse 2 (SI2), the world's first airplane to attempt an around-the-world journey on solar power alone.
Featured in Glamour, Forbes, and Huffington Post, Kassalen is one of only three women, the only American, and the youngest person to serve on the 16-person ground crew of engineers.
After graduation from Tech, Kassalen returned home to Pittsburgh to join high-tech chemical manufacturer Covestro. The company, which outfitted the solar plane with insulating materials, rigid foams, composites, and coatings, was looking for someone with an engineering and public relations background to join the SI2 ground crew. Kassalen, who chaired the Institute of Electrical and Electronics Engineers (IEEE) student branch at Virginia Tech and co-chaired the IEEE Women in Engineering Pittsburgh affinity group, fit the bill.
Kassalen joined the team in Hawaii. Her primary duties included steering the tail of the 5,000-pound plane as it taxied onto the runway and catching a part of the single wing when the plane landed.
Early on the morning of April 24, the plane left Hawaii for California. "It was very calm and tranquil; the only sound you could hear was the whirring of the propellers," Kassalen said. "I'll never forget looking up at the plane as it took off into the sunrise, seeing our months of hard work come to fruition, and realizing that I was about to embark on a mission around the world."
Although men still dominate science, technology, engineering, and mathematics (STEM) fields, Kassalen was never deterred. Now she is something of a STEM ambassador, often chatting with children and teens in the cities where the plane lands. "My message to all young people, regardless of gender, is 'Don't be afraid to fail.' Failure is inevitable," she said. "How you cope with failure and how you look at it separates people who succeed from those who don't."
Kassalen plans to return to Covestro when SI2 completes its journey in Abu Dhabi this summer, where the trip first began. "This experience has rekindled the mentality I had at Virginia Tech to keep pushing myself to learn and grow while staying true to my passions," she said. "My dream has always been to innovate and create. A goal of mine is to accentuate the importance of alternative energy and inspire younger generations to become more involved in STEM fields."
Kassalen documents her crew experiences on Instagram, Twitter, Tumbler, and Snapchat (paigekassalen).
---
Moment
Ms. Wheelchair Virginia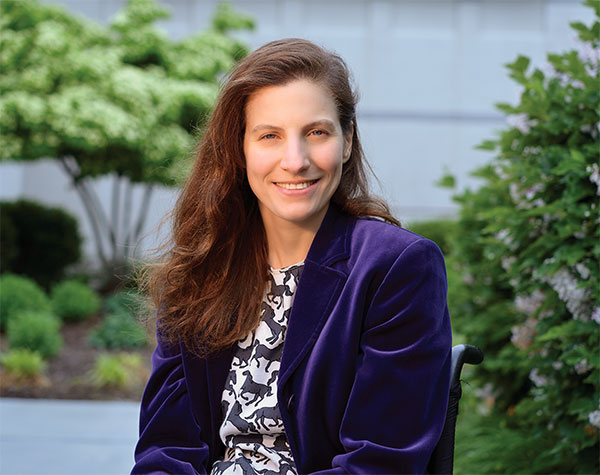 Laura Rhyne Tollin'01
Crowned Ms. Wheelchair Virginia in March, Laura Rhyne Tollin (biology '01) is heading to the national competition in Michigan in August.
Virginia Tech Magazine spoke to Tollin, a data integrity specialist at the Virginia Tech Transportation Institute (VTTI), about the moments that have shaped her life.
How did you come to enroll at Virginia Tech?
Wait-listed … 20 years ago, I was wait-listed for admission to Virginia's largest land-grant university. I couldn't believe it. Thinking it over, I realize that it might have had to do with my innate strength in liberal arts and not math that led to the shamed waitlisted status. My mother, being a stubborn person, talked to admissions. The calls went back and forth while I was in my bedroom crying that I would have to live at home and go to Virginia Commonwealth University. That night, Mom walked into my darkened room. She handed me a gray shirt with "Virginia Tech" emblazoned across the chest. I leapt up in joy: "I got into Virginia Tech!" Little did I or anyone else know how that momentous decision by admissions and Mom would change my life.  
What led you to enter the Ms. Wheelchair Virginia pageant?
In 2014, I got divorced. It shook me to my core and made me reflect on how society viewed me. I had been married for 11 years and had taken everything for granted.
I then started holding myself accountable and stopped shirking opportunities or responsibilities. It was a massive shift in my way of thinking. I started praying and going to the Unitarian Universalist Church (UUC) of Blacksburg.
As a result of wanting to change and improve myself, I went to the Blue Ridge Independent Living Center conference in Richmond in late 2015. There, Pamela Cobler handed me a flyer for Ms. Wheelchair Virginia. At that time, I was still looking for something to galvanize me and bring true meaning to my life.
Despite being anti-pageant, I chose to go into the contest and view it as an experience and a chance to meet new people. It came at a time in my life when I needed something to spur me into action. I came to own my disabilities and started to take pride in them because I have done a lot with my life up to this point. Not only that, I have much more to look forward to.
What other moments and individuals have shaped your life?
Out of many memories and people, I am going to share a few that really altered the course of my life.
Richard Hanowski at VTTI took a chance and hired me for an emergency-hire position as a data reductionist in his driving behavior lab. His graduate assistant, Rebecca Hammond, taught me the skills needed by the lab. With time, I became proficient in analyzing driver behavior.
Tom Holbrook made the next great impact on my life. We were sitting next to each other in Charlie Klauer's data reduction lab. I asked if he had any questions or needed help with something. He had some questions, and I answered them. He then asked me for further help with his data. Over time, that side job became a full-time position at VTTI doing quality control on driver research behavior data. He taught me everything I know today and was a wonderful mentor.
[After winning the pageant in March,] I realized that I didn't have funding or transportation for my reign as Ms. Wheelchair Virginia. Enter Dick and Cynthia Luke [of Blacksburg]: They engineered a fundraising drive for the Ms. Wheelchair America pageant. Because of them and the UUC of Blacksburg, I am able to compete in nationals in Grand Rapids, Michigan, in mid-August.
---
How-to
It's a bird! It's a plane!
When Jack Norris (industrial engineering '73), of Phoenix, Arizona, decided to build his first experimental aircraft, he immediately thought of an old t-shirt design depicting the HokieBird and Virginia Tech's colors.
1) Learn to fly a plane.

A medical procedure in 2010 limited the pilot, but he found that he could fly a light sport plane, which has a maximum gross weight of 1,320 pounds and cruises at 120 knots.

2) Buy a kit.

Most light sport planes are made of fiberglass to meet the weight requirements. Norris could have purchased a pre-built plane, but he chose an Arion Lightning kit after taking a demo flight.

3) Learn all you can.

Since he's building more than 51 percent of the plane, he obtained a maintenance license from the Federal Aviation Administration, which allows him to make his own fixes. Norris attended an engine school that taught him everything from honing cylinders to re-jetting the carburetor.

4) Begin the build.

In November 2015, Norris began working at a build center where he could store his kit and obtain advice and assistance. He outsourced the paint job, but otherwise handled most of the work himself. 5) Keep meticulous notes. Norris compiled more than 100 pages of notes while building his plane, assembling an invaluable reference for future pilots and builders.

6) Lift off!

The first taxi of the Hokie Bird was on March 17, and its first flight was in early May.
Norris' recollection of building the plane:
The impetus for launching into building an experimental aircraft was to get back into motored flight at speeds faster than ultralight, with light sport-certified airframes (LSA). I flew a fast-modified airplane (Mooney Rocket 305) for many years, but now I needed to fly under LSA rules. LSA limits weight and cruise speed, as well as the nature of flight (visual flight rules, daytime with altitude restrictions).
I reviewed the kits and manufactured LSA available. I chose the Lightning for its looks and performance characteristics. Building an experimental kit affords advantages over factory-built LSA: 1) building greater than 51 percent of the aircraft allows you to maintain it yourself; 2) if the Pilot's Bill of Rights passes, this aircraft can be easily modified to fly faster; 3) I wanted to learn about airplanes from a different perspective; 4) I had the time to build the plane and learn from the experience. 
The Jabiru engine had a reputation early on of having cooling problems. I researched and determined that problems in its original design had been rectified by a new cylinder head fin redesign, as well as baffling the air ducts optimally.
To save money, I chose a ground adjustable propeller instead of a constant speed prop. If you are certifying under non-LSA rules, constant speed increases the performance range of the aircraft with a higher cruise and ability to adjust performance optimally to the part of the flight envelope you are in, for example, a short field take-off.
The next step was to determine how to build the aircraft, whether on my own or at a build center with some assistance. There are both pros and cons to building on your own versus at a build center:
Building on you own requires the following: a lower initial investment; a space at least the size of a small T hangar; a longer time commitment (a year or more if inexperienced); tools for fiberglass, plexiglass, and metal fabrication; assistance in major-component assembly, e.g., mounting wings within spar box; and a paint facility if you don't opt to ship out components for painting.
Employing builder assist provides the following: tools on site for fiberglass and aluminum fabrication and painting (of automotive quality); experienced build assistants on site to answer your questions and aid your efforts when required; instruction from professionals in process; a convenient location for your commute and the kit's boarding and services.
I selected the builder-assist program and opted to exceed the minimum 51 percent of the build. I've accomplished around 70 percent of the work effort and learned a great deal about the airplane. 
Constructing the control surfaces, inserting the wing tank, and mounting the wings, horizontal stabilizer, and landing gear require assistance. Mounting and adjusting the wings was the most challenging task, especially to achieve the proper angle of incidence of the wing to the fuselage. The task required three people, a lot of exertion, and a few expletives. 
The most tedious work was mounting, wiring, and setting up the avionics. The manufacturer's installation manuals lacked sufficient troubleshooting information for a novice, but the build center personnel performed key roles to preclude having to obtain answers from the manufacturer. 
The unique thing about my plane—N273DB—is the paint scheme. I had started the project with a different treatment in mind, more of a copycat approach akin to other Lightning aircraft. Another Lightning owner/builder, a West Virginia University alumnus, had the university's logo on the tail of his airplane. When I first discussed the treatment with Greg Hobbs, owner of Geronimo Experimental Aircraft, he raised the issue of personal emblems limiting resale. As decision time approached, I happened to be wearing an old Virginia Tech T-shirt: on the back is a caricature of the HokieBird's face and on the front the same face is centered on wings with "Virginia Tech" above the wing. The "VT" symbol is below the beak of the turkey.
Now, this approach requires an explanation for those viewing N273DB who aren't familiar with Tech. Turkeys are not fast birds &mdash perhaps a cargo plane would be more appropriate than a svelte two-seater. Of course, there are inevitable slang references to flying a "turkey." Who would buy the airplane when I expire? I explained to my wife, also a Tech alumna, that she could donate the plane to the aeronautical engineering school. So the Hokie Bird was born with an orange, maroon, and off-white color scheme. Greg and I proceeded to map out how the bird would be painted on the aircraft. One of Greg's good friends and longtime helicopter test pilot, Johnny, is an accomplished artist who has a 3-D printer for printing the decals. Greg, who also has a knack for art, free-handed the face of the bird onto the cowling. Then off to the spray booth the HokieBird went. To highlight my Corps of Cadets beginnings, Ut Prosim is affixed on the leading edge of the canopy. 
The last piece of the puzzle was the registration number, or "N" number, for North America. This required some thought as your first choice may already be taken, and the number of characters and numerals is limited. Our first choice was an "N" number ending in DS, which stood for Deb Simmer, my wife. Deb was already jokingly referring to the Hokie Bird as the "other" wife, so I needed to assure her that she was an integral part of its birth. Unfortunately, DS was not available, so we opted for DB, as in DeB. And what about 273? It is an amalgam of meaningful dates for us, a numerical anagram: 27 is the day of our anniversary, 2/3 is Deb's birthday, and '73 is the year of my graduation. There's a second meaning, too: I was in the 2nd Group of the Virginia Tech Corps of Cadets regiment. 
---