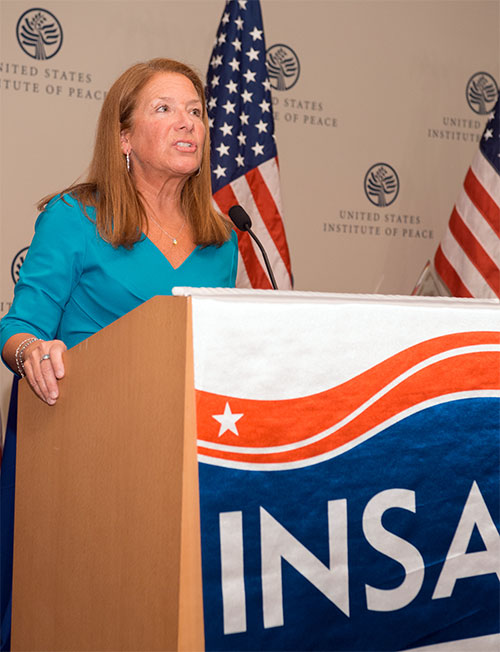 Letitia A. Long '82, Arlington, Va., is chairwoman of the Intelligence and National Security Alliance Board of Directors.
Formerly the director of the National-Geospatial Intelligence Agency, Long was featured in the
spring 2012 Virginia Tech Magazine. →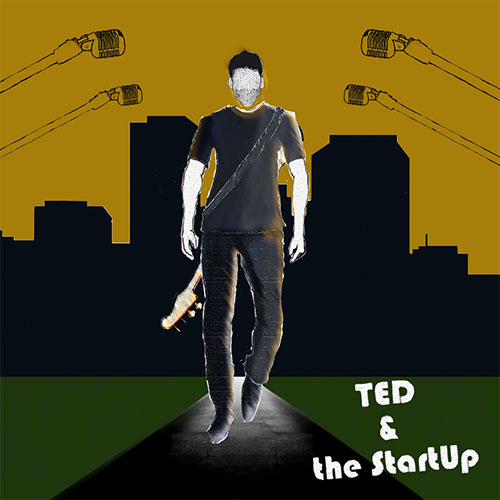 Thomas E. "Ted" Boyce '95, '99, San Carlos, Calif., released his third album through Something Magical Productions LLC. Photo by Yuriy.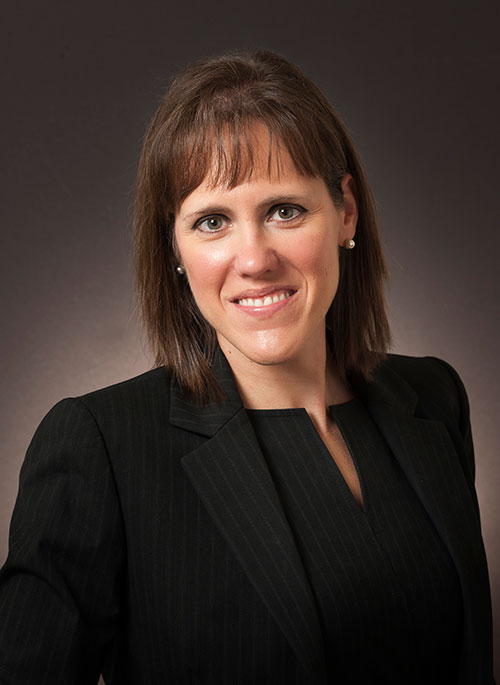 Sarah Bedsaul Hiza '00, Scotts Valley, Calif., was named a 2016 Tribute to Women honoree by YWCA Silicon Valley. Hiza is the director of propulsion, structures, ordnance, and controls for the Fleet Ballistic Missile Program at Lockheed Martin Space Systems Co.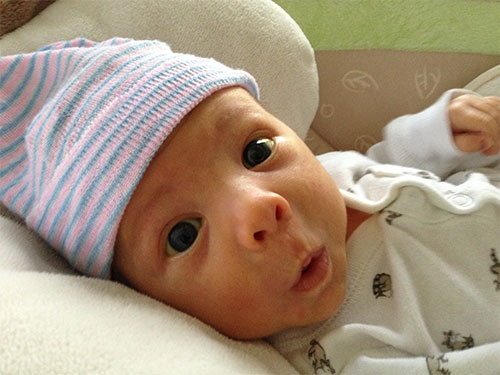 Maria Evangelista Robison '02, Virginia Beach, Va., a son, Garner Carmen, 12/31/15. Maria: "Garner is a 10th-generation Virginian, named after his ancestor who fought for America in the Revolutionary War."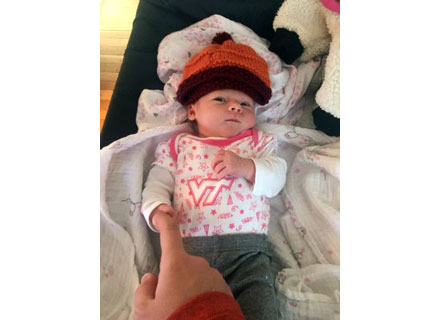 Richard "Scott" Booker '03, Henrico, Va., a daughter, Emiline Louise 2/2/16.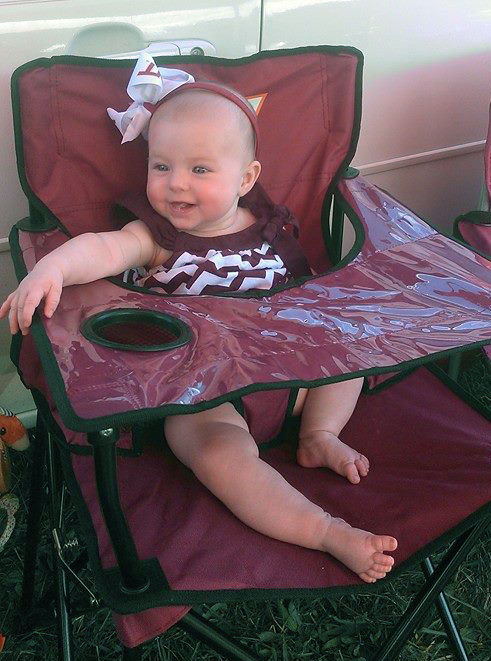 Alexa Fraley Gardner '05 and Jeremiah Gardner '08, Christiansburg, Va., a daughter, Lena Grace, 4/27/15. Alexa: "Lena has been a Hokie since birth (her dad, mom, and grandpa are all Hokies), and she is already a huge Tech football fan, enjoying her first tailgate at 6 months old!"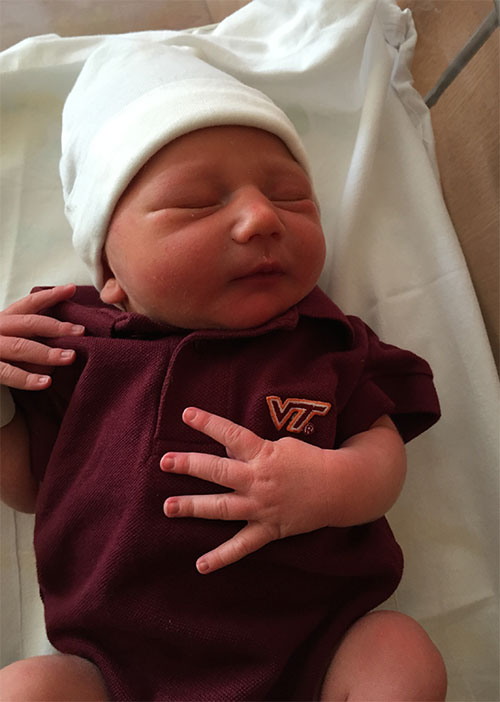 Stacy C. Whipple Daley '06 and J. Charles Daley '09, Fairfax, Va., a son, Nicholas Andrew, 9/4/15.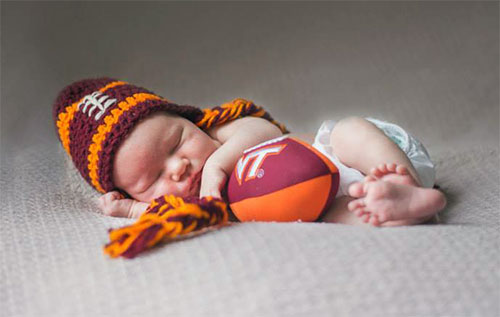 Lindsey Leisher Estes '06, Bel Air, Md., a son, Colin Robert, 6/19/15. Photo by Kristin Cornely Photography.
Wearing the same hat and holding the same football, Colin's older sister Addison was featured in the
spring 2013 Virginia Tech Magazine. →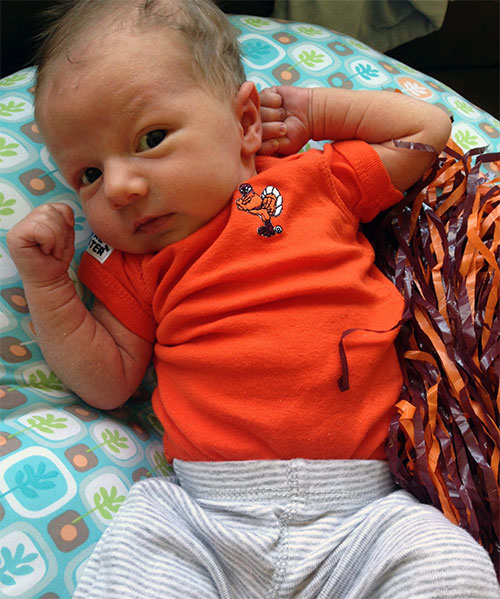 Ashley Dooley Carpenter '07, Glenmoore, Pa., a son, Caleb Wade, 3/29/16.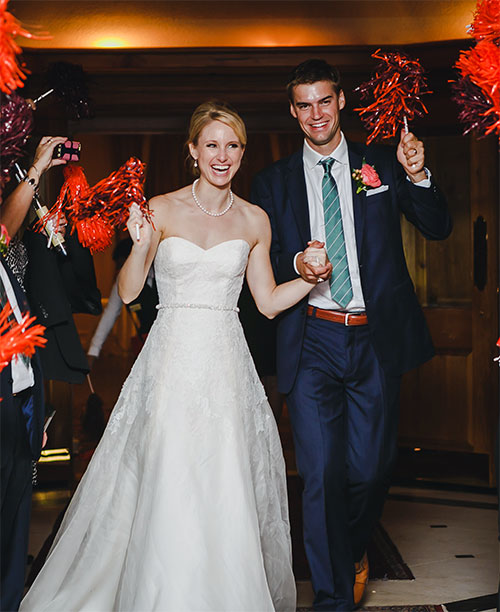 Ethan B. Crockett '08 and Elise N. Glaum '09, Richmond, Va., 9/5/15. Elise: "During this photo, the band was playing 'Enter Sandman' to send us off!"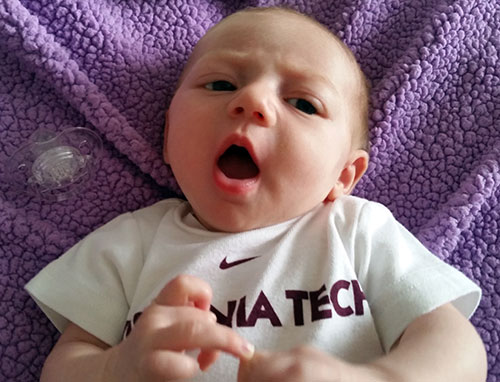 Nicklaus C. Eisenbeiser '08, Columbia, Md., a daughter, 1/5/16.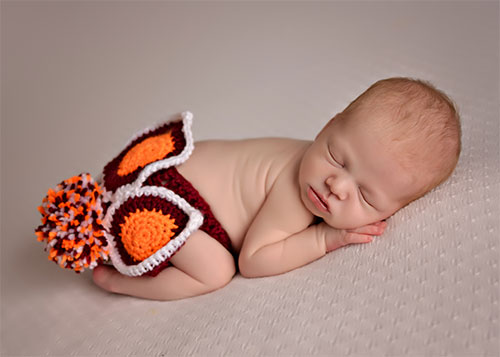 Brandon J. Divers '09 and Jennifer H. Hedrick Divers '10, Haughton, La., a son, Hudson James, 11/16/15. Photo by Jaci Iles Photography of Shreveport, La.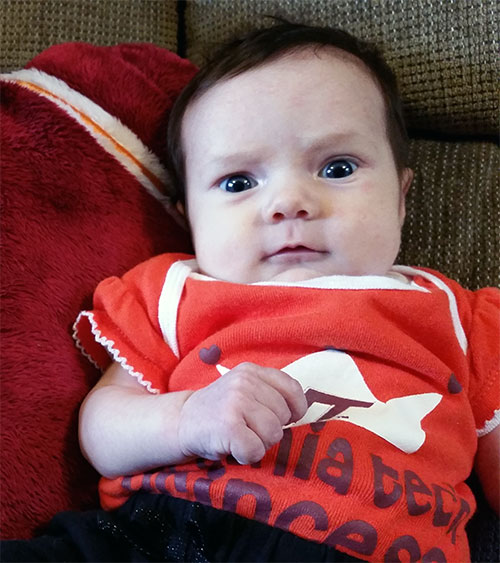 Roger L. Scott Jr. '09 and Amanda L. Weakley-Scott '10, '14, Brightwood, Va., a daughter, Amelia Grace, 10/17/15. Amanda: "The face I got while watching the Hokies defeat the Hoos—'What do you mean, we're tied?'"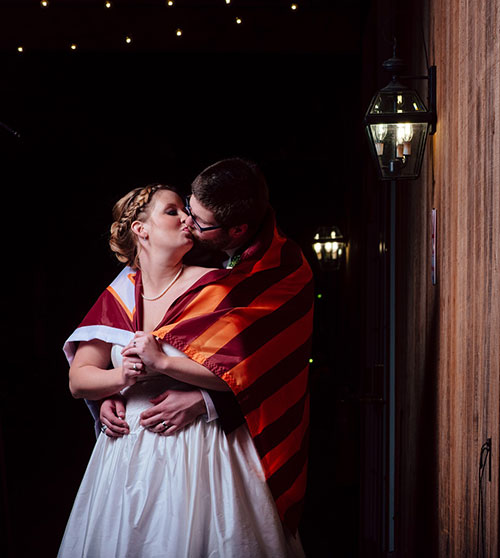 David M. Wisda '09, '15 and Kristen Becker Wisda '09, Blacksburg, Va., 10/11/15.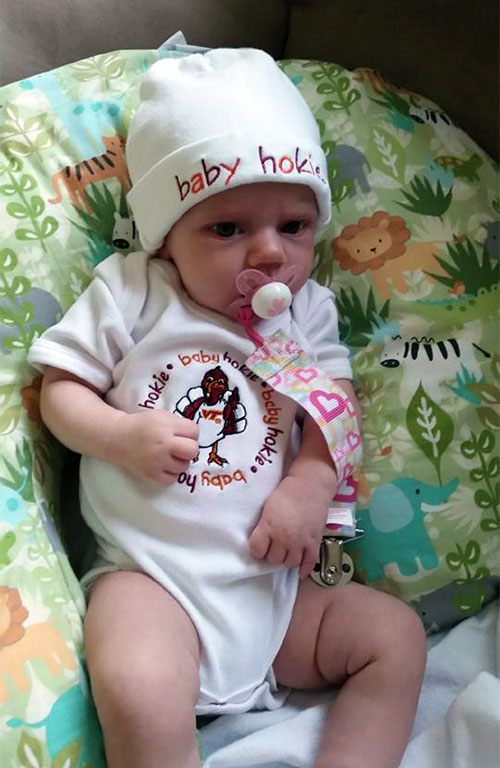 Russell W. Harris '10, Monrovia, Md., a daughter, Brooke Rayeann, 7/22/15.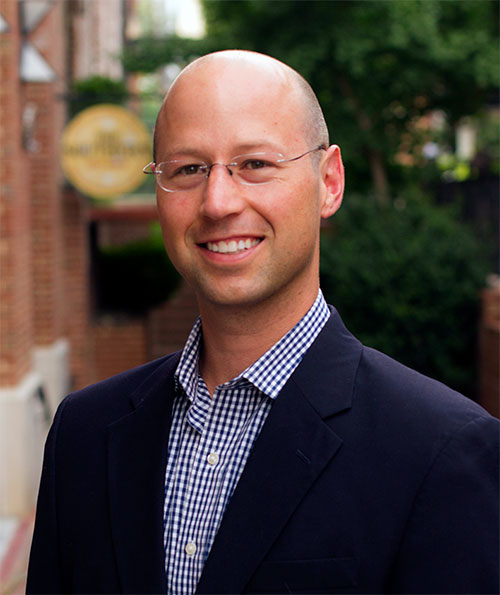 Chad S. Ratliff '10, Charlottesville, Va., an adjunct professor of entrepreneurship at Piedmont Virginia Community College, was named to the Governor's Council on Youth Entrepreneurship.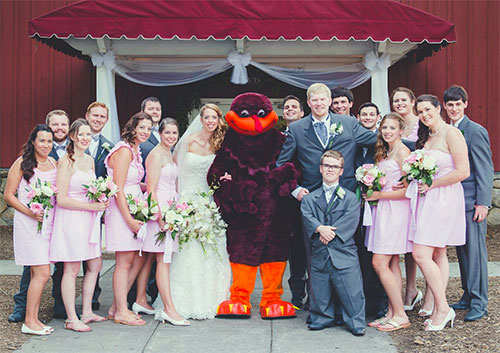 Hunter Ross Davis '12, '13 and Elizabeth Musser Davis '13, '15, Winston-Salem, N.C., 7/18/15. Photo by McCraw Photography. Elizabeth: "Having the HokieBird at our wedding was the most important thing to Hunter and me. The HokieBird scheduled to come to our wedding had an emergency, was unable to come, and cancelled the day of the rehearsal. Hearing our story, a summer marketing intern saved the day and, despite having never been a HokieBird, appeared at our wedding as a surprise! Ut Prosim at its best!"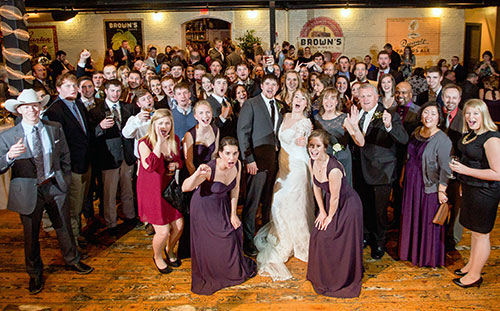 Clark D. Egelston '13 and Mackenzie Moore Egelston '14, Fultonville, N.Y., 1/1/16. Mackenzie: "We had everyone at our wedding who is either a Virginia Tech student, alum, or professor take one huge group photo. We had a lot of Hokie pride in our group!"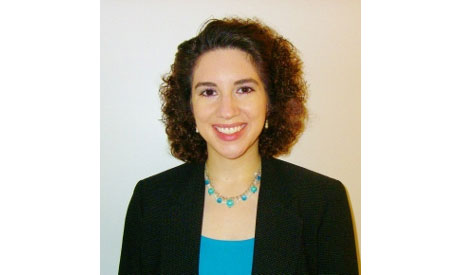 Victoria M. Childress '15, Richmond, Va., is a senior research assistant with the Commonwealth Institute for Child and Family Studies, a division of Virginia Commonwealth University's Department of Psychiatry.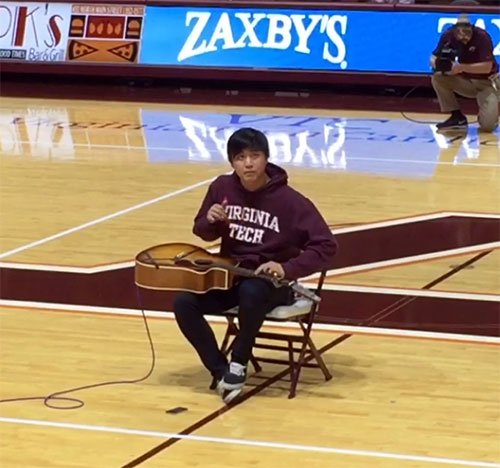 Kevin J. Olson '15, Vienna, Va., who twice performed at Tech basketball games during his senior year, returned to campus to headline the halftime shows at two of the Hokies' games. Photo by Robin Roston. Kevin: "I was thrilled to be asked to return. Blacksburg is where my music career took off, and I love coming back to perform. The men's game against Miami was the largest crowd I have ever performed before. I just wanted to write and say thank you to all the fans for the kind words and cheers!"
---