The College of Liberal Arts and Human Sciences: Where teamwork leads to success
by Jean Elliott

Hokies have a reputation for working well together as a team, which is not an easy process--it takes vision and buy-in, hard work and dedication, and a lot of time. But the results of successful teamwork are a pleasure to behold--take a look at one of Virginia Tech's newest colleges.

In 2003, the College of Liberal Arts and Human Sciences (CLAHS) was founded on the remarkable achievements and considerable talent of a committed group of faculty and staff from two groups, each of which is essential to the core values and long-term strategic plan of the university. Under the guidance of Dean Jerry Niles, CLAHS has defined a new vision for the arts, humanities, social sciences, human sciences, and education at Virginia Tech. The crucial thread that ties these disciplines together is that they seek to understand and enhance the human condition by examining cultures, exploring concepts and values, providing tools for self-reflection and cross-cultural awareness, and anticipating and meeting the needs of people.

Helping to promote the college's vision is a venerable team of 400+ faculty and 100 staff members dedicated to coaching more than 5,200 undergraduate and graduate students. The faculty ranks are sprinkled with Diggs professors, Guggenheim Fellows, and Fulbright winners. CLAHS also boasts more Alumni Distinguished Professors than any other college at Virginia Tech. These diverse experts include internationally recognized poets and writers, a consultant to the United Nations, the president of the Society for Cinema and Media Studies, top scholars on aging, experts in kitchen design and adaptive technologies, leaders in environmental and cultural studies, eminent consumer advocates, and the foremost authority on Mexican theatre. In addition, CLAHS faculty members wrote more than 30 books--many of which serve as the principal textbooks in their fields--during the past academic year.

That CLAHS has benefited from the strengths of its exemplary faculty members is well documented. Seven departments in the college currently sport "University Exemplary Status," and the theatre arts, marriage and family therapy, and vocational and technical education programs are all consistently nationally ranked.

The college has built upon its strengths and garnered a reputation as a home for interdisciplinary centers and collaborative research. For example, the Developmental Science Initiative in human development combines expertise from the Child Development Center for Learning and Research, the Center for Adult Day Services, intergenerational projects, the Center for Marriage and Family Therapy, the Department of Psychology, and the Center for Gerontology. The Center for the Study of Violence builds on the work of scholars of criminology and deviant behavior, providing a valuable asset in homeland security issues. The South Atlantic Humanities Center studies local culture through the regional collaboration of universities, museums, cultural institutes, and public educational centers. The college is also building upon its strengths by investing in the future with two new Ph.D programs, the Alliance for Social, Political, Ethical, and Cultural Thought (ASPECT) and Rhetoric and Professional Writing.
CLAHS also applies its expertise to serve others. In the School of Education, which is positioned to help the commonwealth meet an increasing need for teachers, there is a proposal for a special learning environment called The Classroom of the Future where pre-service and public school teachers can study the integration of technology into the teaching of math and science. Assisting the special needs population is another college priority that has an impact on teaching and learning professionals, as well as interdisciplinary adaptive strategies in technology, apparel, kitchen design, and housing. The Center for Educational Policy Analysis is positioned to work on issues confronting K-16 education nationally and the Department of Educational Leadership and Policy Studies continues to meet the critical need for school administrators in Virginia.
A world leader in instructional technology, the college is putting its expertise to good use. Faculty members have worked to develop the educational infrastructure of the African nation of Malawi and recently advised UNESCO about technology in developing countries. College researchers study the impact of technology on children, youth, and families; create digital history projects with the Department of Education; and push the boundaries of film and animation with the Collaborative for Creative Technologies in Arts and Design. CLAHS also offers more distance learning opportunities than any other college at Virginia Tech. In the past two years, the college has offered 709 classes with 12,840 total enrollments and 100 faculty members engaged in delivering eLearning courses.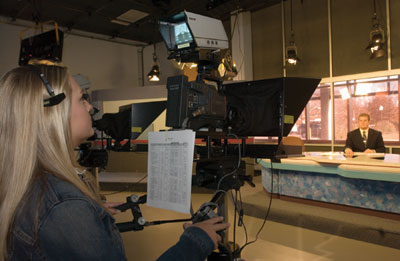 The college will also manage the new Diversity Certificate Program, a pilot program designed to develop undergraduates' multicultural competencies and prepare them for a global work environment. Participation in this program shows that CLAHS talks the talk and walks the walk as a welcoming environment for all.
"We are a college that pays attention to the effects of culture in an increasingly global world, which is an essential dimension of an educated person," says Niles. "To that end, we believe in engaging our students in challenging, authentic, and integrated learning experiences."
Bold, bright, and questioning, CLAHS students rise to that challenge. In its first two years, the college produced two undergraduate Fulbright winners and a Marshall Scholar. Students also learn the value of giving back through service-learning activities; true to the university's land-grant mission, the College of Liberal Arts and Human Sciences has an abundance of outreach initiatives.
"By bringing faculty, students, and staff together with audiences located beyond the borders of the campus, we share knowledge, aesthetic experiences, and conceptual and practical insights," Niles notes. "From this engagement, we also enhance our own understandings and skills as we collaborate with our partners and test our ideas in applied settings."
Students are also encouraged to stretch their wings. Approximately 70 percent of the units offering undergraduate majors have study-abroad programs that allow students to gain insights into how academic theory is translated into real-world practice. CLAHS has ongoing projects in France, Malawi, China, and England, as well as a vital study-abroad experience at Virginia Tech's facility in Riva San Vitale, Switzerland.
Whether at home or on the road, students in the College of Liberal Arts and Human Sciences are proven team players who will go on to be winners in the game of life.
Jean Elliott is communications manager for the College of Liberal Arts and Human Sciences.
---
The College of Liberal Arts and Human Sciences is home to the departments of Apparel, Housing, & Resource Management; Communication; English; Foreign Languages & Literatures; History; Human Development; Interdisciplinary Studies; Music; Philosophy; Political Science; ROTC; Science and Technology in Society; Sociology; Theatre Arts; and the School of Education.

CLAHS alumni include presidents of colleges and universities, a two-time NASA shuttle veteran, stars of stage and screen, foreign service administrators, Pentagon officials, national news anchors, military officers, Peace Corps volunteers, and public school leaders.

Are you an alumnus or alumna of the College of Liberal Arts and Human Sciences? We would like to hear what you are doing.

For more on the college, go to www.clahs.vt.edu/Alumni/.

CLAHS nurtures intellect and spirit, enlightens decision-making, inspires positive change, and improves the quality of life for people of all ages.