Video by J. Scott Parker | Visual and Broadcast Communications
---
On a shimmering fall day at the Pete Dye River Course of Virginia Tech, the New River so still that clouds overhead and hardwoods along the far banks were embossed on its surface, a photographer and a writer approached two Tech golfers coming off the 18th green.
"Are either of you Maclain Huge?" asked the photographer.
"We wish," the golfers replied in unison.
Huge (pronounced HEW-ghee), the team's co-captain and lone senior, merits the respect. Not only is the communication major and Atlantic Coast Conference All-Academic ranked ninth all-time in career scoring at Tech, he's the reigning state amateur champion, the first Hokie to hold the title since 1951.
In early July, Huge, of Lovettsville, Virginia, won the 102nd Virginia State Golf Association State Amateur, a grueling five days of stroke and match play, held this year at Farmington Country Club in Charlottesville—enemy territory. During the 36-hole final, Huge said, "Everybody was for [my opponent, a Richmond native who plays for Auburn University]. When I made a shot, there was limited applause."
A four-sport athlete in high school, Huge feels his iron play is the strongest part of his game, but he's realistic. "One thing is good one week, and another thing is good the next week," he said. "This fall, my putting has been a little shaky, but I'm working on it. It just never stops."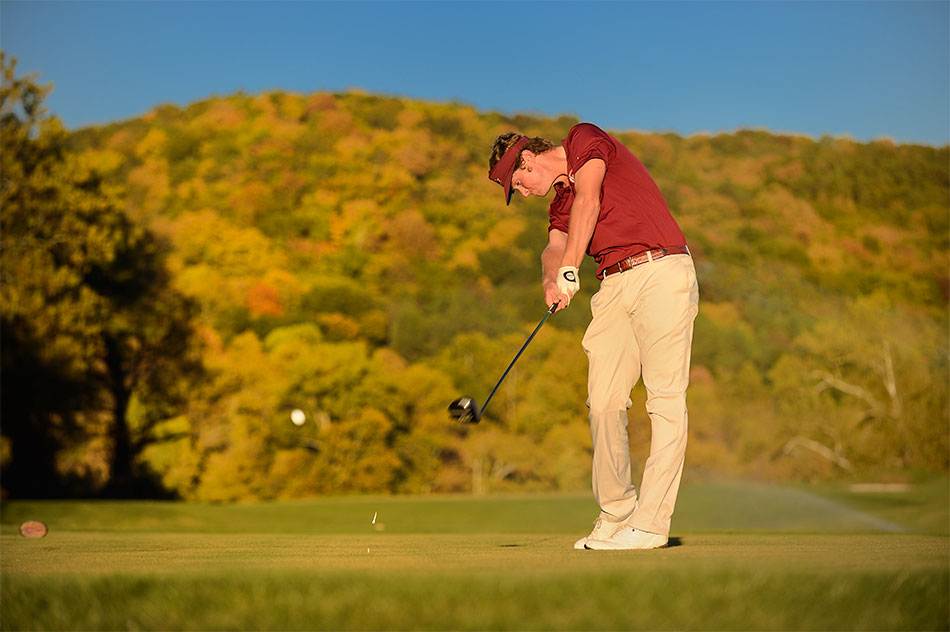 Maclain Huge at the Pete Dye River Course of Virginia Tech. Photo by Jim Stroup.
Ritual
Huge always uses a ball stamped with 1 or 3, and he marks two black dots on each side of the number.
First club
When he was four, Huge saw golf on TV and wanted to play. Given a sawed-off 7-iron with electrical tape wrapped around the grip, he was free to hit balls on the family's 75 acres of farmland. He still has the club, but these days walks the sheep pasture with a wedge.
On

winning
the state am

"It was awesome. I'll take it."