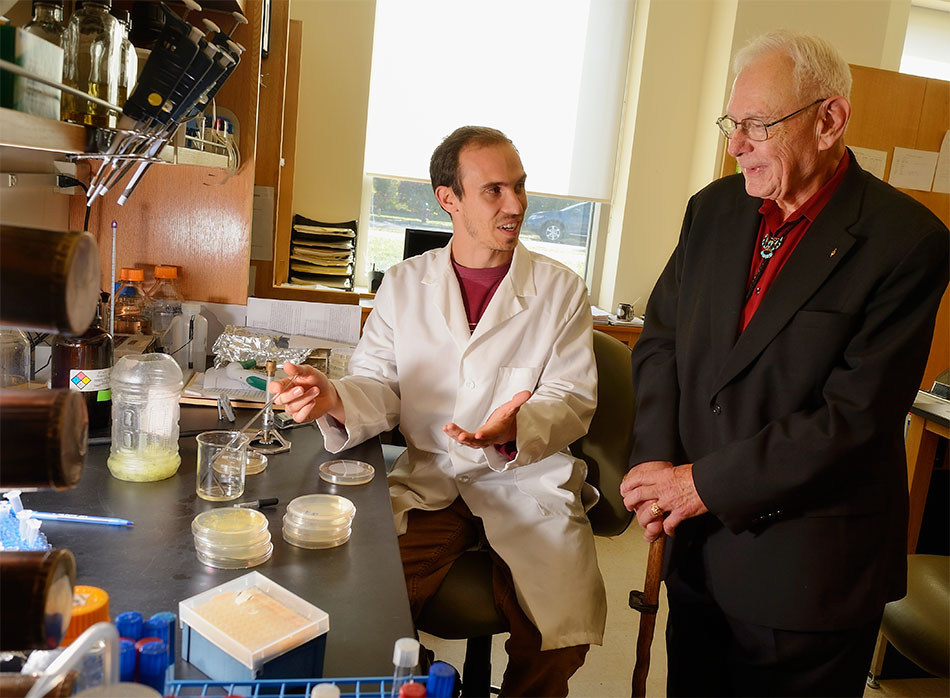 Doctoral student Ben Webb is one of the first recipients of a fellowship honoring Noel Krieg, an Alumni Distinguished Professor Emeritus of Biological Sciences.
---
Noel Krieg is rightly proud of his contributions to the body of knowledge in his field, which include co-editing two volumes of "Bergey's Manual of Systematic Microbiology."
But after having spent more than 50 years in academia, the Alumni Distinguished Professor Emeritus of Biological Sciences recognizes that "research is ephemeral. Over the years, I've learned that what is hot now, 10 years later or even five years later will be old hat. Teaching, on the other hand, is forever."
The impact of Krieg's teaching was driven home in August 2015, when many of his former students returned to Blacksburg for a dinner in his honor. Though Krieg retired in 1999, his legacy of inspiring tomorrow's scientists continues through a graduate fellowship his former students recently endowed within the College of Science.
"Noel got us going, and this was a way of giving back in recognition," said Paul Hoffman (biological sciences '72, Ph.D. microbiology '78), who is a professor of medicine in the University of Virginia School of Medicine's Division of Infectious Diseases and International Health and in the school's Department of Microbiology, Immunology, and Cancer Biology.
Though he will not study under Krieg, doctoral student Ben Webb said he's honored and inspired to have earned one of the first Krieg fellowships.
"It's an inspiration to be named a Krieg Fellow because to me it means that I'm doing something right and that people recognize my work," said Webb, a native of Richmond, Virginia, who is working toward a Ph.D. in biological sciences with a focus in microbiology. "This makes me work even harder toward my goals."
Similar stories of faculty mentors whose dedication to teaching has inspired philanthropy can be found across Virginia Tech. Through the fellowships, scholarships, and professorships they have inspired, these extraordinary educators continue to make an impact.
Teaching—and spirit
David Kohl was a professor of agricultural economics for 25 years before retiring from the university in 2003. He is the namesake of a teaching and outreach center, a fellowship, and a faculty chair position in the College of Agriculture and Life Sciences.
"I taught over 10,000 students in my undergraduate courses, and one of the most gratifying things was to see these students go on and be successful in life, not only in their careers, but with their families as well," Kohl said. "Whether they've given back $10 or $500,000 or millions, it's very humbling to know they've given both money and effort to keep a tradition and legacy going on."
J. Pearson (agricultural and applied economics '87), managing director of P&L Enterprises and a professor of practice in the Department of Agricultural and Applied Economics, describes Kohl as "the most influential teacher I have ever had." He said he has given in honor of Kohl because "I want other students to benefit from his teachings and spirit like I did."
Since November 2014, the David M. Kohl Junior Faculty Fellowship has been held by Assistant Professor of Agricultural and Applied Economics Kimberly Morgan. The Kohl fellowship has made it possible to fund a variety of experiential learning opportunities for undergraduates, Morgan said, including an awareness campaign her students conducted to highlight how the public can share the road safely with farm vehicles.
Among multiple donors to the Kohl fellowship is Mike Ewing (agricultural and applied economics '80), vice chairman and CEO of Oak View National Bank. "He is the person who helped me get my start in life," Ewing said of Kohl. "I could never repay him for what I owe him, but this was one way that I could pay it forward."
Ties that stand the test of time
When Professor of Forestry Richard Vasey retired in 1990, he returned to his home state of California, where he lives about 60 miles north of Sacramento. Despite being thousands of miles away, he has been visited by multiple former students from the East Coast. One former student whose father had died asked Vasey to give her away at her wedding. And when Vasey's wife died in 2015, more than 40 former students got in touch to offer condolences. "There are people, many decades later, still thinking about me," he said. "I find that flattering, and kind of surprising and shocking."
In the College of Natural Resources and Environment, students who were not even born when Vasey retired can still benefit from the generosity of alumni, friends, and colleagues who endowed the Richard B. Vasey Scholarship in his honor.
One of those former students, John Bailey (forestry and wildlife '83, master of forestry '85), took classes from Vasey but also served on the student fire crew Vasey oversaw. With help from Vasey, Bailey developed work experience while still in school, teaching forestry skills to undergraduates, then later traveled to Oregon for a summer program with the U.S. Forest Service.
Given his former professor's role as a mentor, Bailey said, it was natural to contribute to the Vasey scholarship in order to show "love for the man and respect for what a difference he made in my life and so many others' lives."
Today, Bailey is an associate professor of silviculture and fire management at Oregon State University, where he begins each class by reading a different book passage aloud in order to cue students to settle down and begin learning. It's a technique he learned from Vasey.
Albert Raboteau is the director of development communications for Virginia Tech.