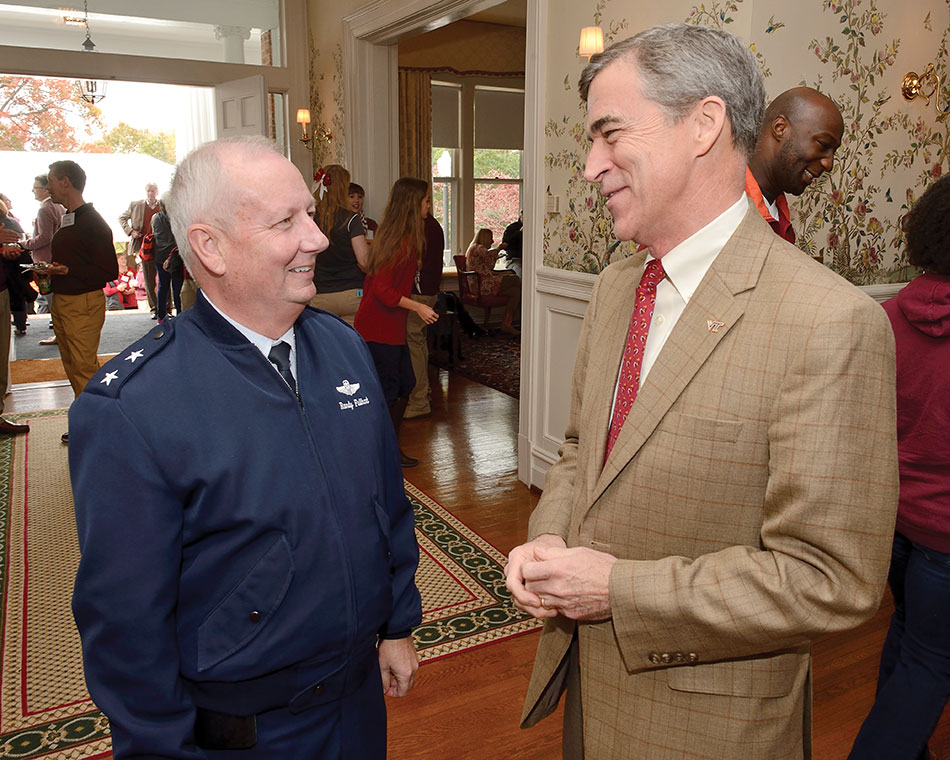 Vice President of Advancement Charlie Phlegar '78, '87 (right), whose father was a member of the corps, was eager to connect with Commandant of Cadets Maj. Gen. Randal D. Fullhart.
---
Engaging growth
Charlie D. Phlegar (business management '78, M.S. education administration '87) has an affinity for the corps that runs deep: His father, Archie Phlegar (agricultural engineering '52, M.S. Extension '74, Ed.D. educational administration '78), was a cadet and member of the Highty-Tighties. When Charlie was named the vice president of advancement to lead a new unit formed by the merger of Alumni Relations, University Development, and University Relations, it was no wonder that one of his first stops on campus was to meet with Commandant of Cadets Maj. Gen. Randal D. Fullhart.
"We're very excited about the advancement model that Charles is bringing to Virginia Tech," Fullhart said, "and we are already adapting our organization to further engage both our alumni-in-residence—our current cadets—and our amazing alumni and friends of the corps all around the world."
A recent Gallup poll of Virginia Tech alumni noted that corps graduates are leading remarkable lives, with measures of well-being that surpass all national averages for similar universities. "The poll shows that one of the strongest affinity groups for our university, if not the strongest, are graduates of the corps," said Phlegar.
Even so, the Corps of Cadets is not resting on its laurels. Beginning this academic year, the corps launched the Global Scholars Program, designed to give cadet leaders the opportunity not only to travel abroad, but to link the academic study of leadership to field experience. In May, a select number of cadets, having completed a course as preparation, will travel to France, where they will connect the lessons learned from World War II D-Day operations to U.S. relationships with other countries today.
The generosity of friends and alumni helps make the Global Scholars Program and other facets of corps operations possible. "We know that there is a reservoir of support and energy for enhancing our development of global, ethical leaders," Fullhart said. "What we hope to do through the advancement model is to better share our vision, our plans, and our accomplishments and how others can become involved in our mission."
Measures of growth abound. The corps' size has grown to 1,085 cadets. Hundreds of cadets moved into the first of two new residence halls on the Upper Quad, and plans are moving forward on the new Corps Leadership and Military Science building. Participation in the Citizen-Leader Track, for cadets planning to enter the public and private sectors, is expanding, and Fortune 500 companies are offering paid internships and scholarships to recruit these emerging leaders.
"This corps is moving forward," Fullhart said. "We are advancing. And we are delighted to be working with Charlie Phlegar and his new team to further our mission of developing global, ethical leaders—now more than ever."
Maj. Carrie Cox (M.S. civil engineering '99) is the Corps of Cadets' executive officer.