Of genes and beans
Of genes and beans
by Lindsay Key '06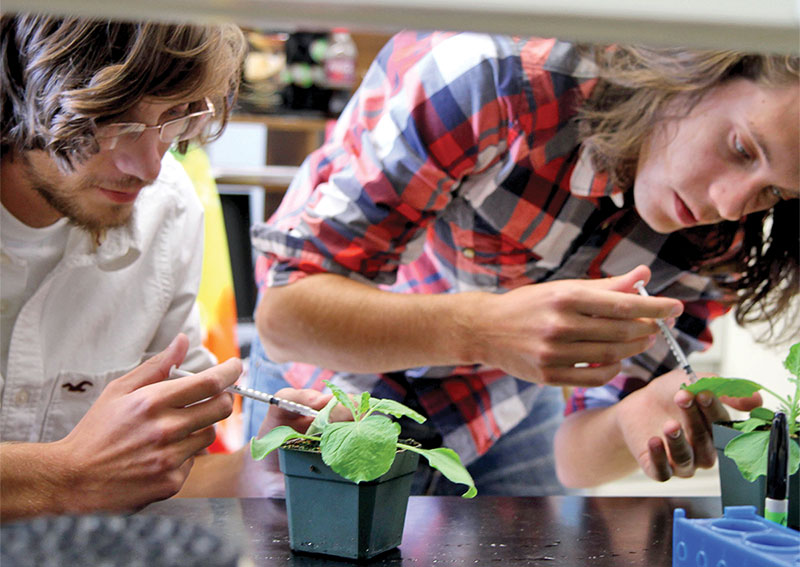 Twin brothers, Mike and Kevin Fedkenheuer, infiltrate Nicotiana benthamiana in John McDowell's plant pathology lab. Photo by Ceci Leonard.
Kevin Fedkenheuer can't imagine life — or science — without his twin brother, Mike.
In December, the Fedkenheuer twins graduated with doctoral degrees in plant pathology, physiology, and weed science from the College of Agriculture and Life Sciences.
Supervised by Virginia Tech plant pathology researcher John McDowell, their doctoral projects examined the genes responsible for the soybean plant's resistance to a pathogen that causes root and stem rot, and how they might be leveraged to produce a more disease-proof plant.
The pathogen, Phytophthora sojae, a close cousin to the pathogen that caused the Irish potato famine, is responsible for billions of dollars of crop loss in the United States and worldwide. The twins' research focused on the use of information from P. sojae genomics to develop new strategies to reduce soybean crop losses associated with this disease.
According to McDowell, each brother brought a different skill set to the project. "In only a few months, Kevin developed a system for screening for new pathogen resistance genes in soybean," he said. "In turn, Mike was able to use his technical abilities, honed in the structural biology and biochemistry fields, to evaluate and test the system, and optimize it for use in a wild relative of soybean that has been under-utilized as a source of disease resistance genes. In this way, their projects were distinct, but synergistic."
The brothers' academic teamwork began when they each received a bachelor's degree in biotechnology from James Madison University. At Virginia Tech, Kevin went straight into a doctoral program with McDowell, while Mike focused on human disease, earning a master's degree in biochemistry. However, it wasn't long after earning his master's that Mike joined his brother in McDowell's plant pathology lab.
"I couldn't think of anyone that I'd rather work with or that I could more effectively communicate with about the project we had begun to develop," Kevin said. "Mike got to hear it from me in the exact way we understand things."
Working with McDowell, the Fedkenheuers were able to identify disease-resistance genes in cultivated soybeans, as well as their wild relatives. These genes represent new tools for soybean breeders to reduce losses resulting from root and stem rot disease.
Although the twins are applying for a variety of positions after their research grant expires in March, their long-term dream is to start a business together, focused on the technologies they've developed.
"Our hope is that one day we could use the bioinformatics training we've also received at Virginia Tech to speed up the process of enhancing disease resistance in crop plants and to distribute the technology widely," said Mike. "We really think it could save farmers a lot of stress and money."
"No matter what, we will always end up working together," he added. "It's just a matter of how."
Lindsay Key '06 is the communications director for the Fralin Life Institute at Virginia Tech.
---
Inspirational leadership
Inspirational leadership
by Sandy Broughton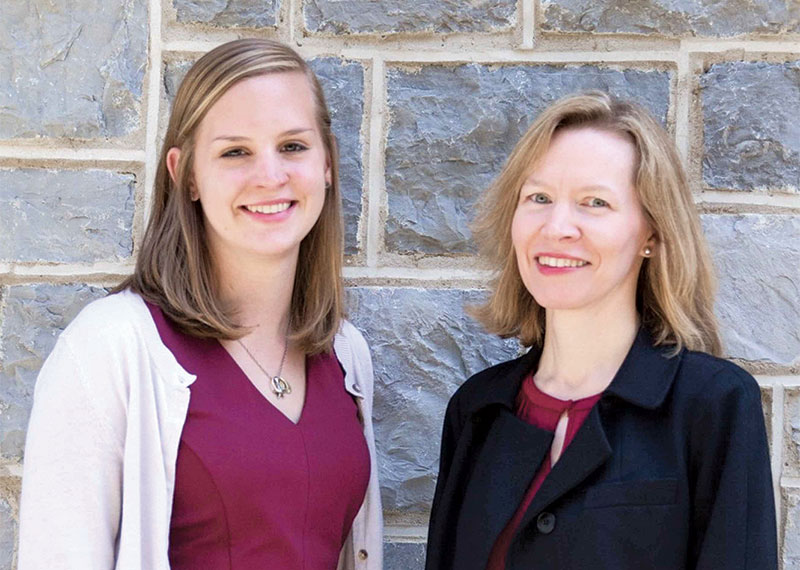 Virginia Tech alumnae Mary Beth Keenan '15 and Holly Means '89 serve on the Inspiring Women in Lifelong Leadership (I WILL) council. Photo by Rachel Debusk.
Holly Means (accounting '89) and Mary Beth Keenan (human development '15) are two of the 14 women on the Inspiring Women in Lifelong Leadership (I WILL) council, a group launched in December 2016, that comprises alumnae, friends, and faculty and staff interested in developing leadership opportunities for women at Virginia Tech and beyond.
I WILL's vision is simple: Inspire women; impact the world. The mission calls others to ignite, connect, and celebrate women, inviting them to make a difference in their own way.
The success of I WILL relies on alumni involvement. "Alumni can serve as a tremendous resource for current students in their college experiences, with information about career paths, key factors for success, and pitfalls to avoid," said Means.
"The Hokie Nation and the stories of students, alumni, and friends are so inspiring to me. They motivate me to keep seeking opportunities to write the story of my life in a way that will make my alma mater proud," said Keenan.
Sandy Broughton is the assistant director of communications for the Division of Student Affairs.