Tradition
Tradition
by Matthew M. Winston Jr. '90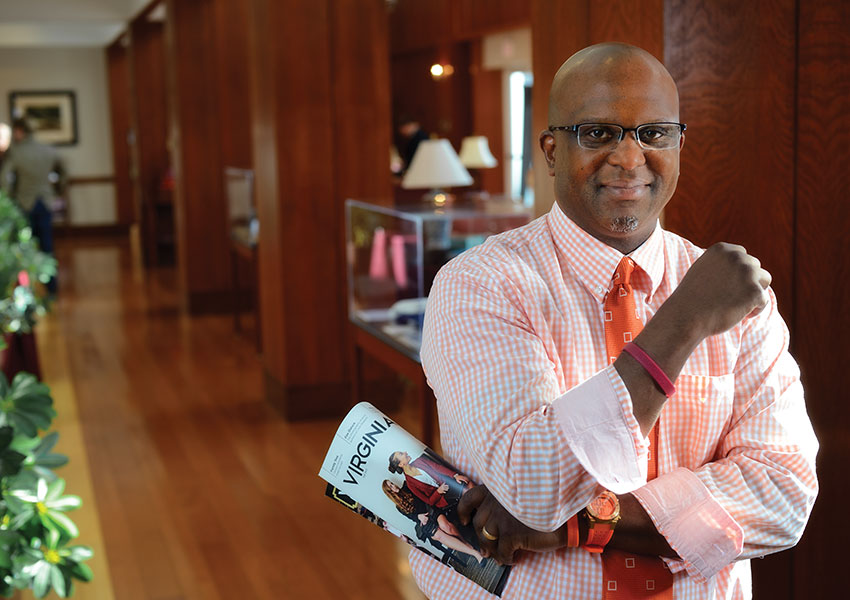 Virginia Tech is a community that is rich with time-honored traditions, shared experiences that create instant bonds spanning generations of alumni — from those who served in World War II to those who are just old enough to vote — touching every Hokie in between.
Ranging from the firing of Skipper at Hokie football games to the Corps of Cadets' annual Caldwell March that follows the steps taken by the first student on his way to Blacksburg, our traditions have us jumping to the rhythms of "Enter Sandman" and using a library of coofers to study. Each of us proudly dons maroon and orange apparel and accessories for all occasions, and we may even dream of homes built from Hokie Stone. Perhaps most important of all, we live the Virginia Tech motto, Ut Prosim (That I May Serve), expressing our love for our university by serving in the communities where we live, work, and play.
Yet, few Virginia Tech customs are more prominent or iconic than those associated with the class ring. Each year, a new ring is unveiled. Designed by representatives of the student body, the ring stands as reflection of the experiences and memories of the class and continues the story of this great university. The passion and pride that this tradition evokes are uniquely Hokie.
I guess that's why I was not too surprised by the overwhelming response many of us at Virginia Tech received following the cover story of the fall 2016 edition of Virginia Tech Magazine, which featured tales from those who had lost and later recovered their class rings. Alumni shared personal stories about losing their rings in the midst of some wild adventure like scuba diving or mountain climbing. Their rings were literally dug up out of a flower bed, cut out of a fish, or found in a rolled-up baby blanket in an old crib purchased at a yard sale — each ring eventually finding its way back to the rightful owner.
Prompted by the magazine feature, alumni from around the globe contacted us to place orders to have rings resized or refurbished, which is part of the lifetime guarantee of the Virginia Tech class ring. Others wished to order a replacement for a lost ring or as a gift for a family member. And still others who never purchased a class ring while a student reached out to us to finally buy and wear their class treasure for the first time. Whatever the motivation, Virginia Tech alumni from all over the world demonstrated their desire to "wear the tradition." Each of them recognizes that a Virginia Tech class ring is not just a piece of jewelry, but an expression of affection for our experiences at Virginia Tech.
The pride and joy from the letters, emails, and phone calls we received reinforces the knowledge that Virginia Tech alumni are more connected and committed to their alma mater than any other alumni network in the land. We will always sustain grand customs, and our current and future students are sure to create new ones. We love our alma mater; we believe in our alma mater; and we support our alma mater. That's who we are, and that's what we do.
"So stand and sing all hail to thee, VT, all hail to thee."
Matthew M. Winston Jr. (marketing management '90) is senior associate vice president for alumni relations.