LETTERS TO THE EDITOR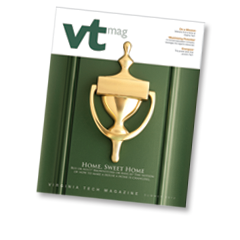 The Purdue ad
What is a Purdue ad doing in Virginia Tech Magazine? I'm not buying it, though—Hokies are better than Boilermakers.
Jim Barrell (mechanical engineering '80)
Greensburg, Pa.
Editor's note:
Purdue University, like Virginia Tech, ranks among the nation's top 30 public universities, according to U.S. News and World Report. Their interest in recruiting our graduates underscores and reinforces our reputation for academic excellence.
Hokie Hospitality
My husband, Curtis, and I attended the Virginia Tech vs. Georgia Tech game on Sept. 3 (my husband is a Georgia Tech alumnus). This was our first visit to Blacksburg. We were impressed not only with the campus itself, but by the many fans and students who were friendly, helpful, and welcoming to us. When they noticed our Georgia Tech shirts as they passed us on the sidewalk prior to the game, many of them welcomed us to Blacksburg and Virginia Tech. Several people stopped us to ask if we needed help or directions and offered a few good-natured comments about us wearing the wrong shirts.
We were certainly outnumbered at the game (an understatement) and sat in the middle of Virginia Tech students and fans. Everyone was polite and chatted with us, even when Georgia Tech was winning! More importantly, they were gracious when Georgia Tech lost, with some even telling us what a good game it was and how Virginia Tech had to work hard to earn the win. While the results of the game were disappointing, our visit to Blacksburg certainly was not.
You have a beautiful campus, and we look forward to the next battle between the Yellow Jackets and the Hokies. We'll be there!
Tammy Cleveland
Lewisburg, Pa.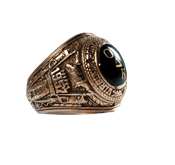 Another lost ring
I also lost a class ring. It was stolen in December 1956 and has never been recovered after all these years. I eventually replaced it with another, but I have always wondered where it might be and who would want to wear another's class ring! I would love to get it back for obvious sentimental reasons. My hometown at the time was Arlington, Va.
Randall "Wade" Everett III (public administration '56)
Mary Esther, Fla.
Corrections and clarifications
On page 28 of the summer edition, there was a mistake in the presentation of the flow chart on buying versus renting. In the first question about expecting life changes, the "yes" and "no" answers were switched. The online version reflects the correct answers.
In the summer edition's Class Notes, Michael A. Russell (building construction '85), of Roanoke, Va., was listed as deceased when, in fact, another Roanoke resident by the same name died.
In the summer edition's story on student veterans, it was reported that Eric Hodges was pursuing his doctorate in political science. Hodges is a doctoral student in the planning, governance, and globalization program in the School of Public and International Affairs, focusing his studies on political science.