New name, Old Guard
by Tori Upton '19 and Travis Williams | photos by Shay Barnhart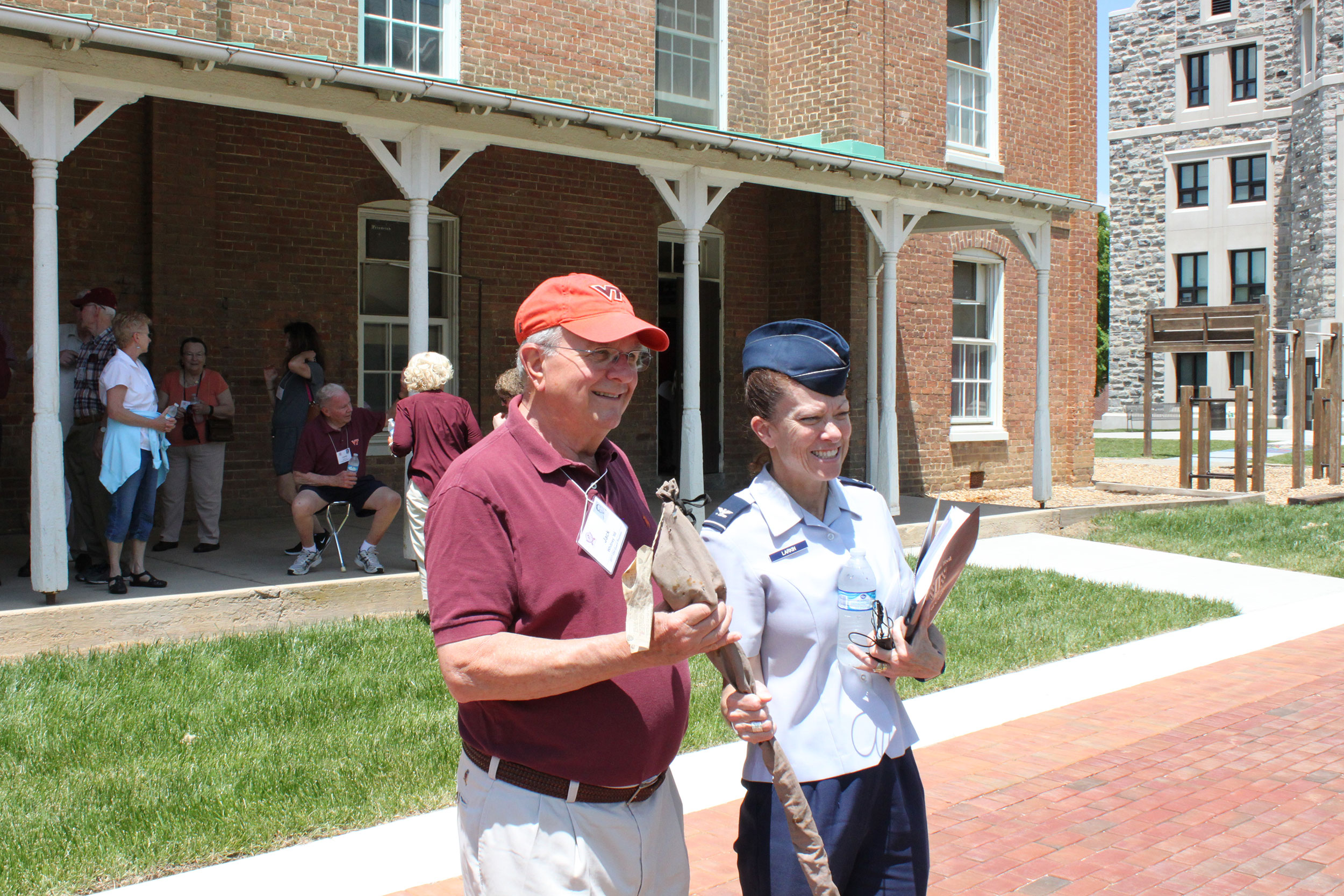 Giving back: On behalf of the Corps of Cadets, Col. Patience Larkin, alumni director, accepts a saber donated by Jack Whitney '66.
Former Old Guard Advisory Committee President Butch Aaron has embraced the growth of his alma mater. "It's not the college I went to," said the 1961 graduate, who attended the Old Guard's 50th anniversary reunion on campus in May. "The way it's expanded as far as academics, and the new things that are being brought to campus in the academic area, is incredible."
Now Aaron is embracing the expansion and evolution of the society he once led, which recognizes graduating classes from 50 or more years ago. This year's reunion of more than 200 alumni was held for the first time under a new name, "Old Guard – The Society of Golden Alumni."
The name change is a move members of the advisory committee hope will encourage future participation and help dismiss any notion that the group is an all-male, all-cadet society.
"We want to attract civilian alumni … and we all agreed that the [name] was a good addition," Aaron said. "It defines that the society is for all alumni who have celebrated their 50th, or golden, reunion, not just for corps alumni."
Membership in the corps was mandatory for undergraduate males until 1964, which meant most members in what was known as the "Old Guard" had a Corps of Cadets background. After that requirement was lifted by university president T. Marshall Hahn, the population of citizen students grew during the next decade, as did the number of females. First admitted to Tech in 1921, women numbered only 300 in 1962. That number grew to nearly 4,000 by 1972.
Such shifts from the past encouraged changes in the society today.
"There are more women involved now," Aaron said. "And more women are coming to the reunion as new classes are inducted into the society."
Current Advisory Committee President Dorothy Herndon, Class of 1960, was one of those rare female students in the early 1960s.
Herndon said there were only 150 women in her graduating class, and she most often found herself taking courses completely surrounded by men.
Having attended in such an environment, Herndon said the society's name change was less about gender and more about helping nonservice members embrace ownership of the group.
"That wasn't an issue for the women of my time period because we were used to adapting, but some of the Old Guard did not do military, so they felt like they didn't really belong," Herndon said.
Along with inclusion, Herndon believes the new name also promotes a level of prestige.
"The word 'golden' adds value, and it's lasting," said Herndon. "I thought it was a good reflection of our university."
Regardless of the evolving name or makeup of the group, the members' affinity for the university and their fellow Hokies remains unchanged. "There is something so special about Virginia Tech people. There is a special bond," Herndon said. "One of the best decisions I've ever made was to go to Virginia Tech."
Tori Upton, a junior majoring in Public Relations, is an intern with Alumni Relations.
An annual celebration
Each fall at the university's Homecoming, a new class celebrates its 50th reunion and is officially inducted into the Old Guard – The Society of Golden Alumni. There are approximately 12,000 living alumni in the society, and each alumnus and alumna is invited to return to campus for a special spring reunion.
The annual gathering includes building and campus tours, seminars with faculty and staff about new programs and university developments, and plenty of time to catch up with fellow alumni.
In 2018, the group will gather May 16-18. For more information, visit alumni.vt.edu/groups/oldguard.