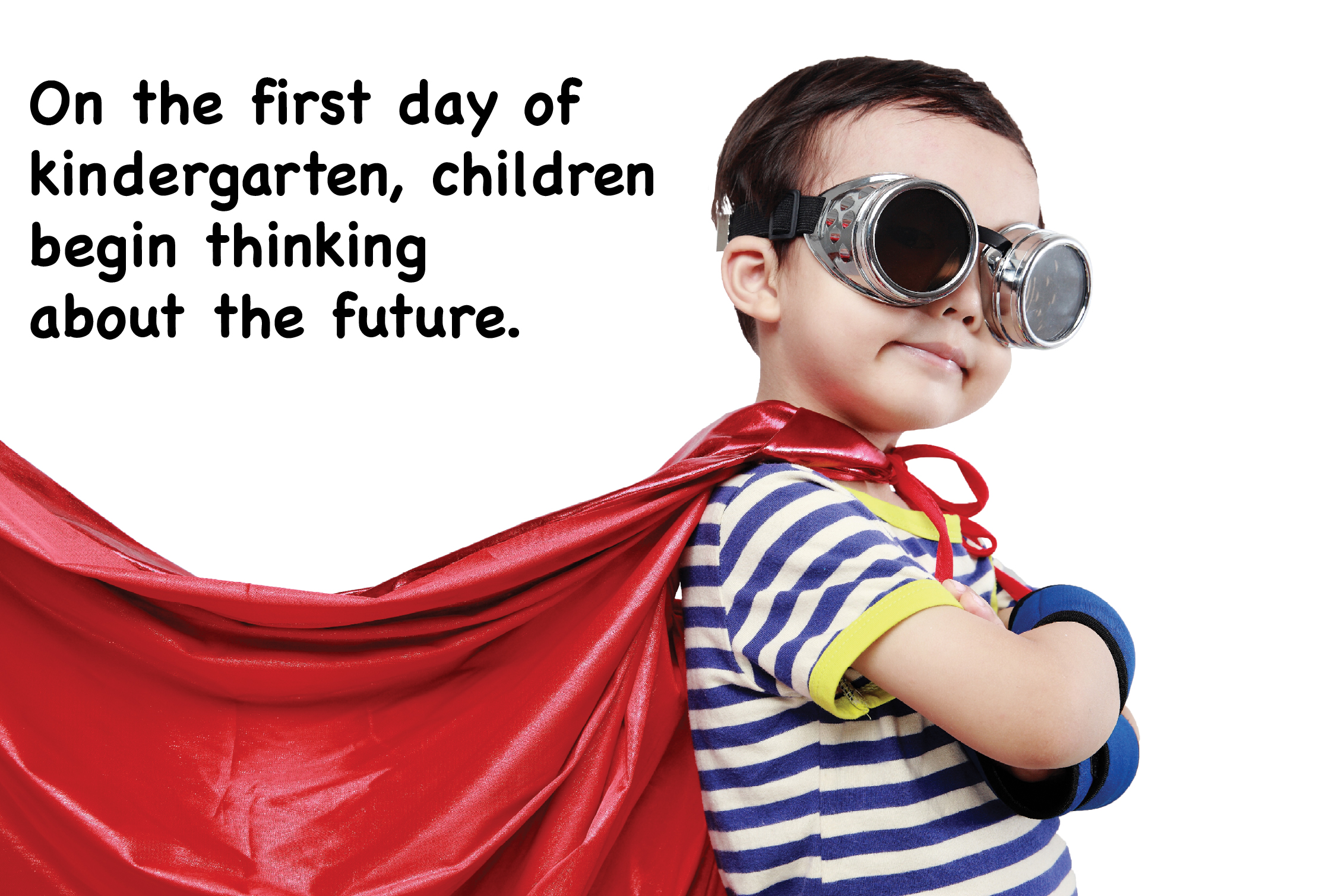 By the time they graduate from high school, they have drawn pictures, written papers, and given presentations answering the age-old question, "What do you want to be when you grow up?"

Today, universities are preparing students for careers in fields
that may not yet exist and positions that have not yet been
imagined. So the question becomes not what do
you want to be, but who?
Virginia Tech Student Affairs, which includes two-dozen departments, is dedicated to providing a rich co-curricular experience and essential services for students. In 2011, Student Affairs introduced the Aspire! Awards. The awards recognize students who represent one of the Aspirations for Student Learning—committing to unwavering curiosity, pursuing self-understanding and integrity, practicing civility, preparing for a life of courageous leadership, and embracing Ut Prosim (That I May Serve) as a way of life.
"In a time when college is often associated with jobs and careers, we wanted also to accentuate the importance of character development," said Frank Shushok, senior associate vice president for student affairs. "We want our students to find a career, but we also want them to find a life full of meaning and purpose. That's the biggest gift an education can provide."
The purpose of the award program resonated with Robert Julius (management '07) and his wife Kara Julius (music '07). The couple credits co-curricular involvement with enhancing their time at Virginia Tech and molding them into who they are today.
Robert, Kara, and their four children live just south of Pittsburgh, more than 300 miles away from the university, but the couple's connection to Tech easily spans the distance. To help provide enriching experiences for students, Robert and Kara created an endowment to support Student Affairs.
"We just really wanted to support something that provides those opportunities of learning beyond the classroom in a structured way and really showcases the students' talents and skills," Robert Julius said.
"The Aspirations for Student Learning have become an integral part of how we guide students in making the most of their Virginia Tech experience," said Patty Perillo, vice president for student affairs.
In 2013, the division began honoring a faculty member, and in 2015 they added a category for alumni. Residence Life Resource Officer John Tarter was recognized in 2015. "Tarter" as he is affectionately known by students, serves as an officer, a resource, a listening ear, a cheerleader, and a friend. He understands that building positive relationships with students makes a difference. "We walk and talk to students," said Tarter. "I don't write a lot of tickets. I don't make a lot of arrests. I try to talk them out of doing stupid stuff before they do it."
In April, Robert and Kara Julius were honored as the alumni recipients. "What was more valuable than the award was being able to see the students who were recognized. They are just remarkable individuals, and being able to share a part of those kids' lives is a really cool experience," Robert Julius said.
Since the awards began, hundreds of nominations have been submitted and, as of this summer, 174 Aspire! Awards have been presented.
At the recognition events, recipients have the opportunity to share their stories. Here are a few from the past six years.
---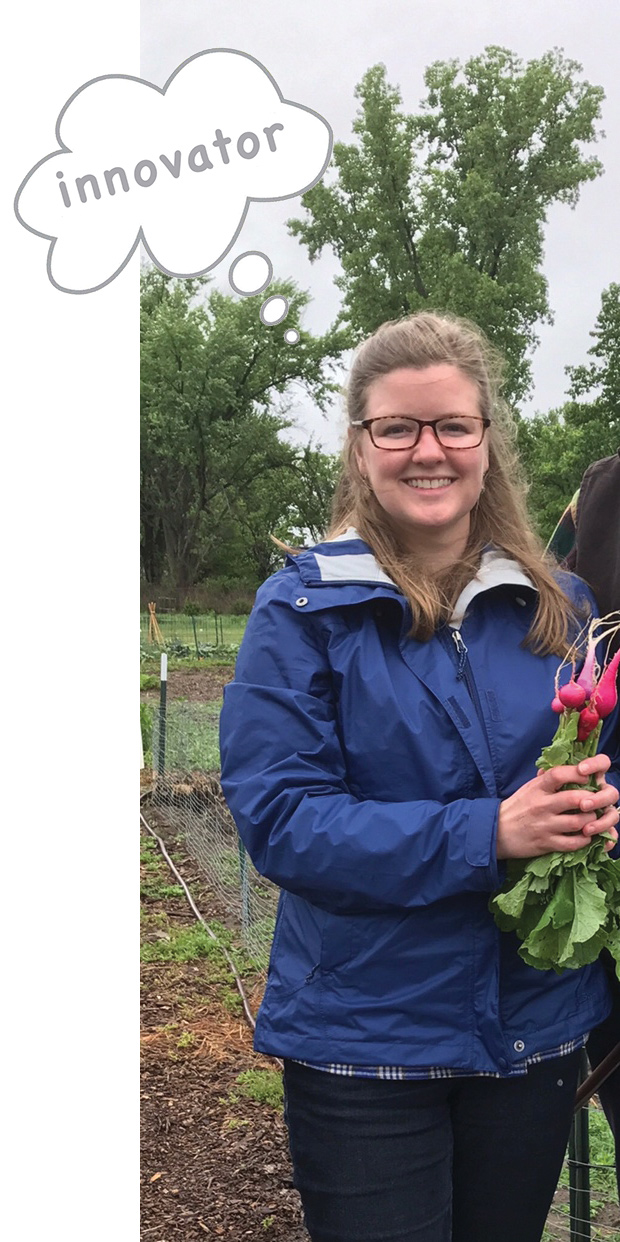 Courtesy Photo

(environmental policy and planning '12) was long aware that she wanted to serve. During her first semester at Virginia Tech, she determined that role would include serving food.
"Once we started talking [in class] about food and agriculture, it was like, this is something where we can make changes every day, three times a day," Carver said. Over the next four years, Carver's passion for feeding the world led her to found an on-campus farmers market, organize Tech's Food Day, and spearhead the first-ever Student Foodshed Summit.
Following graduation, Carver took a position as sustainability manager for the university's dining services. "My job was really connecting the farmer with the staff," Carver said. By 2015 Virginia Tech was purchasing around 13 percent of its food locally, up from about 7 percent in previous years. Carver also initiated the hiring of a faculty member to oversee the Dining Services Kentland Farm and helped institute the use of reusable to-go containers.
Today, Carver is a graduate research assistant at Kansas State University, working with that state's rural grocery initiative. She assists Kansas grocers with managing such issues as business development, public health, and community sustainability.
Carver credits Virginia Tech with creating opportunities and providing mentors that allowed her to transform her passion into a career. "There's a lot about the people and that place that just foster something very special," Carver said.
---




courtesy photo

face lit up as he watched the video. "That's Sept. 14, 2015. That's crazy," said the Virginia Tech senior.
The recording showed Livingston's then-22-month-old son, Jaiden, at a desk drawing during a lecture. It was Jaiden's first university classroom experience and a milestone for his father, who spent more than a year battling homelessness and single parenthood on his quest to get back into school.
Livingston came to Virginia Tech on an academic scholarship in 2012. In the spring of that year, his world changed when he learned he would soon become a father. "Then it was pretty much like, what do I do now? So that semester, I pretty much did nothing," Livingston said.
Livingston's GPA dropped to 0.4, he lost his scholarship, and that summer he returned to Newport News, Virginia. He bounced between the homes of friends and family and the streets, even taking refuge on the porches of strangers.
Jaiden was born in November 2013. The child was the catalyst for a change. "It's like I just woke up one day and was like, this is not for me," Livingston said. "I was basically in defeat mode … if I stay in defeat mode, I'm basically putting him in defeat mode and not even giving him a chance to enjoy life."
Livingston reached out to friends in Blacksburg, where he took a fast food job. He enrolled in classes in fall 2015, adjusting his course load to balance his responsibilities. By spring 2016, he had worked his way onto the Dean's List, raised his GPA to 2.65, and earned back his scholarship.
Livingston hopes to graduate in spring 2018 with a 3.3 GPA. He believes that the way Hokies embrace the spirit of Ut Prosim (That I May Serve) is what allowed him to change his life.
---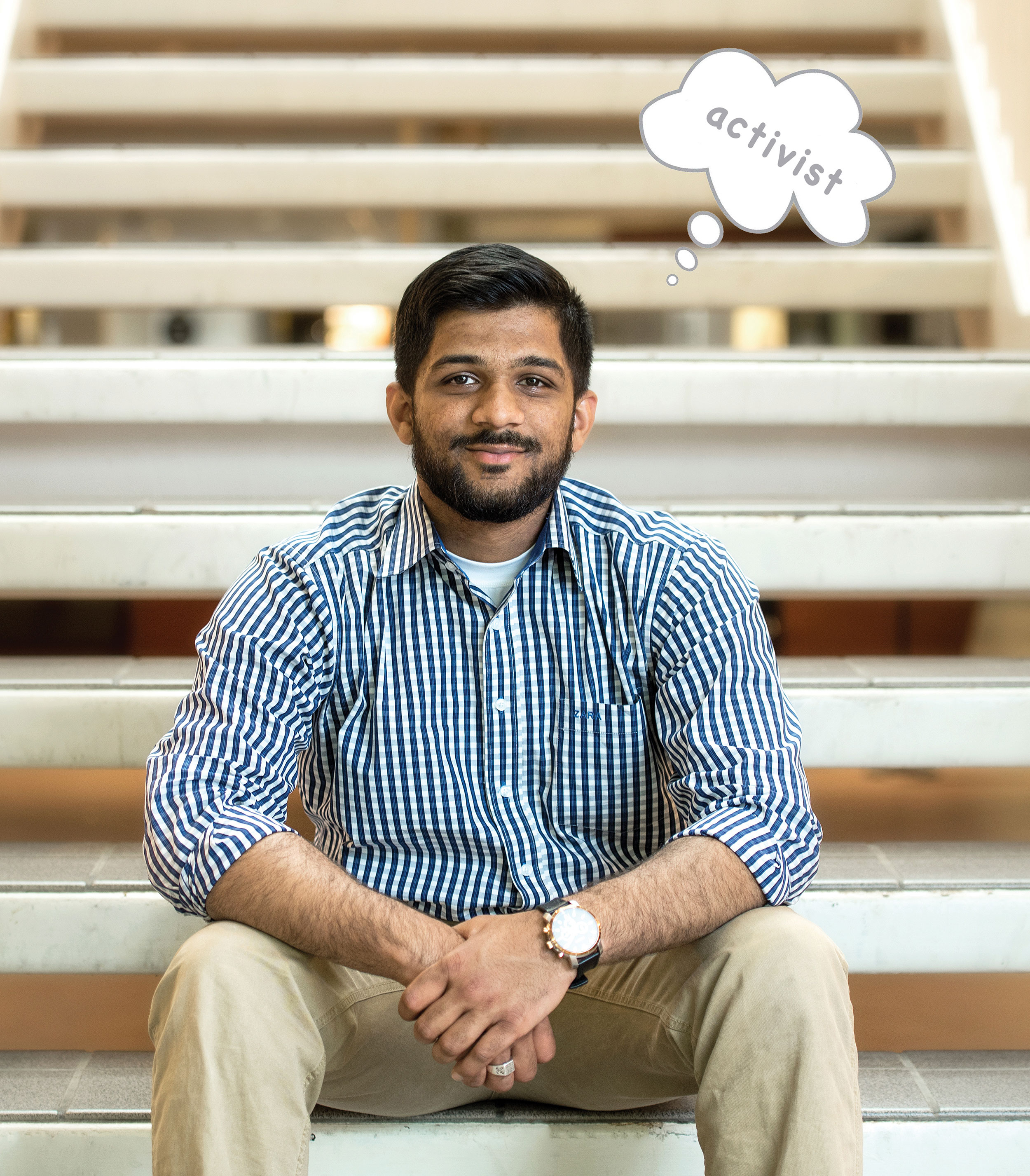 Logan Wallace

(biological sciences, religion and culture '16) believes human connectivity can change the world. "Real, meaningful relationships—that is what I think will truly bring about change," said Rehman.
A two-time recipient of the Warren W. Hobbie Scholarship and a former research assistant at the Virginia Tech Carilion Research Institute, Rehman served as president of the Muslim Student Association and as a web designer and manager of the Appalachian Foodshed Project. He also participated in Tech's first international interfaith service trip. "I've had a lot of opportunities at Tech that I wouldn't have had other places," he said.
In fall 2015, when negative grafitti on campus targeted Muslim students, Rehman found opportunity in the midst of adversity and helped organize an event to bring people together. "Standing in Solidarity: A Gathering Against Hate," spurred a series of activities that would demonstrate support across campus.
A native of Pakistan, Rehman moved to Clifton, Virginia, when he was four. He developed friendships with people from various backgrounds. These relationships, combined with his faith and the leadership he cultivated as an Eagle Scout, nurtured a desire to build bridges between people. Rehman believes that more bridges built equals more problems solved. "It's kind of like turning on the lights and seeing that there is nothing to be afraid of," he said.
Following his 2016 graduation from Tech, Rehman spent a year studying Islamic faith at the Tayseer Seminary in Knoxville, Tennessee. In July 2017, he enrolled in the West Virginia School of Osteopathic Medicine. "I believe that in medicine there is a sacred bond between the patient and doctor. I believe in thinking globally and acting locally as a way to bring about change in this world," he said. "I feel a duty to serve the immense need in Appalachia, my backyard growing up and the place I've called home for the past five years."
---


Courtesy Photo
For as long as he can remember,

(electrical engineering '13, M.E.E. '15) has been itching to learn more about how things work. "I had a curiosity. I was curious about science. I was curious about technology. It was like an itch, you know," Goley said.
A Northern Virginia native, Goley took a full-time job as a line cook shortly after high school. The job was good, but limited his opportunities to satisfy his craving for knowledge. By the age of 25, he'd had enough. "The curiosity kept snowballing. It was like, I can't live without knowing anymore," Goley said. He enrolled at Northern Virginia Community College in 2008 and later transferred to Virginia Tech.
Goley, who is currently pursing a Ph.D. at Georgia Tech, has worked two summer internships at the United States Naval Research Laboratory and presented at this summer's Institute of Electrical and Electronics Engineers' Nuclear and Space Radiation Effects Conference.
Though his curiosity was long-present, Goley said it was his admission to Tech that allowed him to put it to use. "It's the place that gave me a shot. They were willing to take some kid, a nontraditional student who took a few classes at a community college … and Virginia Tech said, 'Hey, we want you here,'" Goley said.
Although the rigorous engineering curriculum pushed his limits, it also helped alleviate self-doubt. "By being immersed in that environment, that's what gets you started down the road. That was where I wanted to be," he said. Goley said he's not sure exactly where that road will eventually lead, but he's now confident his ability to use his curiosity will serve him well. "I think curiosity is the fuel that drives the learning engine. And as an engineer and a scientist, you have to constantly be learning," Goley said.
---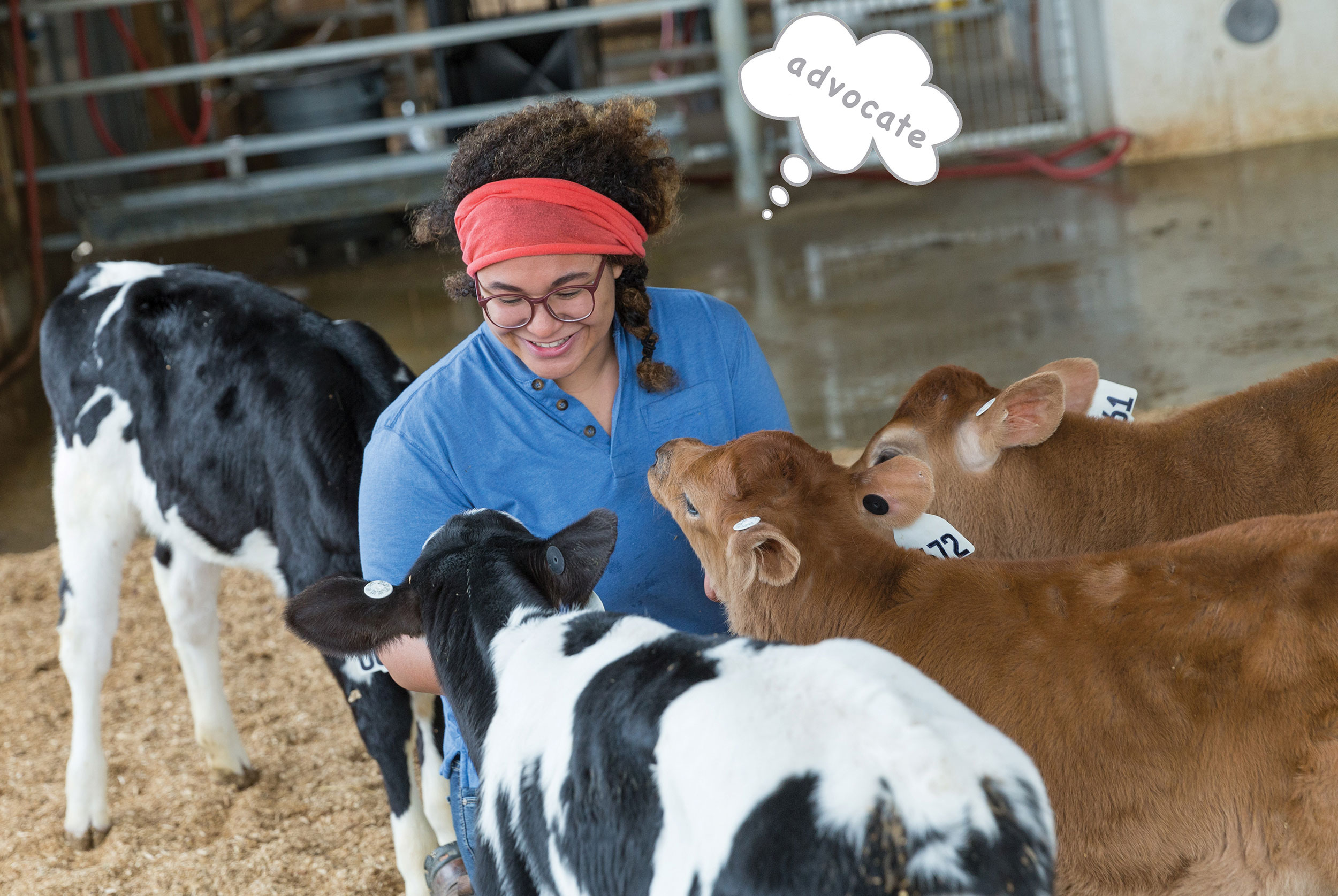 Jud Froelich
Senior

expected to learn more about herself at Virginia Tech, but she didn't know just how much more.
The "verbal squeaking" and involuntary movements started one February night. It took a month of frequent emergency care and appointments with specialists to provide an answer. "I remember when the doctor told me it was Tourette's Syndrome, I was like, 'Yes! Let's roll with the Tourette's,' because I finally had a name for it," she said.
Bresson, who spent the remainder of the spring semester and most of the summer, learning about her condition, was inundated by messages of concern from teachers and friends. "I thought, you know, I'll just knock it out. I'll tell a lot of people at once," Bresson said.
So, she did, via YouTube. The response was overwhelming, inspiring her to create nearly a dozen awareness-building videos. "It stinks when you don't understand. It can be scary or confusing," Bresson said. "I like talking about those things because then other people realize it's OK."
Bresson will graduate in December and hopes to pursue a career that will allow her to guide other students to Virginia Tech. "I'm currently an ambassador for my department [dairy science,] so if I could be an ambassador for the entire university, that would be amazing," she said.
"I always say that at Virginia Tech, you're not just a number. Yeah, we're a school of 30,000, and when you go to a football game, you feel that, but when you go to your department or you go to your classes, you realize you're an individual, not just a student," Bresson said.
---