The mountains of Virginia have long painted the backdrop for many distilling tales, so it's fitting that the region's land-grant university is now a new setting for the continuing story of brewing.
When Virginia began allowing craft breweries to sell their beers for on-premise consumption, the industry boomed in the commonwealth. Since early 2012, 188 new breweries have popped up, according to the Virginia Craft Brewers Guild. As of 2017, the industry accounted for a $1.5 billion economic impact and employed 13,500 people full-time.
Virginia's growth is consistent with the craft beer scene nationwide. In 2017, The Brewers Association for Small and Independent Craft Brewers reported craft brewers' sales grew by 5 percent, and retail sales of craft beer increased to account for more than 23 percent of the $111.4 billion U.S. beer market.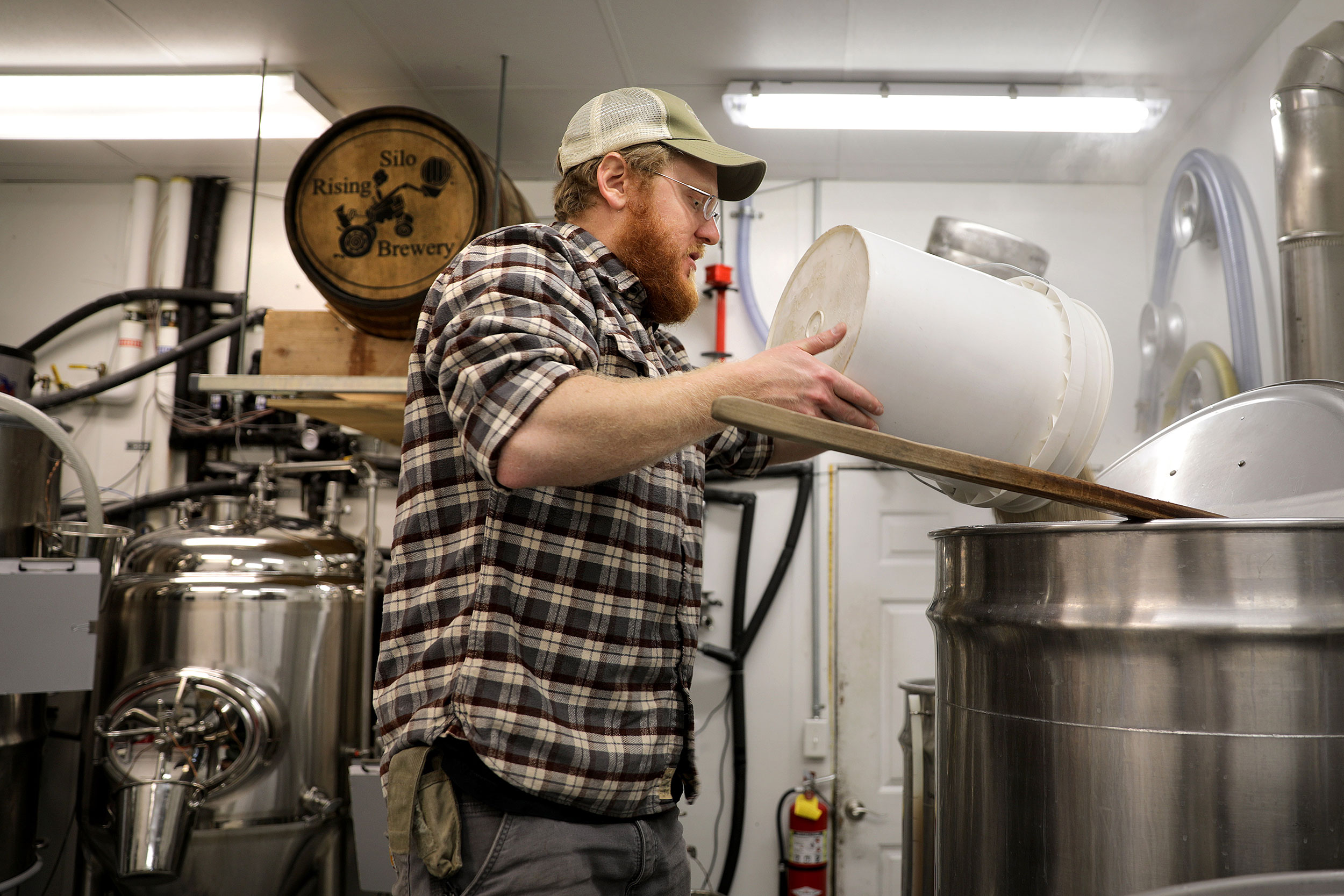 Greg Zielske
At the crossroads of craftsmanship, innovation, and opportunity, the budding industry has drawn attention across the academic spectrum at Virginia Tech. From being home to the largest barley-breeding program on the East Coast to the nationally recognized Food and Beverage Fermentation Program, the university is working to enhance the entire industry—from the farm to the tap.
Alumni representing a wide breadth of disciplines have carved out paths in the industry. From food science and biology majors to engineering and marketing students, Hokies are making a positive impact on the brewing, distribution, and widespread enjoyment of craft beer.
Here are the stories of how just one flight of Hokies is helping write the next chapter of our state and nation's craft brewing story.
The farmer-brewer
Greg Zielske doesn't shy away from sharing how he spent some of his time at Virginia Tech.
"We enjoyed a lot of forms of productive procrastination," said Zielske '09, a psychology major.
Along with art, music, hiking, and exploring the region, homebrewing became a favorite pastime. The hobby was boosted by the fermentation knowledge Zielske garnered through Professor David Schmale's mushrooms and molds course.
"I can't remember if it sparked it or just encouraged it, but that class was awesome," Zielske said.
Less than a decade later, Zielske has turned his hobby into his career at Rising Silo Brewery, which crafts farm-inspired beverages just a few miles from the Blacksburg campus.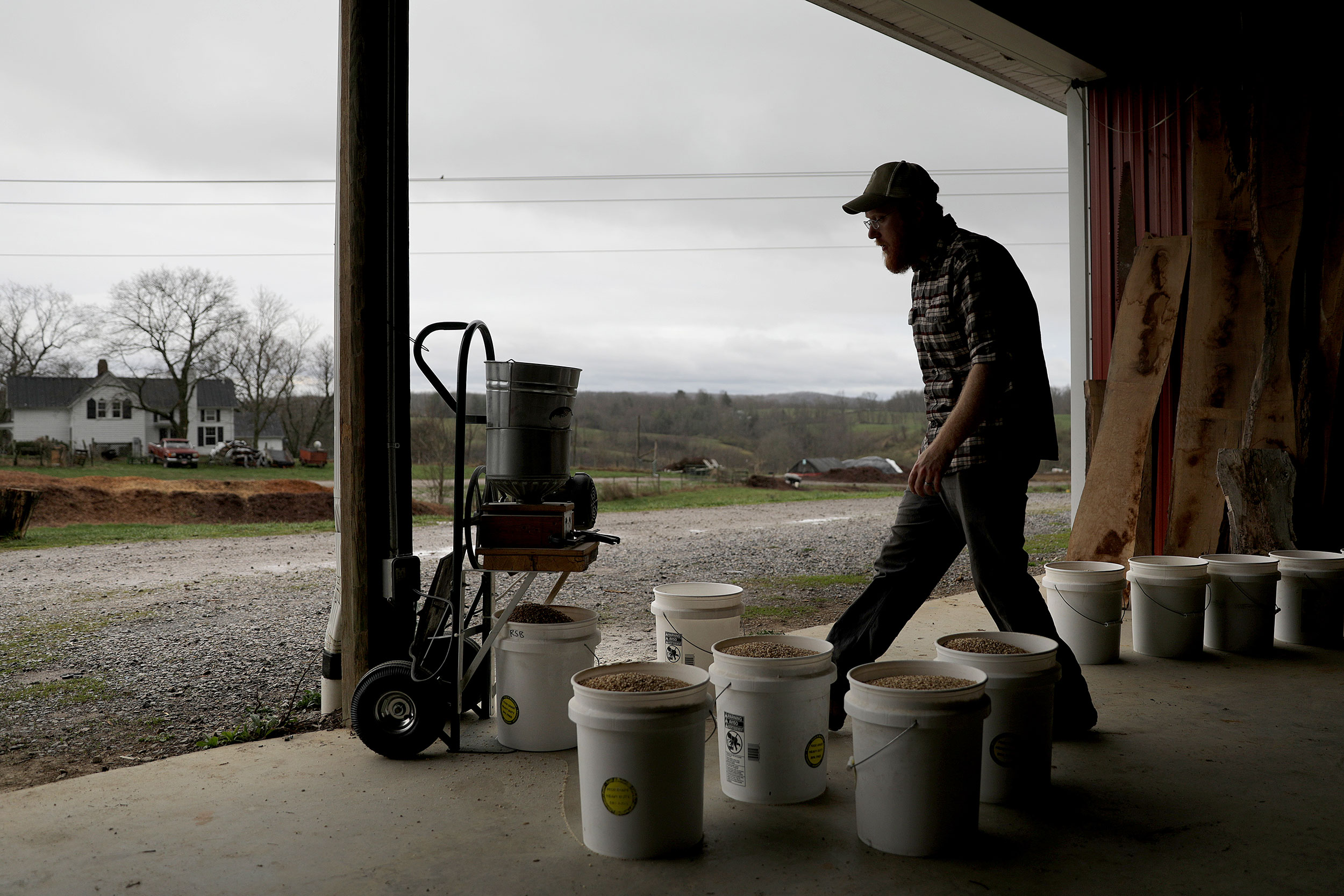 Greg Zielske
"I just did a lot of the beers over and over again. … That's how I figured out the nuances," said Zielske, who also grew his knowledge through such courses as the Intensive Brewing Science Extension program through the University of California, Davis.
Located at Glade Road Growing, a working farm, Rising Silo opened in 2015 and boasts of being the region's lone farm brewery. Zielske operates a three-barrel brewing system and brews two to three days a week, beginning around 6 a.m. and lasting up to 12 hours. Farm-grown produce, including carrots, blueberries, and squash, are often used to help create the 10 beers Rising Silo offers onsite. The location's open-air taproom serves the public four days a week and features such creatively named brews as Ale Virginny, Alexander Black IPA, and Brown Chicken Brown Ale.
Zielske said despite the long brewing hours and, at times, even longer cleaning hours, overseeing the brewery is a labor of love.
"Running a brewery is a fun creative outlet, as well as a craft to master. Working on the farm alongside wonderful, motivated people, and being a part of this local food movement is an incredible experience. We are making a product that adds to the farm and brings people together," Zielske said. "I love what I do and where I work."
The microbiologist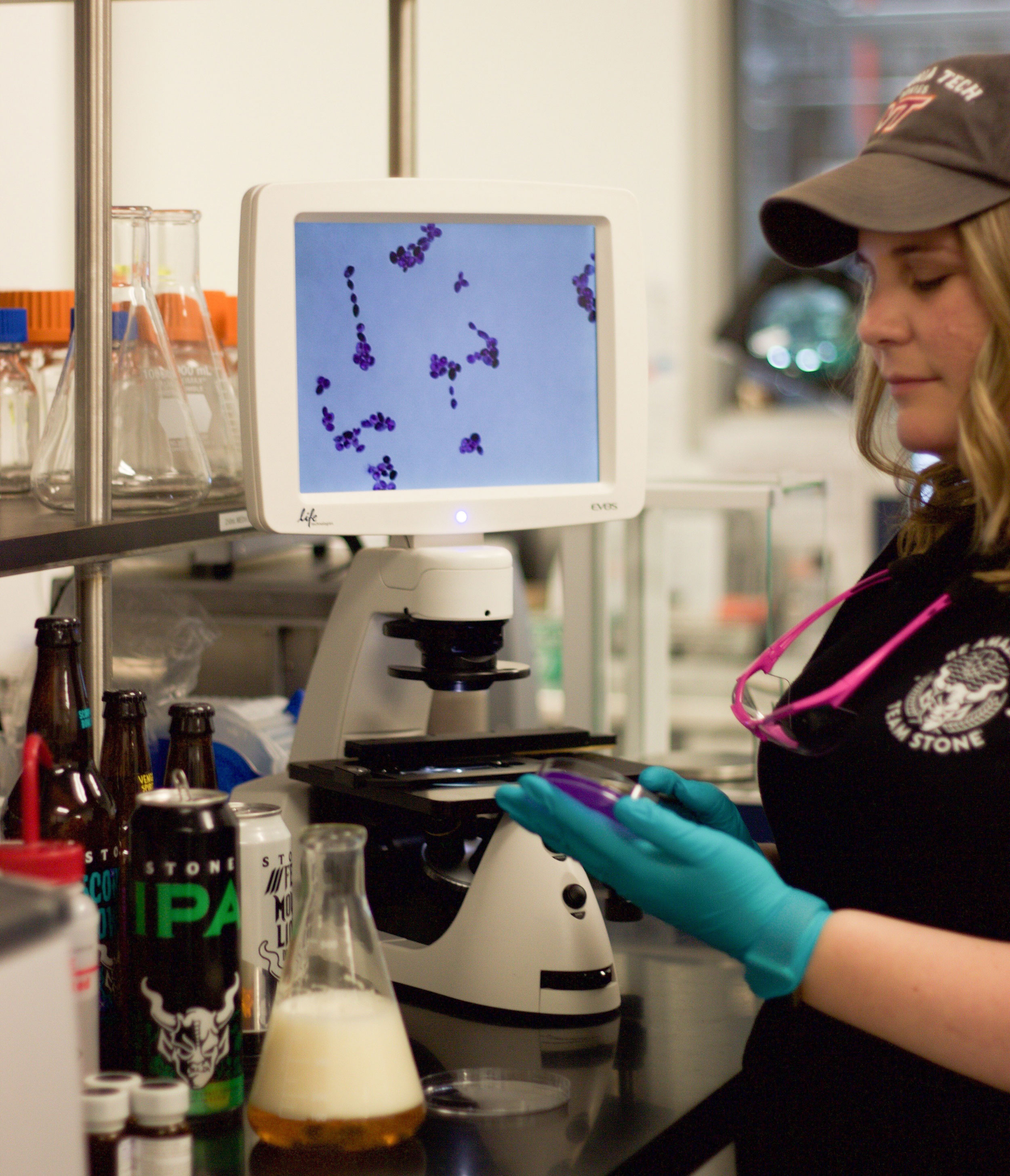 Jessica Maitland
Jessica Maitland always loved science, but she wasn't quite sure what to do with that passion until taking one of Virginia Tech's food science courses.
"It was like a lightbulb moment because it was a way to learn about microorganisms at the cellular level, while also seeing how everything applies on a macro scale, like in food, something that you interact with all the time," Maitland said.
Maitland eventually enrolled in an early version of Professor Sean O'Keefe's Brewing Science and Technology course, where she found even more direction for her future.
"There's so much to learn about it [beer]. The scientific components and the history of it," Maitland said. "That's where I started being interested in brewing."
A three-time graduate of Virginia Tech, Maitland '07, '09, '13 has a critical role in the industry, working as a microbiologist for Stone Brewing in Richmond, Virginia.
"I'm responsible for monitoring the health of the microorganisms we do want in our beer, those that contribute to flavor, alcohol, and carbonation, while ensuring that the microorganisms we don't want in our beer stay out of our process," Maitland said.
Maitland recognizes the real-world connection between her work and her studies at Tech.
"I took a lot of science classes and learned a lot about using the scientific method throughout my undergraduate and graduate programs. That really helped me come into the workforce ready to apply that method to everyday work responsibilities and problem-solving," Maitland said.
The scientist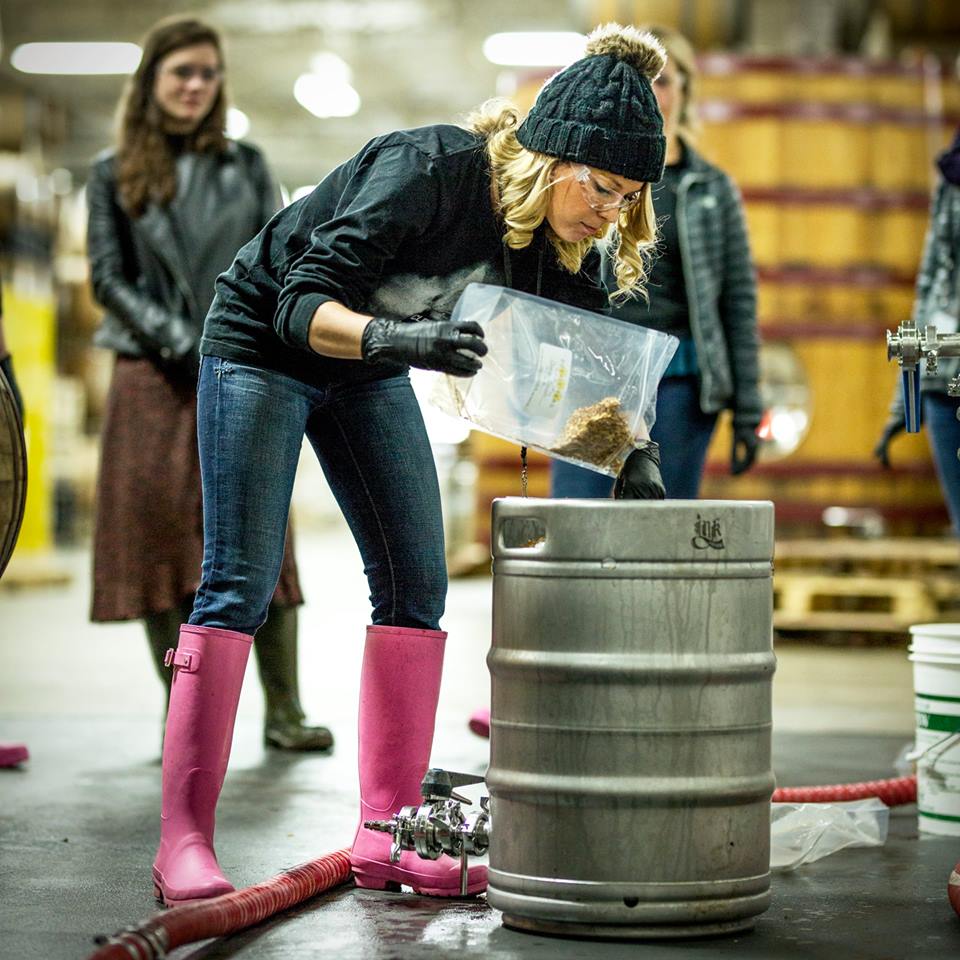 Among her other duties, Samantha Hunt is responsible for all quality checks on sour beers at Wicked Weed in Asheville, N.C.
A chance mention of her homebrewing brother to a Virginia Tech advisor led Samantha Hunt '13 to a food science course.
"The next semester I took Intro to Food Science, and that's when I knew I wanted to switch into [the] food science [major] in hopes of making and drinking beer for a living one day," said Hunt.
Today, Hunt is living out her dream through her role as sensory scientist and Sour Lab quality assurance lead at Wicked Weed in Asheville, N.C. She credits her success in part to the rigors of her studies, including learning how to write a Hazard Analysis Critical Control Point plan and knowing how to organize an unbiased sensory panel.
"My boss at Wicked Weed has mentioned a number of times that those two aspects set me apart from every other applicant," Hunt said.
According to Hunt, her greatest challenge is keeping up with how quickly brewing technologies and methods are evolving, but she's found the brewing community is there to help her along the way.
"While there is a ton of competition between breweries, there's also a sense of respect. If I'm in a bind in the lab and run out of, let's say, caustic solution, I know about eight people in the industry in Asheville alone that I could call to borrow some," Hunt said. "I'm truly blessed to work in such an amazing industry."
The promoter
The brand manager for Devils Backbone Brewing Company, Elizabeth Scalla is tasked with expanding the awareness of the Lexington, Virginia, brewery beyond the commonwealth.
Virginia Tech equipped Elizabeth Scalla not only with the knowledge and experience to launch her career, but also with the attitude she believes has been key to her success.
"The Ut Prosim motto is something I carry with me every day. 'That I May Serve' is the core of my work ethic and leadership style," said Scalla '12, who studied marketing management.
The brand manager for Devils Backbone Brewing Company, Scalla is tasked with expanding the awareness of the Lexington, Virginia, brewery beyond the commonwealth.
"Drinking local beer is important to the craft beer consumer, so finding ways to resonate with consumers outside of our home state of Virginia is extremely challenging," Scalla said.
She said one of the ways the brewery tackles this issue is by hiring local sales and event representatives in their new territories.
"An actual person supporting our brand who is based locally in expansion markets helps our beer have more of a personal identity in areas outside of Virginia," Scalla said.
A third-generation Hokie, Scalla said there wasn't much debate about where she would get the training for her future career.
"When I was selecting a college, I was torn between a business degree or veterinary medicine. Virginia Tech is recognized as a leader in both fields, so I knew whichever path I decided on, I could get a great education in Blacksburg," Scalla said. "Most importantly, I grew up cheering on the Hokies and was proud to carry on the family tradition. "
The brewmaster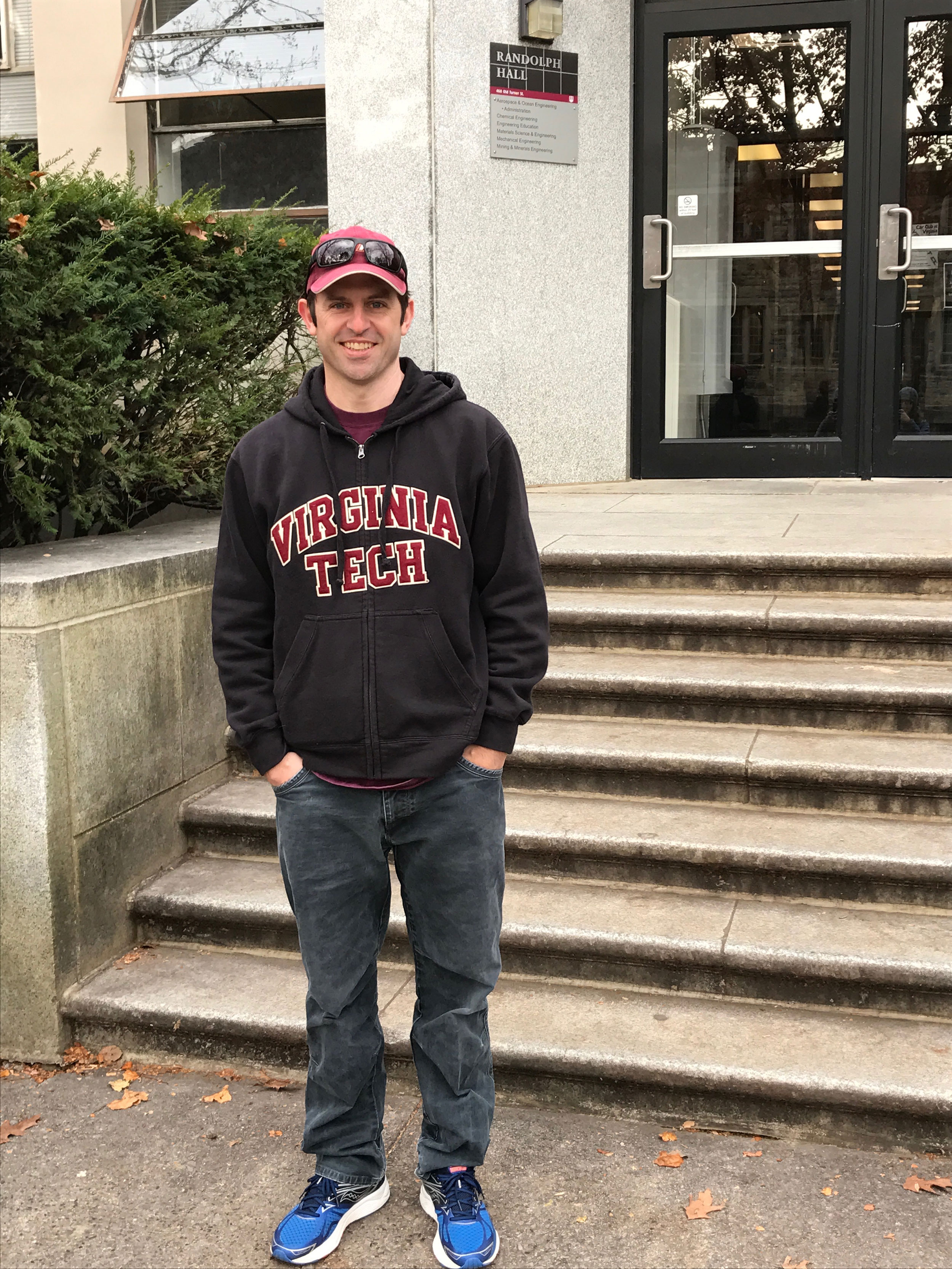 Mark Medlin manages the brewery at the Atlanta, Georgia-based SweetWater Brewing Company.
Virginia Tech helped lay the foundation for Mark Medlin to engineer beers.
"I learned how to think about and solve problems in the engineering program," said Medlin '99, a mechanical engineering graduate.
Medlin's time at Tech predates any brewing course, but his campus experiences did serve as the inspiration for his future.
"My friends and I were regulars at the Vintage Cellar, where we learned about craft beers and brewing for the first time," Medlin said.
After working for a few years as a controls engineer, Medlin attended the Master Brewer's Program at the University of California, Davis, before landing at the Atlanta, Georgia-based SweetWater Brewing Co. in 2008. As brewmaster, Medlin manages the brewery, which produces and sells about 240,000 barrels of beer a year.
"I act as the director of all operations, as well as plant engineer and master brewer. The work I really enjoy the most is making the process of making beer better at SweetWater," Medlin said.
He says the greatest challenge is getting a fresh beer in a consumer's hand.
"We strive to continuously improve the quality of beer over time through recipe and process development. At SweetWater, we have gone to a bottle-and-can conditioning process to improve shelf stability," Medlin said.
Like many others in the industry, Medlin enjoys the challenge of brewing as well as the company of other brewers.
"I have always found the process and science of brewing beer to be intriguing, ever since I started homebrewing," Medlin said. "There is also a certain sense of camaraderie amongst industry peers that makes the industry something special."
The entrepreneurs
When a Hokie brewer saw a problem within the brewing industry, he did what Hokies do—turned his attention from crafting beers to crafting a solution.
In 2014, John Bryce '01 teamed with fellow alums Shane Kunkle '00 and Jesse Pappas '98 to found the Lupulin Exchange, an online secondary market for hops that experts say has revolutionized the industry.
The distributors
James M. Archer Jr. '42 promised each of his six children an education at their college of choice—with one exception.
"He said, 'I'll somehow find a way to get you through school anywhere in the country you want to go, even VMI, but if any of you ever go to the University of Virginia, you're on your own,'" recalled his son, Jim Archer '72.
The advocate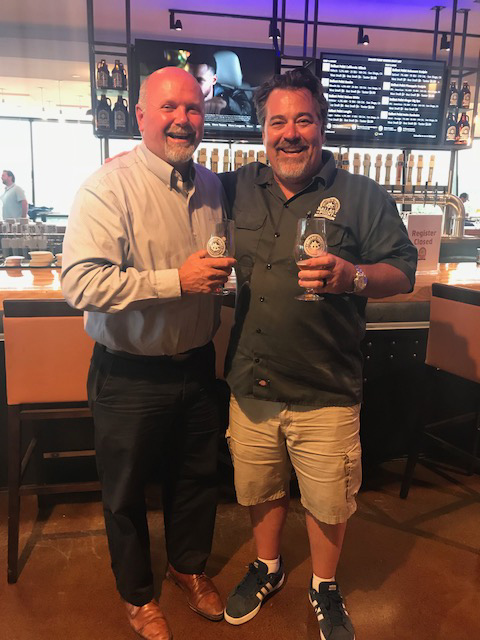 Botetourt County Administrator Gary Larrowe recently enjoyed time with Jeremy Kirby, vice president for hospitality for Ballast Point Brewing Company at the facility in Daleville, Virginia.
Gary Larrowe may very well go down in history as the guy who brought "Disneyland" to Botetourt County.
Last year, the county administrator's advocacy paid off when the San Deigo, California-based Ballast Point Brewing Co. began operation at a facility in Daleville, a small rural town just northeast of Roanoke. The 11th-largest in the country, the craft brewery is housed in a roughly 260,000-square-foot facility and is home to a restaurant and tasting room with 96 taps.
"It's that adult Disneyland that we've been looking for," said Larrowe '87, who majored in agriculture.
Larrowe believes that along with an influx of about $59 million into the local economy and 200 new jobs, Ballast Point will help draw a younger generation to Botetourt County.
"It gives us a leg up on other communities because of that cool factor," Larrowe said.
Botetourt County was seen by some as an underdog for the brewing company's East Coast hub, but Larrowe, Ballast Point's lone contact in Botetourt, was able to demonstrate that the county had an appropriate building, a sustainable water source, and access to Interstate 81. The brewery is capable of producing about 200,000 barrels of beer a year, which will be distributed down the East Coast, into Mexico, and even to parts of Europe.
Larrowe said he's already witnessed the advantages of the location on brewery traffic. "In the parking lot, there's all these out-of-state license plates … It's incredible," he said.
Larrowe became the Botetourt County administrator in 2016 after a 10-year stint in the same role for Carroll County, Virginia. Prior to that, he spent a dozen years as an agriculture Extension agent with Virginia Tech. Opportunities for travel abroad and to take part in international community development contributed to his shift in careers.
"That gave me the thought that I wanted to be in community development because I thought that's the best way I could serve agriculture," Larrowe said.
With the full impact of the brewery on the horizon, Larrowe is happy to say his opportunity to serve Botetourt County is a direct result of Virginia Tech.
"I've literally been around the world as a result of Virginia Tech, and there's the education that came from there … everything really goes back to being a Hokie," he said.
Read about agricultural research in hops and barley and learn about Tech's brewing classes.