The Leader of the Band
David McKee marches off to retirement
David McKee on the Marching Virginians practice field that bears his name
In 1986, a slight underestimation was made about graduate assistant Dave McKee's future at Virginia Tech.
"They said, 'Take the band and run it for a year,'" said McKee, in March. "And I said, 'Sure.' And one year turned into 32."
More than three decades later, in June, McKee retired as the director of the Marching Virginians, having overseen "The Spirit of Tech" during a time of unprecedented success for both the university and Virginia Tech athletics. Polly Middleton, former associate director of athletics bands at Virginia Tech, took over as director in July.
"My first year as director was Coach [Bill] Dooley's last year, and then Frank [Beamer] came in," said McKee, M.A. '86. "What a great time to be here."
Under McKee, the Marching Virginians have elevated themselves to national prominence, routinely performing at nationally televised football games, parades, and other activities, and alongside other elite college bands, including the University of Tennessee, Florida State University, and the University of Texas. Their work has been featured in ESPN The Magazine.
Toward the end of this span, the band traded what McKee calls a "nomadic" existence for the $4.75 million Marching Virginians Center, which opened in 2015. The facility includes an artificial turf practice field, a 4,300-square-foot building for instrument storage, a 7,000-square-foot pavilion large enough for sheltered practices, and on-site restrooms. "Sochinski-McKee" was added to the center name in 2016 by resolution of the Board of Visitors to honor James Sochinski, director of the Marching Virginians from 1976 to 1981, and McKee.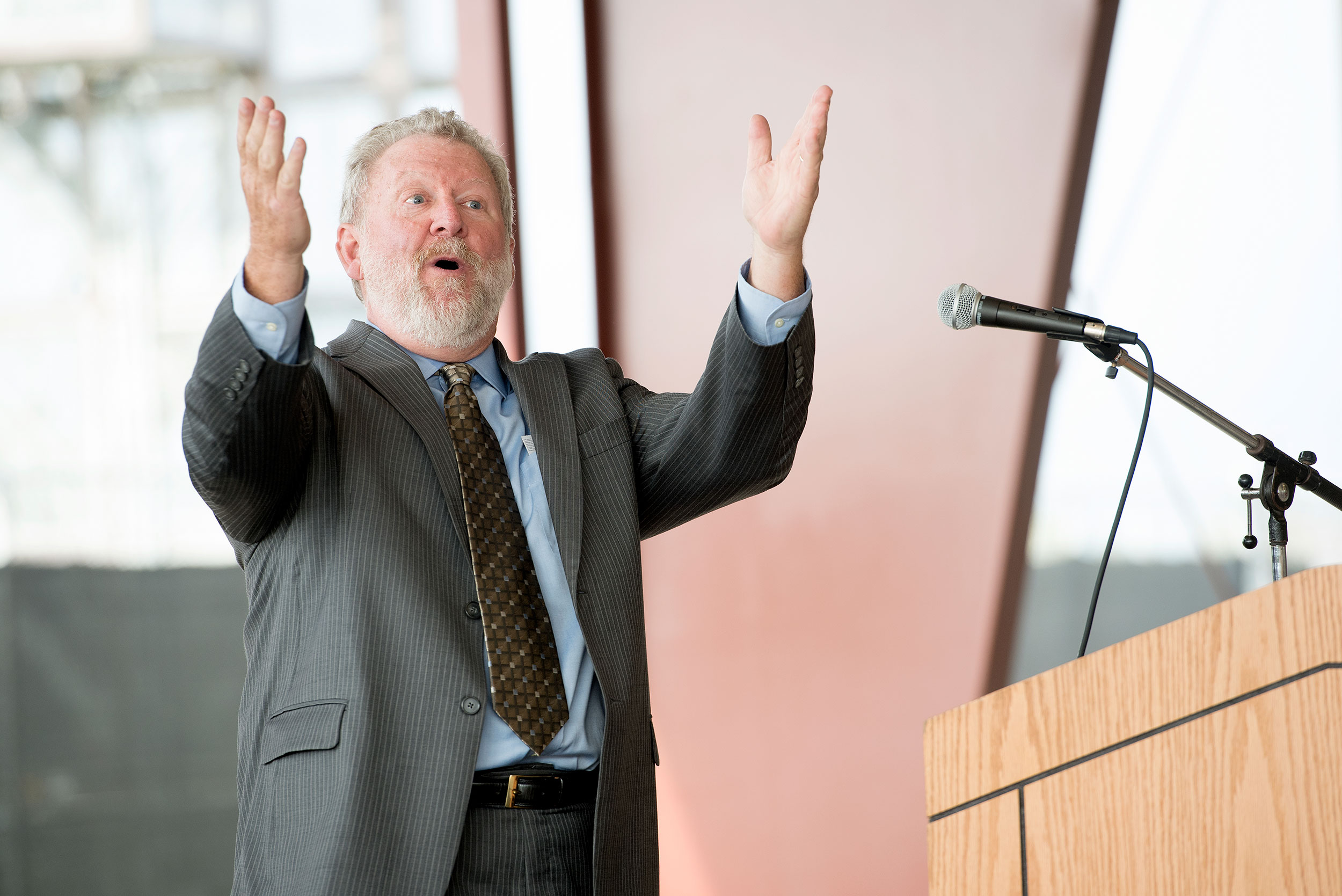 David McKee reacts at the dedication of the long-awaited practice facility.
"If you had told me when this thing came online that restrooms were that important to kids, I would have said, nah, that's third or fourth on the list," McKee said. "That was number one. You would have thought they had all died and gone to heaven."
McKee lights up when speaking of the Marching Virginians' accolades and their new quarters, but says it's been the simple day-to-day interactions with students that have fueled his passion for the work.
"This has been a great opportunity to serve this community, but the students that I've been able to work with are the main thing that has made me jump out of bed every day and come to this campus," McKee said. "They're just extraordinary, and they want to be a part of something bigger than themselves."
During McKee's earliest years directing the 300-plus performers, practice areas changed constantly, and students often stored instruments in their personal vehicles.
"If somebody's car had an accident or was broken into, there was an instrument gone," he said.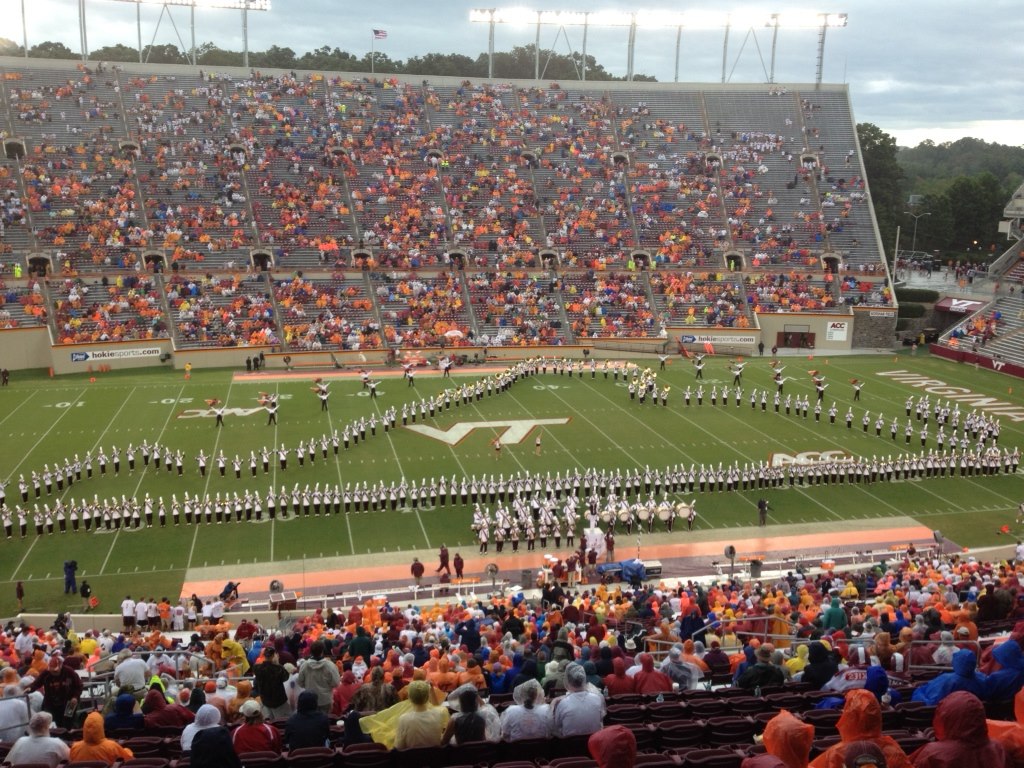 A long tradition in halftime shows is the band in formation to outline Virginia.
In the past, McKee noted, most students were funding their own instruments, revealing obvious economic disparities.
"At that time, you had one guy playing a really nice trumpet and one guy playing a trumpet held together by duct tape," McKee said.
Today, Virginia Tech has gone above and beyond to ensure each student is adequately equipped, providing support at a level that is unusual among college and university bands.
"What's unusual is that all the instruments are provided by the university. All the uniforms are provided by the university and the university escrows money so that every time the uniforms need to be replaced, there's money set aside for that," McKee said.
Limited post-season football games in McKee's early career meant the band rarely had the opportunity to learn from their peers.
"When I took over the band, the only college band we saw was West Virginia. They're a fine band, and our kids wanted to be just like them," McKee said. "Which was an OK goal, but was limited."
Dave Whiteside '94 remembers the days of small crowds and limited travel, but he also remembers the reason he enjoyed being in the band.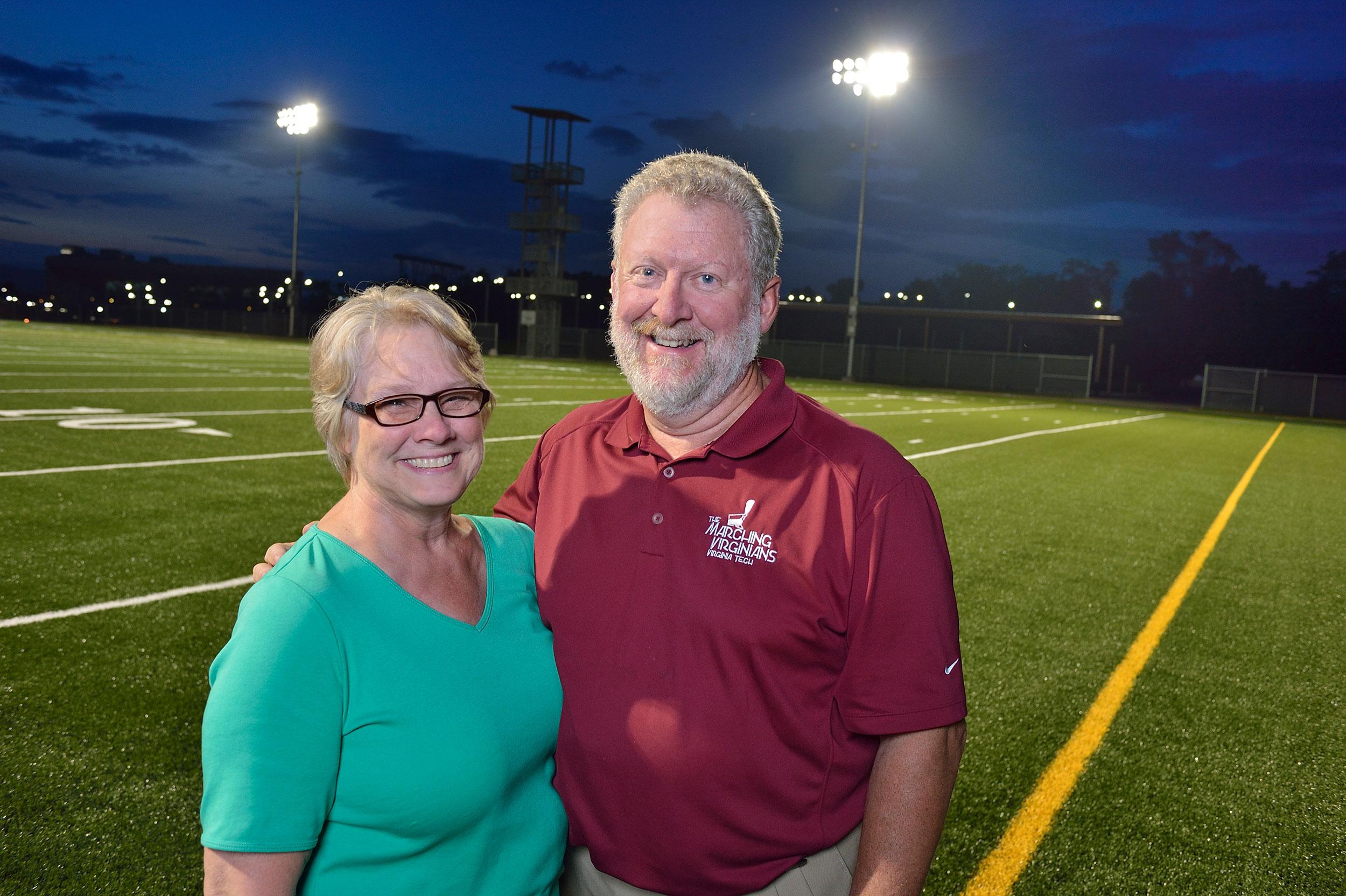 Mr. and Mrs. "Marching Virginians"—Charlotte and David McKee.
"His [McKee's] charisma alone held it all together," Whiteside said. "He knew, and still does know, every single member's name, their hometown, and their high school band director. He made you feel welcome and a part of something."
Gobble back
In the spring, the Virginia Tech Monthly asked former members of the Marching Virginians and Highty-Tighties to share their favorite memories. Here are a few of their responses.
Let me just start with the fact that I am an Marching Virginian horn and I married a Highty-Tighty trombone. We met my freshman year, his sophomore year and dated all through college. Every time the MVs and HTs marched together was so special for us. My favorite memory was our last game marching together, we spelled out "Thanks Steger" on the field. He and I were both side by side in the first "T." It was amazing to march alongside him for his last game. Two bands, one school, marching together. The MVs and the HTs will always hold a special place in our hearts. HOWEVER! Now we have to figure out which band our son will be in... -- Catherine Bethel Grant '15.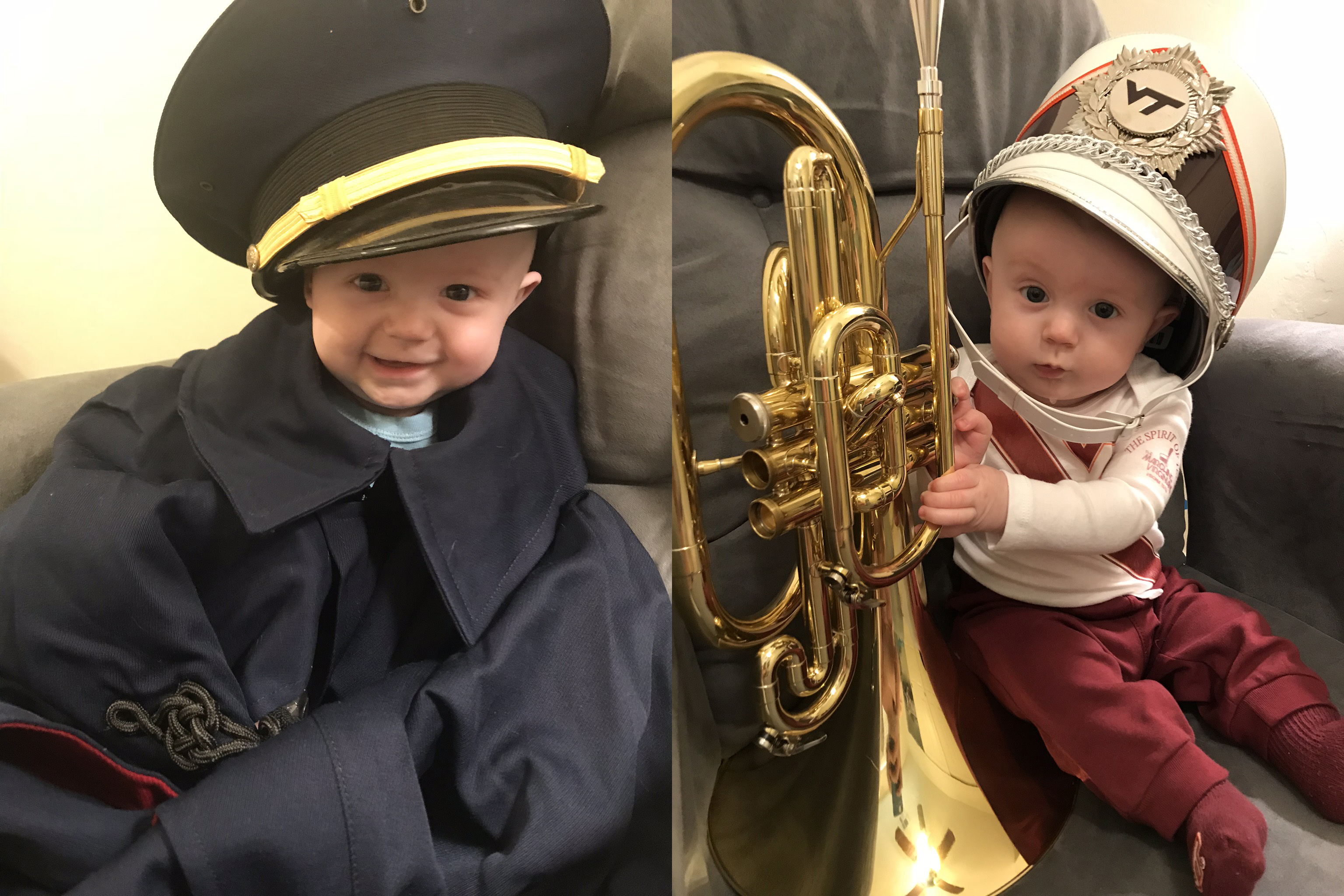 =====

My first time marching in the pre-game show…hearing the crowd roar when we formed the 'VT,' jumping up and down in the lines for "Enter Sandman," and then launching right into "Tech Triumph" while trying to catch my breath! -- Ashley Carpenter '07.
=====

It was going to the Opening Day of the 1964 World's Fair in New York. We were thrilled to be selected as the Opening Day band. -- Melvin Eugene Huffman '64.
=====

What could be more favorite than marching as an HT Alum in the Homecoming Parade with my HT Granddaughter Clare! -- Mayer G. Levy '55.
=====

The preparation for and marching in the 1969 Presidential Inaugural Parade in Washington, DC. It was extremely cold and we were marching as the retired champions of the parade. -- Chuck Rowell '71.
=====

Tech played the University of South Carolina during a storm in 1968. At the half, the announcer said the USC band would not perform due to the rain, but the Highty-Tighties had offered to present a halftime show. They performed to a standing ovation. -- Tom Hedrick '72.
=====

Late November 1963, marching through downtown Roanoke to the football game with VMI. The HT strikes up "March of the Charioteers" from Ben-Hur. The trumpets echo up and down the street off the tall buildings. -- Steve Habeger '67.
George Herrmann '98 recalled McKee also giving some practical advice when it came to securing an area for game-day rehearsal.
"He reminded us to park cars around the field on game day, since parking officials would park cars on our practice field," Herrmann said.
He kept students engaged even during the worst of times by using positivity and common-sense.
"Dave got us through some terrible times—hardships of normal students, tragedies at home, deaths of students, deaths of MV members, and so on. He was always compassionate and caring and always willing to listen," Herrmann said.
Over time, the football team's successes led to more opportunities for post-season play, which in turn increased the Marching Virginians' exposure to other bands.
"The bowls, I think for the MVs, helped to show us what we could be," McKee said. "Did we hang on to Frank's coat tails? You bet. Great ride!"
That ride hit a peak during the 1999 season in which the undefeated Hokies advanced to play against Florida State University in the national title game in the Sugar Bowl in New Orleans.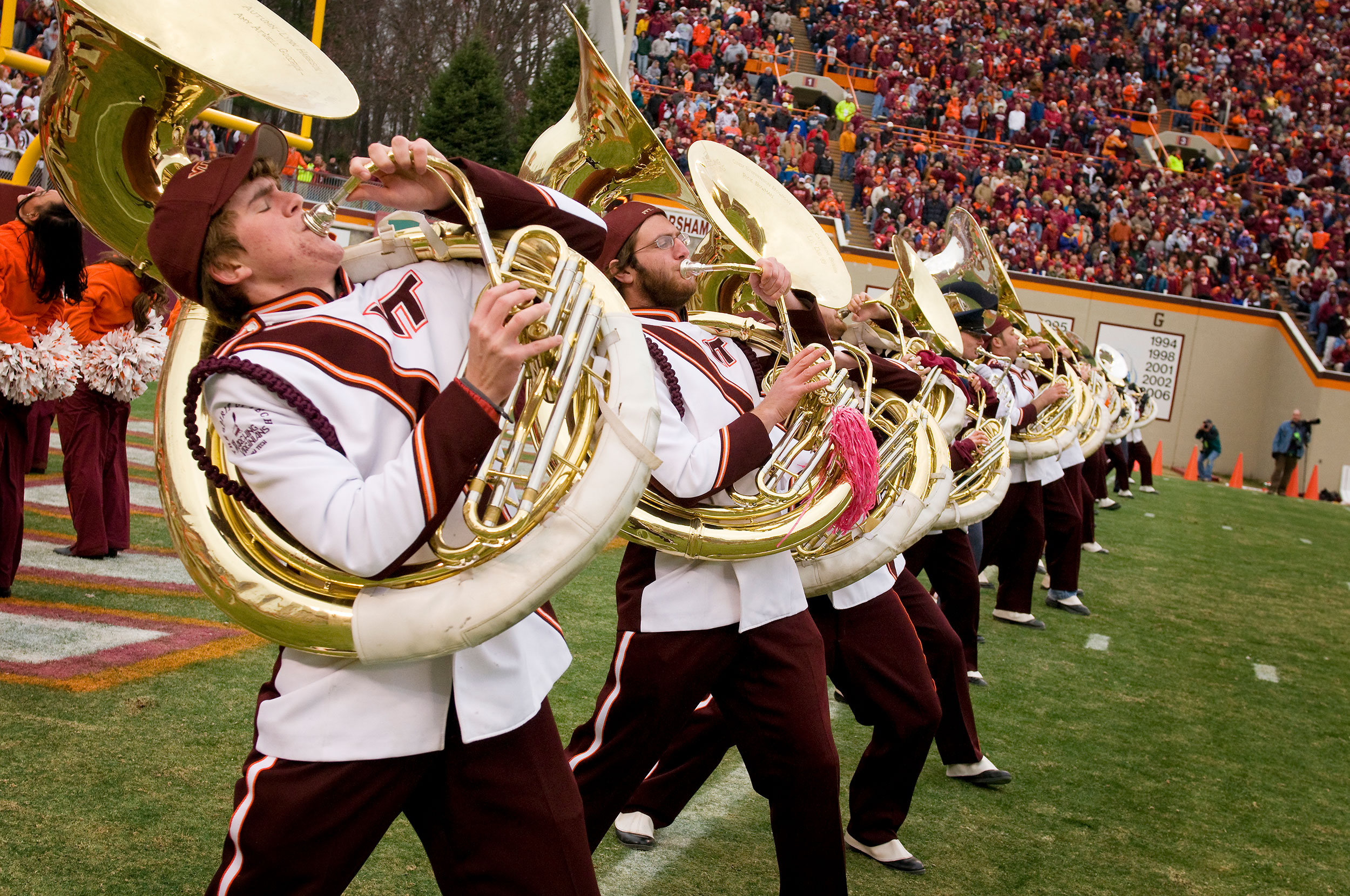 The tuba line performance of the "Hokie Pokie" at the end of the third quarter of football games was a crowd favorite.
"That was a moment I'll never forget," said McKee. "I remember sitting on the drum major stand at the end of the third quarter. I called my dad on my cellphone, and I said, 'Hey, I just want you to hear part of this crazy scene from here.'"
As the trips increased, top-notch performances became the expectation, with students motivated by McKee's often uttered phrase, "sell it."
"When you go out on the field, you have to sell yourselves," McKee said. "Whether it's a dopey dance or some really artful play, you want the audience members to sit up and think: 'That was cool.'"
While field show was important, so too, was the process—students learning valuable skills that would translate to their future careers.
"This is the largest group project on campus, and if they [the students] can be successful in this group project, they can probably be just as successful in any group project," he said.
The value of service is another lesson routinely emphasized to Marching Virginians. The commitment to giving back began when McKee was approached about the band helping out with Blacksburg Municipal Park.
"People said, 'Hey look, you've got this mass of humanity. Why don't you guys contribute to that,'" McKee said. "It doesn't diminish the quality of the performance and it enriches lives. Why say no to something like that?"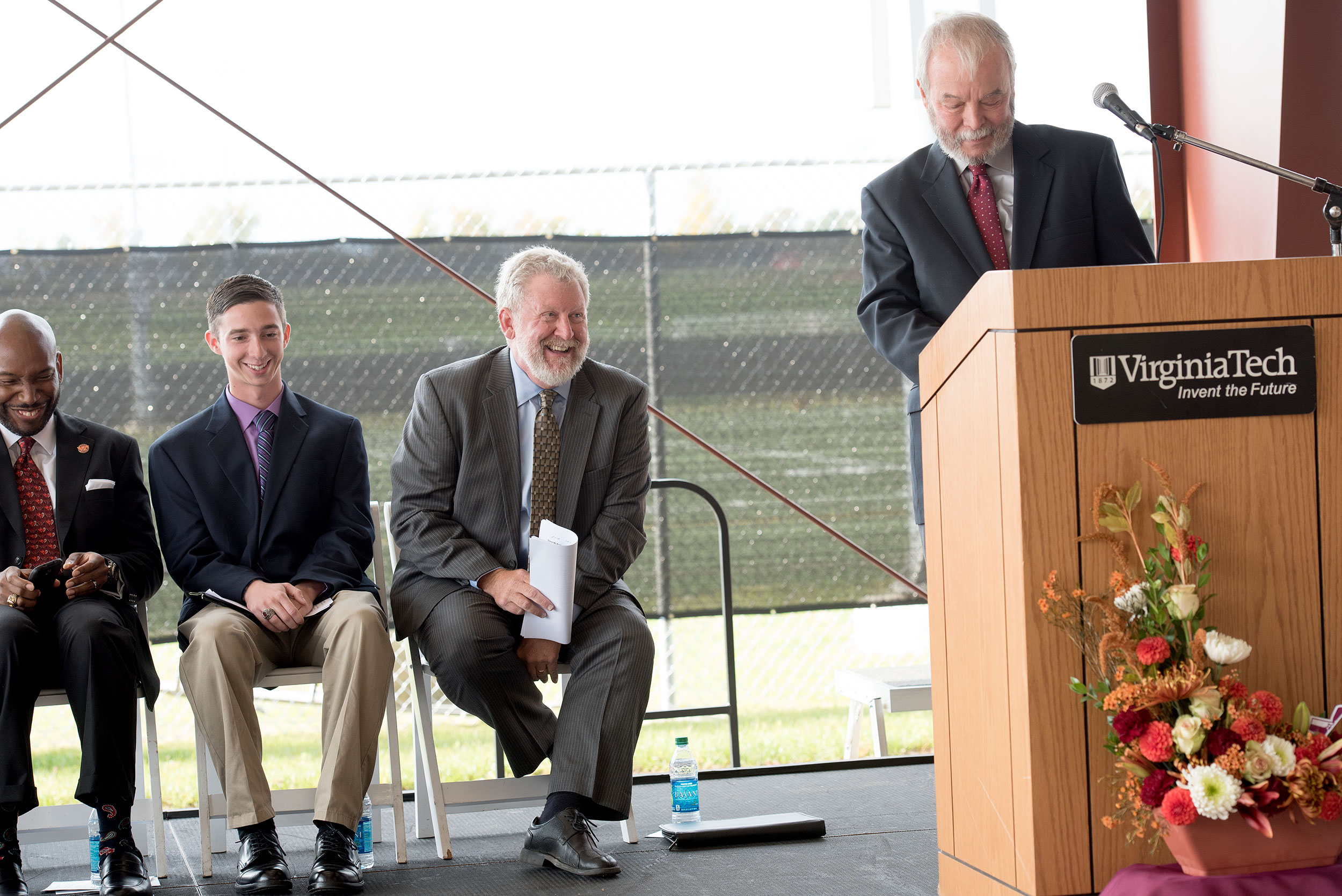 Grand opening of the new practice facility for the Marching Virginians band. James Sochinski, Benjamin Nelson, Nikolas Dimitry, Dave McKee.
The Spirit of Tech marches on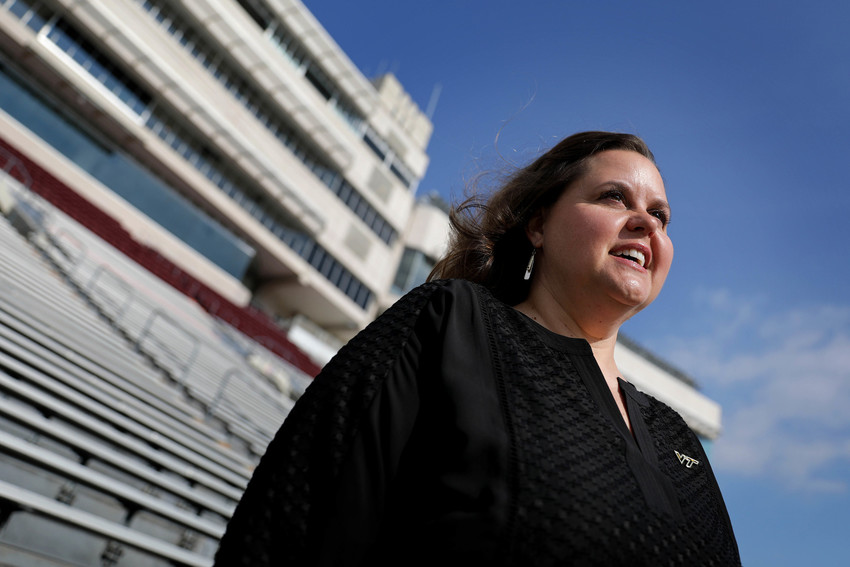 In July, Polly Middleton celebrated a homecoming when she returned to Blacksburg to take the helm of the Marching Virginians.
For five years, Middleton served as the assistant director of the band and as the associate director of athletics bands. She left Virginia Tech in 2016, working first at Arkansas State and later at Illinois State University. These positions allowed her to gain valuable leadership experience.
"I am excited to be working with the Marching Virginians again," said Middleton. "I love what they represent. And Blacksburg feels like home."
Middleton is the fifth director in the Marching Virginian's 44-year history and the first woman to take on the role.
Though Middleton has multiple music education degrees, she insists her most valuable lessons came from working with retired director Dave McKee.
"I went to school for many years to learn to be a music educator," she said, "but I learned so much working with Dave McKee. His passion and energy for the job are contagious, and his impact on students is impossible to overstate.
"To be able to continue the legacy is an honor, both daunting and exciting at the same time. This is my dream job," Middleton said.
Modeling Ut Prosim (That I May Serve) has since become a tradition for the band. Members have taken part in hurricane relief trips, blood drives, fundraising, and school presentations. In the spring of 2009, the MVs partnered with Community Housing Partners to build a home to honor the memory of Ryan "Stack" Clark, a band member who died during the April 16, 2007, campus shooting. Also, each year during a home football game, the band hosts Hokies for the Hungry, a canned food drive to benefit the Montgomery County Christmas Store.
McKee said such activities encourage the band members to bond and reinforce the shared sense of purpose necessary for successful performances.
Current Marching Virginian Lauren Beard, a senior and Wenger Family Scholarship recipient from Loudoun County, said McKee's approach to both his job and service is an inspiration to the students.
"The way Dave leads the band, it kind of makes you expect more out of yourself," Beard said. "You raise your own expectations of how to perform and how you represent the university."
Jenna O'Brien '18, also a Wenger Family Scholarship recipient, said her time working with McKee helped her develop aspirations for leadership.
"Dave showed me that people always come first. You are nothing without the people you work with," O'Brien said.
Not a surprising takeaway from the man who jumped out of bed each day for 32 years because of his people.
"I love working with these students. I love making music. I love watching them have the time of their lives," McKee said. "I think the energy on this campus, whether it's the MVs or anything else on campus, is pretty unusual, and I think watching that happen has been a great amount of fun."