HONORED TO SERVE
HONORED TO SERVE
by Mark S. Lawrence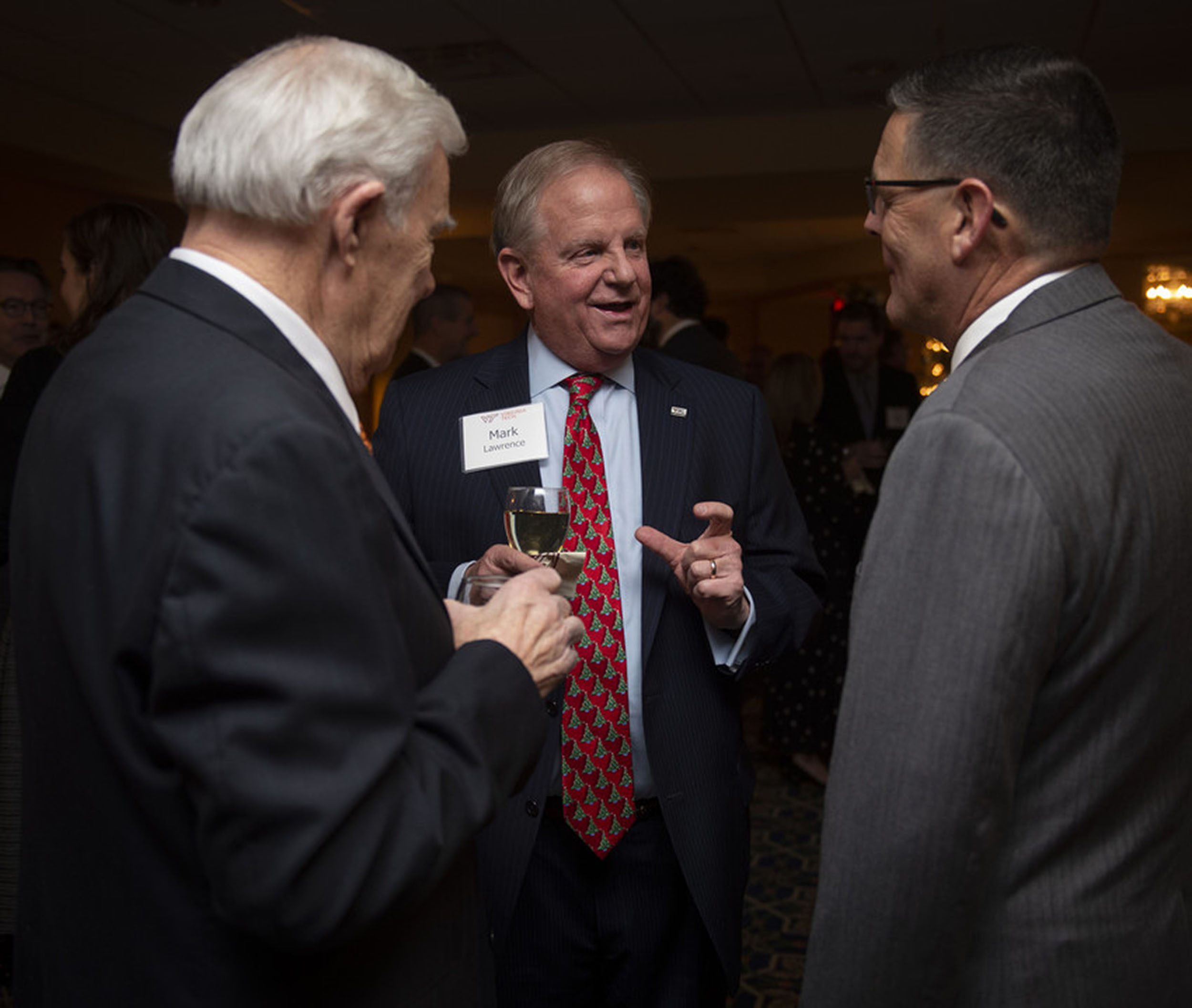 Mark Lawrence (center) talks with other guests during an event held in honor of Heywood and Cynthia Fralin and the Fralin family at Hotel Roanoke.
As president of the Virginia Tech Alumni Association's Board of Directors, I have the honor of speaking at commencement each spring. There's little that compares to the feeling in Lane Stadium on graduation day.
Recently, I asked the Class of 2019 to reflect on their time at Virginia Tech. I asked our newest group of alumni to think about what makes our university special and to always show their Hokie pride.
This year, as my time as board president ends, I fInd myself also thinking back on my time at Virginia Tech. As a four-term member of the Alumni Association board, I've seen our university move and advance in exciting ways.
Like those new grads in Lane Stadium, I'm nostalgic about the past AND enthusiastic about what's next.
During my time as president, Virginia Tech made an impact in many ways, including the announcement of the Innovation Campus in Northern Virginia, and made history when the Fralin family in Roanoke made the largest gift our university has ever received.
We also started new traditions—Giving Day and Reunion Weekend—and committed ourselves to storied legacies, such as the Old Guard Society of Golden Alumni.
We watched our student athletes excel in ways that make all of us Hokies proud. The men's basketball team advanced to the Sweet 16 in the NCAA tournament; we celebrated a national champion in young Mekhi Lewis, who earned that prize in wrestling as a freshman; and the women's softball team won the ACC regular season title; while the indoor track and field team claimed the conference championship. And, of course, our football team retained the Commonwealth Cup for the 15th consecutive year after defeating that school from Charlottesville.
These successes, and many more, are examples of how Virginia Tech continues to grow and have relevance in lives and communities across the state, region, country, and globe. What I've observed during my time as board president is a university prepared for the future and poised to change the world.
In July, Deseria Creighton Barney will become our leader of the association board. She has been an active member of the Hokie alumni community, and I am excited about her leadership and the great work she will do representing you. I hope you'll join me in congratulating Deseria.
It has been an honor beyond measure to serve our beloved alma mater in this particular role. I hope I've had a fraction of the impact on our alumni community as that same community has had on me.
GO HOKIES!
Mark S. Lawrence (business administration '80) is vice president of governmental and external affairs at Carilion Clinic and president of the Virginia Tech Alumni Association Board of Directors.