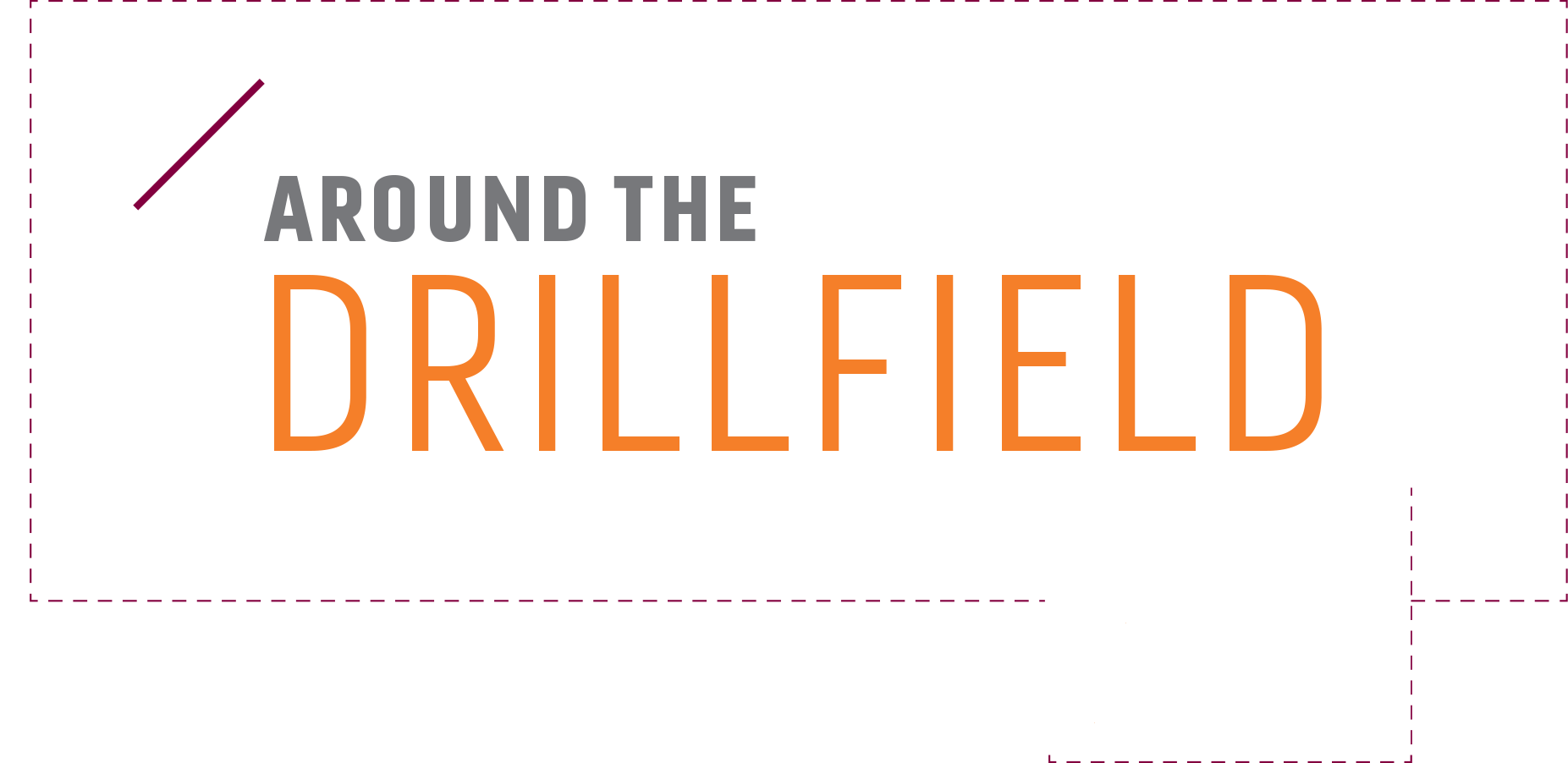 Exploring South Africa through agriculture
Students learn about agriculture, food security, conservation—and themselves—during South Africa study abroad trip
by Zeke Barlow
Students get down in the dirt
On a Saturday in South Africa, Virginia Tech senior Austin Skeens, was deep in conversation at the "shisa nyama."
Skeens, who grew up in a rural, Southwest Virginia community, had barely traveled within the United States, much less outside the country. He lacked the financial means and had not been encouraged to examine the world through a global lens.
Yet, in a township thousands of miles from home, at the gathering place that translates to "burn meat," Skeens found himself surrounded by strangers, learning about the hardships and joys of lives that, in many ways, weren't that different from his own.
The Africans from Bloemfontein sat in white plastic chairs and huddled in groups, talking about their families, politics, and the educational system in South Africa. They shared stories about the power of the lower class, struggles to get ahead, and the value of a society where everyone was a contributing player.
This moment, one of many Skeens experienced during a two-week study abroad trip, left him forever changed.
"My whole life has been about me trying to scratch my own back and get out of my community as quickly as I can," said Skeens, a food science and technology major. "But this trip enlightened me. It made me realize I'm looking at it from the wrong angle. It doesn't help me or my community … if I leave and don't bring anything back to contribute to the challenges at home. Whether it's helping with economic problems or dietary issues, I just want to go back and give."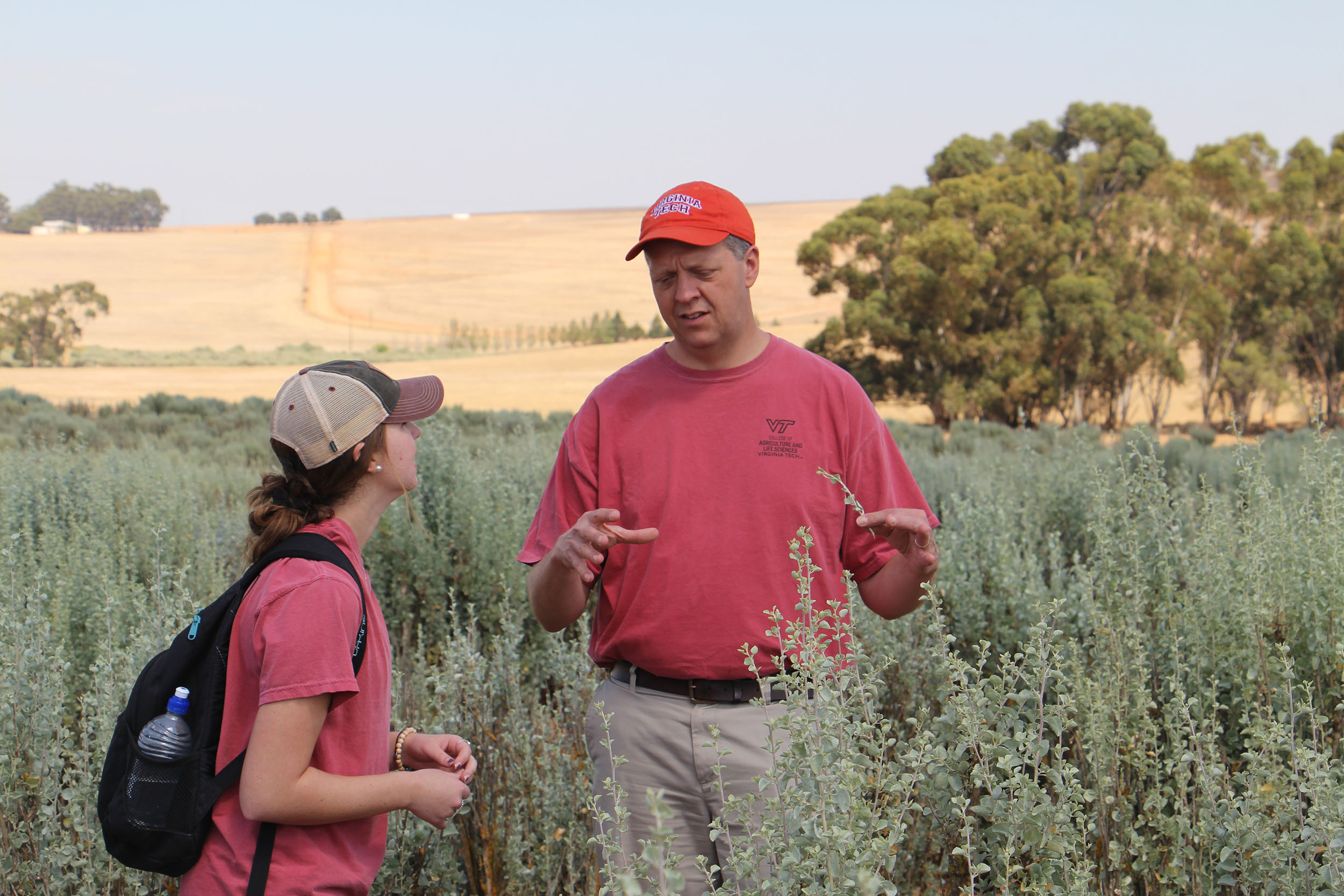 "Agriculture and food security are the perfect lenses for the study of South Africa," said Mark Reiter, an associate professor in the School of Plant and Environmental Sciences and Extension specialist at the Eastern Shore Agricultural Research and Extension Center. Here, Reiter talks about growing crops in South Africa's arid environment.
Skeens and 16 other Virginia Tech students spent a portion of winter break learning firsthand about South Africa as part of a College of Agriculture and Life Sciences study abroad course on food security, wildlife, and conservation. Over the course of two weeks, the students journeyed through South African agriculture, history, economics, politics, culture, and society. The journey around the country created opportunities for introspection and resulted in significant personal growth for each of the participants.
"The experiences we had, from the townships to the views of Table Mountain—and all the other places we visited and people we met—they widened my scope on everything and helped me put things into perspective," said Lindsey Kyte, a junior majoring in environmental science. Like Skeens, Kyte had never been abroad. "I could tell you that there are beautiful views out there, and there are hardships in the world, but it's an entirely different thing to go there, experience it, and see it."
The students toured ecovillages with communal vegetable gardens and water barrels to harvest rain. They visited a wheat farm where rows of behemoth diesel tractors plowed up dusty red soil that whirled into the azure sky. They toured posh vineyards where locals sip local wines and visited townships where Africans eat a delicious, but nutrient-poor, sandwich called "bunny chow"—a hollowed-out white roll stuffed with pink processed meat, hotdogs, French fries, and peri-peri hot sauce. They met with wealthy trophy hunters whose walls were adorned with kudu, elephants, water buffalo, and other species of big game, and on the same day, spoke with women selling mangoes for pennies on the side of the road.
Exploring South Africa through agriculture
"Agriculture and food security are the perfect lenses for the study of South Africa," said Mark Reiter, an associate professor in the School of Plant and Environmental Sciences and Extension specialist at the Eastern Shore Agricultural Research and Extension Center, who was one of two leaders on the trip. "Whether it is talking about race and the challenges of re-appropriating farms in the wake of apartheid, or it is examining conservation agricultural practices in an arid country with issues of food inequality, many of the challenges that make South Africa so interesting and dynamic are connected to agriculture. Agriculture is a common thread that unites us all."
Support from donors helped many students, like Skeens and Kyte, cover the expenses related to the experience. Some received funds from an endowment established by Ozzie Abaye, a course leader, professor in the School of Plant and Environmental Sciences, and faculty associate for global outreach in CALS Global. Other students received financial assistance through grants from the American Society of Agronomy (ASA-Reinvest), Virginia Corn Board, Virginia Soybean Board, and Virginia Crop Improvement Association. Additional support for the trip was provided through the University of Stellenbosch and the University of the Free State.
Although some of the participating students had traveled the world before, others had never left the United States. Some grew up in the suburbs of Northern Virginia, while others grew up on rural farms. Their majors spoke to their eclectic interests: animal science, political science, sociology, agronomy, environmental science, biochemistry, food science, agribusiness, wildlife conservation, and veterinary medicine.
Their favorite experiences from the venture were equally diverse.
Ginna Morris, an agribusiness management major, said her favorite day involved a visit to a sprawling wheat farm where she engaged with local farmers, discussing the challenges of growing crops in a region where rain evaporates quicker than it falls.
Yet another species of animal was found in Kruger National Park—Hokies!
Learning about wildlife and conservation, for which there may be no better classroom than South Africa's Kruger Park, was a highlight for other students. For three days, the group examined the challenges of poaching as it relates to poverty. They drove through the African veld, where elephants the size of dump trucks meandered across the road, lions feasted on fallen giraffes while fending off packs of hungry hyenas, and a honey badger did what it wanted to—because it just didn't care (that cultural reference, along with Toto's "Africa," was popular in this part of the trip). The students enjoyed a rarity by spotting lions, rhinos, elephants, Cape buffaloes, and leopards—the "Big Five"—in one day.
But for Courtney Walls, the lazy hippos and the stocky warthogs weren't the most fascinating animals. Walls, a junior majoring in crop and soil sciences and genetics and breeding and minoring in entomology, loved the smaller creatures: rhino beetles with oversized horns and dung beetles that feverishly rolled tiny balls of scat across the hot desert sand.
"It reminds you that we are here on this planet not just as people but as citizens of the world," she said.
The scars of apartheid
Throughout the trip, the students encountered the lingering wounds of apartheid. Though the government policy that segregated black citizens from the minority white population was abolished 25 years ago, institutionalized racism and the debates related to overcoming the effects persist.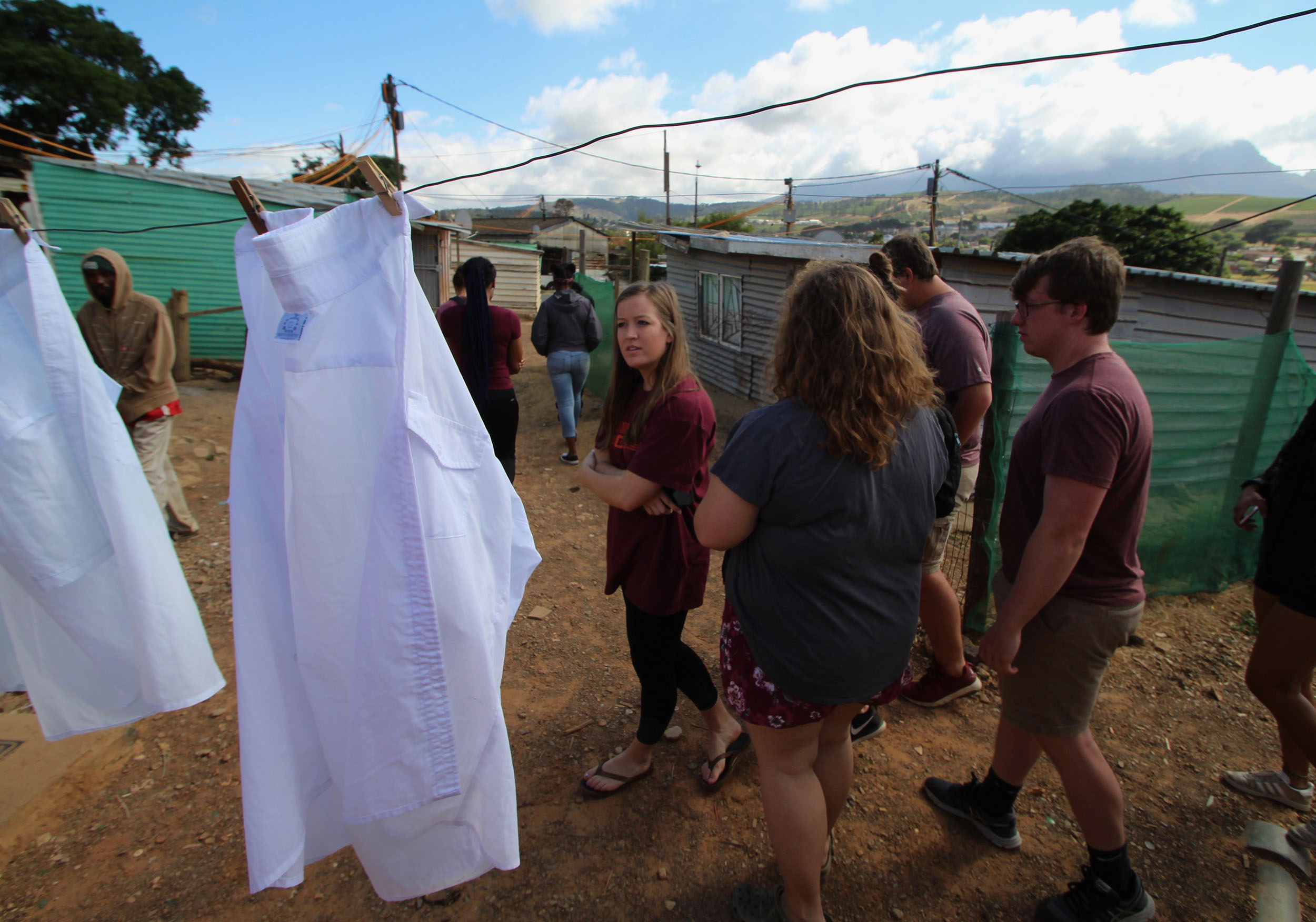 Touring a township where students learned about segregation and apartheid.
"The U.S. civil rights movement was farther back than apartheid," said Lauren Dodd, a graduate student in the public health and biomedical veterinary sciences programs and a veterinary clinical nutrition resident. "But we still have racial issues in America."
The students also toured Robben Island, where Nelson Mandela was a political prisoner for 18 years before becoming South Africa's first black president and helping dismantle apartheid. As the students walked quietly through the now ghostly prison, they saw the small, cramped cell where Mandela slept on a thin wool blanket and the corner of the concrete-walled prison yard where he wrote his memoir, "A Long Walk to Freedom."
"It's surreal because it was so bare and raw," said Skeens.
But Motsaathebe "Joe" Serekoane, an anthropology professor at University of the Free State, who joined the students for part of the trip, suggested that rather than being discouraged by the challenges in South Africa, they should instead find motivation to make a difference in their own countries. "Don't be discouraged by what you see," he said. "Take it all in, educate yourself, and then make a change."
Embracing Africa, embracing the future
Population projections indicate that an additional 2 billion people will inhabit the Earth by 2050; of these, 1 billion will live in Africa.
With 60 percent of the world's uncultivated arable land, Africa will be crucial to meet the increased demand for food production. As poor nations grow their median incomes, more people will expect access to the luxuries the rest of the world enjoys, further straining dwindling natural resources.
For 17 Virginia Tech students who immersed themselves in South Africa's culture, the challenges of this shared future are real. Most expressed their plans to talk to more people, explore more countries, and continue to test their own limits in order to expand their world view.
"I don't think I'll ever look at anything the same again," Kyte said.
For more information on studying abroad in South Africa contact Ozzie Abaye (cotton@vt.edu) or Jen Stewart (jen.stewart@vt.edu) in the School of Plant and Environmental Studies. To learn about all of the opportunities the College of Agriculture and Life Sciences offers to explore the world, visit the CALS Global website.
---
From touring diamond mines deep below the earth to spotting elephants the size of dump trucks, the 17 Virginia Tech students who studied in South Africa over winter break saw it all. Click on an image to view larger images; then click the < and > to move through the gallery.