Standing at an inflection point in history
by Charlie Phlegar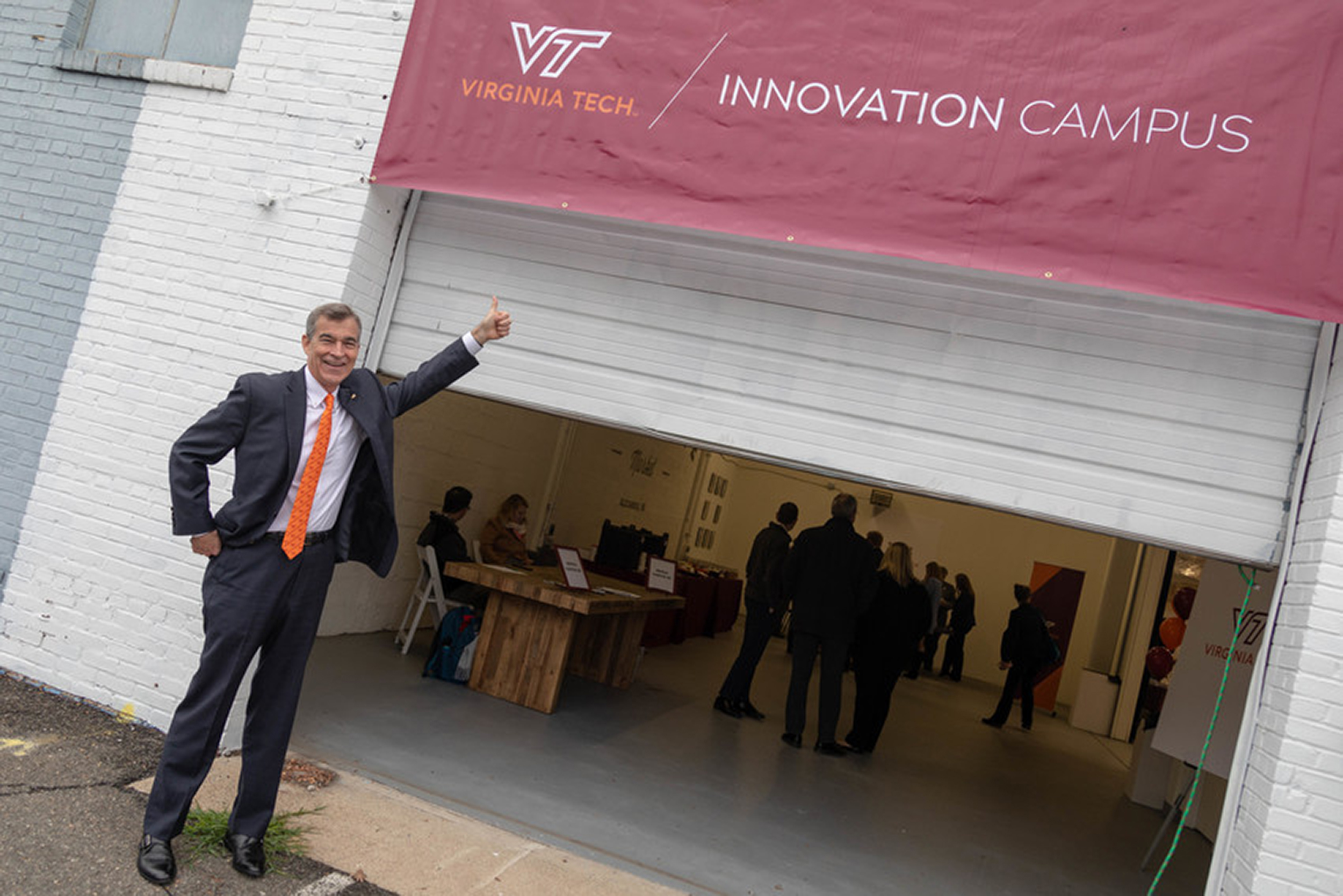 We face a rapidly changing world that's more global and more diverse than the one I graduated into. Our graduates today will enter a world that's moving more quickly than we can imagine. It's imperative that we change as a university as well.
We're seeing that change in Alexandria, where Virginia Tech will build its Innovation Campus as the Commonwealth of Virginia ramps up its efforts to increase the tech-talent pipeline to support the growing tech sector, including Amazon's second headquarters. This is an amazing opportunity to expand our presence in the greater Washington, D.C., area, which will soon become one of the great digital economies of the world. We're going to be right in the middle of it, which will give our students and faculty tremendous opportunities—not just in Northern Virginia but in Roanoke, Blacksburg, and throughout Virginia.
In Roanoke, we're making tremendous advances at the Fralin Biomedical Research Institute at VTC and the Virginia Tech Carilion School of Medicine. Over the past decade, Virginia Tech has expanded its research and academic portfolio by adding a medical component, an element that's a must for any comprehensive university. These enterprises have already turned out to be game-changers for the university, for Roanoke, and for Virginia.
Layer in the countless research projects through which Virginia Tech is tackling the complicated problems of our world. The ambitious Global Business and Analytics Complex intersects with the future of data analytics and data science. The university's groundbreaking work with brain research has implications for everything from sports to vehicle safety. The university's partnerships with business and the corporate world to develop autonomous vehicles and intelligent infrastructure are changing the way we see roads.
When you consider the many other projects in motion, it's clear that Virginia Tech is positioned like no other university in the world. This is truly our moment.
To make this leap forward, though, one thing is clear: Today's best universities thrive because of private giving from their proud alumni. We're thankful for the funding that tuition and state support provide, but philanthropy is the sustenance that we need to boost our efforts.
The beginning of the upcoming capital campaign, which we'll launch in October, is a pivotal moment. Building upon our rich history and broad reach, the vision for tomorrow's Virginia Tech represents an opportunity for not only alumni, but friends, foundations, and corporations to invest in something quite significant.
Through the campaign, we will ensure that Virginia Tech emerges as one of the most respected and premier institutions in the world. That's not hyperbole. But it will take our collective leadership and participation. It will be difficult, and it won't happen overnight. It will take the $10 gifts and the $10 million gifts. It will take mentoring students and helping faculty commercialize their inventions. It will take all of us deciding to invest in Virginia Tech graduates who will change the world.
This campaign will take a monumental effort to succeed. I'm excited by the opportunity to meet the challenge, especially as we approach the institution's sesquicentennial—our 150th anniversary—in 2022. And just as importantly, I'm optimistic.
This moment is happening because of our dedication to our motto, Ut Prosim (That I May Serve). Your expertise, hard work, and commitment to serve have gotten us to this point. And I believe to my core that those same values, paired with our sustained investment in the future, will transform this university. The world needs Virginia Tech and its commitment to serve. We need you to help us get there.
Charlie Phlegar is vice president for advancement at Virginia Tech.
IN THE NEXT ISSUE
Virginia Tech's history is rooted in agricultural education and research. Today, advances in technology are transforming the future of farming in the U.S. and around the world. Virginia Tech research and education are helping farmers provide for the growing needs of an expanding population and are promoting safe and healthy harvests.
How does growth affect campus transportation? From bicycles and buses to skateboards and scooters, students, faculty, and staff are exploring alternative ways to move around campus quickly and safely.
You'll find stories about these topics and many more in the fall issue of Virginia Tech Magazine.