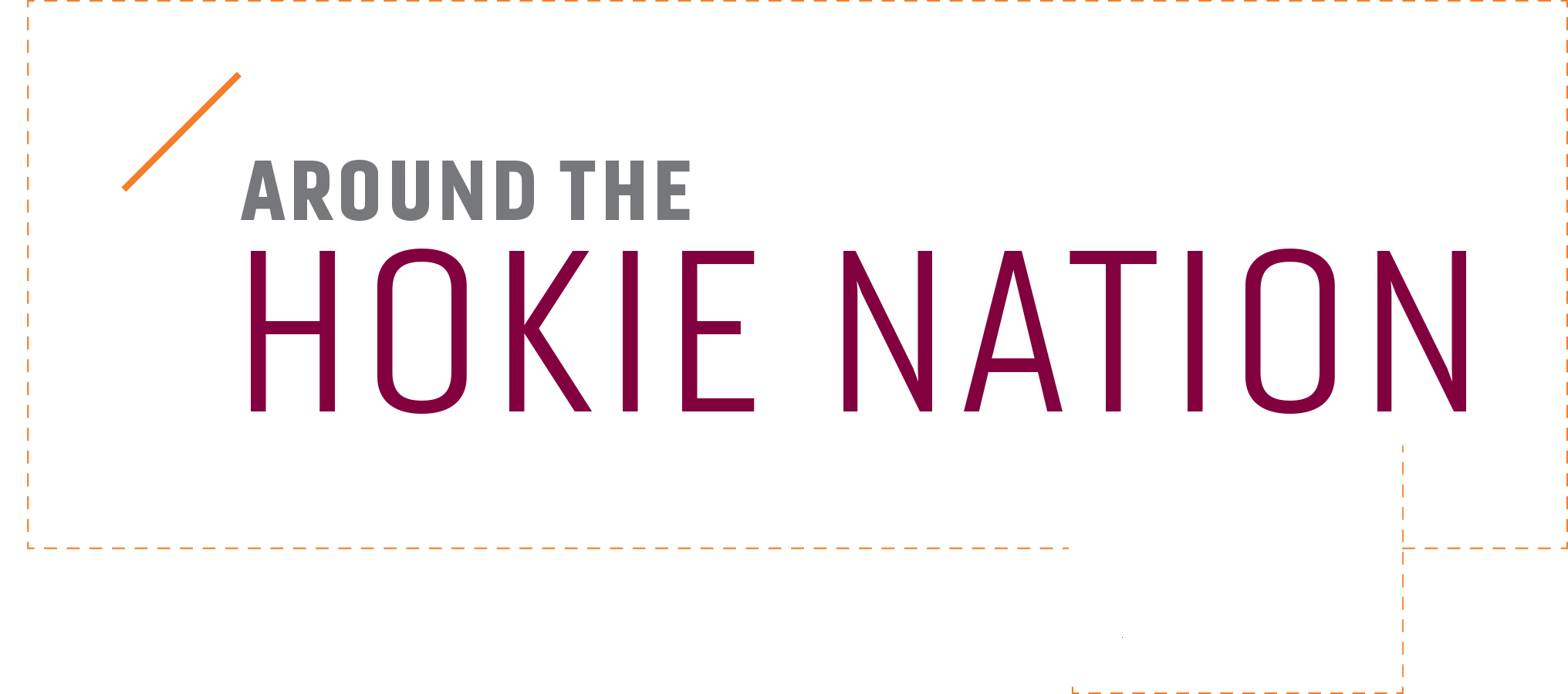 A TIMELESS TRADITION
A TIMELESS TRADITION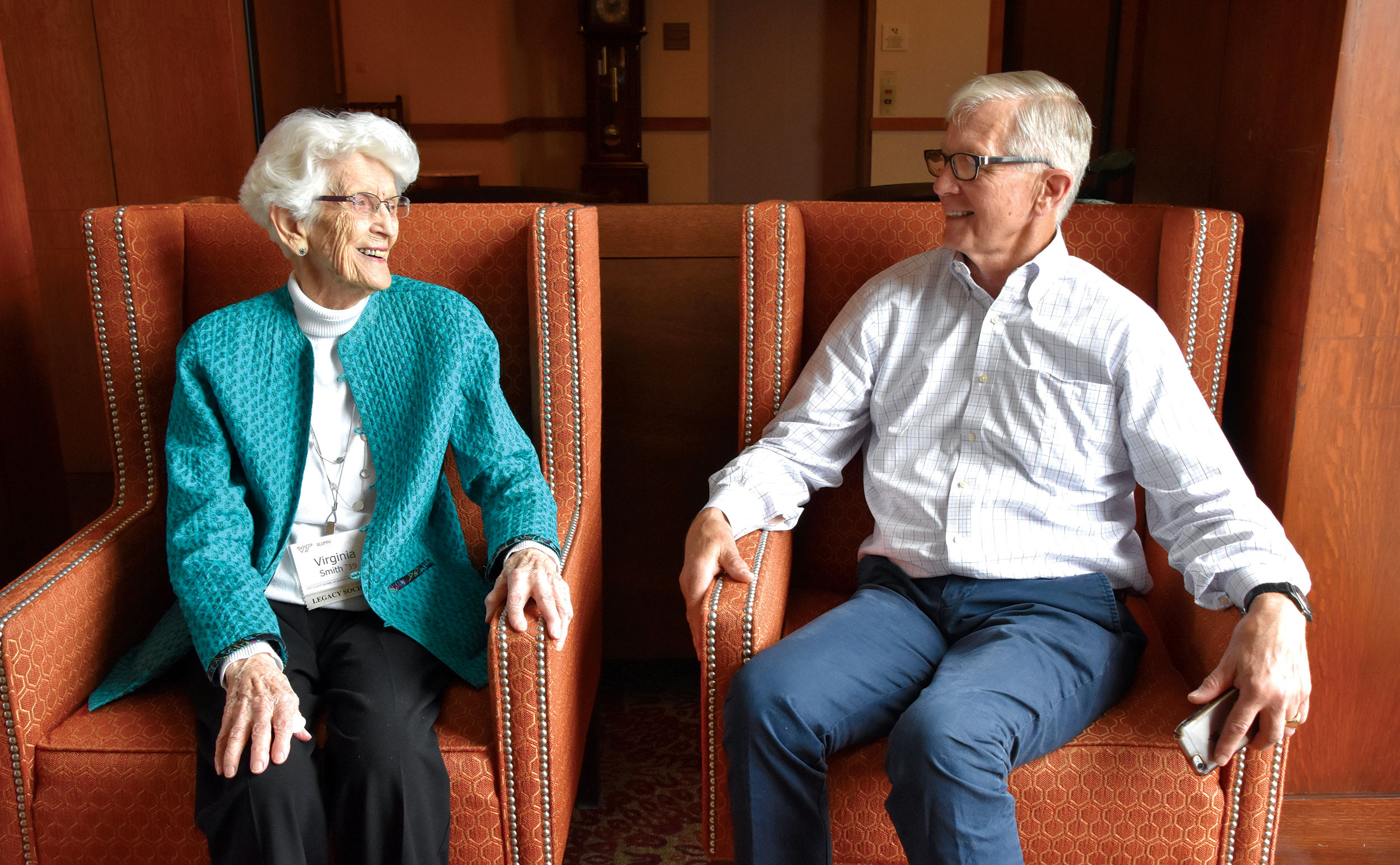 Virginia and Henry
A lot can change in 80 years, but many would say Virginia Teske Smith's favorite aspect of Virginia Tech has stood the test of time.
"Every person on campus spoke to a stranger, every stranger. They just said hello or something," said Smith, a member of the Class of 1939. "When you'd come back several years later and walk the campus and everyone greeted you, it was just such an overwhelming experience."
Having just celebrated her 100th birthday, Virginia Smith returned to Blacksburg to celebrate her 80th reunion in May. Accompanied by her son, Henry B. Smith III '69, she was acknowledged as a Virginia Tech Centenarian and awarded a piece of Hokie Stone by the Old Guard Society of Golden Alumni during their annual celebration.
IN HIS WORDS
IN HIS WORDS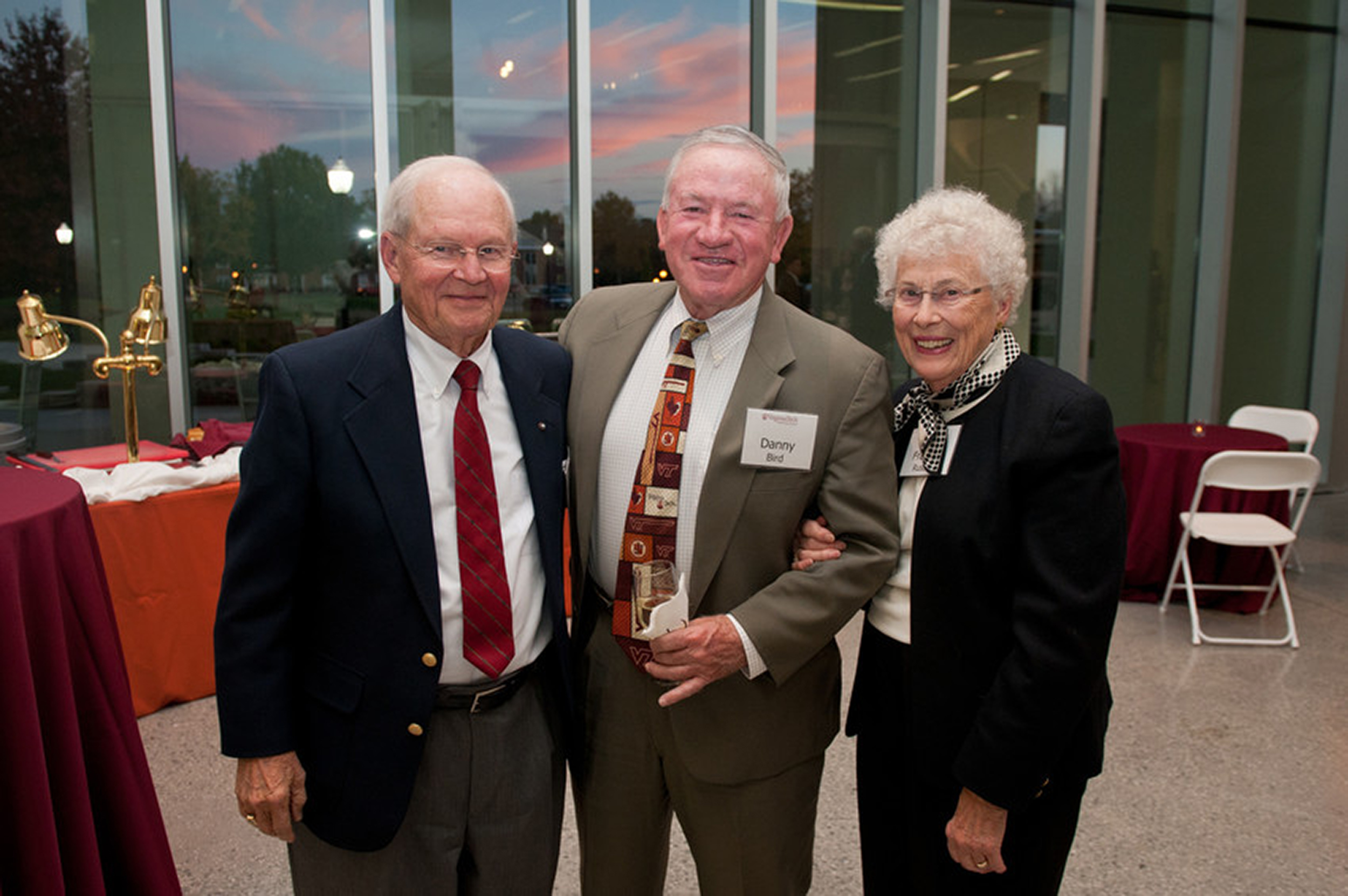 Buddy Russell (left)
The relationship between Virginia Tech and George Edwin "Buddy" Russell is as strong as Hokie Stone. In the same vein, Russell sees a similar bond between the surrounding community and the university. Virginia Tech is truly home for Buddy Russell, and his dedication and passion for the university is integral to his story.
Following his 1952 graduation, Russell earned a master's degree in agricultural education at the University of Maryland and a doctorate in extension education at the University of Wisconsin. He joined the Virginia Tech Alumni Association and served as director in 1968. Alumni expanded to nearly 130,000 before his retirement in 1995. Russell is a former president of the Old Guard, and member of the Virginia Tech Corp of Cadets Board of Directors. He is currently recognized as the vice president emeritus for alumni relations.
To hear a detailed oral history from Russell, visit vtstories.org/2016/10/23/buddy-russell/.
AN ENERGIZING VISION
AN ENERGIZING VISION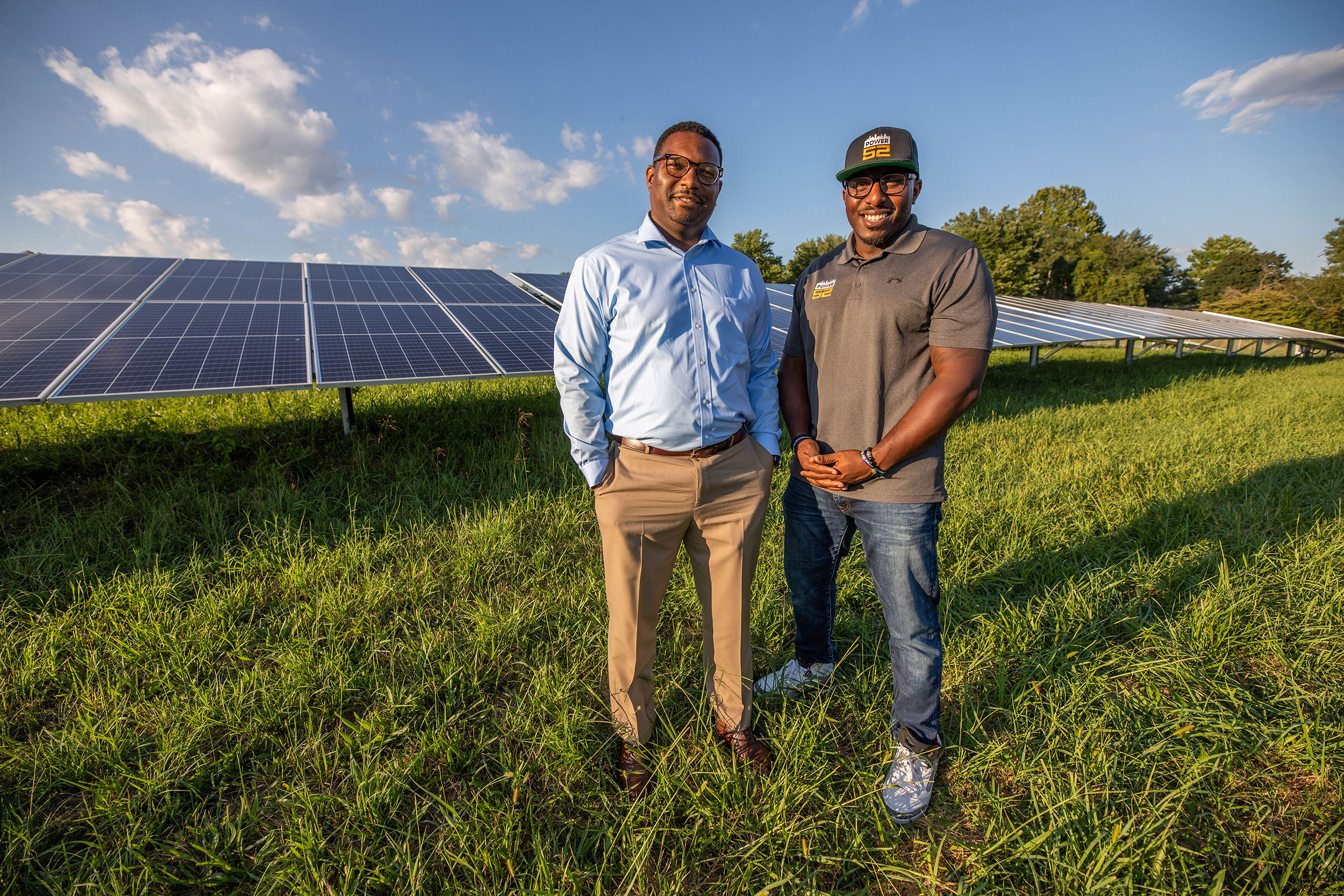 Rob Wallace and Walter Barnes
Fifteen years after meeting and making entrepreneurial plans as new students, Rob Wallace '00 and Walter Barnes '00 are realizing a vision with a unique project in the clean energy sector.
Leaning on Wallace's expertise in solar energy development, Power52 Foundation provides workforce development opportunities in the solar energy sector for at-risk and underserved individuals living in Baltimore and surrounding counties. And Barnes, president of PM Consulting Group, was selected to chair the board's foundation.
To date, the company has trained more than 100 people of all backgrounds and provided 30 megawatts of solar projects that will produce 40,000-megawatt-hours of clean energy for 2,500 middle- and low-income households.
Read more about their work at eng.vt.edu/magazine/stories/fall-2018/rob-and-walter.html.
MERGING INTERESTS
MERGING INTERESTS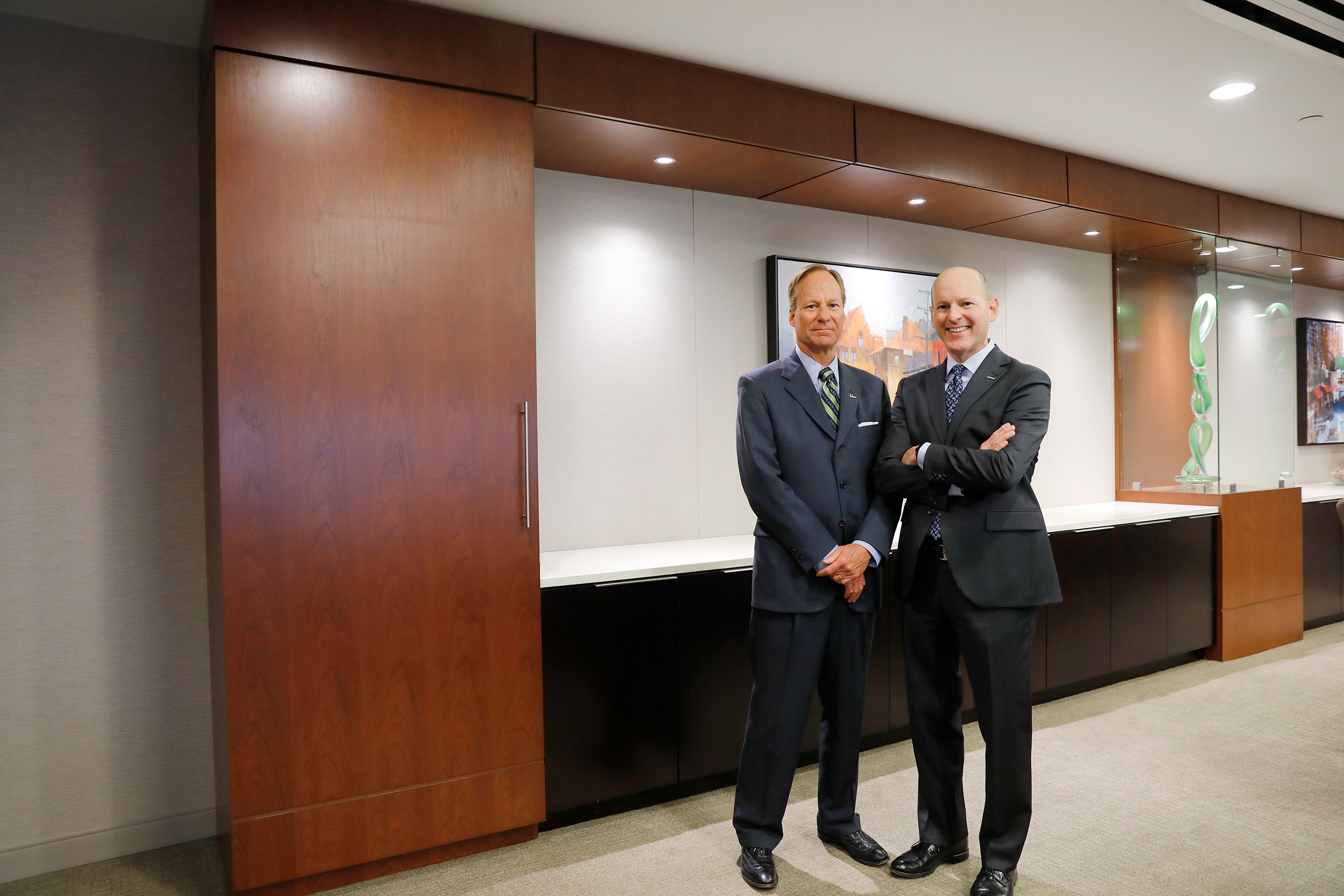 Mike Clarke and John Asbury
When finance professor George Morgan suggested that two of his former students get to know one another, little did he know that the CEOs would later lead a merger to reconstruct something from their past: "a great Virginia-based regional bank," like the ones they once worked for.
Mike Clarke '83, CEO of Access National Corp., and John Asbury '87, president and CEO of Union Bankshares Corp., didn't cross paths as students at Virginia Tech, but met a couple of years ago at a meeting of bank CEOs in Richmond.
The completion of the merger, with Union acquiring Access, was announced in February. The combined company will have total assets of $16.8 billion, deposits of $12.2 billion, and loans of $11.9 billion.
Read more about Clarke and Asbury at magazine.pamplin.vt.edu/issues/spring-2019/va-bank-merge/.